It's rare that we get a look at the future and the present almost at the same time. That, however, is exactly what happened when the Society for Information Display (SID) held their first "all-virtual" Display Week conference and trade show in a week when TCL held a press briefing on their new 5-Series and 6-Series TV models for 2020.
You may not have heard of Display Week, as its seminars and conferences are largely intended for scientists, engineers, and business executives. The sessions are often very dense; I always pack some headache pills when I have attended in person. Yes, there is a trade show exhibit floor (virtual, of course), but you can't buy anything. This is the place where all sorts of companies who are suppliers to the people who make the products you see at CES, ISE, InfoComm, IFA, and CEDIA Expo shop for panels, production equipment, techniques, chemicals, and the like. If you are looking to "bring home a quart of quantum dots," then this is the place to be.
The reason I have attended Display Week for many years is because it is where you can see what technology is about to reach the market over the next few years. This year, one of the top subjects was mini (and micro) LEDs. They had their own topic track, but more importantly one would see mini-LED components and panels using them on display. Hint, TCL is one of the few remaining virtually integrated TV manufacturers, and they were there in the guise of CSOT, a TCL-owned company that is a major manufacturer of LCD panels.
Hold that thought.
The enabling technology made it very clear that mini-LED and display features and architecture that are optimized for gaming will be big this year and on into the future. For example, Display Week participants showed or talked about 9.4-inch and 17.7-inch laptop screens with miniLED backlight, a screen for netbooks with 360Hz refresh rate, as well as a wide variety of solutions for solving variable frame rate issues. Quantum dot technology was shown across the papers and exhibitor presentations.
Great, but what if you can't wait for the future?
That's where we turn to the forthcoming 6- and 5-Series models from TCL. These are the heart of TCL's line, and they have powered TCL to a position as one of the world's best-selling consumer electronics brands, consistently ranking in the top four U.S. TV brands.
These new sets were obviously planned and designed well before this year's Display Week, but they do carry into the present what has been predicted in the past and actualized by many brands in recent years. Foremost are screens taking advantage of quantum dot technology – often a high-end feature but appearing here at value pricing. Both have modes designed for the specific needs of gaming, and all have HDR (HDR-10, Dolby Vision, and HLG.) There is a powerful AI-based video processing engine, and, of course, Roku is the UI and OS delivering an enormously broad range of channels, movies, and other content.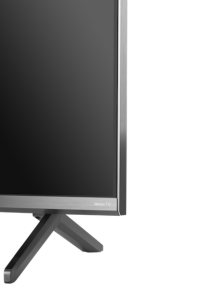 Along with the video quality improvements, the new 5- and 6-Series lines have two physical characteristics that will be entrants in my, "If I'm so smart, then why didn't I think of it?" awards. While an increasing number of TVs are mounted directly to a wall, the majority are still placed on top of a "media center," table or another flat surface. To accommodate the different surface lengths, 65-inch and larger screen sizes have two sets of mounting stand thread holes on the bottom of the TV. Do you need to have the stand legs far apart at the edge of the set or closer together towards the middle? The problem is now solved. Similarly, there is a channel inside the stand legs to hide power and HDMI cables. Clever.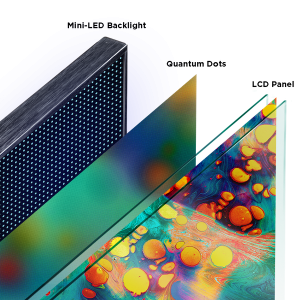 More to the point of some of what was discussed at Display Week, the new 6-Series models for 2020 add mini-LED backlighting for 240 dimming zones, high contrast and brighter images. The combination of QLED and mini-LED was first introduced to the market on TCL's 8-Series, their top-of-the-line models. They have become widely recognized as exceptional products, but albeit at a price that may be out of range for many viewers. That same technology combination in the new generation 6-Series models now will also offer both of those technologies at a price that is considerably less than the 8-Series. To be sure, the number of LEDs and thus the number of dimming zones is lower, but the value proposition is clearly there.
Along with the panel technology, the new 6-Series will serve the pandemic escape from reality with an emphasis on game-centric features. These will be world's first TVs with the THX Certified Game Mode. Also on board is Variable Refresh Rate up to 120Hz and an Auto Game mode.
Of interest to picture perfectionists and residential installers is the ability to do an auto calibration using a phone/tablet app. For those who want to do a full manual calibration, a complete range of detailed color adjustments continues to be available via the Roku remote app. On the audio side of things there is also Dolby Atmos technology
The 6-Series models are available now in 55-, 65-, and 75-inch screen sizes at $649.99, $899.99 and $1,399.99, respectively.
While the new 5-Series models use conventional LED backlighting with 80 zones, they add QLED color for the first time in this model range for TCL. The same AiPQ Engine as in the 6-Series also powers the 5-Series, bringing the Auto Game Mode with it.
Screen sizes are 50, 55, 65, and 75 inches. A breakthrough for QLED sets, pricing starts at $399.99 for the 50-inch model, with the three larger sizes priced at $449.99, $629.99, and $1,099.99, respectively. All models are now available.
As usual with these events, what was not talked about can be as telling as what was talked about. For example, the attention now was on the 5- and 6-Series models only. At this time the HD-resolution, Android OS-based 3-Series and the 4K, but standard panel, Roku OS-based 4-Series remain the same. The flagship 8-Series also remains the same for now. Missing for now across the TCL board are ATSC 3.0 tuners and any plans for close-in introduction of 8K, though that is clearly on TCL's horizon down the road. Emissive "QDEF" technology, where quantum dots are used for self-illuminating displays that do not require backlighting, was also a big topic at Display Week. TCL hinted that this might also be on their roadmap, but not in near future.
The range of new and exciting video display technologies from Display Week 2020 was broad and deep. To be certain, the new TCL 5- and 6-Series models embody just the tip of the proverbial video iceberg, but it does show how what we've seen in the past as "future technology," such as mini-LED lighting, does actually work it its way into the products of today.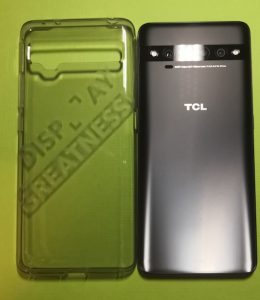 With particular attention to TCL, it is interesting to note that TCL has also begun to offer cell phones in the U.S. market. It is notable that the marketing slogan for that product line is "Display Greatness." The TCL 10Pro that I've been using for a few weeks (supplied courtesy of TCL) definitely lives up to that mantra with a 6.47-inch FHD+ (1080 x 2340) AMOLED display, multiple camera arrays, a 4500 mAh battery that lasts all day and, yes, even a headphone jack! For a mid-tier priced phone, it definitely holds true to the same value-oriented theme as the TV sets.
When asked, TCL responded that the "Display Greatness" slogan will be used for their phone lines only. After getting the details of the impressive feature list of their new TVs one wonders if they might consider and use it across the board.