Crestron hosted a town hall webinar for its residential dealers on Monday, August 29, 2022 that specifically address the COVID-19-related supply chain challenges facing the company and most of the rest of the world over the past two years. In the panel discussion, Crestron's EVP of Marketing Brad Hintze, EVP Residential John Clancy, CEO Dan Feldstein, and COO Dan Brady, candidly discussed the origins of the supply chain bottleneck, how the company has attempted to work through challenges, and what it will take for lead times for product delivery to improve and eventually go back to normal. Here's summary of what was discussed:
Giving the best information we have…
Dan Feldstein: So, we're not here to tell you today that everything is wonderful, and we've solved all the world's problems, but we're here to give you the best information we have. When this whole situation began, we as a company sat down and discussed it. How do we deal with this? How do we deal with these lead times that keep growing and growing and these challenges that we're facing? And we decided to be as transparent and as open as possible, almost to a fault. And, that's one of the things that hopefully will come across today. It comes across that we're not giving good information because we keep changing [delivery] dates, and in truth it's because we're giving you the most direct information based on the information we're getting from our suppliers and the best information we were able to get from the systems that we have in place. We, like most companies, do not have systems in place to manage a back-order situation and the supply chain crisis like we we're in the middle of right now. So, we're doing our best. It's a lot of manual effort. And, and while some information is changing, we'll go through some of the reasons why that is today. Uh, but just know that we are really trying to do our best to give you the, the, the most honest and open information we can.
How the supply chain used to work pre-pandemic…
Dan Brady: You've all heard about the foundries in the news. You hear that the foundries are over capacity. There are three main foundries in the world, all of which are in Asia. In normal times, those foundries would produce the silicon wafer. They would then transport that those parts to the distributors, like the Arrows, the Adnets, the Future Electronics. I would then place orders, either direct with the manufacturer or through that distribution channel. I would then of course, build the product, put that into my finished good warehouse. And then the dealer would place the order with Crestron. I was able to do that because I kept an exorbitant amount of product in my finished good warehouse. And in normal times, the wafer foundries were operating at about 85% capacity. The distributors were all full. [They] had all the parts you could ever imagine. And although I would plan for your demand on your behalf, if you did drop in additional orders on me, I always had the flexibility to go back to that distribution chain and pull those parts forward. And, of course, I kept eight to 12 weeks of finished goods in my global warehouses as an additional shock absorber. [This whole process] took me about 12 months from start to finish the minute I placed an order on a manufacturer to the minute I shipped a product to you. But you never felt it because I had that buffer stock in place.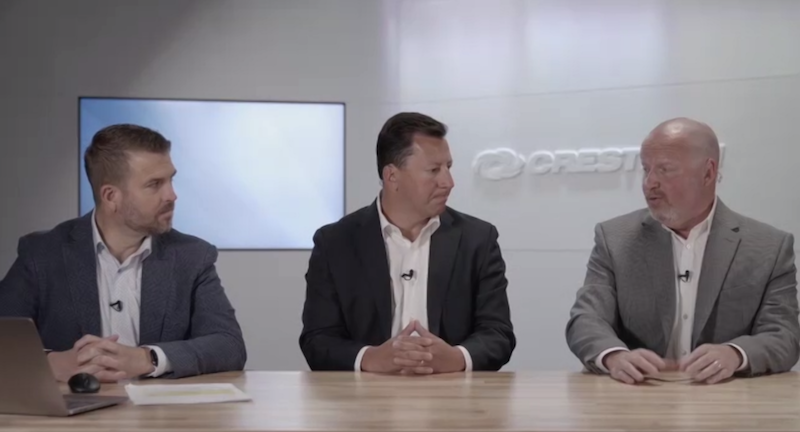 When the COVID-19 shutdown started, everything changed…
Dan Brady: Remember, the world kind of went home and the foundries stopped working for four to five months. So, no parts were being created, and demand plummeted [around] the world. But then the world woke up not only in our industry, but [in the] automotive industry, you name it. And those foundries that were shut down for several months then were called upon to produce parts at a very, very high rate. The distribution channel was depleted. My finished goods, warehouses were depleted very quickly. And, now you are feeling the direct link between the foundry and my factory and every little thing that could go wrong in that chain. You now feel it.
What if you brought all manufacturing to North America?
Dan Brady: We have been making all of our products in the United States and Mexico for the past 30 years. All right. When I came to Crestron 16 years ago, we did start to outsource more products to Mexico, but we build 100% of our products in North America, albeit the raw materials, the electronic components come from Asia, because you really cannot buy components made in the United States. Everything comes from Asia. We bring that to Mexico and here in Orangeburg, New York, and that's where we've been building our products. Now we don't own the brick and mortar of some of these factories. We certainly own the one here in Orangeburg, but we have our people, Crestron employees in those factories, managing the production lines, managing all the schedules. We tell them what to work on and you know what to deliver on what day.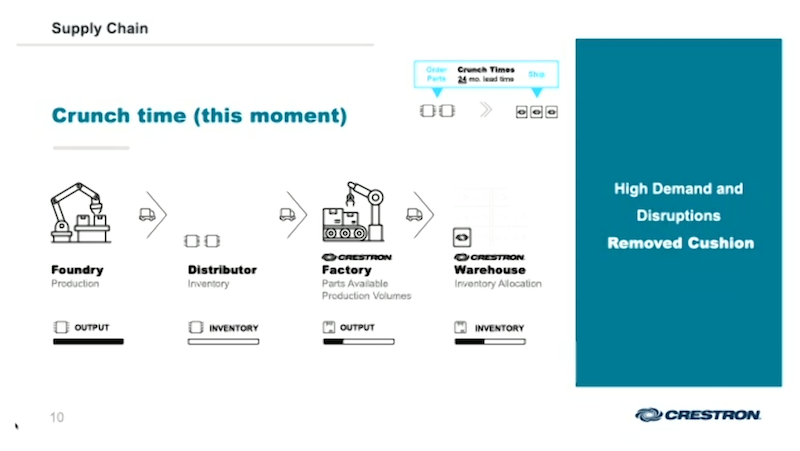 Why not own the brick and mortar factories?
Dan Feldstein: The reasons we don't own the brick and mortar of those factories is actually because it creates a huge benefit for us to be able to scale and create the most resilient manufacturing operation that we possibly can. We work with some of the top contract manufacturers on the planet, and they have massive capacity. If we built our own factory, we'd be limited to the capacity of that factory.
What about finding alternate sources for chips?
Dan Brady: Before this whole thing started, I was running about 12 to 24 weekly tons from my component manufacturers. As [dealer] demand increased, I kept going back out to the supply chain. And every time we expected parts to be delivered, they came back to us and said, now your lead times are "this." Now your lead times are 36 to 52 weeks. Now it's 80 weeks plus on many of these components, and we consciously made the decision to place purchase orders — non-cancelable purchase orders — back in Q1 of 2020. The products I'm building now, those POs were placed for those parts 18 to 24 months ago. So you can see why it's been such a huge impact for you that as our global demand increased, it became more difficult for us to plan because the component manufacturers were pushing out there with times,
What exactly is Crestron doing to get its customers through this situation?
Dan Feldstein: We are confident that the future will be very bright. We just need to get through this current crunch time. In many cases, right now, we don't have the perfect solution because the perfect solution would be for our suppliers to deliver us parts so we can build product and ship it to you. We try to control the things we can control and much of that throughout different areas of the company. For example, customer operations, they're trying to help you manage these projects. We do not have a great backend system to handle back orders of this magnitude because we always had inventory. We focused all of our effort and energy over the years on building up our inventory. Now, they're going through a monumental amount of manual effort to try to manage this situation and make sure that the most critical projects are getting the parts they need so you can finish your jobs. Manufacturing is focusing on the most critical products to make sure that we prioritize the products that you need.
Finding new efficiencies in manufacturing…
Dan Brady: As an example in manufacturing, the bottleneck in our manufacturing process is our test sets. We've tripled our test capacity on our most important products so that when I get those components, I can get out three times as much product. And we're trying to find every one of those bottlenecks that we possibly can now.
Investments in engineering and R&D…
Dan Feldstein: We're redesigning products. We're reprioritizing to accelerate the time to get certain products to market that will help the situation. For example, we accelerated the timeline to bring VC4, our virtual control platform to market so that we could help with some of the problems with, with limitations on getting some of our hardware-based control processors. And, and we're doing similar type of activities for some of our other product lines, but we're also keeping focused on, on where we want to be in the future. There's incredible demand in the market, so we are committed to continuing our investment in R&D to bring out new and innovative products for years to come so that we can constantly meet a changing market.
What about using the broker market for parts?
Dan Brady: We are looking at the broker market for electronic components, but there are literally thousands of brokers in the world, and we need to be very careful which ones we use. We need to use either franchised or reputable brokers so that we don't end up with counterfeit parts. And as we go to these brokers, it's like an auction. Highest bidder gets the parts of which Crestron has been the highest bidder in many cases. There are examples where we're spending $60 on a part that costs 5 cents in normal times. I have to then send those parts to a third-party lab that dissects that part and confirms it is actually a valid franchise component. That it's not counterfeit and meets our specifications.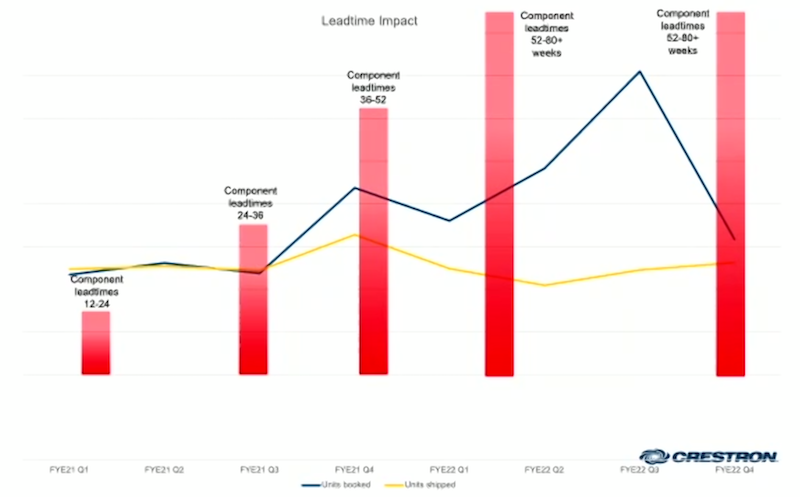 Why do lead times continue to increase, do you expect them to shrink anytime soon, and can you provide more than just quarterly estimates?
Dan Brady: The past six weeks have been the best six weeks I've seen in the last 18 months. As far as lead times, I've lived this with you and trust me, I'm living it for everyone, it has not been pleasant. You come to work Monday morning and every week for the last 18 months, we've gotten nothing but unsettling bad news. Now, I'm seeing stability for the first time in a while. The ports are clearing up. We went from paying $3,000 for a shipping container to $24,000 for a shipping container. Now that's down to about $10,000. We're seeing predictability improve. When suppliers are committing to a lead time, they're starting to hit them more often. It's not perfect, but it's happening more than I've seen in the last 18 months. The foundries are reporting that their capacity is now normalizing. There is demand in other sectors that's starting to decrease, but other sectors are increasing. Automotive continues to increase… Our industry is very, very strong. The industrial industry is very, very strong. So, there is some balance that's starting to occur. Speaking with large manufacturers like Texas Instruments, for instance, when I first started conversations with their C level team, which I speak to them every week, they were reporting eight quarters of backlog. They're now recording six quarters of backlog. So that's a perfect litmus test since they service every industry in the world. They're starting to see their demand become more manageable. What I am hearing from every single component manufacturer is that they expect this to be tight until next spring. This is something we've been telling our teams internally and the conversations that I have had. I've been very clear that I believe it's going to be the middle of next year, and that is indeed how it seems to be shaking out. There might be some improvements to that based upon the total global demand, whether that continues to decline or stabilizes, but that's what I believe we're going to see.