Having a showroom is very common in the retail world, particularly when complex products for home control, integration, and entertainment are the subject of the display. But, have you ever heard of not just a showroom but a dedicated show house? That's exactly what Gordon van Zuiden, president of Palo Alto, CA-based cyberManor created when he built his Smart Home Idea House – a 950-square-foot building behind his office, offering a unique display not only of products, but services and integration, as well.
The idea of a design house is certainly not new. Sunset Magazine's Idea Homes concept pioneered this idea, and charities such as LA Philharmonic's Pasadena Showcase Design House have done them for years, providing custom design firms with a venue to show what they can do in a real-life environment.
This type of arrangement along with traditional developer model homes, however, is limited because you're not in total control of the environment. Indeed, cyberManor had participated in these showcases for many years but felt that to demonstrate to clients what is truly possible with today's technology, they had to do it themselves.
CyberManor's Smart Idea House not only showcases products but provides a venue in which to demonstrate how they work and more importantly how they work together. After all, it's more than just voice control, for example; it's how all of the devices that are controlled are linked together. It's how all of these devices can display their status on a unified, easy-to-use dashboard display.
At the core of cyberManor's Smart Home Idea House is a Control4 system that serves as the conductor and mastermind of the building. In a marketplace where voice control from the likes of Amazon's Alexa and Google's Assistant ecosystems have the attention of the public, the use of Control4 allows the creation of a unique, all-inclusive environment custom fitted to the homeowner. This is something that off-the-shelf DIY products simply cannot replicate.
The intelligence systems are personalized for the needs of every family member and allow extensibility to guests and service personnel. What were once called macros (the ability of a remote to trigger multiple events from different products) is taken to a new level here. In the words of van Zuiden, "The object is not only to show integration of the whole-house control from A to Z, but to create a light bulb moment in the mind of the consumer or prospect so that they leave thinking, "I didn't know you could do that … Gee, I'm glad somebody told me about this!"
Examples of this are the ability to not only initiate simple lighting controls, but to consider the time of day, the use the room is being put to at a given time, and even the preferences of one family member versus another, to create a truly unified scene. This could include the type of music being played and its volume, which rooms the music should be played in, and the position of the blinds.
Another example is a "Good Morning" routine that not only sets the lighting but also the sound or video to be played, as well as using a Wi-Fi-connected Moen shower valve set to the temperature preferred by the individual using the system at that time. Even better, the floor in the master bath even has an embedded intelligent electric heater from nVent that sets the proper room temperature in conjunction with the HVAC system.
To show that smart home technologies are not limited to the inside of the house, controls are provided to monitor water flow and report if there are excessive use patterns that might indicate a leak and even close the water valve if necessary. Infrared outdoor heaters use voice or app-based control to set the proper temperature for cool evenings, and even the outdoor grill can be monitored.
When considering a showroom or idea house of this type, one naturally thinks of exquisite furnishings and designer fabrics and wallcoverings. In this case, the opposite is true. Virtually every wall and surface is left uncovered, including the ceilings. This shows the workmanship that goes on inside the walls, as well as the control panels and displays on the walls.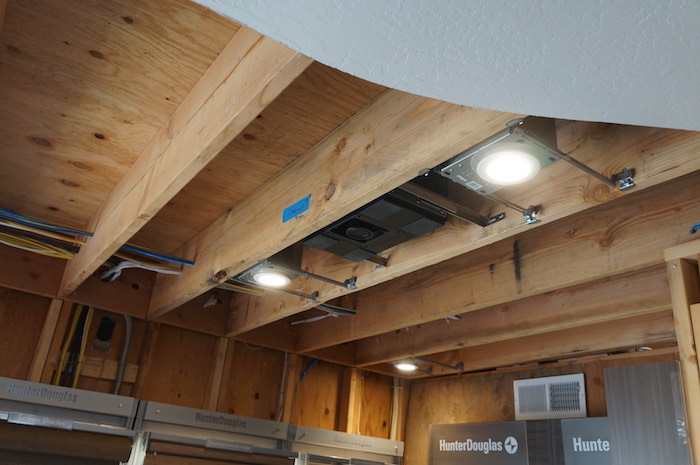 The cyberManor Smart Home Idea House demonstrates the planning and craftsmanship that is required to make sure that the electronic components perform to their full capability. Suffice to say, the wiring is done with NASA-like precision. After all, in van Zuiden's words, "The end result of an installation may be elegant, but it's equally important to open the hood to show that the work is clean. Otherwise, the finished product simply won't work." This is yet another concept that allows designer/installers to show their value in a marketplace where consumers may be tempted to try and do it themselves.
To further demonstrate the capabilities that only an installed system can provide, it's the little touches that matter. The wall mount for the video display has multiple articulation positions, and of course it is motorized. The large ceiling fan in the main room is voice- or touch panel-controlled and more importantly its usage can be synced to whether the ceiling skylight is open or closed.
It goes without saying that energy management is of paramount importance – whether it's heating or cooling, lighting, water temperature control and usage, or electrical consumption. It should come as no surprise that there is an array of solar panels on the Smart Home Idea House roof. A unique addition to the total control system, however, is a battery system managed by sonnen. Described in detail on p. 28 in this issue, the sonnen system does more than just store energy produced during the day for use at night.
In conjunction with the Control4 system and other proprietary software, the system not only stores power produced by the solar panels but it also uses predictive algorithms as well as input data from the National Weather Service to know when there's a cloudy day ahead. In that situation, the system knows to charge the batteries at night for use the next day. This means that battery power can be used whenever possible. But, by taking advantage of the time-of-day rating now being instituted by many utility companies, it provides the lowest cost power regardless of the source.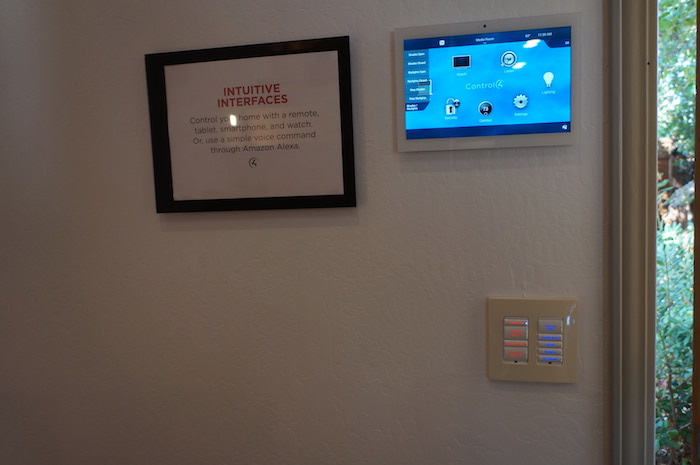 Going back to a higher-level view, the goals of cyberManor's Smart Home Idea House are widely applicable, regardless of the showroom or demonstration environment. First, rather than thinking of products and services, it demystifies what makes a smart home a smart home. Don't view the smart home as a collection of fragmented pieces, but rather make them cohesive. Walk the prospect through the entire system of control security entertainment lighting and energy management.
Particularly with voice control systems such as Google Assistant and Alexa constantly appearing in the popular and business press, don't focus on specific manufacturers but rather on the complete ecosystem. Remind people that your job is to get all of these products to play well with one another.
Perhaps the easiest way to summarize my visit to the cyberManor Smart Home Idea House is to look at it exactly as it was intended. Think of not having a showroom or show house, but rather presenting a carefully curated museum and living lab showcasing what's available today and what will be possible tomorrow. Rather than concentrating on specific products, tell a story that relates to the customer's everyday life in their own house.
"Smart" is an over-used adjective applied to many products, but seeing what one company can do leaves us with the important message that what needs to be "smart" is your pallet of services and the way they can't be replicated by do-it-yourself products.