Today Denon announced four new products in honor of the brand's 110-year anniversary. These include the Denon AVR-A110 A/V receiver, PMA-A110 integrated amplifier, DCD-A110 SACD player, and DL-A110 MC phono cartridge, all designed with an exclusive silver-graphite colorway and 110 Anniversary logos.
The products were tuned by Denon Sound Masters to set them apart from their standard counterparts. In addition, each new product comes with a special certificate of authenticity stamped with the approval of Denon's head engineer and a five-year out-of-box warranty. All four 110 Anniversary products are manufactured exclusively at the Denon factory in Shirakawa, Japan and undergo an extended quality assurance process prior to delivery.
Denon AVR-A110 8K AV Receiver ($5,499)
Denon's flagship is the AVR-A110 13.2-channel 8K AV receiver, which was designed to deliver an immersive home theater experience, combining all popular 3D formats such as Dolby Atmos, DTS:X, DTS:X Pro, IMAX Enhanced, and Auro-3D.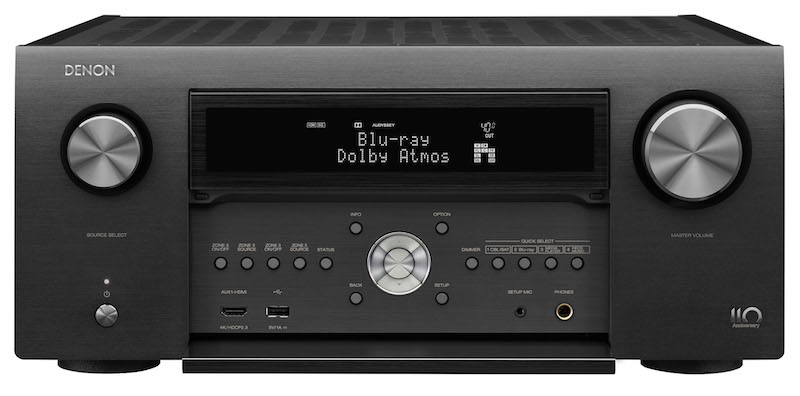 The AVR-A110 was developed with extreme attention to detail and tuned by a Denon sound master at its component level. The AV receiver's all-black interior is housed in a limited-edition silver-graphite finish with aluminum front and side panels, custom die cast feet and a copper transformer plate for improved isolation.
Providing 8K/60Hz pass-through or upscaling, 4K/120Hz pass-through for gaming and support for the latest HDMI specifications, the AVR-A110 enables enthusiasts to build the best 4K home theater systems while incorporating 8K compatibility to accommodate future upgrades more easily.
For gamers, the AVR-A110 offers Auto Low Latency Mode (ALLM), Variable Refresh Rate (VRR) and Quick Frame Transport (QFT), minimizing lag and latency while eliminating frame tearing for more fluid gameplay and enhanced gaming thrills.
The AVR-A110 creates a lifelike cinematic experience thanks to its monolithic amplifier design, hefty 18lbs high current power transformer, and custom 22,000uF/80V audio capacitors delivering 150 watts per channel (8 ohm, 20 Hz – 20 kHz, 0.05% 2ch Drive). Featuring advanced HDMI connectivity (8-in/3-out), including a dedicated 8K input along with the latest dynamic HDR standard for brighter highlights and deeper black levels, users can enjoy their favorite movies, shows and games with exceptional color, clarity, and contrast. The eARC HDMI feature (through the main HDMI output) enables uncompressed and object-based audio formats like Dolby Atmos and DTS:X to connect directly from a smart TV app to the AVR-A110 for lifelike audio performance.
For the ultimate whole-house entertainment experience, the HEOS built-in wireless multi-room music streaming technology puts the listener's favorite content anywhere throughout the home (requires HEOS-compatible speakers) and adds Apple AirPlay 2 for streaming from mobile devices. The AVR-A110 also offers access to popular music services, such as Spotify, Pandora, Amazon Music HD, TIDAL, SiriusXM, and Deezer to provide users with limitless access to their favorite music and podcasts. Users can enjoy hands-free control of the AVR-A110 thanks to compatibility with Amazon Alexa, Google Assistant, and Josh.ai voice command engines.
Denon PMA-A110 Integrated Amplifier ($3,499)
The Denon PMA-A110 is meant to be the ultimate option for music enthusiasts seeking to build their dream two-channel Hi-Fi system and marks the highest-end integrated amplifier Denon has introduced to the North American market. Powered by Denon's patented seventh-generation advanced Ultra High Current (UHC) power amplifier, the PMA-A110 integrated amplifier delivers 80 Watts at 8ohms (20kHz-20Hz, THD: 0.07%) of ultra-clean power per-channel. It can capably deliver massive current output to drive even the most demanding speakers and ensure superior linearity at the output stage.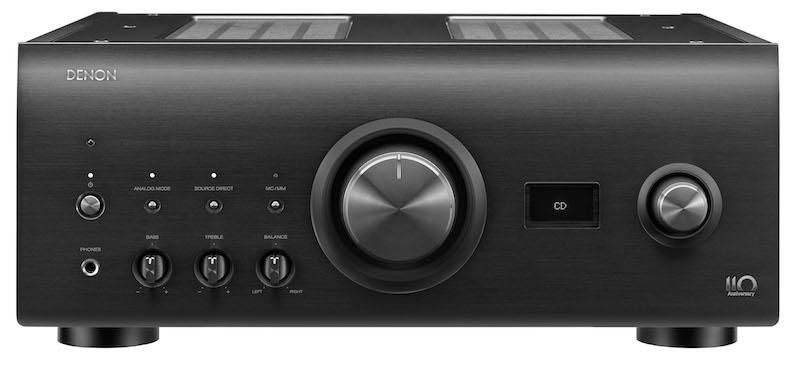 Offering masterful precision and refinement with exceptional dynamics and the ability to elevate fine details, the PMA- A110 helps brings music to life. Denon engineers carefully constructed the amplifier circuit to secure a frequency response of up to 100-kHz during applied use. The volume circuit suppresses noise in the amplifier, achieving high sonic resolution. The PMA-A110 handles a wide, dynamic range of Hi-Res audio sources with tone control and power throughout. In addition, the Quad D/A converter which uses the Burr Brown PCM1795 chip operates in a quadruple configuration for optimal high-grade sound. Each channel has two PCM1795 chips working in a different mode to achieve the highest accuracy and best signal to noise ratio.
The PMA-A110 is also equipped with Ultra AL32 Processing, the latest in analog waveform reproduction technology from Denon. By using data interpolation algorithms and supporting Hi-Res 384-kHz/24-bit PCM signal input, these algorithms interpolate points that should exist before and after the points in large quantities of data to achieve a smooth waveform that is close to the original signal.
Users can connect both analog and digital sources, including a turntable to the built-in phono preamp compatible with both Moving Magnet (MM) and Moving Coil (MC) cartridges. Effortlessly enjoy high-resolution digital audio content using jitter-suppressing Coaxial, Optical or USB-B inputs connected to an exceptional Quad DAC for unparalleled playback quality of PCM up to 384kHz and DSD up to 11.2Mhz (aka DSD 256). The PMA-A110 is the ideal foundation for a modern audiophile music system when paired with the 110-year Anniversary Edition DCD-A110 SACD player and the DL-A110 MC phono cartridge, both engineered and specially tuned by Denon Sound Masters to achieve ultimate performance.
Denon DCD-A110 SACD Player ($2,999)
As part of the special edition 110 Anniversary Series, Denon is introducing a limited-edition DCD- A110 flagship SACD player. This new model offers playback of CDs and Super Audio CDs, as well as DSD (2.8-Mhz/5.6-MHz) files and high-resolution audio files up to 192-kHz/24-bit recorded on DVD-R/RW and DVD+R/RW discs. Users can also play music files with sampling frequencies of up to 48kHz recorded on CD-R/RW discs.
The performance of the DCD-A110 is attributed to Denon's patented Suppress Vibration Hybrid (S.V.H.) mechanism, premium audio processing and components, and power supply. The S.V.H. mechanism, used on other high-performance players from Denon, features the shortest possible signal paths to reduce noise along with related parts made from premium materials such as a copper plate for the top panel to strengthen rigidity, die cast aluminum for the disc tray, and 2-millimeter thick steel for the mechanism brackets. These high-mass, vibration-resistant properties contribute to outstanding vibration resistance, and the mechanism's low center of gravity helps suppress any vibration occurring inside the player due to disc rotation. By eliminating unwanted vibration, digital signals can be read from the disc with optimum accuracy under stable conditions.
The DCD-A110 introduces a new Quad DAC configuration, converting the large amount of data coming from the Intel Cyclone 10-driven Ultra AL32 processing engine. This advanced DAC delivers improved channel separation and ultra-low noise and THD levels. Additionally, the DCD-A110 casts aside traditional OP-amp post filter circuits in favor of a fully discrete filter stage with carefully selected custom-tuned audio parts chosen by the Denon sound master. The DCD-A110 is also equipped with two clock oscillators – one for each sampling frequency (44.1- kHz and 48- kHz) – that can be switched between the frequencies to thoroughly suppress jitter. This high-quality clock is the reference for the Quad DAC operation and ensures that the digital audio circuitry always performs at its maximum potential regardless of source format.
The limited edition SACD player also features fully independent power supplies for digital and analog circuits to eliminate interference or noise. The analog power supply circuit boasts a fully discrete design optimized for audio with the original Denon large-capacity (3300 μF) block capacitor used for the power unit of the analog audio circuitry after the D/A converter. The DCD-A110's power supply is built around an array of custom parts, including high-power bipolar junction transistors, a fully discrete voltage regulator circuit, high-sound-quality electrolytic capacitors, and polyphenylene sulfide capacitors. These specially designed components were co-developed with select manufacturers through an extensive regimen of repeated listening tests to deliver a clean, robust and stable supply of power resulting in exceptional levels of dynamism and overall performance.
Denon DL-A110 Phono Cartridge ($599)
The new Denon DL-A110 phono cartridge is a premium Moving Coil design, meticulously hand-spun in the Denon Audio Works factory in Shirakawa, Japan just as it was in the 1960s when it was first introduced as the DL-103 cartridge. These anniversary edition Denon cartridges represent the longest-running products to wear the Denon badge and maintain the original headshell design initially developed for wideband stereo FM radio broadcast applications.
Weighing only 6 grams, the lightweight DL-A110 silver-graphite headshell ensures the cartridge is held securely and perfectly aligned, producing a balanced, detailed sonic signature with extended low frequency performance ideal for vinyl LP record enthusiasts. The DL-A110 is equipped with a bayonet connector also known as the SME tonearm interface.
Three special edition 110 Anniversary Products will be available at authorized Denon retailers in October 2020, including the AVR-A110, PMA-A110 and DCD-A110. The final special edition product, the DL-A110 will be available in November 2020. For more information on the new anniversary products, visit usa.denon.com/us.