Touring DMF's headquarters building in Carson, CA, in mid-August 2022, provided a glimpse into just how much the lighting fixture category has grown in significance for the custom integration channel, as well as a preview of the company's CEDIA Expo 2022 product introductions: iX Series Small Aperture fixtures, DID M Series Square Housings, and Tunable White Light Modules.
Lighting fixtures are still a relatively young product category for professional integrators. Although more and more members of the channel are designing lighting layouts and specifying and selling fixtures, many more are still not yet comfortable with a category that was once the exclusive domain of certified lighting designers, electricians, and builders.
That's why my in-person facility tour of one of the more well-established lighting fixture brands in the channel was particularly effective in showing just how committed these companies are to serving the smart home market.
DMF's presentation to the home tech media began with a welcome from COO Michael Danesh, who told the story of how the company had been founded 30 years ago by his parents Mark and Faye, after Mark, an engineer, immigrated from Iran to escape political turmoil. Since that time, the company has grown to four different countries and 200 employees.
Two members of leadership team come from companies that are much more familiar to the traditional custom integrator. For example, Senior VP Andy Wakefield is a veteran of lighting and shades control manufacturer Lutron, VP of engineering Rushi Kumar held lengthy tenures at Lutron and Crestron. While, others, such as National Sales Director Residential Systems Mike Libman, and iX Series Lead Engineer George Saad may be less familiar to those not already working with DMF, but are already veterans of DMF.
Danesh made it clear that DMF is an engineering company at its core, having built that identity starting with his father and up to current day boasting more than 30 engineers in total.
As a result, DMF does not have to look outside the company when facing a product challenge. "If we find a problem in the field, we can develop a solution from scratch," Danesh said.
Particularly in the lighting fixture category the challenge, however, is balancing performance and design aesthetics.
"At the end of the day, we're putting products in high-end spaces, so we're marrying industrial designers and engineers on the same project," Danesh added. "I think we do a good job balancing design and performance, thinking about the installation perspective, working in simulated spaces, and anticipating imperfect job-site situations."
The challenge in the lighting category in the post-CFL world was providing a fixture that would dim down consistently in forward-phase lighting. For DMF, that meant guaranteeing dimming down to one percent in the field "no matter what."
"The goal is no callbacks for the installer and fewer components to deal with," Danesh explained. "A lot of thought went into our engineering but there was also a lot of reliability testing in humidity, with surges added, and injecting dirty power into the system, all to ensure that products always work in those environments. In our quality control offices in China, Taiwan, Carson, CA, and outside reliability testing labs, we tested LED modules for thousands of hours.
To reduce supply chain headaches DMF's engineers have redesigned products to minimize secondary components and to simplify the company's product lineup into fewer SKUs. Modular designs also help the company simplify its manufacturing and installation process.
"This is a new category for integrators, so if you hold up a job site, make drywallers wait… then that's a problem," Danesh said. "We want to help integrators embrace the category, not shy away from it."
CI is the fastest growing channel for DMF. It's also the most unique, as integrators design, specify components, and install fixtures — a unique equation for the category.
With its growing priority for the company, DMF chose CEDIA Expo in Dallas, TX, for the launch of three major product announcements.
DMF iX Series Small Aperture
At CEDIA Expo 2022 in Dallas, DMF is introducing several new products or product families. The company's new iX Series fixtures were designed to elevate the entire home with modern, "quiet" ceilings. As part of its longstanding commitment to the channel, the DMF Small Aperture lights allow CI channel integrators to go smaller without compromises in performance, installation, and serviceability.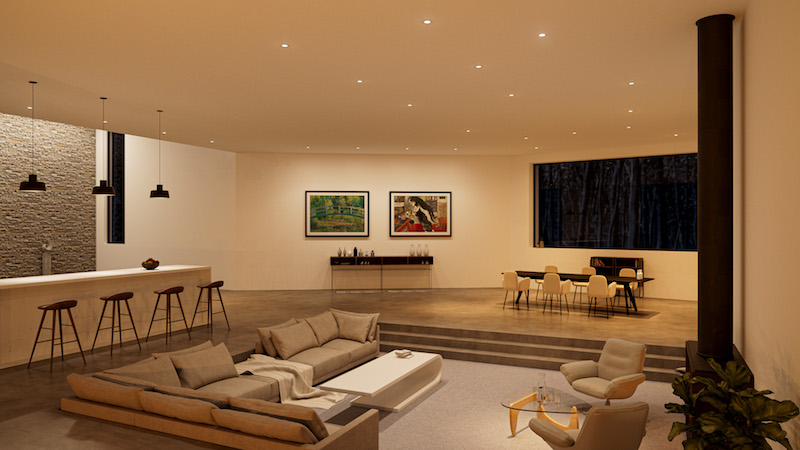 Homeowners and designers want a so-called quiet ceiling with fewer and smaller openings, but current 2-inch fixtures are typically limited to specialty applications. DMF Lighting's iX Series Small Aperture solution removes those traditional constraints, allowing integrators to distinguish themselves from contractors by offering a higher quality, premium aesthetic.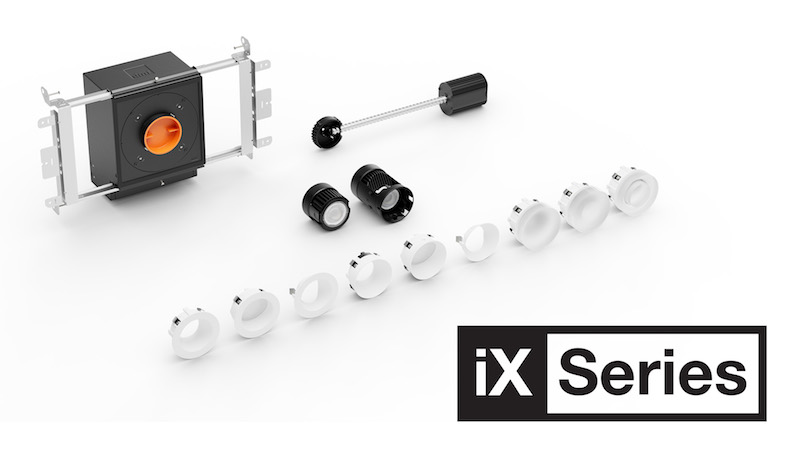 The solution that DMF has developed offers the performance of larger fixtures and error-free installation utilizing a patented Precision Lock Collar that eliminates over-cutting and ensures a perfectly cut, sharp flange, and installations at a uniform depth. The fixture also offers painless serviceability as the custom-designed driver for this fixture is easily accessible below the ceiling.
The result is a quiet ceiling and a modular system that is as easy as plug, snap, and fit. All together this provides the ultimate in flexibility, eliminates mistakes, and allows for effortless changes throughout the job.
"The iX Series offers all the advantage of a smaller footprint while maintaining strong light output and versatility," Libman said. "The same housing will accommodate Standard Downlights, Wall Wash, or Adjustable in Round or Square. The one-piece precision crafted metal trims are offered in standard and flangeless mud in or flawless wood application. Trims are easy to install or swap out to create the effect the homeowner is looking for. Additionally, the iX can be installed in both new construction and remodel applications."
DID M Series Square Housings
DMF also will launch its new DID M Series square housings that provide even more installation options for the CI channel. They feature a new flangeless option for wood ceiling applications, new trim colors, and are designed for installation with "flawless alignment."
"The flangeless wood application is now available with square housings taking seamless ceiling light integration to a new level," Libman said. "DMF's patented housing and trim technology makes the installation process both precise and easy. Combined, these create a clean, uninterrupted wood plane while still providing accessibility for any future changes and serviceability."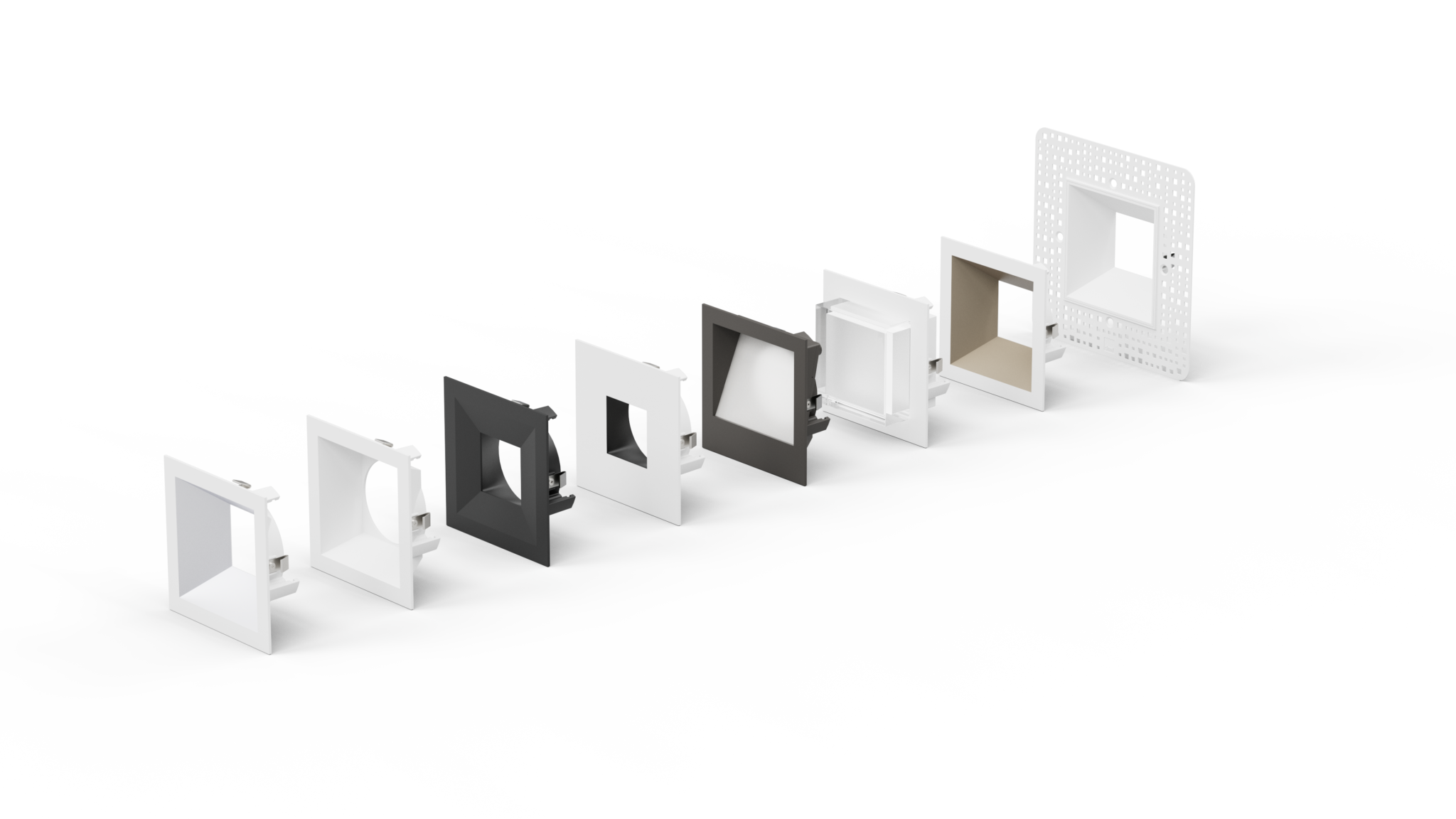 The M Series Square boasts new trim colors in Bronze and Warm and Cool Diffused with White Flange trims to match more design aesthetics. Plus, DMF has precision-crafted trims to meet every need, whether customers want a diffused glow or a narrow spotlight, an eye-catching trim, or one that disappears. The redesigned housings are now offered for square new construction in both fire-rated and standard models, as well as Chicago plenum. All M Series Square trims are backward compatible and will work with the previous generation SquareFrame Housings. Flangeless mudding installations require using same generation trim and mud plate. Remodel housings are also available in both square and round versions to enable installations without tearing open the ceiling.
DMF Tunable White Light Modules
Last but not least, at CEDIA Expo 2022 DMF is also launching its new Tunable White Light Modules, offering the custom integration channel digital control protocols for LED fixtures. The tunable light modules provide flicker-free dimming down to 0.1% and easier install, thanks to using integrated drivers that are compatible with DMF's existing modular system.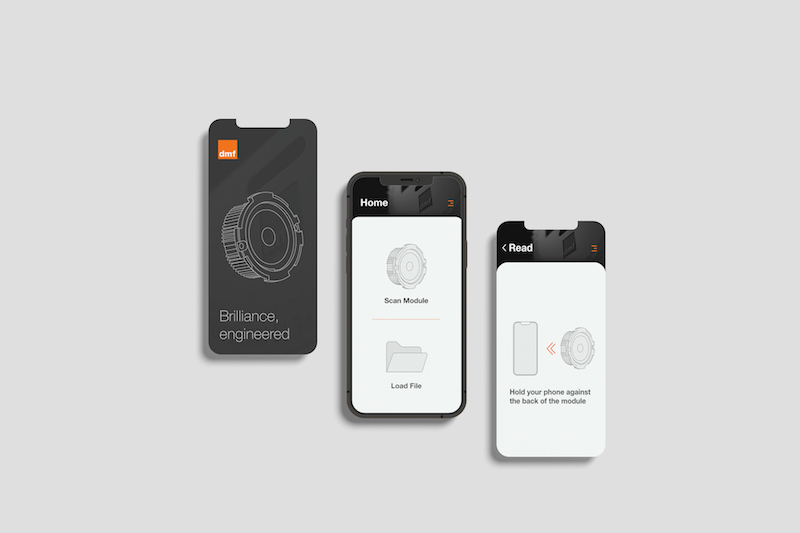 "The DMF Tunable Modules with Digital Control offers a more compelling solution by providing even more installation options for the CI channel," Libman said. "With Near Field Communication (NFC) technology, pre-deployment, deployment, and maintenance are greatly simplified and managed via an app in your cell phone. Tasks that take hours today can be completed in minutes."
With DMF Lighting's new Tunable White Light Modules with Digital Control, integrators are able to install housings early, and then decide the control method later in the project. They're also easy to troubleshoot and maintain. Simply replace the complete module as opposed to a separate driver and LED with wiring and connections that are more readily accessible.
The tunable modules provide integrators with increased flexibility to deliver multiple light settings to address a homeowner's different use cases. Integrators can manage color and intensity independently and tailor scenes to enhance the space.
The tunable light modules will be adopted in all spec-grade DMF product families, including the DID2 and the recently announced iX Series 2-inch fixtures, small aperture lights that set a new standard for premium home lighting.
DMF Lighting will unveil their new products at booth 14055 at CEDIA Expo, Sept.29 – Oct.1