By Jason Oster and Ekin Binal, Directors of Product Management, Crestron
With every Crestron Home update — and every addition to our expanding residential audio lines — the two watchwords we constantly keep top of mind are "quality" and "simplicity." Simply put, we want our gear to sound great and be exceptionally easy for your clients to use.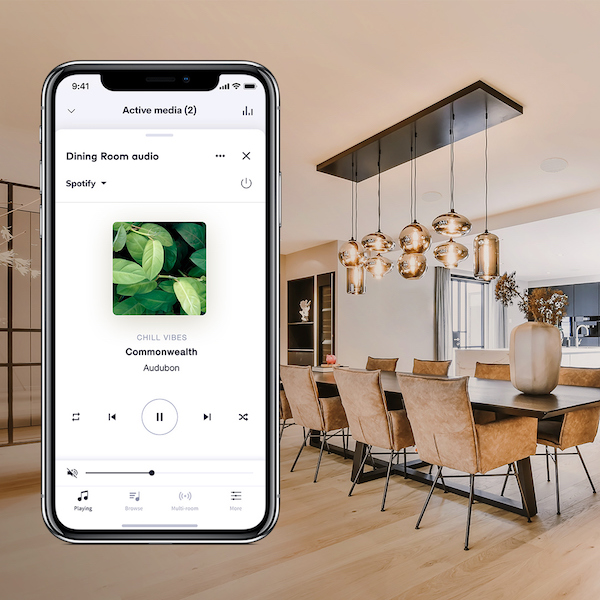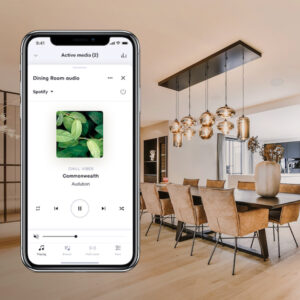 Whole-Home Amplification
To that end, for example, we're constantly updating our Crestron DM NAX product line. We recently added support for Amazon Alexa voice control. What makes this an even better user experience is that if you set up grouping via the Amazon Alexa app, Amazon knows which Alexa mic you are talking to. You don't even need to specify the room. You can simply say things like, "Alexa, play Radiohead," and if you are in the kitchen, it knows that — and will immediately start playing that content in the overhead kitchen speakers being driven by DM NAX.
We are also now supporting the Spotify Connect app, which allows each user to save favorites. Do you like classical music in the morning? Call it up with a single press with any Crestron Home device, including presets from keypads.
As far as amplification is concerned, we're also added new components such as the DM-NAX-4ZSP preamplifier to give dealers more flexibility than integrated amps alone. Crestron Home gives the user complete control of the four-zone Crestron DM NAX streaming preamplifier with the latest in next-generation Audio-over-IP technology.
New Crestron/Origin Acoustics Speakers, Too


As far as speakers are concerned, Crestron decided to produce something that could really shine given the increase in power that our newer amps are pushing. Ultimately, Crestron landed on a partnership with Origin Acoustics.
Origin changed the game a few years ago with their unique "bayonet ring" assembly, which greatly simplifies the speaker install process. While we loved the existing models from Origin, it was always important for us to differentiate the Crestron models. We reconstructed the speakers from scratch using unique driver components that could meet the demanding needs of our audio products and use cases. That work yielded two new lines from the Crestron/Origin partnership — our Reference and Ultimate speakers.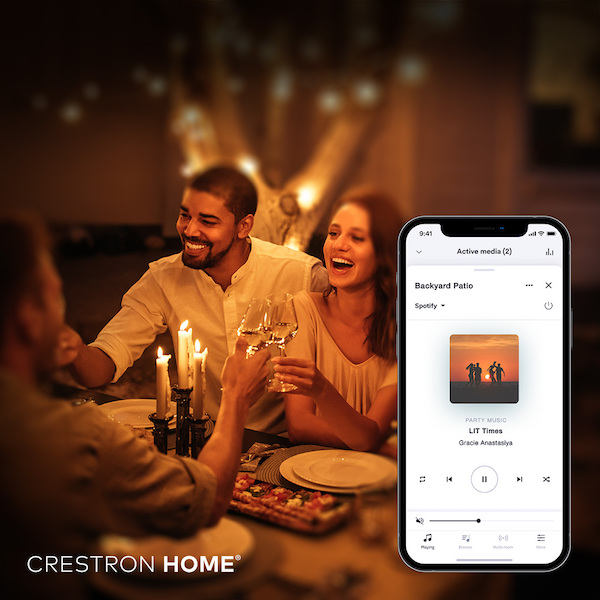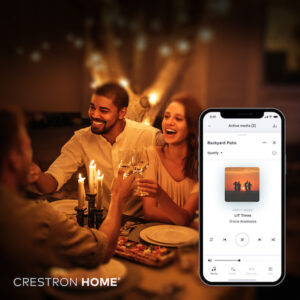 Why two lines? After seeing some competitors offering dozens of speakers at different price points — often all for the same size cutout — we sought to simplify things for the customer. Reference is an excellent baseline offering at a competitive price Ultimate is a no-compromise, premium solution. Both lines offer a full range of in-wall, in-ceiling, and subwoofer solutions.
The Ultimate differentiates further by featuring ceramic-coated aluminum dome tweeters. These can handle even more power due to the rigidity of this exotic material. For the woofers that drive the lower frequencies, we leveraged carbon fiber material for the ultimate in strength and flexibility.
Couple our amps and speakers with Crestron Home control, and end-users will have a distributed audio system that sounds tremendous and is tremendously simple to use.