As much as I loved the idea of adding motorized shades to the main level windows of my house, I never thought I could find a motorized style that matched the aesthetics and light filtering of my existing white wooden manual blinds. I'd always assumed that roller shades and honeycomb-style blinds were my only motorized shades options.
Shame on me for not remembering that Lutron made Sivoia QS Triathlon motorized wood blinds that looked exactly like my manual blinds, but were battery-powered for easy retrofit and would enable me to automate their daily opening and closing.
Related: Airzone Adds Lutron Integration for Luxury Residential Applications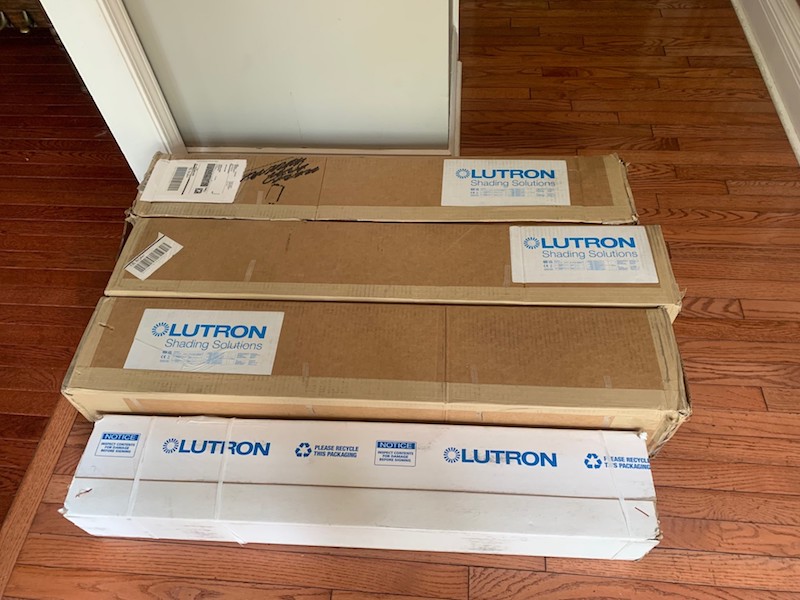 My introduction to the potential of Lutron shades in my home started many years ago when the company's Brand Ambassador Melissa Andresko offered the opportunity to try out Lutron blinds in my home "some day." Finally, last fall, after success with honeycomb-style shades (from a different brand) on the second level of my house, I wondered if there was a way to add that convenience to our main level without altering existing aesthetics as much. To help me through the process, Andresko introduced me to Julie Tompkins, who was one of Lutron's shades product managers at the time.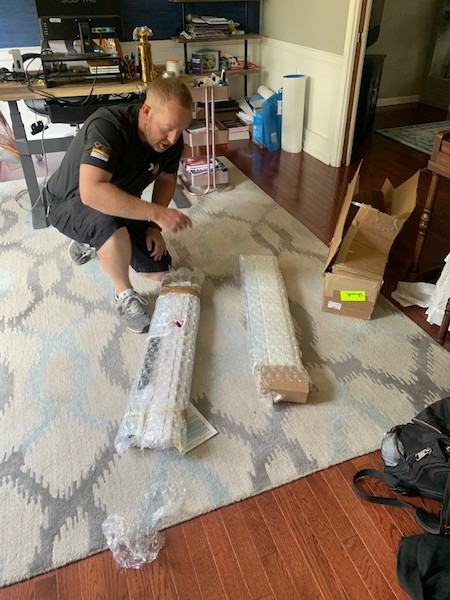 "Do you already have something in mind?" Tompkins asked me at the start of our email exchange. "Maybe a particular style (roller, wood blinds, honeycomb…) or a problem that you're trying to solve?"
Wood blinds? Wait a second… I responded that with my downstairs windows I would prefer more diffused lighting in the day, and that I really like being able to see out through the wood blinds, while still knocking down the glare, but didn't like having to manually close them at night and open them in the morning. I was not looking for room darkening at all for those windows and one of the rooms in question was a dining room, which has relatively expensive drapes and drapery rods that I did not want to remove.
Tompkins suggested that I should check out Lutron's "smart wood blinds," even sending me the link to a YouTube overview video (see below) that completely sold me on the product line's fit for my home. Tompkins explained that the Sivoia QS Triathlon motorized wood blinds were one of Lutron's "newest battery-powered styles." Launched in 2020, the shades offer a feature in the app called Natural Light Optimization. Based on the window's cardinal direction (north, south etc.), this feature will adjust the slat position throughout the day for maximum comfort. For example, south-facing windows have a lot of direct sunlight, so during the day the slats would tilt so it still lets in light but reduces glare and harsh light. You can also set the schedule to automatically open and close the blinds at a set time in the morning and evening.
Again, I felt embarrassed as a smart home tech journalist that I'd somehow forgotten about this product line from my prior coverage. The line launched in 2020, so let's blame COVID-19 for my memory lapse.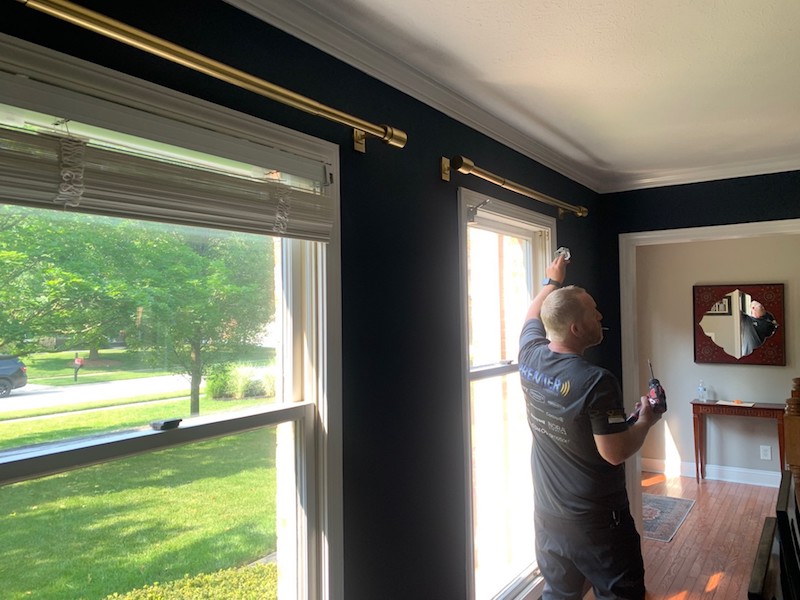 Just one more question from Tompkins: Did I currently have a Lutron lighting system with one of their hubs (Caséta, Radio RA, or Homeworks?) or would I need one of those? As a matter of fact, I had been using a Caséta hub and app for years to automatically turn on and off our family room table lamps, so check that off the list.
Next, Tompkins introduced me to her colleague, Kevin Dalbey, manager of Lutron's shades business and configured product operations, who she said would connect me with a local dealer because, although I'm pretty handy around the house, I didn't want to mess up the window measurement and end up with a wrong-sized or inappropriate product.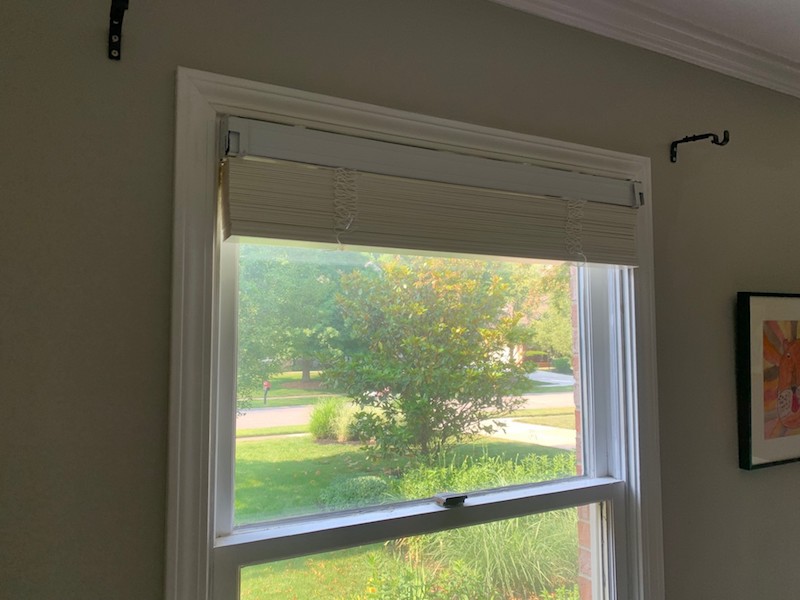 I've known and admired Jason Barth and Ken Irvine at the Premier Group for many years. Their impressive showroom, in the Indiana Design Center, is located literally five minutes from my home. So, when Dalbey told me that Premier Group would be spec'ing and installing my Lutron shades, I could not have been happier.
After a brief chat with Irvine to explain my situation, his colleague Justin Glore came by a couple of weeks later and measured our six front-facing. Being fairly new to Lutron blinds and shades, he expressed just a little bit of concern about having enough window depth for my preferred inside mounting. He promised to follow up with his Lutron rep and get back to me.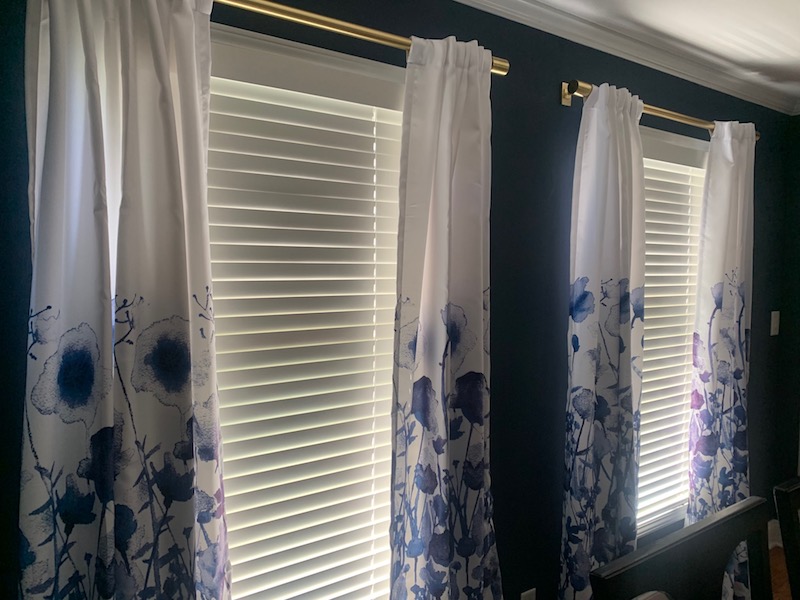 Shortly after that meeting, I had an unrelated press briefing call with Andresko and Lutron President Ed Blair. When Blair heard which product line that I was having installed, he mentioned that he would really like me to add a Lutron roller shade to truly experience their reliability and how quiet their motors are. Following that call, I thought that a good application might my front door, which has an unfortunately large window over which I had installed a manual pulldown honeycomb shade. I followed up with Dalbey and told him that I thought a motorized shade would work great on my front door, and he agreed.
Ultimately, Glore felt confident that an inside mount of my wood blinds would work, possibly after a few alterations to drill hole positions. Then, after wading through the eight color/finish options in Lutron's wood blinds product line, I picked a very basic white color that looked identical to the color and finish of my manual blinds. I also selected a fairly neutral roller fabric color and texture for the front door after going through a whole lot of options on the Lutron website. Through that process, I learned that 3% is "more opaque" than 5% when it comes to the "sheerness" of fabric. (The percent number is the amount of light that is allowed through the fabric, so the lower the number, the higher the opacity and privacy). The fabric that I selected is very opaque for privacy and glare reduction yet would actually allow more light in the room than the manual honeycomb shade that I was replacing.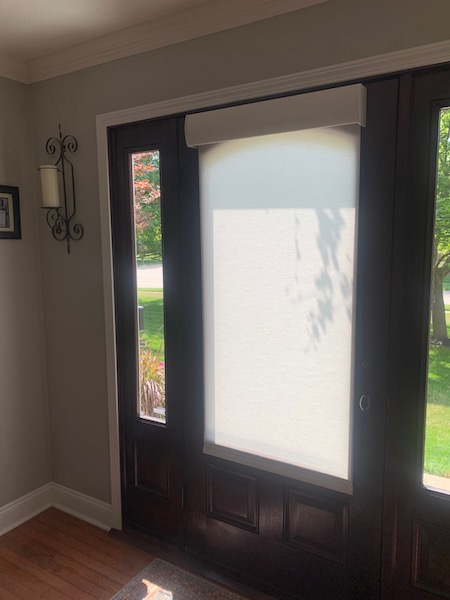 Glore came out once more to check his measurements ("measure twice, cut once") and placed the order with Lutron. Once Glore received the six blinds and single shade at Premier Group HQ, he texted me to schedule the installation.
A few weeks later, Glore arrived at 8 a.m. in his company van, carefully unboxed the blinds and shades, and got to work. As expected, the mounting hole locations on the brackets needed to be re-drilled to fit my shallow window frames. This was not a big deal at all for Glore, who never wavered in his confidence that we had the correct product for the job.
After mounting each bracket and clicking each blind into place, Glore added each one to the Lutron app by pressing the "learning" button at each shade/blind and waiting for the LED to start blinking. We quickly realized that there was a distance issue from my hub to the furthest room in the installation. Glore removed the two blinds in that room from their brackets and carried them into the room with the hub. That allowed him to add them to the app, but they would not sync up with the Scenes or Schedules that I created. Glore called his Lutron rep, who suggested a Wireless Repeart. With the installation complete, I told Glore that I could handle the rest of the "programming" later and procure the repeater, as well. After a little bit of digging, I purchased a Wireless Repeater directly from Lutron, received it the next day, plugged it in the wall halfway between the hub and the farthest blinds location. The intermittent communication glitch was solved and has never been a problem since.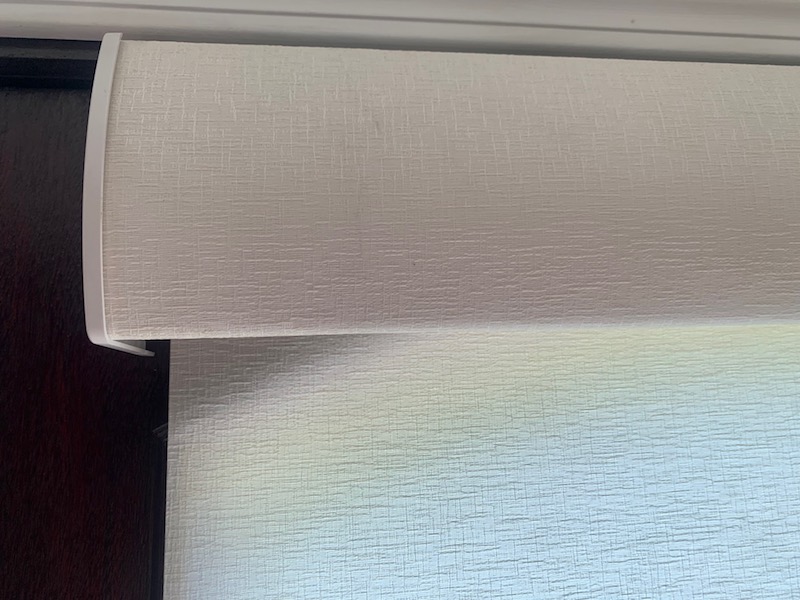 Within the Schedules section of the app, I created Sunrise, Hot Midday Sun, Evening Light, and Sunset macros. All of these are self-explanatory, except Hot Midday Sun, which closes all but my home office at Noon, to help reduce the direct hot sunshine into the front of my house while allowing daylight into my workspace. On days when my wife works from home, I have an override Scene that opens the two blinds in her office, along with the two already open in my office. For particularly overcast or rainy days, I have another scene that I can click on that tilts open the six blinds to their widest aperture and rolls up the shade on the door. If I think about it in time, I can also just "unselect" the Hot Midday Sun schedule on those days, instead.
Once the sun moves over the peak of my house, I have a schedule that reopens all of the shades and blinds for indirect evening light.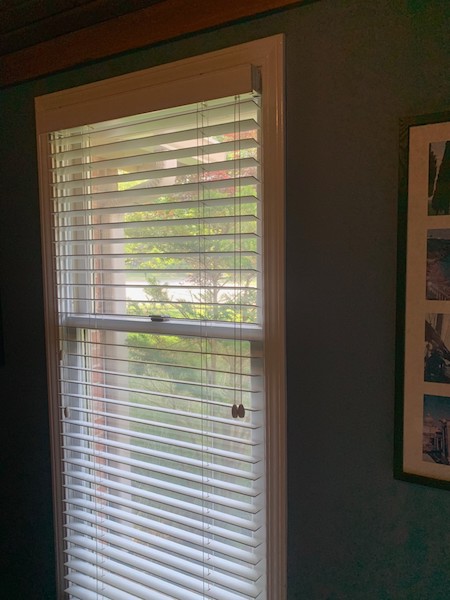 One of the best moments of my experience with this Lutron project occurred on the day that Glore completed the installation. As my wife headed out the door to her downtown Indianapolis office, I began the process of removing all six of my manual blinds, and single manual front-door shade to prep for the new Lutron items. The installation basically went like clockwork, and Glore was cleaned up and out of the house by 2 p.m. I then "re-hung" the decorative drapes in the dining room and my wife's office. Here's the fun part: when my wife got back home around 3 p.m. to finish her day from her home office, she called me over and said, "So, what happened? They couldn't do the installation?"
I was confused for a second then realized that the Lutron blinds looked identical to the manual blinds they were replacing. Then I said, "Check his out," and I used the app to close the blinds, then micro adjust them." I then showed her the roller shade on our front door, which looked 100-percent more elegant and was whisper quiet when I showed her how to open and close it. Having grown accustomed to "adjusting" to new technology, I don't think Karen believed we would be adding tech that looked almost exactly like what we were replacing.
Day-to-day since the installation, we've loved the way the blinds and shade open on cue in the morning and close automatically 20 minutes after sunset (an adjustment I made since it's really still light outside "at sunset.") The noon time closing also provides effective thermal management on particularly hot and sunny day, which has been great for our 25-year-old poorly insulated windows. I look forward to experimenting with Natural Light Optimization more, as well.
I've experimented with a lot of smart home technology over the years, but I'll tell anyone who will listen that automated lighting/shades is my favorite category — by far. Simplifying and automating the control of the light in your home is a time-saving convenience that can improve the comfort and the aesthetics of your living environment. After years of hearing about Lutron's reputation as a manufacturer of well-crafted, elegant, quiet, and reliable blinds and shades, I finally got a chance to experience all of that for myself. I wish I hadn't waited so long!