Delos offers a range of air purification solutions, including either a floor-standing option or an in-duct units for a building's HVAC system.
Even before the pandemic, many people had started taking a serious interest in health and wellness without having to leave the comfort of their own homes. The pandemic then accelerated the trend of home wellness, making it a more integral part of people's lives and an increasingly important aspect of overall health and well-being.
Even though lockdowns are behind us and people can now go to gyms, spas, and yoga studios again, people are still taking a balanced approach to wellness. They are leveraging wellness resources outside of their homes but also still very much focused on creating a healthy environment at home.
When Delos was founded in 2013, the company began with the question; "How do we merge real estate with health and well-being?" Today, Delos offers a mixture of products, services, and certifications for creating health and wellness in both residential and commercial real estate.
Related: Delos Launches Residential Version of its Darwin Wellness Technology
According to Delos President Peter Scialla, "We spend around 90% of our time indoors, and a majority of that time is spent at home. Research suggests that the concentration of toxins, allergens, and other pollutants can be up to five times higher indoors than outside, so the need for healthier air in the home is incredibly important."
Poor indoor air quality can have a range of negative health effects. For example, poor indoor air quality can lead to a range of respiratory problems, including asthma, allergies, and chronic obstructive pulmonary disease (COPD). This can occur due to exposure to indoor air pollutants such as dust mites, mold, and volatile organic compounds (VOCs).
Exposure to indoor air pollutants, such as volatile organic compounds (VOCs), particulate matter, and ozone can cause irritation to the eyes, nose, and throat. This can lead to symptoms such as dry eyes, sore throat, and runny nose. Carbon monoxide, nitrogen dioxide, and particulate matter exposure can cause headaches and fatigue. Exposure to indoor air pollutants, such as volatile organic compounds (VOCs), can cause skin irritation and rashes, and fine particulate matter exposure has been linked to an increased risk of heart disease. Also, exposure to indoor air pollutants such as radon and volatile organic compounds (VOCs) has been linked to an increased risk of cancer.
For the smart home, and even for commercial buildings, Delos offers a range of air purification solutions, including units that are floor standing and simply placed in a room and in-duct units that are integrated into the ductwork of a building's HVAC system.
Delos standalone units include Intellipure Compact (for rooms up to 545 sq. ft.), Intellipure 468 (for rooms up to 1000 sq. ft.), and Intellipure 950P (for rooms up to 3500 sq. ft.).
All three Delos standalone air filtration units include Delos patented Disinfecting Filtration System (DFS) technology. DFS helps to efficiently reduce airborne microorganisms and particulate matter while prolonging filter life by inhibiting the growth of captured microorganisms.
Delos standalone air purifiers include a prefilter, main filter, and, in the Intellipure 468, a post filter. The pre-filter captures harmful VOC gasses and chemicals. The main filter is a particle filter integrated with patented DFS technology that captures particulates and microorganisms. Finally, the post filter, in the Intellipure 468, adds another layer of VOC filtering.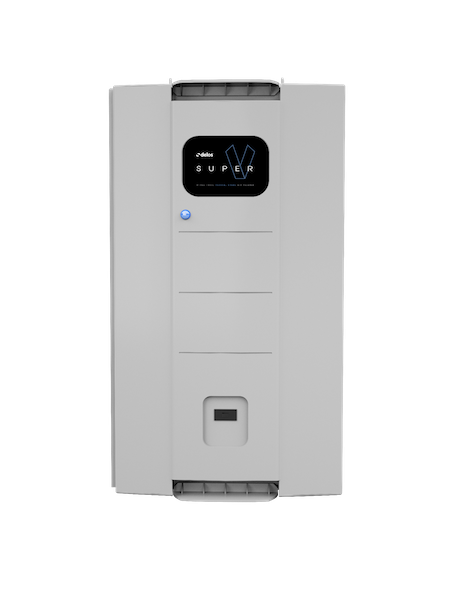 Delos offers in-duct air purifiers for both residential and commercial buildings. The model most appropriate for residential buildings is the Intellipure Super V, which is available in three different models with airflow capacities of 1000 CFM (Model 1700), 2000 CFM (Model 3400), and 3000 CFM (Model 5100).
The Super V also incorporates Delos DFS technology and is designed to provide less resistance to airflow than a conventional MERV 16 filters of the same size (high resistance to airflow can reduce the efficiency of an HVAC system costing a homeowner more money to heat/cool their home).
In addition, the Super V exceeds the MERV 16 threshold requirement with up to 99% efficiency at capturing and removing particles 0.3–1 micron in size. Particles that are 0.3 – 1 microns in size are very small and can include a variety of airborne pollutants. Some examples of these very small particulates include:
Fine dust and dirt particles
Smoke and other combustion byproducts
Pollen and other allergens
Mold spores
Bacteria and viruses
Pet dander and other animal allergens
The Delos Wellness Extension for Crestron Home (DWE) integrates the operation of a Delos Super V air purification system with the Crestron Home smart home ecosystem. DWE integrates a homeowner's Crestron Home system and affiliated features (including the Crestron Home enabled thermostat, app and processor, as well as the home's HVAC system), via Delos' proprietary Delos Setup App. Delos's whole-home advanced air filtration technology continuously captures and removes airborne contaminants throughout the home.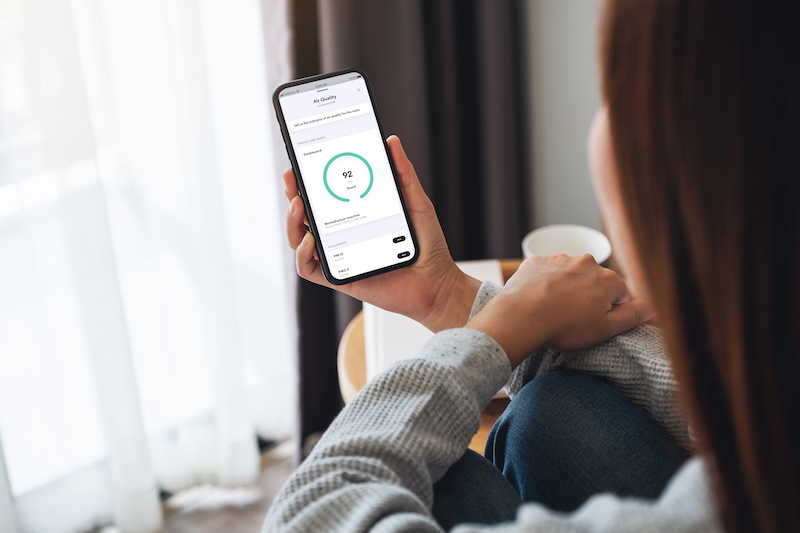 A Crestron Home system integrated with a Delos Super V air purifier using DWE provides real-time indoor air quality (IAQ) monitoring and data visualization, intelligent IAQ remediation when a Crestron Home enabled thermostat(s) is integrated with the Crestron Home processor, and premium filtration efficiency with Delos's Advanced Package air purification units.
Again, according to Delos's President, Peter Scialla, "Half of all homeowners in the U.S. have converted to smart home technologies and are looking for a frictionless experience. Delos Wellness Extension for Crestron Home seamlessly integrates within the home to make automatic adjustments to the indoor air quality."
In addition to its air purification technology, Delos also offers Delos MindBreaks, which is either an in-room or app-based tool designed to encourage people to take restorative breaks. It offers recorded content that transports listeners into a truly immersive environment of the great outdoors to improve focus, reduce stress, enhance mood, promote sleep, disrupt mental fatigue, and increase motivation.
Taking breaks while working can have several benefits, including:
Increased productivity: Research has shown that taking short breaks can help improve productivity by reducing mental fatigue, improving concentration and focus, and preventing burnout.
Improved creativity: Taking a break from work can help to clear your mind and allow for new ideas to form. When you come back to your work after a break, you may be able to approach the problem from a new angle or with a fresh perspective.
Better physical health: Taking breaks can help to reduce the negative effects of sitting for long periods of time, such as back pain, neck pain, and eye strain. By taking short walks or stretching during your break, you can improve your physical health and prevent these issues from occurring.
Reduced stress and anxiety: Taking regular breaks can help to reduce stress and anxiety levels, as it allows you to step away from the demands of work and take some time to recharge and refocus.
Improved overall well-being: Taking breaks can also help to improve your overall well-being by allowing you to take care of your physical, mental, and emotional needs. This can lead to a greater sense of job satisfaction and overall happiness in life.
The Delos MindBreaks app allows subscribers to listen to specially curated tracks for every intention and state of mind: Escape, Energize, Rest, Meditate, Focus, and Inspire. Delos' sound engineers use state of the art technology and proprietary techniques to craft superior, spatially accurate audio that is designed to immerse a listener when wearing headphones. Tracks are changed on a daily basis, but the user can flag their favorites to easily return to them.
The MindBreaks Experience Room is for commercial customers and takes the immersive experience offered by the MindBreaks app to the next level. The Experience Room is a small space that includes MindBreaks 3D audio, high-definition visuals, supportive furniture, and proprietary environmental design solutions. It creates an immersive wellness sanctuary.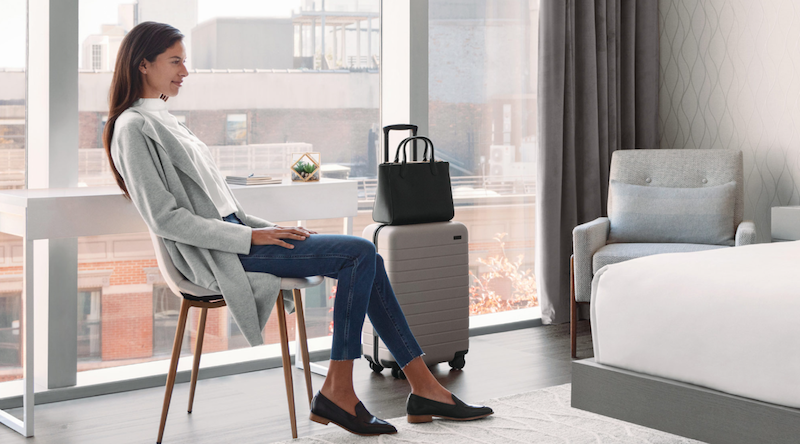 Delos also has partnered with MGMRI, Marriott, Nemacolin, Residence Inn/Courtyard, Meliá, Reside, and Zamora Hospitality Group to offer specially designed wellness rooms in select hotels.
Stay-Well rooms come in three tiers:
These rooms can offer better air quality, refined cleaning protocols, enhanced sleep solutions, advanced mindfulness strategies, energizing light, and rejuvenating environments
This only scratches the surface of what Delos offers from a wellness perspective. Their mission is to mission to enhance health and well-being in the spaces where we live, work, learn and play.