Neeo Marries Swiss Design with the Power of Control4 Smart Home OS 3 Touchscreen Remote Control Experience
SnapAV's Neeo is a sleek remote control for the Control4 Smart Home OS 3, giving homeowners fast access to the things they use most – their favorite streaming services, most-watched TV stations, playlists, and room-level or household-level smart home scenes. Neeo is the first Control4 handheld remote to combine the benefits of hard buttons and a touchscreen.
"The modern smart home needs simple interfaces to start a movie, select a playlist, or lock a door. Neeo was expertly designed to be beautiful, and with Control4 OS 3, it's also the easiest way for a family to enjoy entertainment in their homes," said Charlie Kindel, SnapAV chief product and technology officer. "Neeo is a reflection of our obsession for creating the most elegant and simple interfaces for the refined smart home."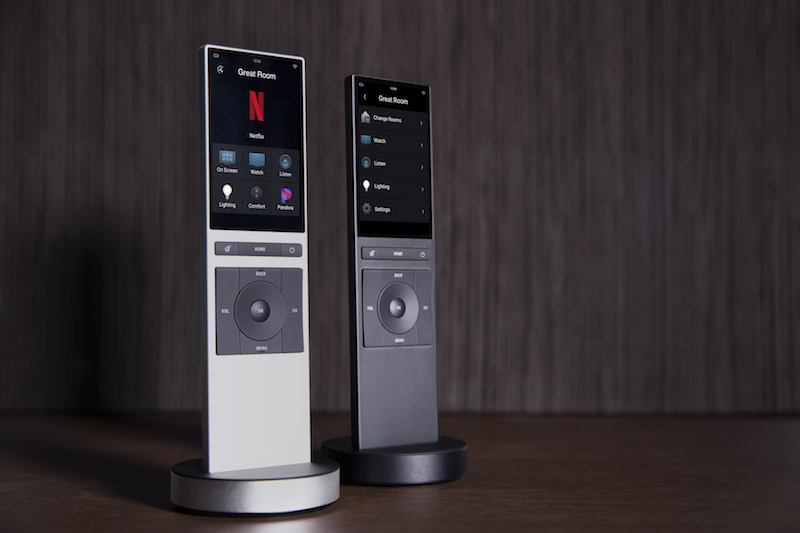 Here are five important things to know about SnapAV's Neeo remote:
Meticulously Designed by Swiss Engineers. Neeo is built from machined aluminum designed to protect the edge-to-edge touchscreen, making the device incredibly durable. Neeo balances perfectly in the hand, embodying the sophistication found in high-end consumer electronic products. Images and icons on the three-inch, high-resolution, LCD touchscreen are crisp and bright to enable quick one-touch navigation. The remote is available in either silver or black finishes and ships with an elegant charging station. Neeo lasts up to five days on a charge and the low-profile, weighted charging station gives it a stylish home when not in use.
Only the Most Important Hard Buttons Need Apply. While 81 mm (3.2-inch), high-resolution touchscreen and software-driven graphical interface reduce the number of buttons, it still includes physical buttons for the essentials, like Volume Up and Down, Channel Up and Down, the selector wheel, Mute, Menu, Home, and Power On/Off.
Built for the Operating System for the Smart Home. Neeo was built to harness software designed specifically to orchestrate and manage the modern smart home. Control4 Smart Home OS 3 unifies connected devices from major brands, weaves them together for simplicity, and provides a singular voice, touch, and hand-held interface for the whole home. Family members in a Control4 OS 3 powered home have at-a-glance views of virtually every connected device, as well as numerous options for control including voice with Alexa and Google Assistant, the Control4 App, a Control4 Touchscreen, a TV on-screen display and with the Neeo Remote.
Powerful Automation and Entertainment Control. Control4 OS 3 personalization automatically extends through to Neeo. Swiping right on Neeo shows video sources such as a Blu-ray player, video game system, Dish Network, and more. Favoring simplicity, Neeo gives homeowners one-touch icons for the channels they watch most and an on-screen keypad to type in a channel number directly. The touchscreen reduces the number of buttons on the Neeo Remote, making it easier to learn and use.
Designed to Strike a Balance Between Pro Install and Homeowner Flexibility. While Neeo is available exclusively through Control4 Smart Home Pros for $600 U.S. MSRP, it is designed to allow Favorites and other features to be changed with the OS 3 app to be mirrored directly to the remote. Note that Neeo requires an update to OS3.1 by a professional integrator. Also, supplements, but does not replace the popular Control4 SR-260 Remote, which continues to be available for $330 U.S. MSRP.