After the success of the Sopra N°2 loudspeaker created as a special edition for the 10th anniversary of Focal and Naim joining forces, Focal has applied the expertise acquired on this exclusive finish to launch a collection of new Sopra finishes for 2023.These changes will only affect Sopra N°2 models.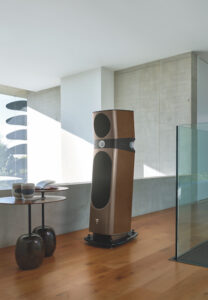 The prices for the finishes are $10,999 USD each and $13,999 each CAD. Available February 2023.
The Brown Concrete finish inherits the design of the special edition finish created for the 10th anniversary of Focal and Naim. With its metallic bronze front panel and its chocolate-colored, concrete side panels, this loudspeaker seamlessly blends into any interior. It is a work of art, bringing a modern look to any living space.
The Black Ostrea finish is inspired by the pearlized appearance of an oyster. It reveals its full character through its iridescent finish on each side. Created by the concrete effect, the mineral side is precise work carried out by expert operators who strive to make each product unique. This finish is the perfect addition to the contemporary home, combining hints of concrete and metal, and adding sophisticated style to any interior.
Back in March 2022, Focal and Naim, as a way to mark the 10th anniversary of their merger, introduced Focal Naim 10th Anniversary Edition: a complete special-edition system.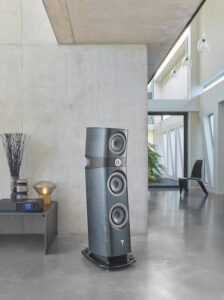 In 2011 Focal and Naim announced that they were to merge to create a new European leader in the audio sector. Three years later, in 2014, the brands cemented their union by joining the VerVent Audio Group, they would continue to evolve and respond to the challenges of a constantly changing market.
Today, an ever-expanding portfolio of products are available via 10,000 retailers worldwide, including the growing network of Focal Powered by Naim stores, driven by the brands' ambitious global retail strategy. Their product collections extend to integrated solutions, headphones, in-car systems, recording studio monitors, and yachts.
To celebrate 10 years together, the two brands developed a special edition system — a ready-to-play Focal Naim 10th Anniversary Edition of products with unique aesthetics. Featured in the set-up are the Sopra N°2 loudspeakers in a special finish: concrete side panels pair with a "tin" front baffles.
An array of Naim Classic electronics powers the Focal loudspeakers: the cutting-edge NDX 2 music-streaming player pairs with the NAC 282/NAP 250 DR pre-power amplifiers, complete with matching NAPSC and HiCap DR power supplies. The system includes all the connections that would be needed, including a pair of Naim's top-range Super Lumina speaker cables.
The Focal Naim 10th Anniversary Edition includes the Sopra N°2, NDX 2 – NAC 282 – HICAP DR and NAPSC – NAP 250 DR for $48,000 and available May 2022.