As I've been saying during the past week or so that Autumn has brought us not just the promise of falling leaves, hopefully cooler temperatures, and permission to put up Halloween decorations. What the first week of fall has brought us is a deluge of new product introductions across the consumer electronics landscape. Last Wednesday saw another batch and look for at least two more in the home theater world before things calm down again.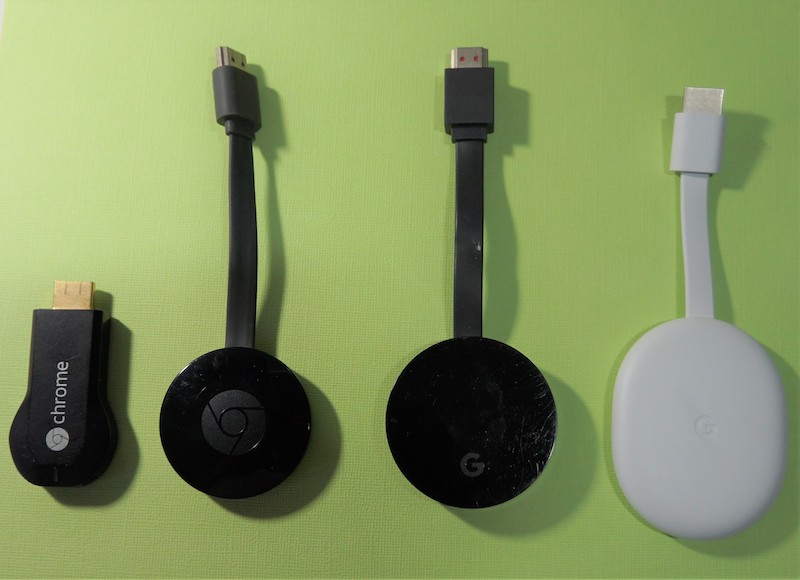 The last day of September was Google's turn, with an event billed as "Launch Night." Less like Amazon's drop of products across a variety of categories and more like Roku's selectively focused new products, the virtual event was relatively short, but the products are significant in heating up the market battles.
Foremost among the Google product introductions, especially related to the focus of Residential Tech Today, is the long-awaited Chromecast with Google TV.
According to Leichtman Research Group, 70 percent of U.S. TV households already have a device with some type of streaming capability, be it a smart TV, a connected game of optical players, or, of course, an external streamer. Within that figure, Leichtman shows that about 54 percent of U.S. homes already have a separate external device for streaming. Why, then, all the new product announcements this week?
Clearly one reason is that new products always ramp up the marketplace. Another reason, perhaps, is that as connected devices age, they often miss new services. Or, as has been the case more recently, some of the new streaming services are not available on all platforms. For example, HBO Max is still not available on either Roku or Fire TV, although Roku has just added Peacock to its offerings.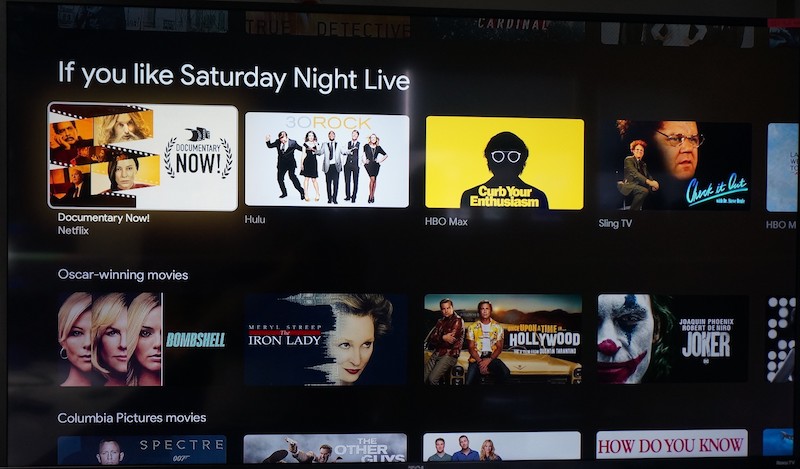 In that context, let's take a look at the new "Chromecast with Google TV," announced on Wednesday and available now for $49.99. Yes, the name has grown longer; it's not simply just "Chromecast." However, it's more than just a different name; it's a completely new product.
Since its introduction in 2013, Chromecast has been sort of an oddball in this category. While all other competitive products have on-screen menus and remote controls, Chromecast took a different route. They have you use a phone, tablet, or PC to select compatible content and then "cast" it to the TV via the Chromecast device. The good news is that there is no remote to lose, and thanks to mirroring from most phones you can view almost anything on the screen. However, that's also the bad news. Without a remote, you can't adjust the volume or change selections without the phone. Particularly for those who are technology-averse, that is problematic.
The new product changes all of that and more. The unit's design is more oval-shaped than the the current versions. Black has been discontinued as a color choice, reportedly due to various environmental concerns. Instead, you have a choice of "Snow" (white), Sunrise (somewhat pink), or "Sky" (light blue). The remote is easy to hold and use, although the volume control buttons on the right side are a bit hard to use for those of us with thick fingers. Color conformity even extends to the batteries, which are the same color as the unit.

A seemingly small, yet major to some, change is the use of a USB-C connector. Replacing the older USB-micro style that will make plugging in the power cable easier when you are working behind the TV, the symmetrical nature of USB-C means that you don't have to worry about which side of the plug is "up." A USB-A to USB-C cable is included, as is the power adapter.
Note that the current requirements may be greater than what is available from the USB port on many TVs, so plan to the cable and adapter. Neither of the TVs I used for testing would support the current draw.
The long-awaited remote has the typical controls for content and CEC-enabled TVs, as well as voice control for both content search and selection as well as home control using Google Assistant.
Google's attention to design simplicity is quite evident, helping make the entire setup process simple. Some might say that the animation was "Google-esque," but they reminded me of the work of Saul Bass, a noted industrial designer and filmmaker who won an Oscar and created many iconic corporate logos, including both the old AT&T logo as well as their current "globe" logo. For those who might already have apps through a Google account, the setup is even easier, as they may be selected to carry over to your new device.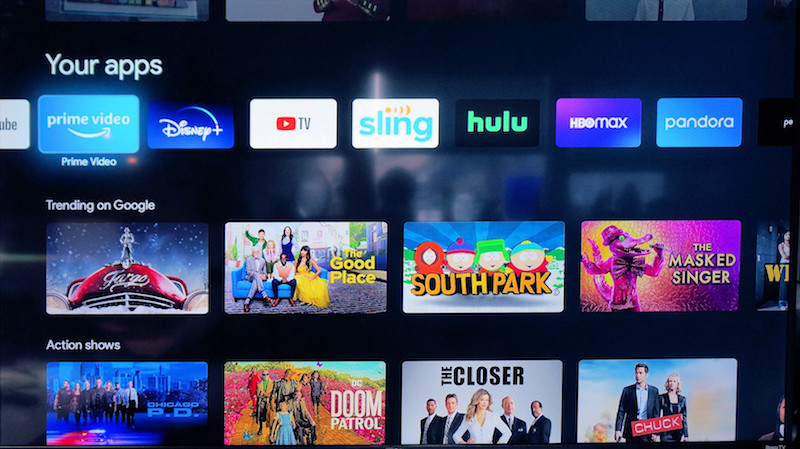 On the technical side, there is 4K/60fps capability, HDR, HDR-10+, Dolby Vision, and Dolby Atmos pass-through support. Support for Google's Stadia gaming app is said to be coming, but is not available at launch. HDMI 2.1 is available, which may well make this the first streamer with that functionality. Dual-band Wi-Fi 5 is on board, as is Bluetooth 4.2. Wired Ethernet is possible, but the included power adapter does not facilitate that, as the Chromecast Ultra does. The USB-C port should allow for the use of external adapters other than Google's own optional accessory.
Once again, the switch from a strictly phone-centric navigation and control system to an on-board, app-based interface is one of the biggest changes for this new product. Remember, that's why the name has been updated. The on-screen Google TV interface is a newly skinned version of Android TV. It is very much on par with the new UI for Amazon's Fire TV products, although my favorite continues to be Roku's interface. To be certain, this is a "dealer's choice," where I suggest you look at all of the major devices and pick the menu system that is the best for your clients (for our designer/installer readers) or for your family.
The original Chromecast products have been an interesting option in the world of external streamers. I have had a Chromecast or two in various systems in the house, so this will replace at least one of them. The new Chromecast with Google TV is a major improvement over those devices thanks to the included remote and the clean new interface. The change to USB-C is small, but important. Keeping 4K/60p resolution and Dolby Vision with the addition of HDR-10+ and HLG brings things up to date on that score.
As I've said, when most of the technical, app availability, and under interface factors becoming more of a level playing field, it increasingly becomes a matter of personal choice as to whether to upgrade or add a new device and which one to select. Particularly with "app wars" raging all over the streaming services map, I'd say that it isn't, "Which one should I recommend or use?" Rather, "Which ones…!" Given a close look at the new Chromecast with Google TV, it certainly deserves your consideration. With a retail price of $49.99, even more so.