Years ago, I worked at Gramophone, a very successful Maryland-based audio/video dealer that has been in business for almost 50 years. I worked there until my family and I fulfilled a long-standing ambition to relocate to a western ski town. On a recent trip back to the east coast, I had the opportunity to visit Gramophone and see the changes that have taken place over the past 12 years as the company has continued to expand, and thrive, even in the face of a global pandemic. This article looks at Gramophone as a model for other AV companies.
COVID, supply change issues, inflation, and a host of other problems have made this a challenging time for businesses in general and audio/video dealers in particular. With that in mind I thought it a good time to take an in-depth look at an audio/video dealer that:
Has been in business for close to 50 years
Has survived multiple economic downturns
Has embraced technological changes in the products consumers want
Is thriving in today's challenging times
In 1976, Gramophone was founded in Maryland by Brian Hudkins. Brian had gained knowledge of the business by working for another dealer for four years before opening his own shop specializing in high-end, two-channel, audio.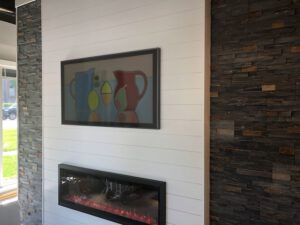 Unlike today, in 1976, there were no high definition TVs, no surround sound, and no computer controlled smart home products. That isn't to say that there weren't high-quality products at that time. For example, tube-based amplifiers from Marantz and vintage Quad electrostatic speakers are highly sought after today and can still provide amazing sound.
In 1980, there was a serious recession. A number of Gramophone's competitors went out of business, but Gramophone survived because of its focus on selling high-quality, premium brands of the period, including Bang & Olufsen, KEF, McIntosh, Nakamichi, and Yamaha.
With a focus on looking at emerging technologies, Brian saw how video could become an integral part of the business. In 1982, Gramophone started selling high-performance video systems based around 12-inch laser discs and the first high-performance video displays from Pioneer. Gramophone also offered a complete selection of movies and concerts on video disc.
Again, with a focus on emerging technologies, in 1983 Gramophone was selected by Sony as one of 50 dealers in the U.S. to introduce the Compact Disc, which was the first "digital music" source available to consumers. Gramophone also stocked a catalog of CDs as "record stores" were not yet offering them.
Some additional technical innovations that Gramophone embraced are:
In 1995, Gramophone displayed and sold the first 42-inch flat-panel TVs in Maryland
In 1997, Pioneer introduced the DVD player in a combination machine that played both 12-inch laser video discs and 5-inch DVDs. Gramophone was selected as one of 25 dealers in the U.S. to introduce this model
In 2000, Gramophone started selling smart home products and by 2004 it had a staff of programmers to develop smart home systems for customers
In 2005, Gramophone was one of the first dealers in the U.S. to offer the Kaleidescape movie management system that allowed content to be stored and organized on computer hard disks and played instantaneously in multiple rooms in a home.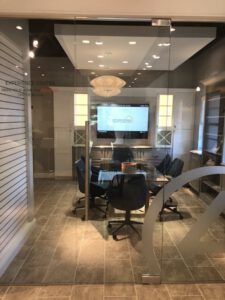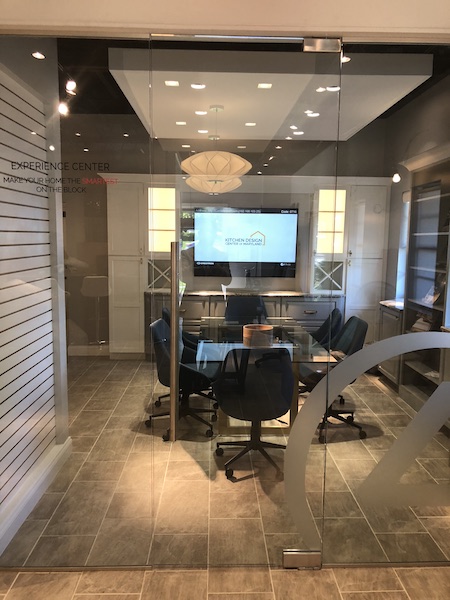 Gramophone grew not only by embracing new technologies as they became available, but over time they also opened new showrooms, expanded the size of their original showroom, expanded their business relationships, and expanded the services that they offered customers.
In 1989 Gramophone was one of a small group of dealers who were offering installation services. These dealers banded together to form the trade association CEDIA.
In 1996, Gramophone joined HTSA, now a group of almost 100 similar dealers throughout the U.S. who share best practices and negotiate pricing to allow members to have pricing competitive with DIY big box stores while also offering a full gamut of services.
In 2005, Gramophone added interior design services for home theaters as well as other areas of the home.
A Change in Ownership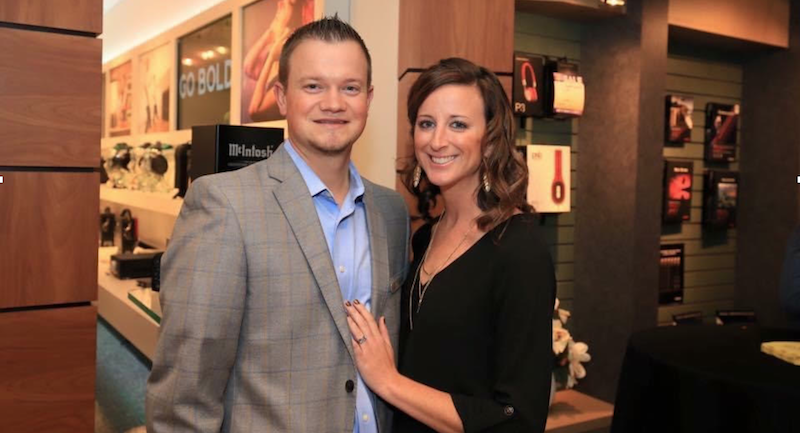 A major change was coming to Gramophone. In 2005 Andrew Davis joined Gramophone as a salesperson. Andrew came with six years of experience selling audio/video products at other dealers. Five years later Andrew became a sales manager and the following year, with a business partner, Andrew purchased Gramophone from Brian.
Brian moved into an ambassador role immediately after the purchase. This role helped ensure that processes were maintained, relationships grew, and vendors understood the transition. An abrupt exit of anyone with such tenure would be strenuous on staff and professional contacts.
Andrew embraced Gramophone's culture of innovation and growth. He has expanded and diversified Gramophone's service offerings while maintaining a focus quality and customer satisfaction.
In 2014 Gramophone added full design/build construction services to its offerings allowing Gramophone to build out home theaters, lower level entertainment spaces, and other interior improvements. Gramophone now has two custom home builders on staff to lead these projects and a staff of construction professionals, including 14 electricians. Gramophone's goal wasn't to compete with architects for this design/build business but was driven by customers' requests for high-quality project delivery and one-stop shopping.
All of Gramophone's design/build projects go back to their roots and incorporate audio/video systems and smart home technology. And, to support the growth of this facet of the business, in 2017 Gramophone purchased a kitchen and bath showroom. After remodeling that space Gramophone leverages it to independently drive the sales of new design/build projects as well as to let customer understand how technology can be integrated into their home.
Gramophone has always believed in the necessity of allowing customers to experience how technology can enhance their home. In 1998, the company incorporated a smart home technology show house into their showroom. The show house included a model kitchen, living room, bedroom, outdoor entry, and patio that all included smart home technology, video, and audio distribution. It allowed the sales staff to educate customers on the benefits of these technologies in their home and to clearly show how technology didn't have to take over a home's décor.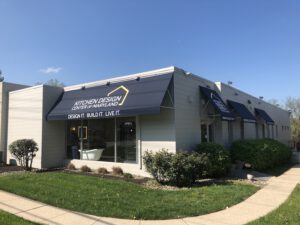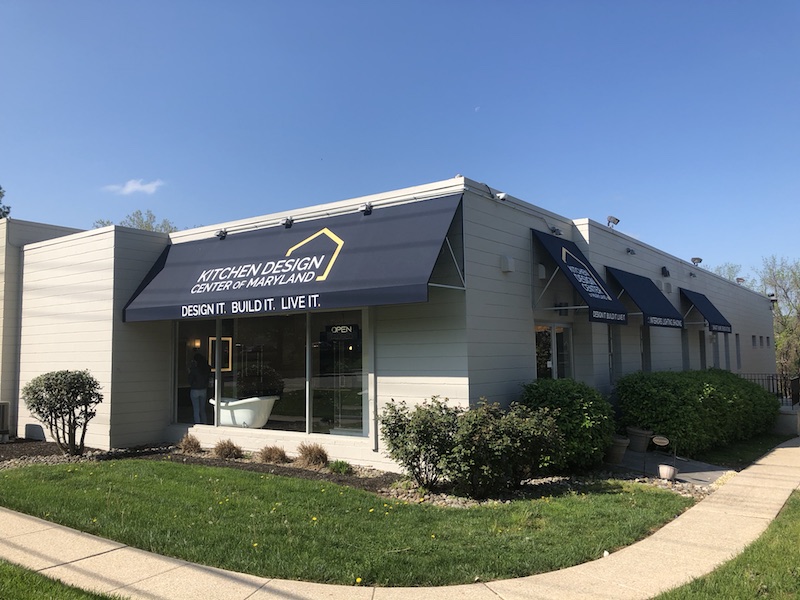 Today, the kitchen/bath showroom includes a dedicated space to help customers understand the benefit of lighting design. A mockup of a dining room is used to demonstrate this. First the room is lit using a basic builder-quality chandelier with bright, exposed bulbs that harshly light the space. Then, in turn, the chandelier is dimmed, sconces are used to add to the light in the room, overhead fixtures provide a wall wash of light on wall mounted art, and narrow beam spots provide task lighting on the table. The effect of this layering of light in the dining room is dramatic and allows customers to understand for themselves the value of lighting design.
In addition, an array of 80 lighting fixtures in the ceiling allows a customer to understand how other aspects of lighting design, including color temperature, can impact their home. To support the delivery of lighting design services Gramophone has an AIA certified lighting designer on staff.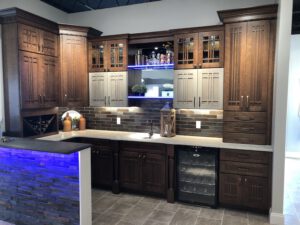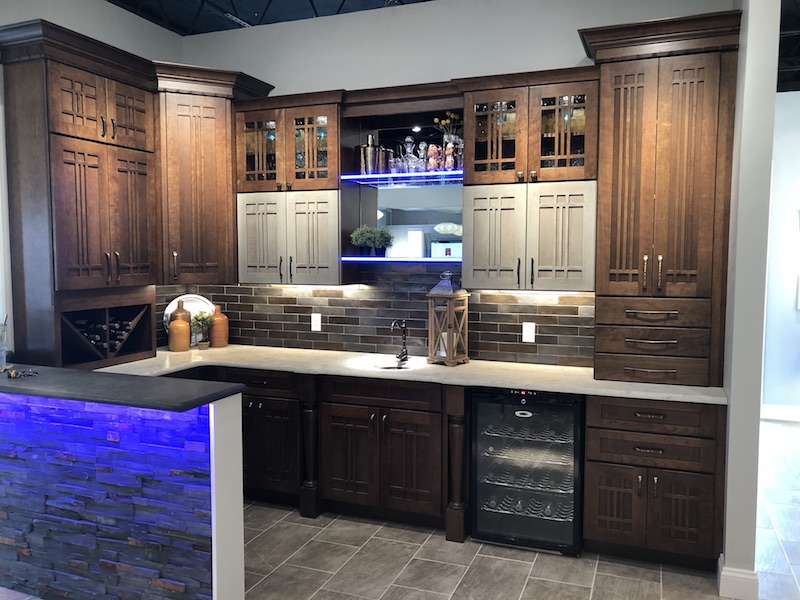 Also, in 2014 Gramophone expanded into ecommerce with the introduction of SKY by Gramophone. SKY by Gramophone allows ecommerce customers to purchase many of the same brands of products that Gramophone sells through it showrooms, including Audioquest, Bluesound, Bowers & Wilkins, Denon, GoldenEar, JBL, Kaleidescape, Leon, McIntosh, NAD, Sennheiser, Totem, and many more. Gramophone operates a 40,000 sq. ft. warehouse dedicated to the SKY by Gramophone ecommerce business.
Investing During Challenging Times
Gramophone is currently building a new 22,000 sq. ft. showroom. Part of this showroom will include offices for Gramophone's marketing team. The company has fully embraced social media and acts as a thought leader. The new showroom will also include a video production studio for the creation of online videos that support its social media and marketing efforts.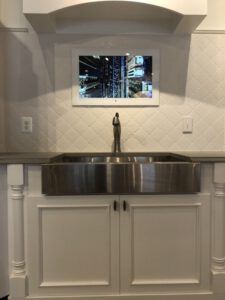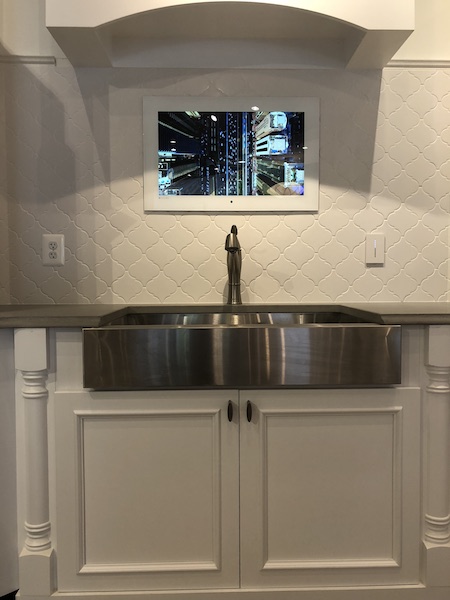 Today, one of the biggest challenges facing businesses throughout the country is the difficulty in obtaining products due to bottlenecks in the supply chain. Chips for electronics are especially in short supply and are the backbone of the products sold by Gramophone. Andrew recognized this issue early and ordered ample quantities of products to avoid being caught short. He continues to look ahead, placing orders for what he believes the company will need, allowing time for delays in delivery. For example, this fall saw the hint of copper shortages on the horizon. To make sure Gramophone's design/build projects weren't held up, Andrew purchased pallets of Romex electrical wire.
Andrew also made large, early purchases of, now, hard-to-get, McIntosh audio/video components. As a constant visual reminder to the sales staff that Gramophone has these products in stock (while many other dealers are out of stock of these products) Andrew has boxes of some components stacked up in the showroom in clear view of the sales staff.
These are just two examples of how Gramophone focuses on its supply chain, proactively, not reactively.
Gramophone has grown throughout its almost 50-year history way beyond its humble beginnings as a small audio dealer selling two-channel stereo products. Innovation, foresight, and a focus on quality and meeting customer needs have driven its success in both good economic times and through several economic downturns. Over the years, it has won countless awards, and I hope that an understanding of how Gramophone has thrived will help other businesses do the same.