During the HARMAN ExPLORE virtual conference last week, the company celebrated 75 years since JBL's founding and 51 years since the introduction of the brand's iconic L100 Century loudspeakers, with the launch of the limited edition JBL L100 Classic 75 – an exclusive take on the legendary best-selling JBL L100 loudspeaker, with modern twists.
JBL also honored its history and fanbase with the SA750 Integrated Amplifier, a modern take on the vintage JBL SA600 and SA660 integrated amplifiers from the 1960s and 1970s.
Related: Harman Luxury Audio's JBL Conceal Series Loudspeakers Feature Invisible Design
The ExPLORE event was not all about nostalgia and looking back, however. JBL also introduced four new architectural loudspeakers to the JBL Synthesis family. The new JBL Synthesis SCL-5 and SCL-8 in-ceiling loudspeakers and JBL Synthesis SCL-6 and SCL-7 in-wall loudspeakers are designed to pair with JBL Synthesis electronics and allow dealers to offer a more attainable portfolio for multi-purpose rooms, media rooms and smaller scale home theaters.
At the other end of the budget spectrum, the new flagship JBL Synthesis SCL- 1 and SSW-1 expand the brand's patented technologies and acoustic advantages to large-format solutions scaled for ultra-premium, high channel count immersive audio deployments.
The SCL-1 and SSW-1 are two of the first products to launch since the creation of the JBL Synthesis Product Council in 2020. They are the direct result of dealer integrators who have been asking for a JBL Synthesis solution for large scale systems. Features and capabilities were reviewed and refined in conjunction with the members of the product council in order to deliver on the needs and expectations of the customers who have been requesting them.
JBL Synthesis SCL-1 LCR Loudspeaker
The SCL-1 loudspeaker is the new flagship of the JBL Synthesis SCL range, optimized for custom installation behind projection screens. This large format LCR loudspeaker features JBL's patented D2430K dual 3- inch diaphragm compression driver mated to a High-Definition Imaging (HDI) horn.
The loudspeaker also includes two newly designed 12-inch cast frame Carbon Cellulose Composite Cone (C4) woofers in a patented Complementary Bass Alignment System (C-BAS) configuration.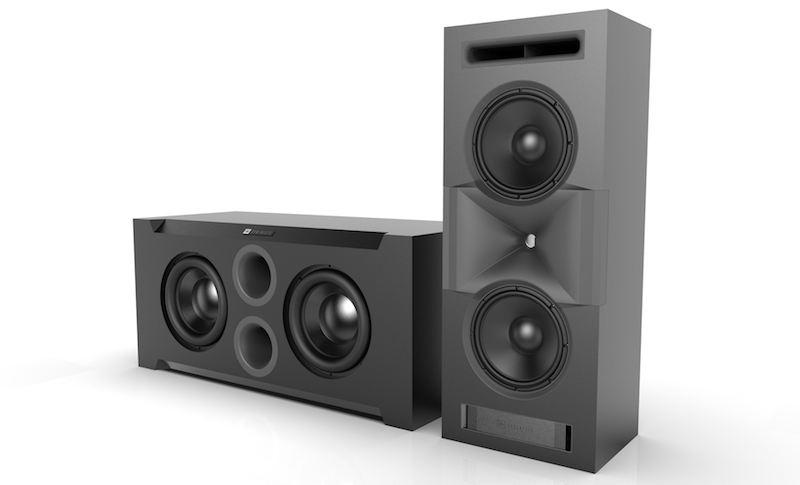 The heavily braced MDF enclosure is finished in textured matte black and measures 48 inches high, 19 inches wide, and 15.3 inches deep with the included magnetically attached steel frame black fabric grille. Removing the grille reduces the depth to 14.5-inches.
Connectivity is provided by dual sets of gold-plated binding posts. Custom tuning can be achieved via the front panel configuration controls providing HF adjustments for various installation considerations as well as selections for bi-wire, bi-amp, and complete bypass of the internal crossover network for use in advanced systems with outboard electronic crossovers.
SCL-1 availability begins in March with a retail price of $15,000 each.
JBL Synthesis SSW-1 Subwoofer
Part of the JBL Synthesis Subwoofer series, the SSW-1 is a newly developed, ultra-high- performance subwoofer designed specifically to complement the acoustic capabilities of the SCL-1 large format LCR loudspeaker. Designed for horizontal or vertical application in large scale systems, the SSW-1 Subwoofer features dual high-excursion (4 inches peak to peak), 15-inch cast- frame woofers with composite cones, and massive 6-inch voice coils.
The 53.5-inch high x 24-inch wide x 22.8-inch deep subwoofer enclosure is built with 1-inch thick cabinet walls and extensive internal bracing throughout and weighs in at more than 330 pounds.
Enclosure tuning is via dual front-firing Slipstream ports, while connectivity is provided through two sets of gold-plated, spring-loaded binding posts – one for each woofer. With power handling of 2500W RMS per woofer and 5000W RMS per system, as well as extremely high SPL output and usable low-frequency extension to 13Hz, the SSW-1 seeks to provide the highest levels of sonic performance for custom home theater.
The SSW-1 will begin shipping in March 2021 and retails at $7,500 each.
The SCL-1 and SSW-1, introduced at HARMAN's virtual ExPLORE event are tailored to large-scale and high-channel count systems in combination with the SDP-75 immersive surround processor and SDA amplifiers.
JBL SCL-5 In-Ceiling Loudspeaker
All four of the new SCL expansion models utilize patented JBL technologies including annular ring diaphragm compression drivers, High-Definition Imaging horn geometries, advanced woofer designs, zero-bezel magnetically attached grilles, and a new patented "Cat Claw" mounting mechanism that saves time and makes installation far easier than traditional "dog leg" type designs.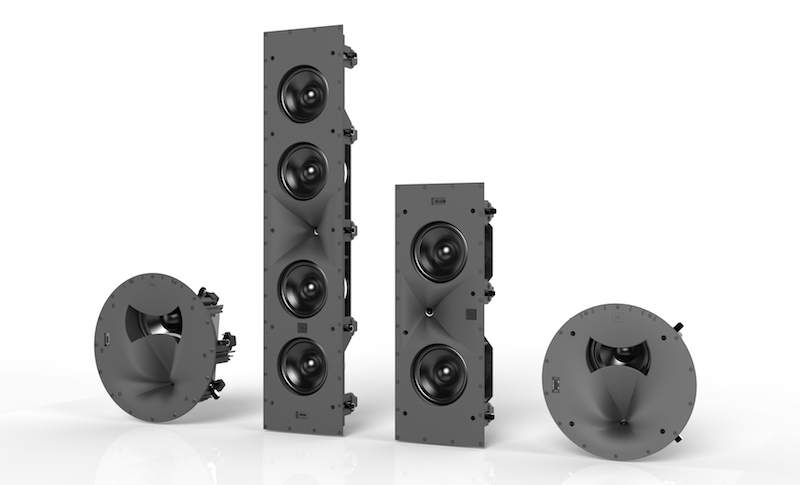 The first dedicated SCL in-ceiling loudspeaker, the SCL-5 2-way loudspeaker system features the JBL 2409H 1-inch compression driver tweeter and High-Definition Imaging (HDI) horn assembly.
The HDI horn is positioned at an angle on its baffle above the 7-inch black Advanced Aluminum Cone cast frame woofer with the woofer firing through an aperture that makes it virtually invisible acoustically to the compression driver and horn. This patented design delivers smoother off-axis response and is suitable for applications as far as 60-degrees off-axis – ideal for immersive audio systems.
The Cat Claw mounting system as well as gold-plated, spring-loaded binding post terminals enable quick and reliable installation.
The system features magnetically-attached round and square grilles and will begin shipping in February 2021 at $2,000 each.
JBL SCL-6 In-Wall Loudspeaker
The 2.5-way SCL-6 in-wall loudspeaker is a narrow footprint design with an on-axis horn suitable for LCR applications in small to medium systems or lower-level surround positions in larger systems. The SCL-6 features a patented 1-inch 2410H-2 compression driver tweeter, mated to a JBL patented High-Definition Imaging (HDI) horn assembly and complemented with four 5.25-inch (130mm) black Advanced Aluminum Matrix cone, cast frame woofers.
The patented Cat Claw mounting mechanism makes the speaker easier to install in combination with gold plated, spring-loaded binding posts. Designed to provide ultimate performance and the highest levels of dynamics from any in-wall loudspeaker, the SCL-6 discreetly integrates into any environment and décor and features a paintable zero-bezel, magnetically attached grille.
The SCL-6 ships in February 2021 and retails at $1,500 each.
JBL SCL-7 In-Wall Loudspeaker
The 2-way SCL-7 in-wall loudspeaker system is designed for off-axis listening as LCR, width and surround channels. The SCL-7 features a 1-inch 2410H-2 compression driver tweeter and patented High-Definition Imaging (HDI) horn assembly, complemented with dual 5.25-inch (130mm) black Advanced Aluminum Matrix cones.
As with the SCL-6, the patented Cat Claw mounting mechanism and gold plated spring-loaded binding posts allow for fast and easy installation.
The SCL-6 ships in February 2021 and retails at $1,000 each.
JBL SCL-8 In Ceiling Loudspeaker
The SCL-8, 2-way in-ceiling loudspeaker system is designed for off-axis listening in an immersive audio system. Essentially a smaller version of the SCL-5, the SCL-8 features the same transducers as used in the SCL-6 and SCL- 7. It includes a 5.25-inch Advanced Aluminum Matrix cone cast-frame woofer and 1-inch 2410H- 2 compression driver tweeter mated to an HDI horn assembly.
The SCL-8 comes with paintable zero-bezel, magnetically attached round and square grilles and will be available in February 2021 at the retail price of $1,000 each.
The addition of these four new models along with the flagship SCL-1 and SSW-1 models expands the JBL Synthesis portfolio to a total of eight SCL models and four SSW models.
The SCL-1 and SSW-1 are tailored to large-scale and high-channel count systems in combination with the SDP-75 immersive surround processor and SDA amplifiers. The SCL-5 is a great match with the SCL-2, SCL-3, and SCL-4 loudspeakers for height channel installations.
The SCL-6, SCL-7, and SCL-8 complement the SDP- 55 16 channel immersive surround sound processor and the award- winning SDR-35 class G Immersive surround sound AVR as well as the SDA amplifiers for use in small to medium size systems.
JBL SA750 Integrated Amplifier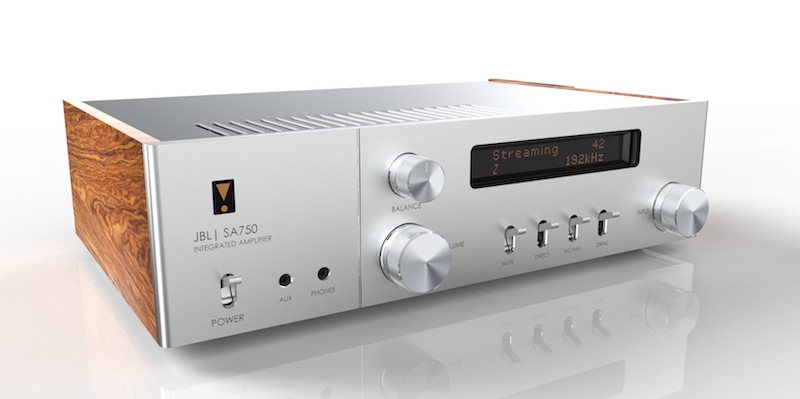 The JBL SA750 Integrated Amplifier features a retro-inspired milled aluminum face panel with classic volume, balance, and input dials and hefty switches for power, mute, direct, MC/MM phono, and Dirac Live room calibration.
The face panel includes a 3.5mm Aux input and 3.5mm Headphones output, plus a 2-line orange display screen. The look is completed by teak-wood veneer side panels to match the new anniversary edition JBL L100 Classic 75 loudspeakers, which also debuted at HARMAN ExPLORE.
The retro-chic of the JBL SA750 design is contrasted by state-of-the-art high-output Class G amplification technology and streaming protocols including Google Chromecast and Apple Airplay 2. The SA750 also includes a high-resolution DAC, a switchable MM/MC phono input, support for UPnP wireless, full MQA file decoding, and is Roon Ready, plus a host of additional premium audio features including Dirac Live room calibration for optimized performance in any listening room.
The heart of the JBL SA750 integrated amplifier is a high-performance Class G amplifier that delivers 120W of power per channel into 8Ω and 220W per channel into 4Ω. This Class G design provides impeccable sound quality and efficiency operating as a Class A amplifier for low level signals and switching in an additional power supply for large transients and dynamic waveforms. The result is incredible detail and accuracy at low levels, low crossover distortion, and high-current capability for extreme power demands.
Connectivity includes Ethernet and WiFi with UPnP for connecting to a home network; USB for playing files from removable memory drives; Ethernet and RS-232 serial control for third-party control systems; two optical and two coaxial digital inputs, and six pairs of analog RCA inputs. The JBL SA750 features two pairs of binding-post speaker connectors, a front-panel 3.5mm auxiliary input, a 3.5mm headphone output, and one stereo RCA preamp output.
JBL L100 Classic 75
Last but not least, the L100 Classic 75 features the same iconic, 1970's-style retro design as the JBL L100 Classic, with vintage JBL styling including an iconic black Quadrex foam grille and exquisite teak wood veneer cabinets. With only 750 pairs of this historic product available, the exclusive loudspeaker features a unique signed rear-badge and Certificate of Authenticity, commemorating 75 years in homes.
The most immediately striking feature of the L100 Classic 75 is the teak wood veneer that graces all sides of the loudspeaker enclosure. The wood finish is complemented by a black Quadrex foam grille accented with a gold and black JBL logo.
Special edition badges are found on the front and rear of the loudspeaker including a commemorative plaque that includes the signature of the principal system engineer, Chris Hagen, as well as the individual pair number out of the total 750 pair production run.
Acoustically, the L100 Classic 75 features an improved woofer suspension design and a revised network to include bi-wire capabilities via a premium input cup with dual sets of gold plated binding posts. The L100 Classic 75 is sold as a matched pair system and includes a set of JS-120 floor stands. The entire system ships inside a specially-crafted wooden crate with limited edition artwork on the side panels.
The L100 Classic 75 features the JT025Ti2-4 1-inch (25mm) Titanium dome tweeter mated to a waveguide with an acoustic lens for optimal integration to the JM125PC-8 5-inch (125mm) cast- frame, pure-pulp cone midrange driver located directly below.
The vertical HF and MF transducer arrangement is slightly offset to the right of the woofer below, with HF and MF attenuators located on the upper left of the front baffle. Low frequencies are delivered by the JW300SW-8 12-inch (300mm) cast-frame, white pure-pulp cone woofer operating in a bass- reflex enclosure system that is tuned via a single, front-firing port tube with flared exit.