The whole world can be a touch screen with Hachi's new Infinite M1 entertainment system featuring 10-point AnyTouch and a picture size up to 100 inches.
The Infinite M1, which debuted in October 2020, was created under the Beijing Branch of Guangzhou Puppy Robotics, founded in November 2016 as a "wholly-owned subsidiary of Beijing Puppy Robotics Co., Ltd." Hachi is under the Puppy Robotics company as well.
Related: Why Projection Mapping is My Favorite Technology
With innovation as its engine and outstanding user experience as its goal, Puppy Robotics is looking to bring AI products and solutions to consumers, creating a new ecosystem of AI-enhanced smart living.
How the Infinite M1 Works
The Infinite M1 is an interactive touchscreen projector and smart home entertainment system.  It is about eight inches tall and three inches wide and weighing nearly three pounds. The built-in battery gives users the opportunity to leave long power cords at home.
The 10-point AnyTouch technology is what gives users the ability to use flat surfaces like hardwood floors as a touchscreen. According to the company, the multi-touch technology works on all surfaces and enables responsiveness on par with capacitive displays.
The projector display is programmed with 500-600 ANSI lumens HD and can be projected anywhere from 23 inches to 100 inches. According to Hachi, combined with the 0.39: one projection ratio, Hachi Infinite can project a 100-inch screen at a distance of only 50 centimeters. Auto-focus and auto-keystone correction technology ensures the accurate presentation of clear pictures. Along with auto focus, users can manually adjust by using the remote control.
It is recommended, however, to stick to around 40 to 50 inches to optimize picture quality.
The Infinite M1's position sensing, light sensing, and proximity sensing contribute to how well the projection looks. Desk projection, support horizon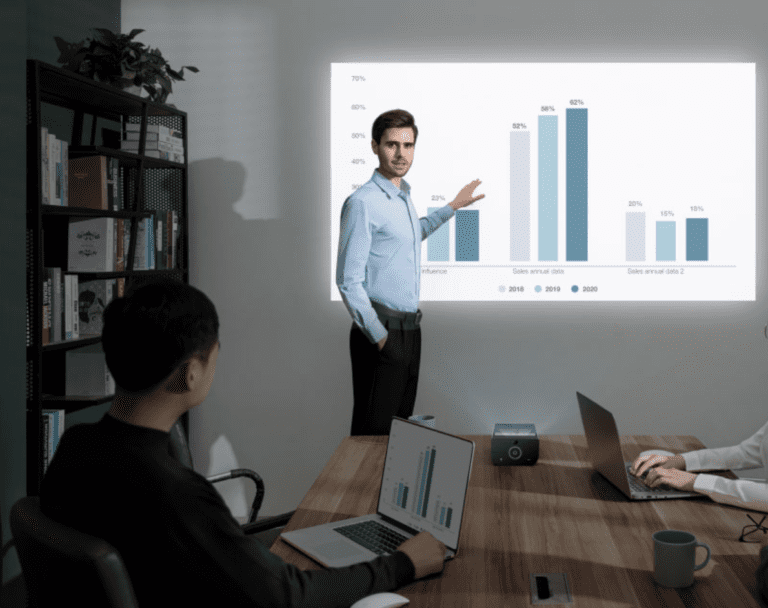 tal, and vertical placements can affect picture but the sensing capabilities make each position look clear.
All of the Infinite M1's features come from the Qualcomm Snapdragon SDA670 chip, built-in A75x2 and A55x6 architecture core processor. The utility frequency is up to 2.0GHz, and supports up to 6GB RAM and 128GB storage.
Infinite M1 Powered by Android OS
The Infinite M1 is powered by Android OS 9.0, which allows the user to download any Android apps and use them within the Infinite. This does not mean users cannot connect iOS devices to the Infinite, however, as the system can also be paired with Amazon Alexa for hands-free use.
The Hachi Infinite M1 is available for purchase for $999 though the Puppy Robot website.