SureCall sent me their new FlareDB+ cell booster to check out. We've had a ton of experience with cell boosters (most of it not very positive). I came at the review with a healthy skepticism. Would SureCall's new launch deliver on its promise of better signal or flake out? I opened my mind and set out to get some answers.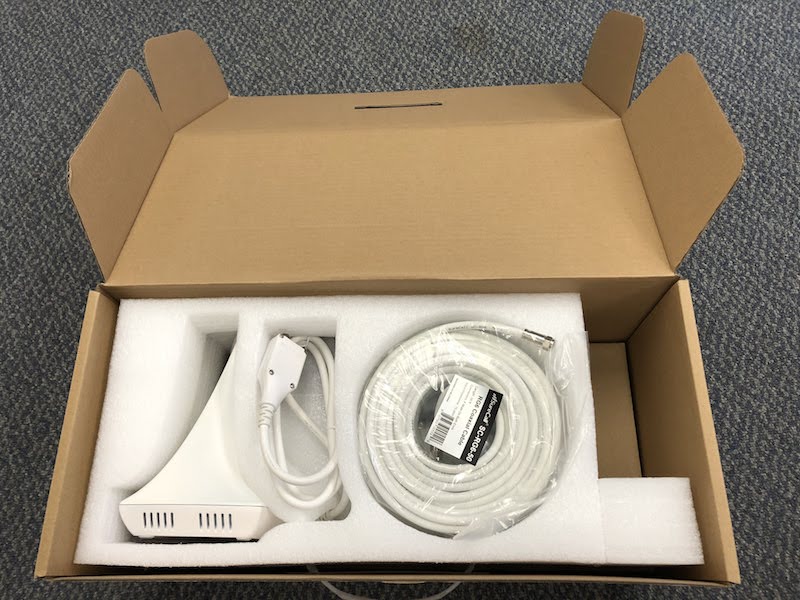 Unboxing SureCall FlareDB+
My FlareDB+ showed up packaged in brown cardboard, signaling to me this was designed for the CI channel. I've seen other SureCall products available at retail with more exciting graphics on the box, but this one gets right down to business.
SureCall FlareDB+ Installation & Configuration
I unpacked the box and laid everything out. All the usual suspects were inside, including an outside antenna, mounting brackets, indoor base station, connectors, and a power supply. The FlareDB+ uses either an omnidirectional or Yagi antenna for outdoor reception, which feeds its base station installed inside.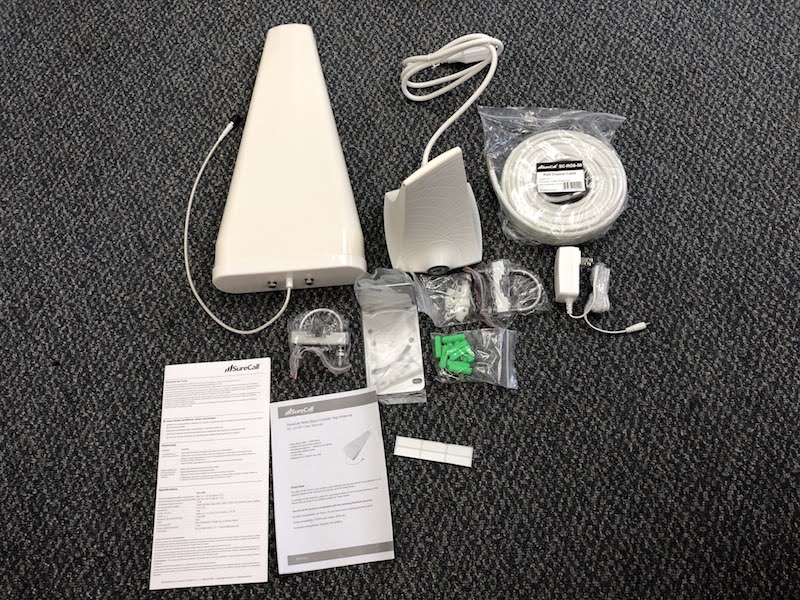 I followed the included quick start guide and began walking around our building (where cell service is horrible) with my iPhone in "Field Test" mode, which is easily triggered by dialing *3001#12345#*. I've used similar service mode settings in the past, but this method was the easiest by far. I quickly figured out which corner of the building had the strongest signal and installed the antenna (it's much more attractive than most of the Yagis on the market) using the included "L" bracket. SureCall claims the FlareDB+ can grab signals as far as 30 miles away.
SureCall used RG6 coax for the FlareDB+ which is a huge convenience factor compared to some of its competitors which use proprietary or non-standard coax like RG11. I envision many of these installations could be accomplished by repurposing existing cable TV runs. I connected the included 50' RG6 patch cable and ran it back inside where I'd centrally placed the base station. The quick start guide did a great job showing how to finish the connections and connect the included power supply. I plugged everything in and watched as the base station lit up.
The FlareDB+ base station features an omnidirectional antenna (most of its competitors are directional) and two LEDs on the front of the unit indicating whether or not it's working properly. This is another key advantage I like over some of the competition.
Many of the cell repeater products we've tested in the past don't do a good job of letting you know if it's installed correctly; it's more "plug and pray." In contrast, the FlareDB+ base station showed a flashing yellow light for a bit, and I watched as my two bars of cell signal jumped up to three. I placed a few calls, and the clarity was good with mobile data also performing well. The FlareDB+ works with Verizon, AT&T, and T-Mobile with an emphasis on not only call quality but also mobile data (they claim double upload speeds compared to the competition).
Final Report on the SureCall FlareDB+
I see the FlareDB+ doing well in a few key areas:
Rural locations, especially cabins, vacation homes, and hunting camps
Mobile data installations where companies like UbiFi are making faster speeds in remote locations a reality but they're only as good as the cellular signal. The FlareDB+ is a great companion for any installer looking to instantly fix weak signal issues for rural cellular broadband customers.
With the advent of Wi-Fi calling, products like the FlareDB+ have become ever more vital in the niches where cell signal and traditional broadband coverage are weak. Luckily for SureCall, there are still a ton of customers out there who fall into one of those two buckets. While there may be a lot of folks who want to climb ladders and fish wire, I'd recommend positioning it as professionally installed to better ensure end-to-end quality. At $249.99 retail, it's an inexpensive way to solve an annoying issue.
We'll be adding the FlareDB+ to our quiver of professionally installed solutions.