Wanting to capture the revenue potential of automated shades in his new custom integration business owners Jeff Mitchell and Carl Myllymaki sought an offering that suited their clienteles' needs for style, customization, and aesthetic.
Each custom integrator develops a unique approach to the smart home business, selecting products, brands, and solutions that suit the needs of their clients. As products enter the market and come in and out of demand, the mix may change over the years. Regardless, most integrators stock the same categories, such as a control platform, a lighting solution, a variety of speaker and audio brands, and a source for accessories, cables, racks, and mounts.
Related: Warming Up My House with Certified Window Shades
Integrators can be loyalists; they don't swiftly swap out a critical brand in their portfolio. But, when an offering is just right, integrators who take the plunge can profit.
High-End Clients Object to 'Boardroom Shades'
Mitchell is an AV integrator with more than 30 years of experience installing high-end, highly custom systems across New York, Connecticut, Rhode Island, Massachusetts, and around the world. In 2019, when he established Lumitech with Myllymaki, they evaluated the brands, products, and platforms for their business.
Most of Lumitech's clients own custom-built homes, featuring large windows offering sweeping views of the New England landscapes, beaches, and broad swaths of ocean. It was clear, therefore, that the firm needed an automated shades solution.
"It's a natural opportunity," Mitchell said. "Our clients have these large expanses of glass and want to have control over their view. With unusual sizes, large windows, and a focus on décor, these clients need a custom treatment."
Mitchell had adopted the automated shades category in its nascence at the turn of the millennium, but the offerings from technology manufacturers had challenges. The profit potential of the category was limited; a lack of design options often sequestered the products to theaters or rooms where décor was not the priority.
"The biggest objection other than the cost is the look of motorized window shading," he said. "Our customers don't want something that looks like it belongs in an office building."
Wanting to capture the revenue potential of automated shades and window treatments in his new business, Mitchell sought an offering that suited its clientele's needs for style, customization, and aesthetic. He knew that automated shades manufacturer Hunter Douglas had a smart solution, but their shading program, at the time, was not easy for a custom integrator to take on, as it was historically focused on a retail model.
A Broad Selection and 'Fabric Focus'
The timing was right: Just as Lumitech was starting up, Hunter Douglas changed the game for the automated shades by introducing its Custom Integrator Program.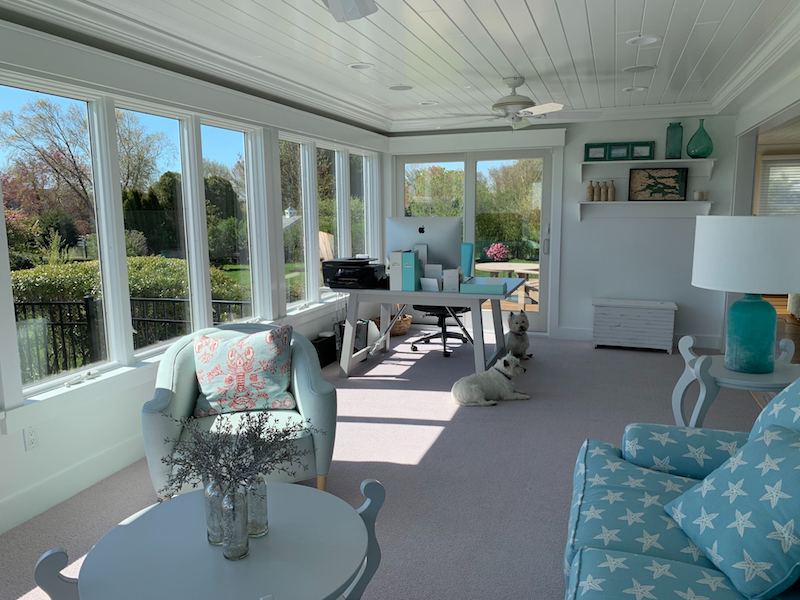 Designed specifically for companies like Lumitech, the program made selling automated, custom window treatments digestible, unlocking the benefits of their quality, aesthetics, and custom portfolio of over 20 custom window treatment styles. Once they joined the program, it was clear that Hunter Douglas was fabric-focused: Lumitech went from carrying two sample books to eight.
Hunter Douglas streamlines the process for selling automated shades for integrators. With new fabrics and design options to learn, Hunter Douglas offered extensive training to get Lumitech up to speed on the portfolio, measurement, installation, and integration of their smart platform PowerView Automation.
With new fabrics and styles, Hunter Douglas also provided new ways to demo the automated shades to clients, with materials such as sliders and samples that can be suction cupped to the window. Even with experience specifying shades, Mitchell found the training useful and learned new ways to approach measuring with a template and a laser tool.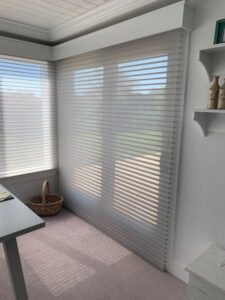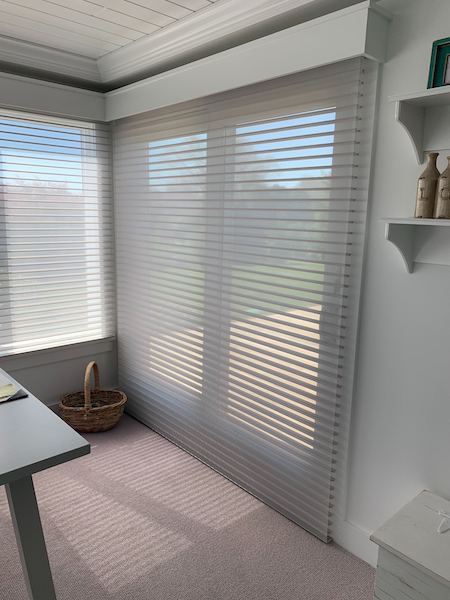 "The video series had an effective demo on how to measure a window. Hunter Douglas has unique tools that I hadn't seen before, that we now use on a daily basis in the field," Mitchell said.
Integrating shades to a smart home is different from adding other products, which need programming, wiring, and mounting. In a big smart home project, integrators can set up multiple audio zones, 10 TVs with distributed video, dozens of zones of lighting, and a few thermostats, which can take a few days to install. Automated shading adds more revenue on top of the system; these custom homes can have hundreds of windows. But going from 10 TVs to handling 60 shades can require more manpower.
By joining the Hunter Douglas CI Program, Lumitech could take advantage of the Hunter Douglas Installation Service (HDIS). For a flat fee per window, installers guarantee accurate measuring and installation to prevent expensive incorrect orders. So, as Lumitech takes on more projects and sells more shades than before, it's prepared to handle the added labor.
The Biggest Category, Stronger with a New Offering
Hundreds of fabrics, delicate styles like Silhouette and Pirouette Window Shadings, Provenance Woven Wood Shades, Alustra Woven Textures, plus other options like shutters, motorized drapes, and more made Lumitech's automated shade offering more attractive to its clients. Now, Mitchell expects shading to be its biggest category.
"With Hunter Douglas," he said. "we expect it to be even stronger. Already, more than 70 percent of our projects have shading involved."
With the new options available after joining the CI Program, Lumitech had its first Hunter Douglas automated shading project. As the COVID-19 pandemic began in the spring, tech PR firm Caster Communications switched to working remotely to keep its team safe. Mitchell had worked with Caster's president and founder Kimberly Lancaster on an automation system for the Rhode Island-based company's office building and Lancaster's home.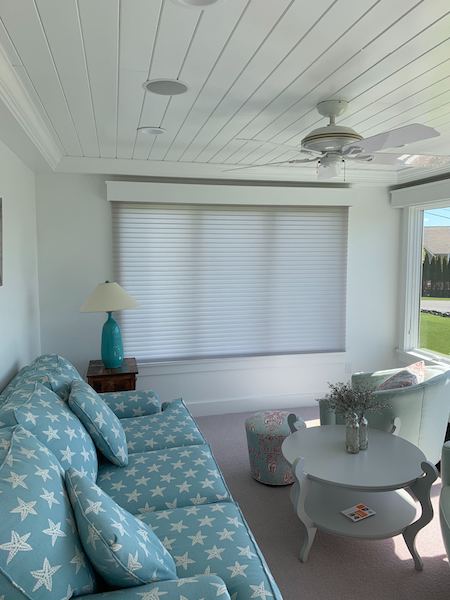 With two teenagers being home schooled, and her husband also working remotely, Lancaster needed a space to work. The formerly named sunroom went from a weekend lounging and entertaining space to an all-day workspace. The gorgeous east-facing room walled with a dozen windows and a sliding glass door with a water view was drenched in sunlight, which glared across the computer screens and blinded Lancaster during the day. Despite living in the home for nearly ten years, adding shading to the room had been discussed numerous times, and this was the push to take it from concept to reality.
The Lumitech team discussed the objectives to preserve the view while filtering the light to protect the room's furniture and carpet, and to block the light so Lancaster had an unobstructed view of her iMac computer screen. Lumitech brought multiple books to demonstrate shade style options, holding up different fabrics to the window to test the light filtering effect, and review colors, finishes, and even headrail details including custom-built wood soffits that allow the shades to retract completely out of view when open.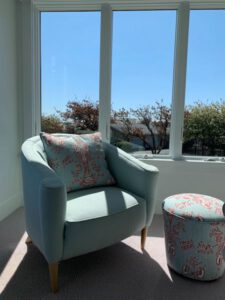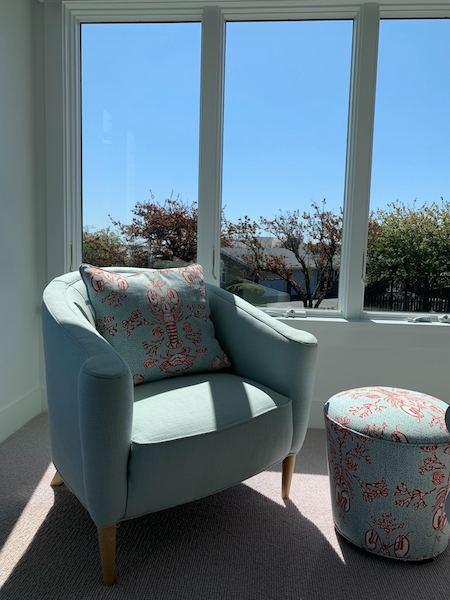 Lancaster selected the Silhouette Window Shadings, which have S-Shaped vanes that tilt to balance the exterior view and the sunlight coming in. With Hunter Douglas PowerView Automation, they were tied into the home's existing Control4 system.
The shades are scheduled to lower and tilt as the sunlight pans across the room, shading Lancaster as she works and takes video calls throughout the day. She can also control the shades from the PowerView App, Control4 App, or using a nearby Alexa-enabled device.
The shade schedule may need adjusting in a few months, as the sun in New England sets sooner in the afternoon going into the fall and winter. These changes can be programmed by Lumitech, or users can make the adjustments to schedules in the PowerView App.
Controlling sunlight is one of the reasons of demand for automated shades, even without a smart home system. In new construction projects, Mitchell notes that automated shades are a great solution to provide privacy and manage natural light: As homeowners design a room, they consider paint colors, layouts, and furniture, but not always how the sunlight comes into the room.
"Once you have the discussion about aesthetics and product, it sparks conversation about adding shading to more rooms. We then can incorporate the shades into scenes and schedules, they especially make lighting scenes more impactful," Mitchell said. "Working with Hunter Douglas expanded the scenarios where we can offer automated shading with the fabric options, and it's going to have an impact for Lumitech."