Hunter Douglas finally enabled me to experience their automated motorized window shades in real-world setting.
Automated motorized window shades are the one smart home tech product category that has alluded me. With the exception of trying out a single motorized shade that neither integrated with an app nor could be automated to a specific schedule, this coveted category has always been on my "someday…" wish list.
Hunter Douglas, a massive player in the window coverings market, also has been gaining a foothold in the professional home integration business for the past several years, selling its diverse lineup of motorized shading products through a channel that traditionally focused on home AV, home control, and networking. But window coverings are a huge opportunity for CEDIA-type integrators because these products are problem solvers, they are aesthetically pleasing to interior designers, and with so many windows in a home, they provide a ton of revenue potential
Hunter Douglas, by providing me with a collection of motorized shades to review in my home, would finally enable me to experience the quality of their specific technology in a real-world setting, and truly understand how their design options fit into different room scenarios.
And, I would finally be able to add that missing piece of my smart home.
Why Wait So Long for Motorized Shades?
Why did it take so long for this to happen? Mostly it was my fault; I didn't want to rip out expensive manual blinds that the prior owners of our home had installed. But my hesitancy also stemmed from technical limitations of motorized shades, in the early years of the technology. Back then, it was more difficult to retrofit the technology into an existing house because they had to be hardwired to the electrical home's system, which would be costly and messy in an existing home. They were also prohibitively expensive, making review units, frankly, less "available" to a cash-strapped magazine editor like me. Fifteen years since purchasing our home, our manual wooden blinds are due for a refresh, motorized shades are battery powered, and their cost has come down enough where review samples won't cut too deeply into a manufacturer's marketing budget.
Improvements to PowerView Gen 3
The process of owning my own motorized shades began with an email from the folks at Hunter Douglas just prior to CEDIA Expo 2021 late last summer. It would take many months to finally all come together, but it was well worth the wait.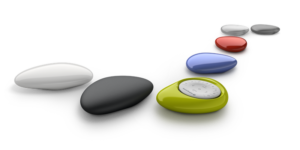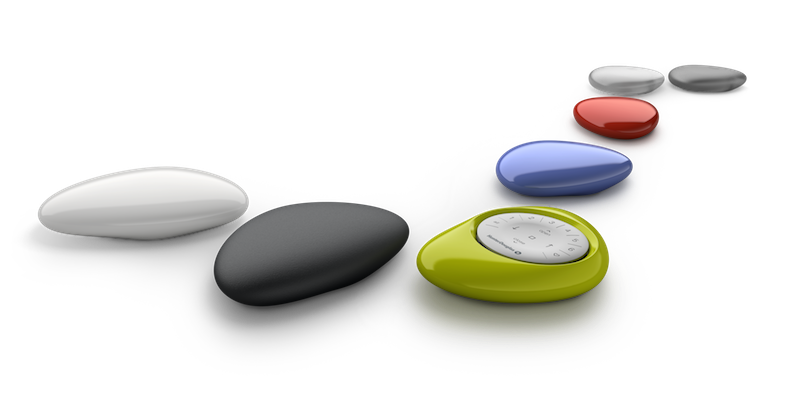 Along the way, I attended dealer training in Chicago, where the first group of some of Hunter Douglas's top installers were provided a hands-on tutorial on the company's new PowerView Gen 3 line. That's where I began to learn how long the company had been working to innovate its already successful motorized shading products. Changes in their product designs would make installations more efficient, and their app would be more intuitive for end users and installers. The shades also would be more scalable, enabling a single shade installation to be as easy to control as an entire house of shades. And the app or remote control's two-way communication would offer improved range, as well, thanks to fundamental design changes.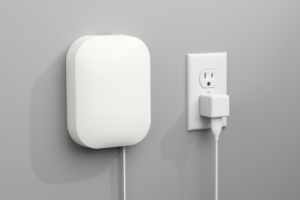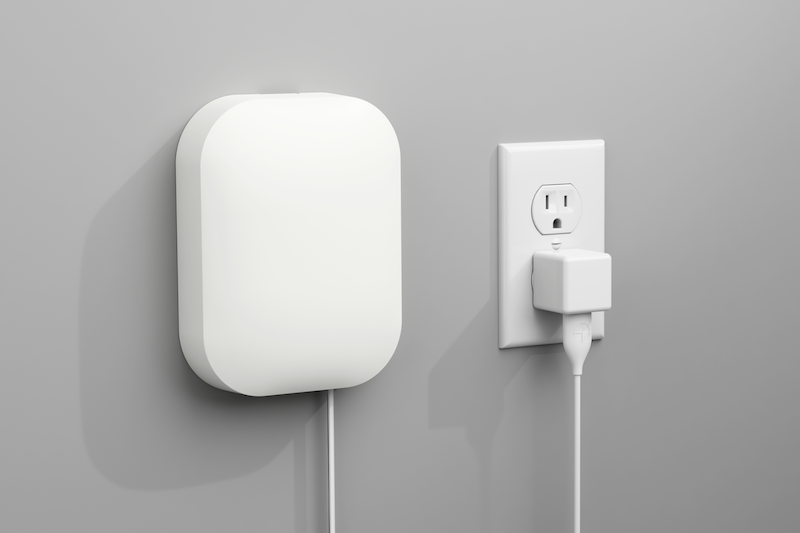 With PowerView Gen 3, Hunter Douglas switched from the proprietary RF communication protocol used in its prior lines to the Bluetooth Low Energy (BLE) RF communication protocol. As a result, the PowerView app would no longer need to communicate through a hub (Gateway) to control shades. Instead, by using their new standards-based design, the system could communicate directly from the app to the shade, enabling greater operating range and reliability.
For installers, Gen 3 eliminated a complicated mix of hard-to-remember button sequences for programming with a much simpler app-based setup for the shades and their remote controls. As a bonus, all PowerView Gen 3 customers will be eligible for firmware updates in the future, whereas that was only possible for systems with hubs in the past.
PowerView Gen 3 still uses the company's familiar pebble-style remote controls, but their design has been refreshed with a softer look, with no hard edges on the buttons.
RTT Podcast #99: Motorized Shade Tech Improvements with Hunter Douglas' Scott Stephenson
After my initial conversations with Hunter Douglas' Scott Stephenson at CEDIA Expo 2021 and during my Chicago dealer training trip a few months later, my next stop (alongside Hunter Douglas PR rep Olivia Sellke) was the Drapery Street window furnishings showroom located just five minutes from my home in Carmel, IN. That's where I got see just about every Hunter Douglas motorized shade on display and fully operational, to figure out what would work best in my home.
Picking Out My Hunter Douglas Shades
As a Hunter Douglas Gallery Dealer, Drapery Street had recently installed an impressive collection of interactive displays to showcase various Hunter Douglas shades styles and colors. Gallery owner Caryn O'Sullivan did an excellent job walking me through the various options, asking me whether I was looking for true blackout shades or just room darkening and what else I might want from my window coverings.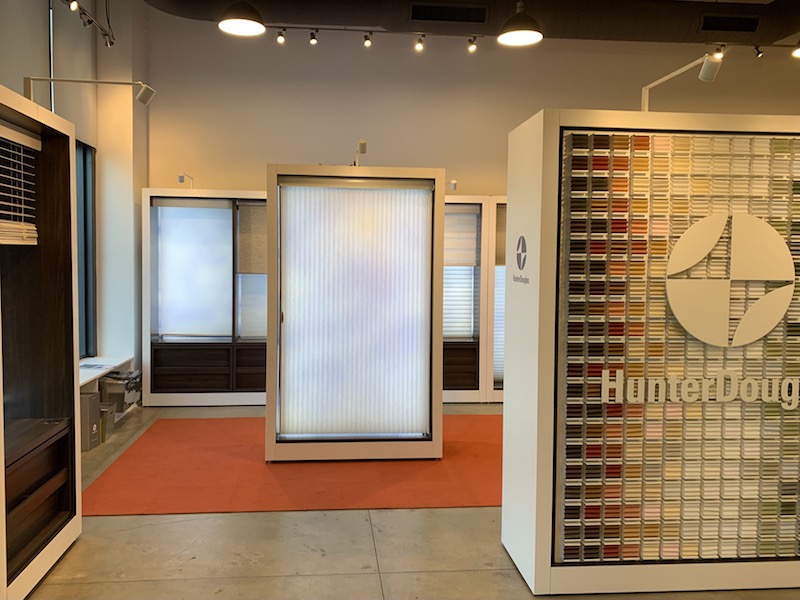 I told O'Sullivan that I definitely wanted room darkening and understood that meant some light would still bleed in around the edges of the windows; blackout shades would be preferred in a home theater room, by comparison. I also wanted the shades to include "vanes" that could diffuse sunlight during the day, offer a layer of privacy in the evening, and visually match our remaining manual blinds when viewing our windows from the outside the house. And, due to the retrofit nature of my installation, I would need them to be battery powered.
O'Sullivan helped me choose a Silhouette design, which is where soft horizontal fabric vanes float between a front and back sheer to enable multiple combinations of light control, privacy, and view-through. I complicated the order a bit with my desire to include room darkening, but Hunter Douglas has a great solution for that request. A room darkening shades requires a second, thicker shade layer, which impressively fits on the same motor and same tube, as the Silhouette vanes. This resulting shade combination is officially called "Silhouette/Duolite" in the Hunter Douglas PowerView Gen 3 line. O'Sullivan showed me some color samples but told me that it would make more sense to have a sample book sent to my home, where my wife and I could view various color and opacity options in the rooms where the shades would be installed.
After I reported back to Hunter Douglas's Stephenson about my experience with O'Sullivan, he worked with me on which rooms would provide the best demonstration of the shades. I explained that for as long as I had owned my house, one of my "first world problems" had been the morning and nightly ritual of running around opening and closing blinds throughout my 3,500 square foot home. This process was most necessary in winter, particularly on those awful days when it gets dark at 5pm and our upstairs bedrooms would become like fishbowls to the outside world when we'd accidentally leave our lights on. There's also the added challenge of our older, poorly insulated windows that can allow direct sunlight to overheat our second story in summer or make them feel "drafty" from freezing outside temperatures after the sun goes down in the winter.
Initially, Stephenson agreed to a generous selection of four demo shades, which would cover the two front-facing bedroom windows of our house. After some further discussion of what that would look like and how it might affect the overall aesthetics of my house, Stephenson agreed to add two more windows to the order.
What I had explained to Stephenson was that I wanted my front-facing, second-story windows to match the small hallway bathroom window located in between them. And, while we were at it, could we also include a bathtub window shade in the master bedroom suite, so we would no longer need to step into a bathtub to open or close manual blinds? We had a deal!
Onsite Final Planning
Before the final order was placed, Stephenson sent a local Hunter Douglas Installation Specialist (HDIS) named Thad to my home to confirm window dimensions. He also helped me decide on an external headrail instead of one that would be inset, due to the shallow depth of our windows.
Once PowerView Gen 3 was officially shipping to dealer this past spring, my order was custom order was shipped to a Thad, who scheduled a time with me for installation. Like most PowerView Gen 3 installers at that time, this would be Thad's first project with the product beyond setting up a demo kit in his own home. To illustrate how simple the installation and deployment of my six shades were (thanks to many of those Gen 3 innovations described above) I recall it taking Thad almost longer to carefully unbox the shades in my driveway than to actually install and program them. The entire project, from unboxing to when Thad went on his way, took less than two hours. But we're getting ahead of ourselves.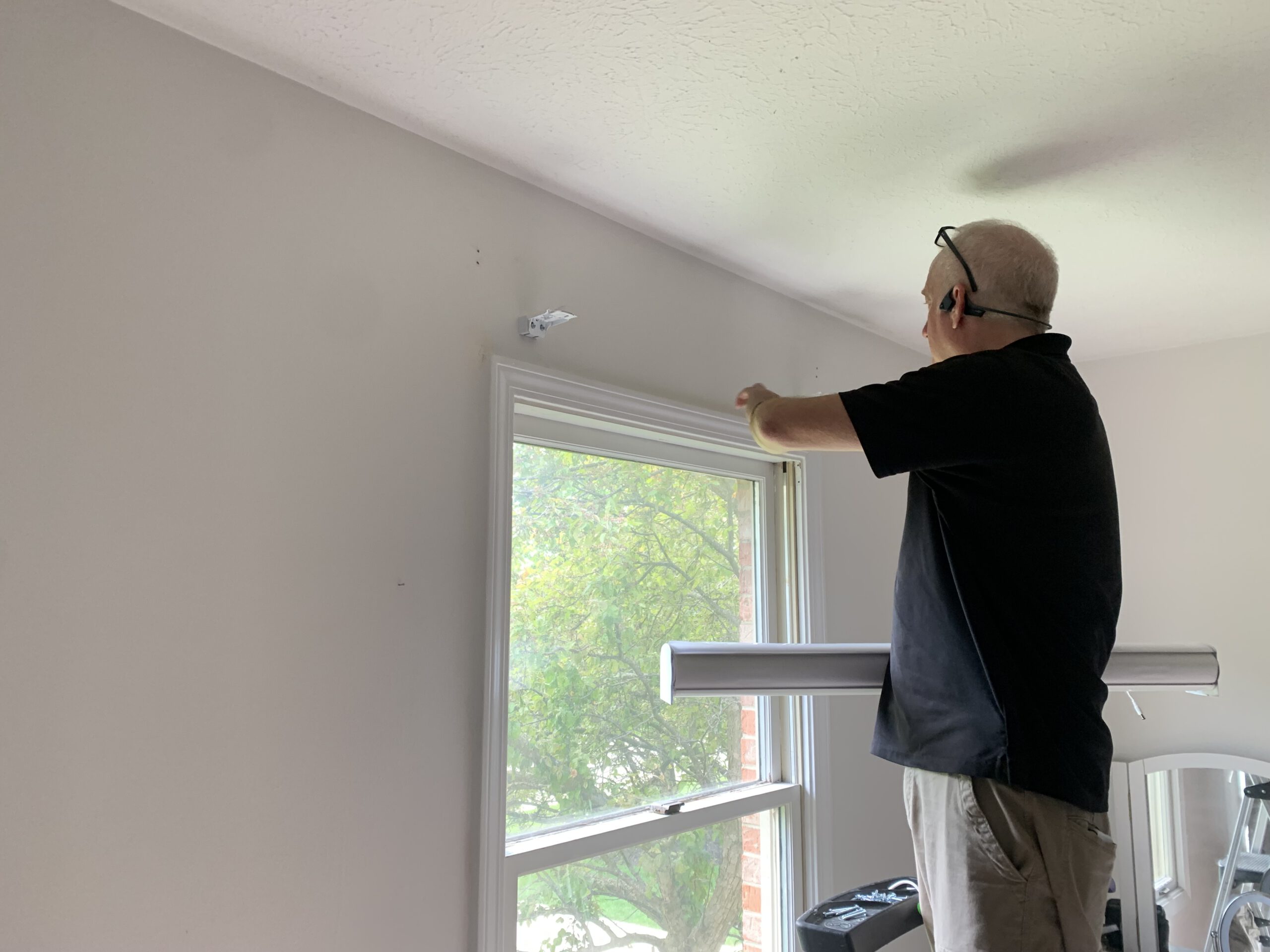 To make the installation easier on Thad, I had already prepped the areas around the windows, removing the old manual blinds, the morning before his arrival. After unboxing the shades, he next measured and leveled the shades location and drilled holes for the mounting brackets. The key to hanging window coverings on side-by-side windows, of course, is making sure their heights are exactly the same. Thad mounted each bracket above its corresponding window and then installed each headrail. Lastly, he removed the battery compartment for each shade and installed the included 12 AA batteries for each one and clicked each battery pack back into place.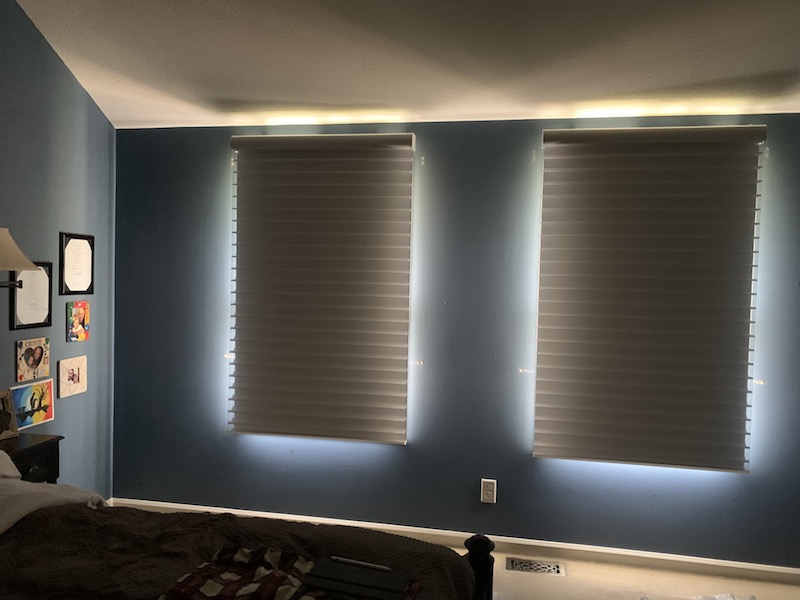 After the six shades were installed, Thad showed me how to add each one to the system using the PowerView app, and then we added a remote to each room, connecting them to their corresponding shade or shades. After each shade was added to the system, Thad used the app to set upper and lower limits on each shade. Although my system didn't technically require a Gateway, Stephenson included one in my system so that I could eventually add third-party control integration from Amazon Alexa and/or my Control4 system. I plugged that discreet little device into a wall outlet for power, and Thad added it to my system via the PowerView app. Then, before he left, Thad gave me quick tutorial on building scenes and automations. It was simple enough that my user training took only a few minutes more of Thad's time. I then thanked him, and Thad was on his way.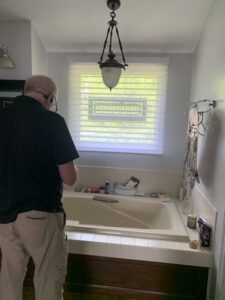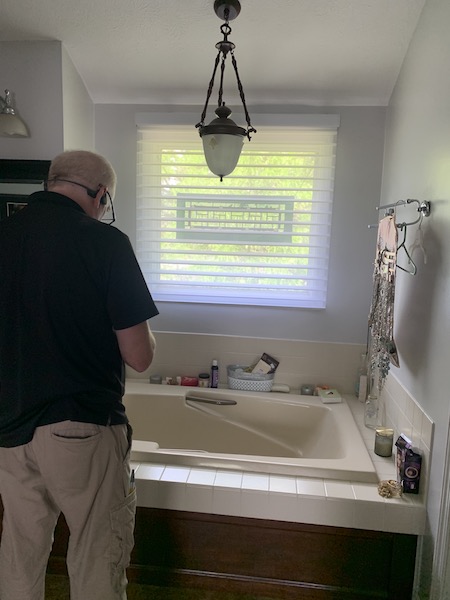 Over the next several weeks, I played around with various settings to enable the shades to operate as "automatically" as possible. Thad had added the four rooms to the app (we called the Master Bath a separate room, even though it is controlled by the Master Bedroom remote control), but then I added the scenes. I even color coded each room's scenes to more easily locate them to their various locations within the app.
At first I created more scenes than necessary, so l eventually went back and streamlined them to just five: "30 Percent Vanes Open," "Vanes Open," "Vanes Closed," "100 Percent Blackout," and "Fully Open."
Next, I added my "Automations," which are better explained as "the times of day when a scene is activated." For our wake-up scene in the morning I chose "30 Percent Vanes Open," so as to ease us into the morning. Then there's a second time in the morning (a half hour later) when the room-darkening shade opens from 30% all the way to 100% (Vanes Open). In the winter, when we want sunlight to keep warming up our rooms upstairs, Vanes Open will carry us through the entire day. In the summer, however, we want to minimize the effects of hot sun, so the "100 Percent Blackout" automation is triggered at noon, closing the room-darkening shade until being reopened (Vanes Open) at 6pm for some evening twilight. The final automation of the day is the aforementioned 100 Percent Blackout, which is triggered at "sunset," and maintained by the system's astrological time clock.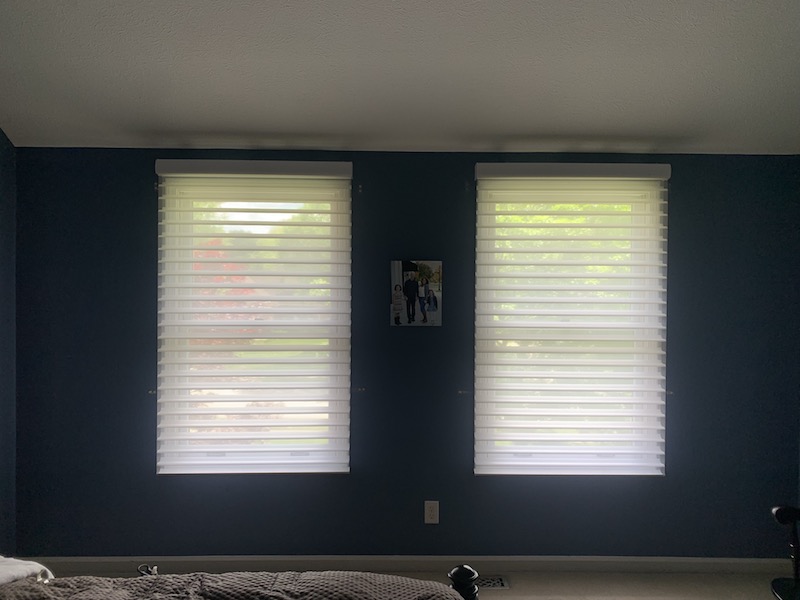 So far, I have absolutely loved my Hunter Douglas PowerView Gen 3 motorized shades. They are the true definition of "home automation" in a way that I haven't really experienced before. Even my Control4 lighting control system requires that scenes be triggered by a press of a button, whereas our Hunter Douglas shades simply do their thing based on programmed times of the day. It's a great way to save time and energy in my home.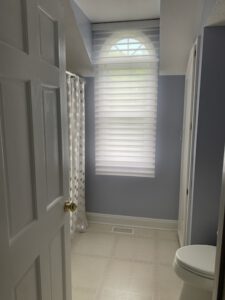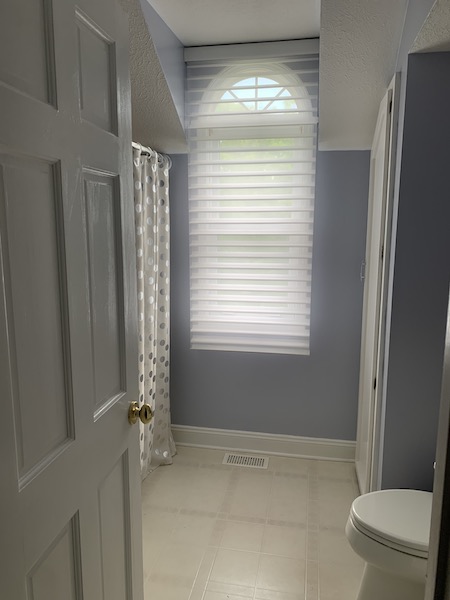 I love the "set it and forget it" capability of the PowerView Gen 3 scenes and automations. The PowerView app is intuitive and super easy to use, and the pebble remote is a sleek and simple control option within the room. For instance, when I needed to open a shade to water the window box outside our hallway bathroom window, I simply grabbed the pebble remote in that room and depressed the "open" button, then "stop" when it's open far enough to unlatch the window and open it. The pebble remotes come in various color combinations that blend nicely into modern décor. They're very easy to use and reliable.
I've appreciated the quiet motors on the Hunter Douglas shades, as well. In fact, sometimes I actually sleep through the opening process on a cloudy morning, because I didn't register the sound of the motor and the clouded-over sunlight didn't blast me in the face. If I wanted it even quieter, there's a "quiet" setting where the motor turns more slowly, thus more quietly. However, the app warns that this will use up the disposable batteries faster, so I've kept my shades at normal speed.
The only critique I can muster has more to do with product selection than operational issues from the Hunter Douglas PowerView Gen 3 shades. For me, using the small color samples that I received before product selection, it was not really clear (pun intended) how sheer/not sheer the material in front and behind the vanes would be. I would have preferred that the material I chose to be more transparent (as clear as possible), better mimicking the look of my old wooden blinds. Hunter Douglas does have a ClearView product line that achieves that goal, but I wasn't aware of it or if it matched my other needs for the install. It's not a big deal, but it does block out the outside world a little more than I was used to.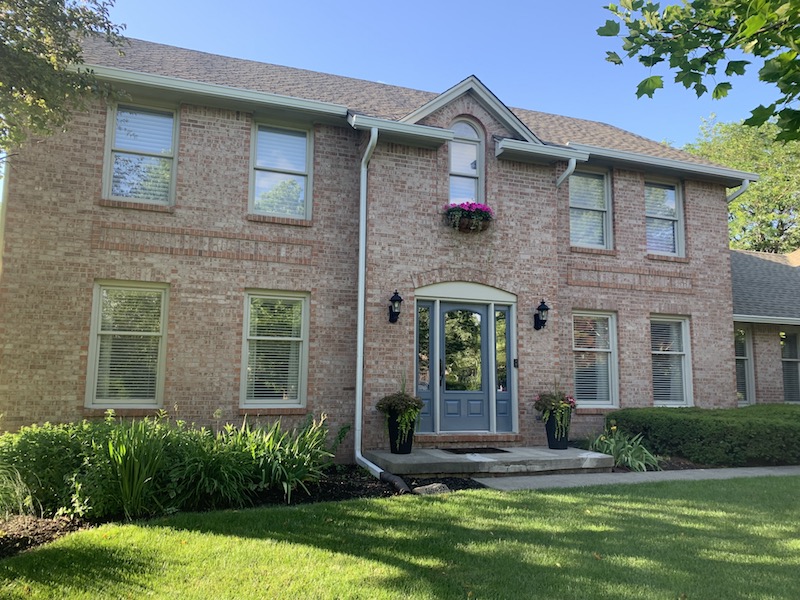 I also might have chosen a fabric color that was "less white" and more "golden" to help filter the sunlight to a more amber color temperature rather than the very bright (almost blue) light that fills the rooms now on a bright, sunny day. The whiter shades make my rooms' filtered light seem slightly more "artificial" now than if the shades were fully open. It's almost like the difference between having a bright white LED in the ceiling versus a 60-watt incandescent bulb.
These are minor nitpicks for a product line that has made me a huge fan of automated motorized shades. For integrators who haven't added motorized shades to their portfolio, Hunter Douglas offers a huge selection and what seems to me to be a very fast learning curve for installation? The more installations you do, the easier it will be. And, for homeowners who want a home automation product that truly works the way it should, automated motorized shades are a must. I can't recommend Hunter Douglas PowerView Gen 3 enough when it comes to fulfilling a long-time wish home automation wish.