Integra has added a new flagship AV receiver (AVR) that will allow integrators maximum flexibility and control, while saving them time and money. Packed with the most advanced technology, the all-new Integra DRX-8.4 11.4 150 watt-per-channel network receiver is the "integrator-approved solution for the world's finest home theaters."
Exhaustively tested and built through close working relationships with professional installers, the DRX-8.4 features a full suite of integration software tools and XLR connectivity for long cable runs common in high-end home theater spaces. The Integra DRX-8.4 is compatible with remote monitoring platforms to help manage, configure, and troubleshoot devices on the network, reducing the need for expensive truck rolls.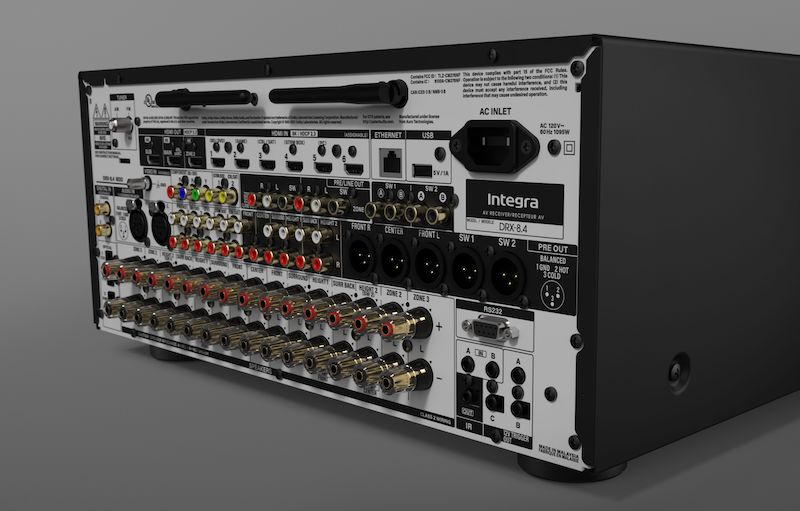 The included wireless Dirac Live room calibration Full Version and an optional upgrade for Dirac Live Bass Control Multi Subwoofer use machine learning and AI to quickly determine ideal settings for any layout. The Integra DRX-8.4 AVR includes advanced music streaming and connectivity and built-in smart home assistants like Josh, Alexa, and Google. Roon Ready certification puts entire high resolution music libraries at your fingertips.
The whole-home entertainment experience can be aligned with state-of-the-art technology and fueled by studio-grade processing capability, including the industry's highest performance 32-bit audio DAC to provide dynamic range with ultra-low distortion. Extruded anti-resonant aluminum heat sinks and high-grade capacitors balance consumption and output requirements for optimal amplifier performance while IP control, web setup from your preferred browser, and onboard HDMI diagnostics simplify installation and management of the Integra DRX-8.4 AVR.
The Integra DRX-8.4 (US MAP $3,200) will be available Spring 2023 through authorized Integra integration partners.
The Integra DRX-8.4 joins the DRX series of Integra AVRs that was introduced in 2021, featuring advanced CI tools such as remote monitoring, Dirac Live digital room correction, HDMI 2.1, and 8K video for much higher bandwith, better audio, and faster gameplay, consistency and performance, Bluetooth transmitters with aptX for sharing audio to Bluetooth headphones.