Integrating natural disaster detection systems and sensors into a smart home can provide added safety for the homeowners and their family and allow the smart home to take steps to minimize the chance of damage to the home.
If nothing else, sending notifications to homeowners, based on sensors incorporated into the smart home or based on a National Weather Service warning will allow homeowners to make informed decisions on what actions they should take to safeguard themselves and their family.
Fire Detection Sensors
Even with this past winter's heavy snows in the western U.S. having erased some of the drought in that region, wildfires are not going away. According to National Interagency Fire Center, as of July 18, 2023, "Nationally, 24 large fires have burned 136,061 acres in seven states. Since January 27, 303 wildfires have burned 777,732 acres across the United States." Most of us are more than familiar with far-reaching impact of this summer's on-going Canadian wildfires, which even affected the air quality throughout much of the U.S.
Torch Sensors is a company that is developing a distributed approach to outdoor fire detection. Their mission is driven by the climate crisis as forest fires release around 6.5 billion tons of carbon dioxide into the atmosphere every year. In fact, around 20% of CO2 emissions worldwide are caused by unwanted wildfires.
Torch sensors measure the thermal, visible, and chemical signs of a fire and can detect fires as small as 2' x 2' when placed every 10 acres on a property. They provide immediate alerts of outdoor fires with 24/7 protection. The device is designed to run on solar-power for 5+ years and simply mounted onto a pole or tree.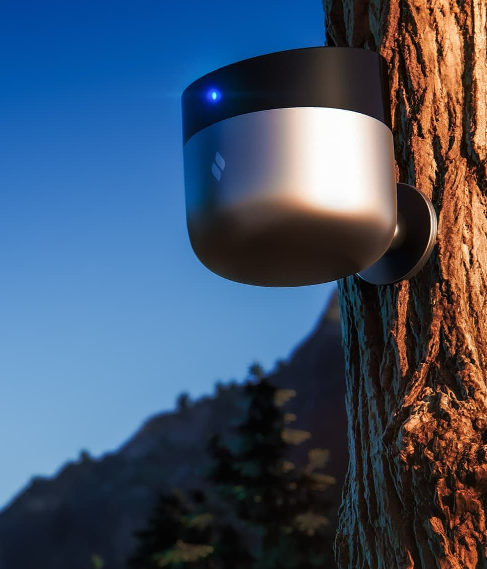 Torch sensors are scheduled to be released in the winter of 2023 and are currently available for pre-order. While the sensor will trigger alerts to a smart phone, I wasn't able to find out any information at this time on the ability to integrate those alerts into a smart home.
There is significant value to integrating alerts of a nearby wildfire into a smart home. For example, the smart home can alert homeowners of the event, even if it is night time and their smart phones are all on do-not-disturb. This could be the difference between a family's ability to evacuate in time, or not.
The smart home also can take steps to give the home and its occupants the best chance of surviving the fire. First, it can activate a smart irrigation system to keep the grounds around the home wet and minimize the chance of the fire reaching the home.
A number of years ago, when a fire threatened a nearby town, the local ski area was able to reprogram their snow making system to spray water. Doing this stopped the advance of the fire and potentially saved the town from ruin. Second, the smart home system can open motorized window coverings in the home. Radiant heat from a fire can enter the home through windows and ignite exposed drapes and shades. Opening the window coverings moves them from direct exposure to the heat radiated from the fire and could eliminate this as a way that the fire spreads to inside the home.
Air Quality Monitors
According to the National Centers for Environmental Information, 7,534,403 acres of land were burned by wildfires in 2022 and the smoke from large fires can travel thousands of miles. Normally, smoke from wildfires is only a problem during the late summer and fall. Summer weather dries out vegetation turning it into fuel for lightning sparked fires. This year, however, the aforementioned spring fires in Canada have blanketed much of the U.S. in smoke and smoke from wildfires, creating a significant health concern.
According to a study of wildfire smoke by Stanford University, "Wildfire smoke now exposes millions of Americans each year to dangerous levels of fine particulate matter, lofting enough soot across parts of the West in recent years to erase much of the air quality gains made over the last two decades."
According to the Centers for Disease Control, Wildfire smoke can harm you in multiple ways. Studies show that chronic exposure to wildfire smoke can cause asthma and pneumonia. It also increases the risk for lung cancer, stroke, heart failure and sudden death. People with asthma, chronic obstructive pulmonary disease (COPD), or heart disease, and children, pregnant women, and responders are especially at risk.
However, without a way to measure air pollution levels at your home, it is difficult to take steps to protect your family.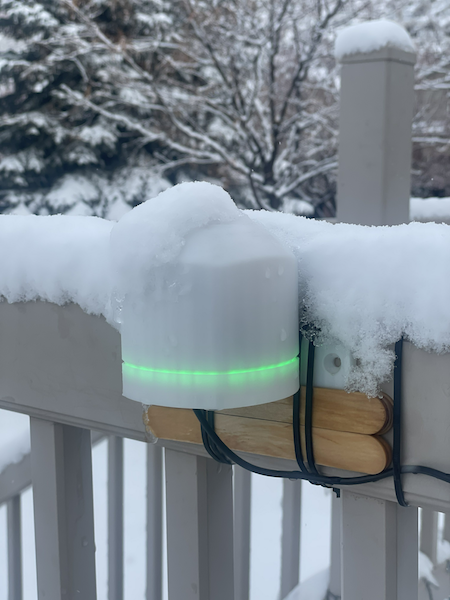 PurpleAir manufactures smart outdoor and indoor air quality monitors. I wrote about the PurpleAir PA-II outdoor air quality monitor and the PurpleAir PA-I-Indoor indoor air quality monitor back in 2020. You can find that article here. Since that time, PurpleAir has released new models with enhanced features. These new models include the PurpleAir Flex Air Quality Monitor, the PurpleAir Touch Indoor Air Quality Monitor, and the PurpleAir Zen Air Quality Monitor.
The new Flex and Zen air quality monitors' feature:
Dual laser particulate sensors (the most accurate type of particulate sensors) for measuring PM2.5 particulate concentrations
A sensor for detecting volatile organic compounds (VOCs)
Built in Wi-Fi for transmission of data for display on the PurpleAir air quality map
A slot for an optional SD card for data logging when the unit is located in a place that doesn't offer a WiFi connection
A design that allows the various sensors to be replaced by the user in the event of a problem
A translucent case that allows the unit's power and air quality level LEDs to be seen. The intensity of these LEDs can be adjusted through the unit's web interface.
Both local and cloud application programming interfaces (API)
The Zen air quality monitor also includes a stand for inside use and the ability to adjust the LED intensity by double tapping on the unit's case.
The PurpleAir Touch indoor air quality has similar features as the Zen air quality monitor except that it is designed specifically for indoor use, only has a single laser particulate sensor, and doesn't include an SD card slot.
PurpleAir Supplied me with a PurpleAir Flex Air Quality Monitor and a PurpleAir Touch Indoor Air Quality Monitor for this article. Setup is very easy. Simply plug in the unit, connect to the Wi-Fi SSID being broadcast by it, open your browser (which will immediately connect to the unit's web interface), select your Wi-Fi SSID, and enter your Wi-Fi password. The unit will then connect to your Wi-Fi network. Once this is done, you simply select "register on the map" and fill out the online form to make your sensor part of the network of PurpleAir sensors around the world along with Weather Underground
PurpleAir's products work very well, and I've updated the Crestron-PurpleAir driver that I wrote to support the added features of the new sensors. The driver uses PurpleAir's local API so it will operate with, or without, an active internet connection. The updated driver can be found on my GitHub here.
Weather Monitoring Systems
Whether you believe in climate change or not, it is a simple fact that weather events have become more severe. This includes hurricanes, drought, tornadoes, blizzards, and the list goes on. While nobody can control the weather, integrating information about these events into a smart home can add real value. For example, knowing when the first drops of rain fall at a house can trigger motorized windows and skylights to close, saving thousands of dollars in water damage.
I developed a smart home system for a home with a large outdoor pool house. Two walls of the pool house could be enclosed by motorized screens. Those large screens were very expensive to replace. A weather station was integrated into the system and winds above 15 mph would automatically trigger the screens to be retracted and eliminate the chance for damage from wind driven debris.
Similarly, I developed the smart home system for a beach house. The ocean facing windows were all fitted with motorized metal shutters that were automatically closed when a weather station detected rain and/or high winds.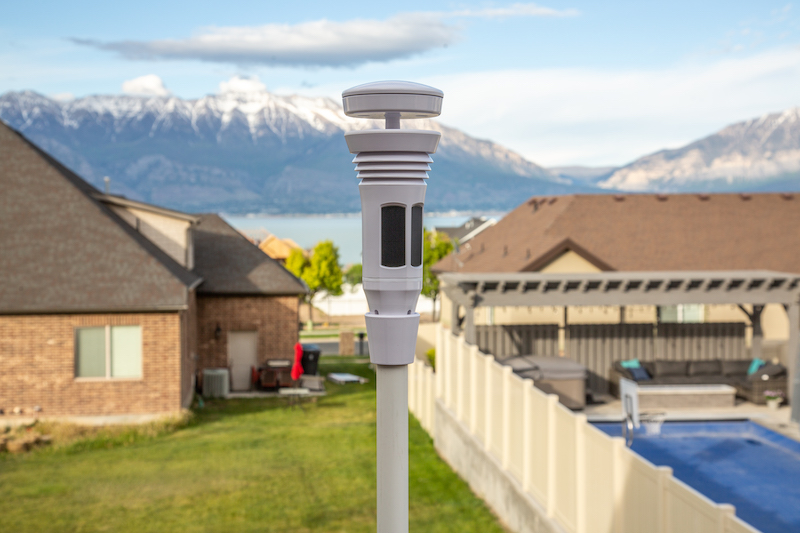 WeatherFlow-Tempest, formed in 2019, has created a massive, cloud sourced, weather data collection system through all the Tempest Weather Systems they have sold. They use all this data to create forecast models that rival many of the other commercially available forecasts, and sell this data to their clients and partners, including:
Federal, state, and local government agencies including NOAA, National Weather Service, National Hurricane Center, The U.S. Coast Guard, and others
Corporate and professional organizations, including American Meteorological Society, MesoWest, and the American Wind Energy Association
Academic and research associations, including Duke University, University of Utah, and various coastal ocean observing systems
By monetizing the data collected from all the Tempest Weather Systems that they have sold, they can support the cloud computing and research/development costs associated with an IoT company and helps keeps these devices affordable for consumers.
I wrote about the Tempest Weather System when it was released in 2020. You can find that article here.
WeatherFlow is continuing to innovate. For example, the huge snow storms this past winter have been the exception. The trend has been for dryer, drought conditions. The water used for irrigating lawns uses huge amounts of water. Smart irrigation controllers, like the Rachio, leverage weather information from the internet to try and optimize the amount of water used for irrigation. However, hyper-local weather data from a weather station located at your house can make sure that the thunderstorm that poured rain a mile from your home doesn't fool the irrigation system into not watering your lawn enough.
Similarly, it may have rained at your house but not at a location, like your local airport, where the internet weather reporting for your area comes from. To combat this, WeatherFlow-Tempest has partnered with Rachio, and they have developed a direct link between a homeowner's Tempest Weather System and their Rachio irrigation controller to minimize the amount of water used for irrigating the homeowner's lawn.
For this article I have updated the Crestron-WeatherFlow integration driver that I wrote. I have enhanced the software to capture UDP broadcast messages from Tempest Weather System that, among other things, can immediately inform the smart home when rain is detected. The use of WeatherFlow's UDP broadcast messages also makes the system more resilient as these messages are generated locally on the homeowner's network instead of having to rely on a working internet connection and the WeatherFlow cloud service. A home's internet connection could easily be down during a significant storm.
WeatherFlow's UDP broadcast messages can inform a smart home system when lightning is detected by the homeowner's WeatherFlow Tempest Smart Weather System. However, in this case, a better approach is to use WeatherFlow's cloud API for lightning strike data. The Tempest Lightning Network (TLN) correlates lightning data from nearby stations to improve the accuracy of lightning strike detection.
For this reason, the updated Crestron-WeatherFlow software driver on my GitHub supports both WeatherFlow's UDP and Cloud API. You can find the updated software here.
The National Weather Service (NWS) alert system is one method the NWS uses to send warnings to people in areas that are at risk from imminent and dangerous weather conditions. Some examples of the alerts sent by the NWS are air quality alert, ashfall warning, avalanche warning, blizzard warning, dense fog advisory, earthquake warning, extreme cold warning, flood watch, freeze warning, high wind warning, storm warning, tornado warning, and more.
The NWS API allows developers access to critical forecasts, alerts, and observations, along with other weather data. I've written a Crestron-NWS Alert software module that will poll for NWS Alerts for a specific location (specified by latitude/longitude). A smart home processor could then take actions to inform the homeowners of the danger and prepare the house, as much as possible, to minimize damage and provide a safe environment. The module can be downloaded from my GitHub here. This module could be used with one of the Crestron notification modules I've written to provide weather alerts to your family's smart phones. Notification modules for PushOver and Prowl are also available on my GitHub.
Earthquake Sensors
According to National Geographic, Earthquakes can cause a variety of dangerous events, including landslides, tsunamis, flooding, and fires. Most damage and deaths happen in places where many people live, as the shaking can cause windows to break, structures to collapse, and fires to break out. Earthquakes can also cause soil liquefaction, deformation of the ground, and cracks in walls and other structures leading to their collapse. Earthquakes can strike suddenly and without warning.
For the most part there are two types of earthquake sensors available. Inexpensive stand-alone sensors can be purchased from Amazon that sound an alarm when an earthquake is detected. These have a price tag of around $50. Also, seismic sensors that are designed for scientific use, can provide precise measurements of the earthquake's intensity, but also can cost thousands of dollars.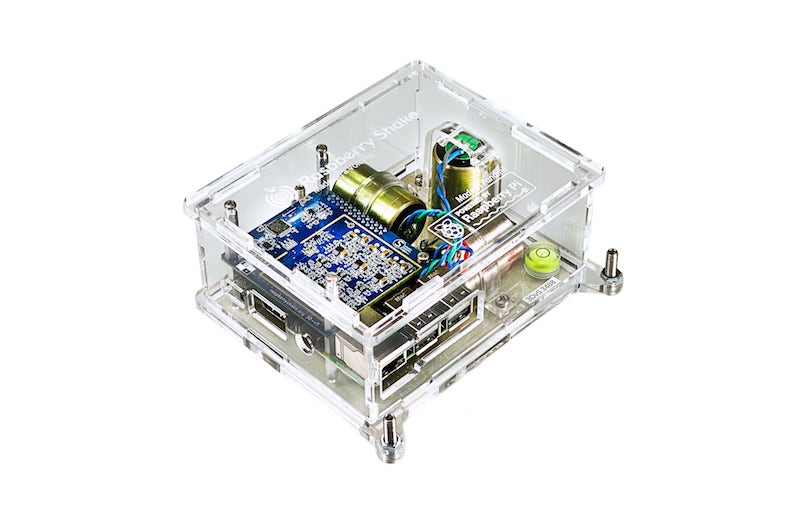 Fortunately, the Raspberry Shake seismograph and infrasound monitor offers an alternative for citizen scientists. A basic indoor model with a single sensor capable of sensing up-down motion activity costs under $500. While I was not able to try one for this article, the manufacturer offers a great deal of information on their website, including videos and tutorials. The full documentation for the Raspberry Shake can be found here.
The developers at Raspberry Shake are developing new software that, while not designed specifically for smart home integration, should be able to provide for integration between a Raspberry Shake sensor and a smart home processor/hub. The software will run on either a customer supplied Linux or Windows computer, interpret data from the Raspberry Shake, and send alerts to a smart home processor/hub based on seismic activity. This software isn't ready yet, but is in development.