One of the most innovative aspects of iRobot's Roomba is its ability to learn the floor plan of your home so it can better navigate its surroundings. With its Imprint Smart Mapping technology, the Roomba i7+ has the ability to remember multiple floor plans and room names so that users can customize cleaning jobs. Plus, Google Assistant integration allows users to control their Roomba with a voice command: "Hey Google, clean the living room," for instance.
Now, according to an iRobot press release, the company "has announced a collaboration with Google to integrate robotic and smart home technologies that will advance the next-generation smart home." The two companies are electing to work together to seek additional ways that they can integrate their platforms, specifically as it pertains to iRobot's mapping technology.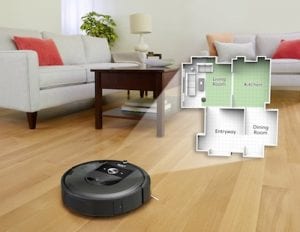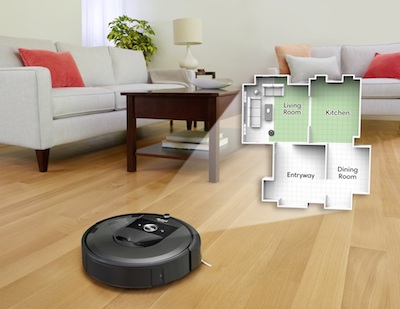 They will provide customers with the ability to opt in to new innovative smart home experiences. "For example," iRobot states, "the spatial awareness of the home that Roomba maintains may help simplify smart home setup and enable powerful new automations."
"iRobot is delivering products that help people keep a cleaner and smarter home," said Colin Angle, chairman and CEO of iRobot, in a press release. "Robots with mapping and spatial awareness capabilities will play an important role in allowing other smart devices in the home to more seamlessly work together."
Michele Turner, director of Smart Home Ecosystems at Google, added, "Over the past year, we've been working hard to make it easier to control all the devices and appliances in your home with the Google Assistant with just your voice … We're excited to be exploring with iRobot how its unique spatial awareness technology can work with the Assistant to offer customers a more intuitive and personalized experience in their homes."
While the press release doesn't provide many specifics, Angle gave potential examples in an interview with The Verge: "This idea is that when you say, 'OK Google, turn the lights on in the kitchen,' you need to know what lights are in the kitchen. And if I say, 'OK future iRobot robot with an arm, go get me a beer,' it needs to know where the kitchen and the refrigerator are."
The new collaboration may bring some privacy concerns; however, map sharing is completely optional. In a not-so-distant future, these two companies coming together could revolutionize the smart home.