During the recent ISC West, International Security Conference, in Las Vegas, many of the exhibitors were focused more on commercial security and personal defense. Several manufacturers, however, showcased solutions for the residential market, including a large booth from Nortek Security & Control that brought together several products from many of the different brands in their portfolio including 2GIG, ELAN, Niles, and others.
New from 2GIG was the launch of the GC2e and GC3e panels that build upon the success of the former top-selling GC2 and GC3 products with new essential features and upgrades for both the dealers and homeowners.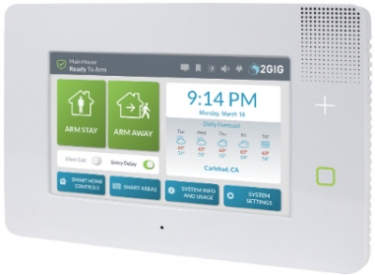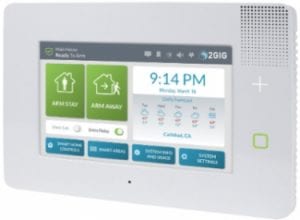 The new GC2e panel features a larger, brighter 5-inch touchscreen, along with two-way audio from the panels' front-firing speakers to provide clear communication of events as they happen. The new GC3e panel upgrades to a 7-inch touchscreen, which is perfect for the screen-saver mode, which can display a homeowner's favorite images. It also includes the 2GIG Smart Areas feature that makes it easier for the installer to set up independently protected areas, or partitions, throughout the home.  If you'd like to be able to keep your garage and office areas armed, while still being able to move freely throughout the home, that scenario is now even easier to set up.
The GSC3e also will have exclusive integration with the ELAN control platform, something that will make it easier for ELAN automation dealers who may have not considered getting into security in the past but would like to now. With the success of 2GIG, this exclusive integration gives Nortek Security & Control dealers more reasons to do more business with the company's 16 brands.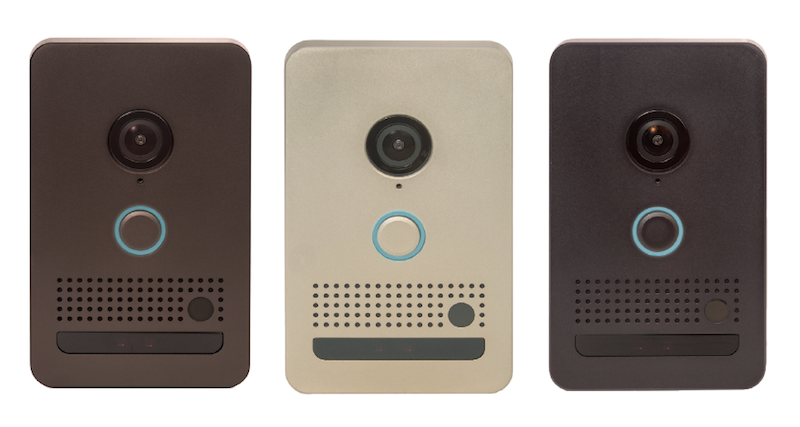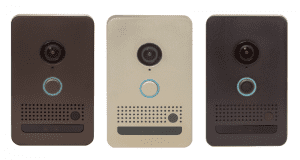 Both new panels will work with a full line of encrypted sensors that will only work with the new eSeries panels. New sensors such as the Standard Door/Window Sensor, Motion Sensor, Glass Break Sensor, Key Fob Sensor, and Recessed Door/Window Sensor provide encryption to help prevent thieves who may try to use a take-over module to gain control of the security system and the home. The new panels will continue to work with all of the traditional 2GIG sensors. The new sensors, however, will only work with the new 2GIG "e-series" panels, which is something to note for both home owners and installers.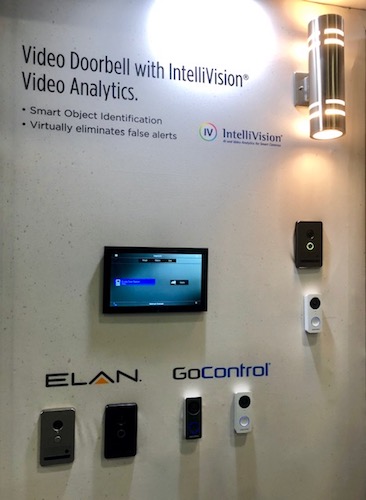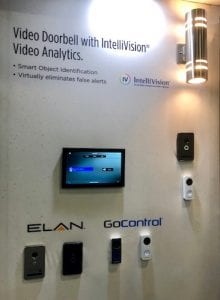 From the ELAN line, we have finally seen the long-awaited front-door video station, expected to be shipping in May. This new door station adds to their existing line of security camera products and has the IntelliVision advanced motion analytics to help distinguish between people and moving objects whereby preventing false alerts. The door stations tie into the ELAN NVR for recording, and also into the ELAN system for two-way intercom functionality. They are available in Bronze, Nickel, Black, and are all IP65 weather rated.
While the new ELAN door video station can work as a stand-alone solution, another option is the less expensive Go Control video doorbell which is more of a solution to compete with products from companies such as Ring and Door Bird. This product also has the IntelliVision technology and was shown in black or white, however the final finishes have not been determined. What we do know is that there will be a dedicated app, and it will be sold through the pro-channel.  We look forward to more details which will likely emerge as we get closer to the end of Q3 when it's targeted to launch.
SnapAV and Clare Controls Partnership
Also providing a security and whole-home control solution is the new partnership from Clare Controls and SnapAV. Originally announced earlier this year around the IBS show, this new relationship is a great way for SnapAV's dealers to get into security and automation. SnapAV has taken over all fulfillment for Clare Controls and since introducing this new brand to their dealers they have added over 200 new control customers.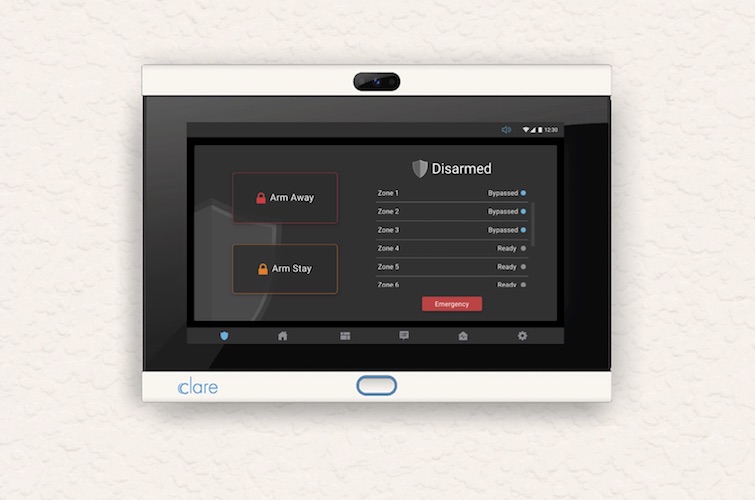 Shown for the first time was the new Clare One security and mart-home system. This all-in-one solution features a well-designed 7-inch touchscreen which looks more like a traditional control system touch screen and less like a typical all-in-one security panel, which is a good thing. Larger security manufacturers could benefit from taking a design note from the new technology companies getting into the security channel. From there the list of included technology is long.
For starters, the built-in 5MP camera provides a snapshot of the user that arms or disarms the panel, or if the unit is tampered with. Integration is handled via Z-Wave, Wi-Fi, Bluetooth, and 433 MHz radios while alarm communication is handled by built-in dual-band IP/cell. Also included is Amazon Alexa support with two-way voice service, audio analytics for detecting the sounds of breaking glass or smoke/CO alarms, and a 24-hour back-up battery.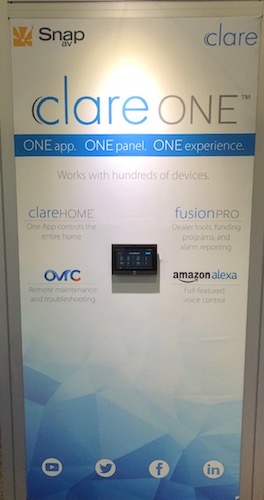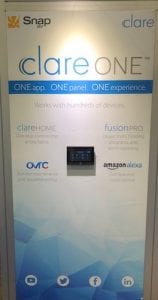 From the Snap side, they have integrated the OvrC platform into the Clare One to allow feedback to the dealer around network related issues from devices in the system which might not be functioning properly. This is a great way to get important troubleshooting notifications and system management technology for projects which may not include other OvrC hardware such as the WattBox power management line of products from SnapAV.
All of this and let's not forget that it is also a full control system platform which allows for integration with lights, thermostats, pools, sprinkler systems, AV Control and other home sub-systems. But, if you have your own preference of control platform, Clare says that the product will integrate with other popular thir-party control companies via an open API which is part of their software roadmap and will be available sometime post launch.
This will be a game-changing product for custom integrators and SnapAV dealers as it will be priced competitively with the popular products from 2GIG and Qolsys when it is released later this year.
Traditional Home Security Like Interlogix
Of course, more traditional security brands where also in attendance such as Interlogix which is part of Carrier, a United Technologies company, and Resideo, who appeared at ISC for the first time since their recent spin-off from parent company Honeywell.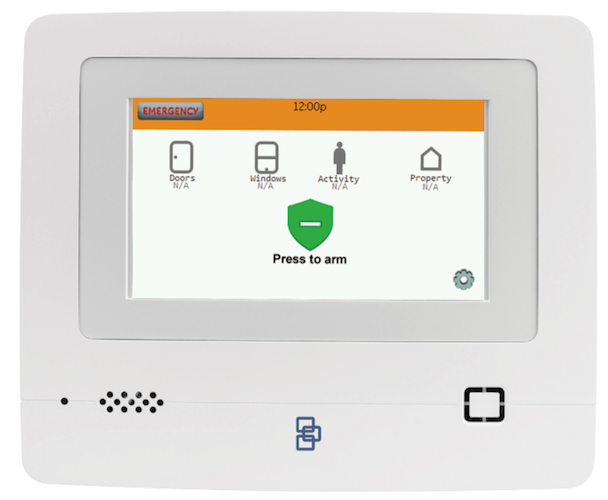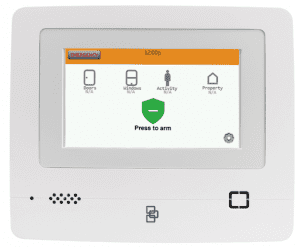 Interlogix introduced their new Simon XTi-5i System, which is an upgraded model of their very popular security panel. This new version now supports 80 wireless zones, up from 40, a 5-inch color LCD touchscreen and is compatible with a wide range of devices through leading service providers. When paired with an LTE modem from Alarm.com, the panel can be used as a comfort management and automation system enabling local and remote control of Z-Wave devices such as wireless lighting, thermostat, door locks, garage doors, and more.
Resideo showed off their new end-to-end next generation security and smart home platform interestingly named the Honeywell Home ProSeries. From an entry-level security installation to a fully integrated smart home solution, the ProSeries was designed to give dealers what they need to deliver a complete security and smart home solution such as touch panels, app, built-in voice control with Amazon Alexa, and the convenience of Bluetooth system disarming. This allows your security system to be disarmed based on the presence of your Bluetooth-connected cell phone.
There is also a full line of two-way wireless accessories such as their outdoor battery powered camera with motion sensor which can send an image when motion is detected. All of this will be supported through the Resideo Premier Security Dealer Program which was created to help participating dealers expand in the security and smart home market with sales and marketing support, training, and financial rewards, which will help dealers differentiate in today's market.
YouGov did some research on behalf of Resideo and found that among the approximately 2,000 U.S. consumers surveyed, 60 percent want a professional to install their connected thermostat or whole-home security system as they would worry about making a mistake by installing it incorrectly themselves. This is great news for the DIFM (do it for me) business model which we are starting to see emerge throughout this IOT (internet of things) craze. As hardware margins have eroded for many reasons including the Amazon effect, labor and RMR (reoccurring monthly revenue) based businesses makes even more sense. There is some great information on this trend from their case study here.
For the other 40 percent who might be interested with installing their own security system, there is the Honeywell Smart Home Security product, which can capture motion and sound and will then send HD Video with full audio to the home owner. It also has Amazon Alexa and voice control built-in and can even integrate with other DIY (do it yourself) products such as Z-Wave lights and additional Honeywell sensors, and is available now. A pro model is coming soon, which will only be available to authorized installers and features integration with life safety devices such as smoke detectors and includes the ability to have professional monitoring added for extra safety and peace of mind.
HIKVISION – I Can See You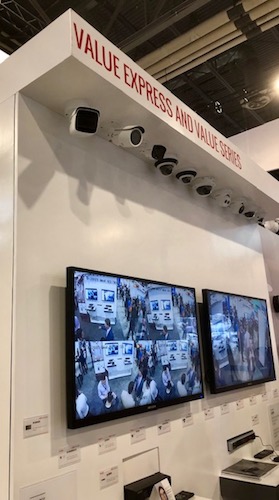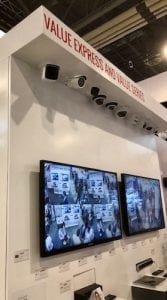 Another major category at the show was security cameras. It seemed that everyone was showing off their latest in 4K camera offerings. A leader in this category is HIKVISION, which had several new product lines on display, including the AcuSense Solution line of cameras. Video surveillance systems are widely used to prevent loss, however conventional CCTV systems are faced with efficiency shortcomings when events happen as they are typically a passive device that requires a person to get involved when an issue occurs.
The new AcuSense line helps to improve the user experience in several ways. First is the ability to intelligently filter out unwanted objects and focuses in on human or vehicle target types which reduces false alarms. You also have the ability to search by human or vehicle events so should you need to go back and review footage, you can alleviate some of the search time once you've determined the nature of the offense. This also extends the monitoring area by filtering out most false alarms, allowing a single monitoring guard to cover a larger area with less time wasted chasing down issues caused by accident. The next is built-in strobe lights and audio alarm voice alerts. This allows for the camera to provide a visual and audio alert to a potential trespasser – based on if it was a vehicle or person – in an effort to make the person aware of their actions being recorded to help prevent a problem from occurring.
These cameras also include ColorVu Technology. With an advanced sensor and larger aperture lens, they are able to get higher utilization of light with more light entering the sensor and can create a more natural image 24/7. This is especially important with video at night in which lights can completely overpower the image resulting in video that does not allow you to clearly see what's most important.
HIKVISION also showed a new complete line called Value Express and Value Series. Available now in distribution, this new line of products have slightly less features, but are able to help bring a premium product offering to a larger group of customers who might be looking for a more affordable product which was previously not available through HIKVISION.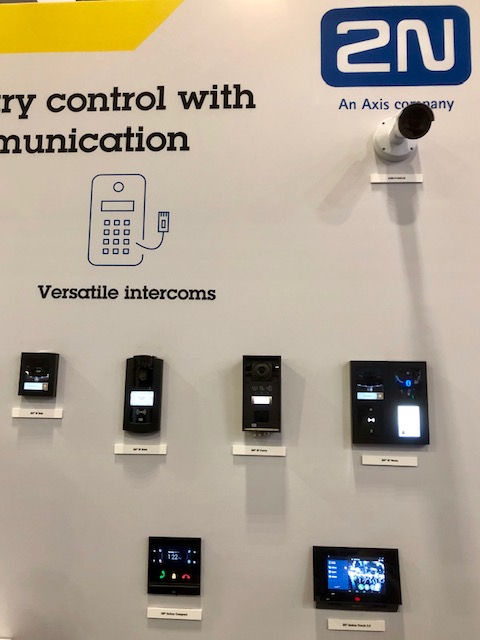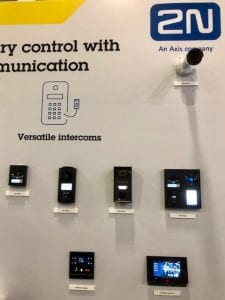 Nortek Security & Control was not the only company showing a video intercom solution. Axis Communications, a market leader in network video, was also in attendance, along with 2N, in their booth. In 2017 Axis acquired 2N – the number-one player in the field of IP intercom – to help support their ambition to contribute to a smarter and safer world. While you may not be completely familiar with 2N, you are likely familiar with many of their products as they are a preferred OEM for many of the major control companies who are selling these types of door station products.
2N showed several new door stations for both commercial and residential applications, including a great new modular product called the 2N IP Verso, which would be perfect for an MDU-type application where you can configure from two to 30 modules together to include things such as a dial-by-name directory supporting 10,000 users, RFID, Bluetooth, cameras, keypads, and more. They also showed several in-home interfaces, such as touch screens and displays, that allow for 2-way video and/or voice intercom, door lock control, and the Indoor Touch 2.0 can even be used as a third-party control panel for loading your own apps.
Networking for New Markets
Most might not think of home security installers as being a business for providing network installations. However, Amazon-owned eero feels that their mesh Wi-Fi solution is a perfect opportunity for companies doing security installs to help their customers upgrade their home networks at the same time. While eero is widely available, their eero Pro program and product that launched approximately a year ago is only available through authorized resellers participating in the program.
The Pro solution offers a custom mount for their access points with a POE adapter to allow for a cleaner in-ceiling or on-wall installation. They also provide the eero Remote Network Management interface, which allows the installer to manage all of their customer's networks remotely and provides the ability to troubleshoot and easily do programing off-site for no additional fee to the installer or homeowner.
Also making their first appearance since being acquired by Amazon last April was Ring, the company who started on a mission to reduce crime in neighborhoods with a $99 video doorbell and app. At the show, they announced new partnerships with Kwikset, Schlage, Yale, August, and Danalock, integrating those locks into the Ring software, making it easier for homeowners and installers.
Neither company marketed their relationship with Amazon, but with both being power houses in their respected categories, and having major backing from the same parent company, expanding into new market segments makes a lot of sense.
Also showing off their wide mix of brands was Legrand, which had products on display from several companies including Luxul, their professional networking solution. This included the new XAP-1610 access point which is one of the first to include the new Apex Wave 2 Technology. The Luxul networking line offers important functionality such as Active Roaming which allows a centralized controller to manage the signal strength and bandwidth from multiple access points to ensure you are always getting the best performance possible. With the new Apex Wave 2 technology built into the XAP-1610, this becomes even more powerful allowing for several devices to all stream high-speed data at the same time without degradation.
With Luxul's new Easy Setup App, you can now configure a quality network in approximately 90 seconds, so it makes sense for them to be in attendance as well as they look to provide security dealers with more solutions to offer their clients. I recently completed the upgrade of my home network to Luxul. To learn more about my experiences with the new XAP-1610 and other Luxul products, check out the article here.
Wow Factor from Bastille
While there were many great products on display this year at ISC, one company that stood out for their wow factor was Bastille, a manufacturer of security for the internet of radios, not to be confused with the British boy band my daughter listens to.
Bastille, which was founded in 2014, has already rose to be the leader in enterprise threat detection through software-defined radio. What does that mean? Imagine you work in a 40,000-square-foot office building in which high-security clearance is needed and certain parts of the building completely prohibit having any type of mobile or communication device on you. Bastille is able to detect signals from Wi-Fi, Bluetooth, Cellular, Zigbee, Z-Wave, and other types of transmitted signals. Not only can it detect them, but it can identify exactly where you are, what the device is, and then communicate with ONVIF camera's which can follow that device throughout the building while of course notifying the appropriate people of the security breach.
Many vendors sell WIDS (Wireless Intrusion Detection Systems), but these systems only detect intrusions by Wi-Fi and Bluetooth devices. By far the biggest wireless intrusions are from cellular phones, where the bad guys turn off Wi-Fi and Bluetooth when they don't want to be detected. Bastille is the only solution which includes the ability to detect a cell phone by cell signal only. Other applications could be C-Suite Offices, Meeting Rooms, Call Centers, Data Centers, and Border Crossings. Of course, with a product like this there is not a large list of customers to reference due to security reasons, but I am told that the Department of Homeland Security is using this product in many areas. Connected devices are expected to reach 50-billion units by next year, it only makes sense that security measures need to change with the times.
Currently Bastille's model is a monthly fee for the hardware and monitoring dashboard support. A single antenna covers approximately 3,000 square feet and is $500 a month. It is suggested that a minimum of four antennas be used in an installation for optimal location performance and this would cover approximately 10,000 square feet. At $24,000 a year, I wouldn't be too concerned about this technology being used at your local shopping mall or grocery store, however I do think it would be cool to have a more affordable version like this for home use.
To check out a video that better describes this cool technology, check out https://www.bastille.net/offers/bastille-demo for a video demonstration.