Simplifying Life With Home Technology
Large homes traditionally require full-time staff to perform maintenance and assist the owners with daily tasks, but a newly renovated 10,000-square-foot residence in Medina, MN, shows that nearly every function of modern home life can now be controlled and automated through a professionally installed home control system.
According to home electronics integrator J. Becher & Assoc., the system allows the owners to quickly and easily manage everything from lighting to heating to multi-room audio, all from the ELAN Home Control interface.
When your dream home has more than 100 light switches, 12 TVs, and 48 zones of audio, the only way to effectively manage it all is with a full home control system. It would be incredibly stressful to try running a home that large without modern technology or full-time help, and even communication could be difficult without an intercom system. These particular homeowners were familiar with the ELAN system from their previous home, so in the new one, their integrator's focus was maximizing simplicity and functionality without impacting the aesthetics.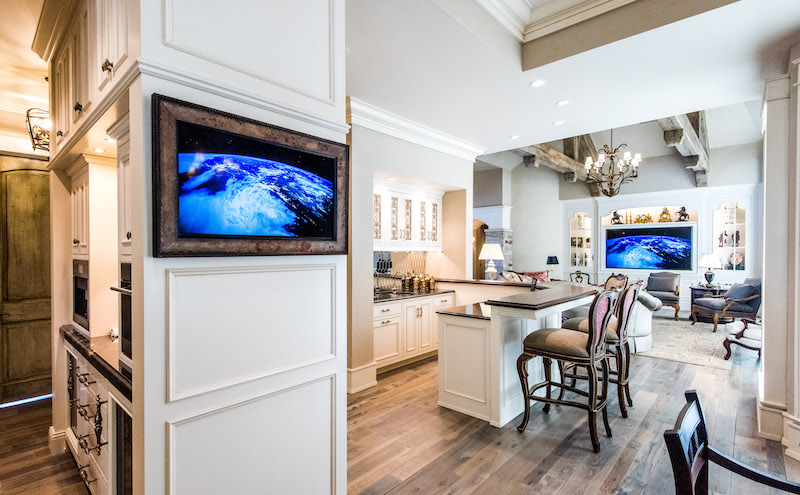 A major benefit of the system is that it allows all core equipment to be centralized, which helps declutter living spaces and eliminates the need for visually intrusive electronics. The owners are utilizing nearly every capability of the system, so they have control of the home's TVs, music, lighting, heating and cooling, motorized window shades, security, surveillance, garage door access, and pool settings.
According to J. Becher & Assoc., their clients wanted all the latest home technologies but didn't want their beautiful home to "end up looking like a Best Buy." Since they decided to renovate before moving in, the integrator was able to run all new wiring in the walls and use a single location for all of the amplifiers, cable boxes, thermostats, and lighting control modules. Now the only visible technologies in the home are the TVs and remotes, light switch panels, and multiple 12-inch ELAN touch screens that blend seamlessly in with the home design.
Using fiber optic and Cat-6 cabling, the system offers property-wide distributed 4K video-over-IP and high-quality audio in 48 zones totaling hundreds of speakers, including outdoors. The owners wanted excellent audio in every room, so they decided to use in-ceiling speakers throughout the home and added Sunfire subwoofers to multiple areas, including the home theater, which has a 119-inch glass-screen 4K projection system.
While most of the components were included in the project's original scope, the long-term nature of the installation – completed over 18 months – gave the owners ample opportunity to add on special features such as two custom-made Seura mirror TVs for the master bathroom and two "frame" TVs adorned with hand-built wood frames that make them look like works of art. All of the TVs have accompanying ELAN remotes that allow full control of every connected system while providing all the familiar buttons necessary for watching TV and listening to music.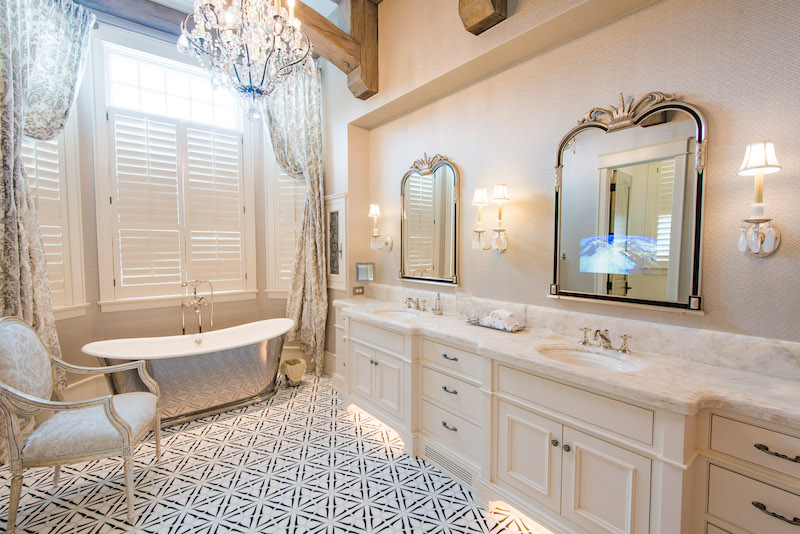 Another core benefit of the control system is advanced scheduling and event-based automation, which allows the owners to set schedules for lighting, window shades, and climate, including the ability to time them with sunrise and sunset each day. Because the user interface is the same on every smartphone, every ELAN touch panel, and every computer, it is so easy to use that even first-time users can navigate it and control their environment within minutes.
Security integration was key as well, with an alarm system, ELAN surveillance camera system, garage door control, driveway gate control, and front door intercom camera providing 360-degree coverage, all monitored through the ELAN system and app for easy viewing and control. This way, the owners can arm the alarm system after they've left the house, check the video cameras while on vacation, and allow access to workers who may need to enter when they aren't home. There are also sensors that detect smoke, fire, water leaks and carbon monoxide and send instant alerts to the owners through the app and in-home interfaces.
Additionally, the expansive electronics system is guarded by Panamax surge protection equipment and utilizes audiovisual and communication products from several ELAN sister brands, so it qualified to be an NSC Flagship System that provides the owner with an extended warranty on core components.
Managing this huge home is about as simple as it could possibly be, thanks to the J. Becher & Assoc. design and integration of the ELAN Home Control System. Looking to the future, the owners can add almost any new technology they please, because ELAN is designed to be future-proof and is continuously updated for compatibility with the latest consumer technologies. In the end, it has simplified every tech interaction and activity in the home and given the owners the freedom to enjoy their time without having to worry whether something will work or not.