Smart home technology has certainly revolutionized the way we look at the home. From garage doors to ovens, it seems that every part of the abode is getting the "smart tech" treatment. And, thanks to Jamie Siminoff, the doorbell is no exception. The creator of the innovative smart camera-enhanced Ring doorbell, Siminoff certainly had a interesting journey into the world of home tech, illustrated perfectly by his 2013 appearance on Shark Tank when the company was still known as "DoorBot."
While Siminoff was attempting to raise an investment of $700,000 with a company valuation of $7 million, every host on the show overlooked the company outside of Kevin O'Leary, whose offer required 10 percent on all sales until the investment was paid off, seven percent going forward, and five percent of equity in the company. Siminoff rejected the offer, leaving the popular program with nothing to show. However, this ended up being a blessing in disguise, as Siminoff's Shark Tank appearance and the company's growth over the years has led to a $1 billion acquisition this year. In this exclusive interview, Siminoff discusses his fateful Shark Tank appearance, the evolution of smart home tech, and advice for fellow entrepreneurs.
Residential Tech Today: Can you tell us briefly about your initial Shark Tank experience and how that affected your trajectory?
Jamie Siminoff: So, we're in the garage and have a tiny bit of money, but really looking back, it wasn't much. And I buried it all into this DoorBot and was way over my head in terms of how I thought it was going to take a lot less to get it out there and it ended up being a lot more. So, all of a sudden, we get this opportunity to be on Shark Tank, which for me, was like, "Holy crap!" And when we got on it, we didn't get a deal which I really needed because we were broke.
It aired in November of 2013 as we were about to start shipping DoorBots. That credibility and awareness catapulted us. It gave us amazing sales of the product. It gave us incredible awareness. So, for a little startup in a garage to now be a player in the market and also have some money coming in from the sales side, it's what allowed us to become Ring.
RT Today: Is it safe to say that you might have gone a different route had you not been on the show?
Jamie Siminoff: I think it's safe to say that I probably would have a bankruptcy history if I didn't bring it on the show. I really mean that, by the way. I think that looking back, I was so over my head because even with all the benefits and all the amazingness of Shark Tank, we still had a lot of trouble and ran into a lot of money issues. So, without that, I don't think we would have stood a chance.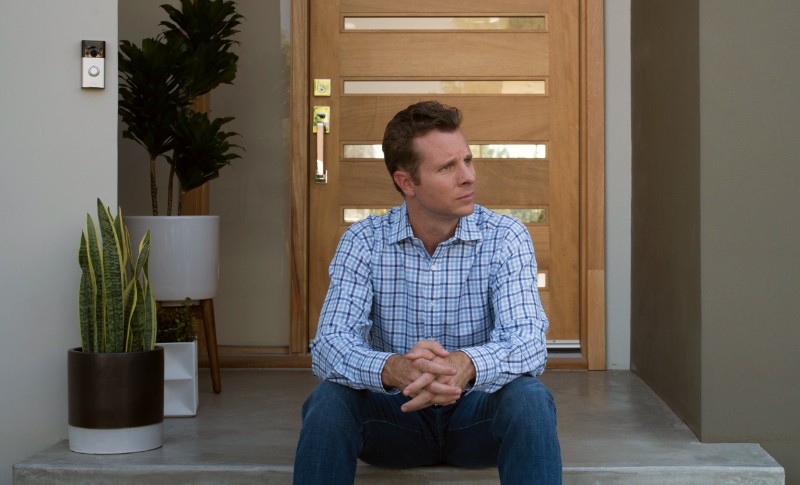 RT Today: Were you frustrated after that point? Did you ever feel like giving up?
Jamie Siminoff: Every day. I mean, even after we had the benefit of being on the show and getting all that awareness, we really were always tight. The thing that drove me was if I stopped, I was going to go out of business and lose everything I had. I really had no other choice but to just keep going.
RT Today: How did your company's collaboration with Amazon begin?
Jamie Siminoff: Back in 2013, we were launching DoorBot. The smart home was a new thing and we were one of the early, not players in terms of size, but players in terms of new entrance. And so the people we talked to at Amazon were on a much higher level.
Through that we ended up meeting the corporate development people. I started talking to them when I launched Ring. I went and showed them Ring before we actually officially launched it. So, I kept this relationship going, and we saw the huge rise of Alexa. We wanted to work with Alexa. So we started talking to them about that and we started growing obviously, so Amazon wanted to work with us and we ended up working together for about four years.
Really learning that we both liked each other's culture and that we were in very similar terms of how we did business, how we did things together. At some point they said, "Listen, we'd love to join forces." And I said, "Absolutely." I mean, I think Amazon is the place that we can really take this thing to the next level. And still, I wasn't looking for myself personally to get out of something. I wanted to stay and keep doing it.
And Amazon was 100 percent behind us, saying, "Yeah, it's your business, keep going." And so it's been a great thing since and it was the right decision I needed to make in terms that were very much around our mission of reducing crime in neighborhoods here. And Amazon bought into that mission and it allowed us to continue to execute on it.
RT Today: Can you briefly touch on that as far as security and crime and how important that was to your mission?
Jamie Siminoff: I mean, from when my wife said this makes her feel safer at home, that is truly when I realized this is not just making a doorbell cooler for a guy in a garage. This is something that has transformed that experience into something completely different. It doesn't just make her feel safer at home. It stops a crime from happening before it occurs and that's different than any other product on the market.
And that was when we came up with this mission of reducing crime in neighborhoods, by actually stopping – not finding the crime, not reporting the crime – but actually reducing it by stopping it before it happens. Again, I think that was the biggest invention of the whole thing. And it happened very quickly, we came up with that and that's what really drove us the whole time to go with this business and it has driven our roadmap for every product that we do. And it has kept us focused. And it really is the thing that drives the business.
RT Today: With more smart doorbells coming into market, what is Ring doing to stay ahead of the game?
Jamie Siminoff: Smart doorbells have been coming out since we showed early success with it. There's been a number of people that have tried to enter the market. So far no one has been successful at it. We just stay focused on delivering to, we call our customers "neighbors." We just stay focused on delivering our neighbors effective and affordable security through our products and services. And that's it. That's our focus. So, whatever else happens in the market to me is just noise.
We're here to make neighborhoods safer for our neighbors, and we believe if we keep doing that, we will be rewarded with their business. And so far, it seems, that's what's happened.
RT Today: How have you seen the smart home industry develop since you first entered?
Jamie Siminoff: When I was developing this product in my garage and NEST announced their thermostat, I was one of the first 100 people to buy it and Matt Rogers, who's the co-founder of NEST, emailed me saying, "Hey, would you work with our installation service so that we can learn if it works or not?" And then when I got the NEST, I was supposed to call the installation service, but I was so excited that I just put it in. I wrote him back and said, "Hey, you did such a good job that I just installed it myself."
And then all of a sudden everybody was a smart home manufacturer. So, you have a bazillion companies out there and everyone had a doorbell. I'd say in the last two years, what we've seen is most of those companies, because I think they weren't trying to solve a legitimate problem – I think they were just trying to build technology for technology's sake – most of them have ended up where they should, which is in the graveyard.
And now what you see is that second evolution of the smart home. Because a year and a half or two years ago people said, "The smart home's dead." There are all these things that came through. And I said, "The smart home's dead. Long live the smart home." I said it's going to be the products that actually make your life better, that use technology to make your life better, and not use technology to sell technology. I think that's exactly what happened, which is now, the products and the companies that have stayed around and gotten bigger like Ring focused on the customer experience, and they're flourishing.
RT Today: I think I saw a statistic that people are 80 percent more likely to purchase a home that has smart home technology inside it. Do you partner with any integrators or any other platforms out there?
Jamie Siminoff: I think out of the top 10 home builders, I think something like 60 percent have a Ring in every home. So, we are definitely there. I think the misnomer is they take integration and smart home as the same thing. They have a Sonos app and they use that for their music, so they play on their Sonos. And then they have a Ring app and Ring is for security. And then maybe they have something like Alexa and use that.
So, tying them together for the sake of tying them together, it does not necessarily make a smarter home. I think 2019 will be a big year for how we allow Ring to integrate into some of these better platforms like Alexa and some others in order to have these integrations where it does the customer good to have those natively in the system. But overall, I think the concept is that everything has to be integrated. If you watch how people really do use smart devices, they are typically using the native app for those devices.
RT Today: What advice would you give to someone who aspires to enter the entrepreneurial world?
Jamie Siminoff: It's so easy to fall in love with a new technology that doesn't benefit anyone, and therefore it crashes to the ground. I think you really need to look at what true human problem you are solving and work on that. I think if you look at the people that are focused on those things, they have done well in this space. If you look at the ones that failed, most of them have because they were so focused on all the features and tech and the things they're doing, how excited they were of how their product was "better than everything else."
But for a customer, they need a true benefit. If they're going to reward you with their business, they need to know a benefit for that product. And the benefit is not, in most cases, just a better feature or a better bandwidth or a faster processor, it's what the product does for you.