I'll cut right to the chase. I love the picture quality of the LG HU810P 4K UHD Laser Smart Home Theater CineBeam Projector so much that it makes me sad that I'll have to send it back after completing this review. The combination of the projector's dual laser light source and much-heralded Filmmaker Mode (thank you Tom Cruise) is everything that I'd hoped for from a premium 4K laser projector (MSRP $2,999).
First a little background on your reviewer. While, I'm well acquainted with the home video projector category, having written about the professional home integration channel since 2000, I'm not a "projector reviewer" in the nerdiest, color meter, light meter bench testing sort of way. Nonetheless, my personal experiences as the owner of both DLP and 3LCD projectors (purchased seven years apart) and many trade shows and demo room visits provide quite enough context for me to serve as "informed consumer" of the technology. So, I'm confident that my observations can be useful to anyone considering buying a new video projector for their home.
Related: CES 2021 – Reflecting Back on Video, Audio, and Connectivity Tech Trends
HU810P Brightness and Contrast Ratio
You really can't beat the efficiency, lifespan (20,000 hours), and color accuracy of a laser light source. The 2,700 ANSI lumens brightness output and 2,000,000:1 contrast of the HU810P was the first indicator that I was experiencing a step up in video performance. It's also a firm reminder of how much video technology has improved in the relatively short seven years since I bought my current projector.
But brightness, alone, is not the entire story, of course. The accuracy of colors and picture quality has to be there, too. Because I have a dedicated, light-controlled home theater, I was able to experience the HU810P in both a darkened room, where image brightness could be toned down a bit, as well as with full-on overhead lights to test the ability of the projector to adjust.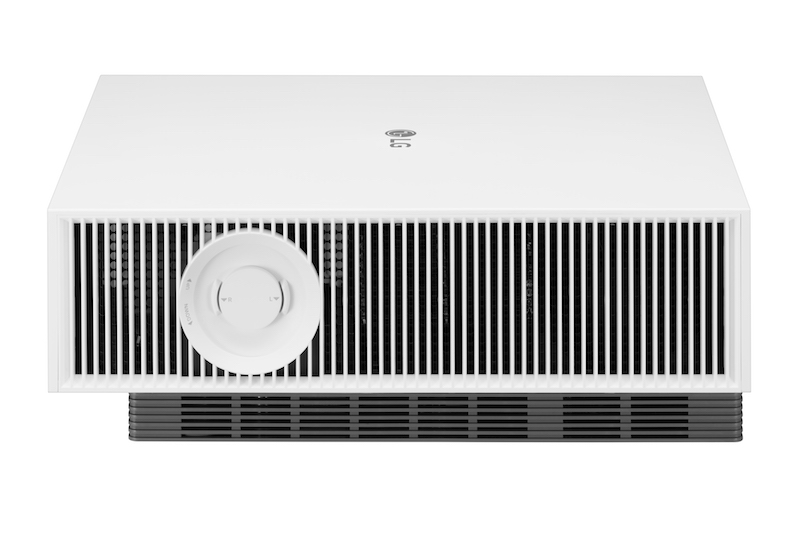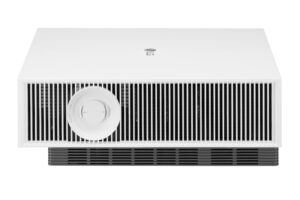 Through the HU810P's Iris Mode, brightness and black level are optimized to the lighting levels in the room. In bright rooms, since lighting prevents deep blacks, the iris widens to increase the range of brightness. In dark rooms, since excessive brightness can hurt the eyes, the iris narrows to decrease the range of brightness without ruining the screen brightness.
The projector's Adaptive Contrast capability also works to optimize brightness and black levels according to the image brightness. According to LG, this gives deeper blacks in addition to brightness range for each iris mode. With Adaptive Picture Pro (Iris Mode and Adaptive Contrast), it physically adapts to the display's brightness and darkness range, while Dynamic Tone Mapping optimizes the image for that range.
Changing Iris Mode
Depending on the lighting in the viewing environment, a user can change the iris mode. Dark Room (Standard) mode is recommended for optimized images with balanced brightness and black level, while Bright Room mode is recommended for bright environment viewing with the projector's iris fully open. This capability is unique to LG projectors.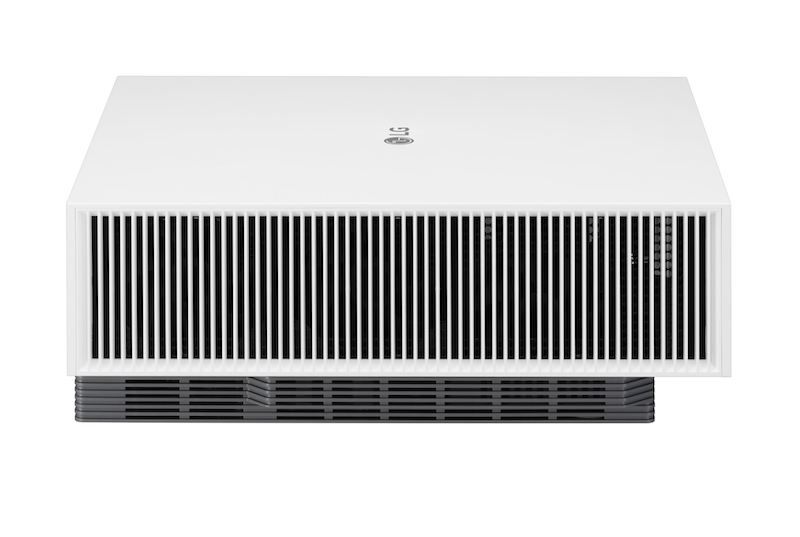 In what I can imagine would be a perfect use case for a bright room, I found live sports video in Bright Room mode was not washed out yet was bright enough to come closer to the experience of watch a large TV. Conversely, the Dark Room mode in a dimly lit room provided the high contrast ratio and black levels required of a more subtly lit cinematic movie.
The way that LG's Adaptive Contrast has been explained to me is that it gives more depth to an image by adaptively adjusting the laser output to the image, creating a high contrast ratio. Bright scenes appear brighter, while dark scenes remain detailed with deep blacks and shade detail.
The best endorsement that I can give for this feature is that at no time was I distracted by the image quality on the screen nor was I frustrated by a dark movie scene appearing too dark or a bright scene washing out or looking unrealistically "sharp."
HU810P Expanded Pixel Resolution
Clearly my experience was aided not only by the features I just described (and the dual laser light source), but also the projector's 3840 x 2160 (2160p) resolution with 8.3 million discrete pixels projected with XPR (Expanded Pixel Resolution) video processing. LG says that this combination provides a picture that is four times denser and more detailed, which was obvious with on my 110-inch diagonal, anamorphic screen.
Even on 1080P content, the upscaling provided by the HU810P offered a noticeable step up from the picture quality that I'm used to from my 1080p 3LCD projector. I noticed no jaggies or other picture anomalies when in the proper calibration setting for the style of content that I was watching.
Filmmaker Mode is My Favorite Setting
I'm not a calibration professional, so rather than muck things up in Expert Mode, I trusted the pre-calibrated setting for my review. My favorite setting for most content was Filmmaker Mode, which eliminates the frame-rate goofiness and brightness that leads to the dreaded hyperreal "soap-opera effect" (despised most by the aforementioned Tom Cruise). Filmmaker Mode turns off motion smoothing and other video processing settings with an eye toward approximating what the content creator sees in the final grading suite. Choosing this setting essentially turns off Motion Interpolation, Sharpness Enhance, and Noise Reduction.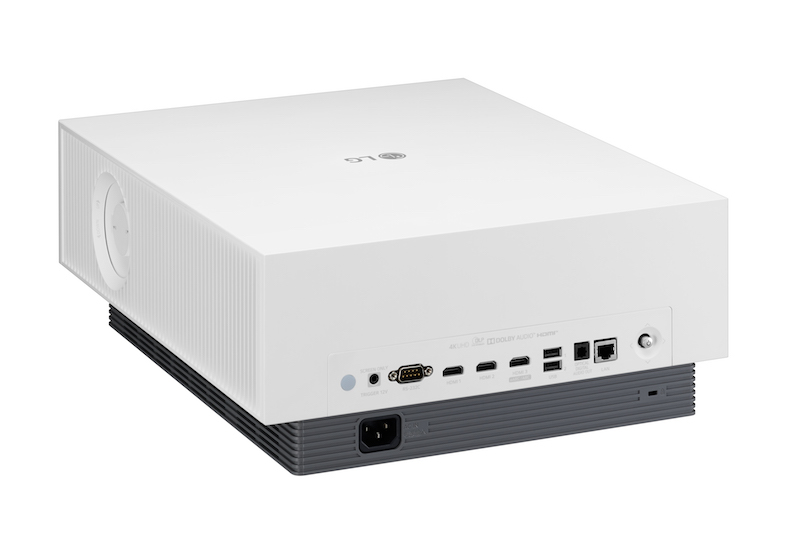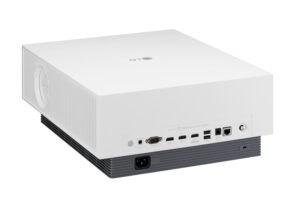 There were times, however, when a brighter image was required. In these instances, I found that either Cinema or the Cinema Home setting was preferred. Depending on the content, Cinema tended to be the brighter and less "sepia" of the two.
Expert Bright Room and Expert Dark Room were also effective picture settings for their respective applications. I would lean toward Expert Bright Room for live sports, and Expert Dark Room as a nice alternative to Filmmaker Mode for movies. In one particular example, I was watching a scene from The Marvelous Mrs. Maisel, where the star of series was sitting by the pool with her parents in Miami Beach. The color palette of the show is very saturated on purpose (to reflect the Kodachrome camera qualities of the era in which its set.) I found that the brightness of the outdoor setting and the cinematic richness of the colors made selecting the best mode a tough call (and very subjective). Any of my three favorites would have worked, but I went with Cinema Home to maintain proper sunlight brightness and color.
Interestingly, there were times when the HDR game mode created by HGiG (an HDR gaming consortium) for X-box and Play Station's HDR games worked great for live sports, depending on the quality of the source. I'm not a gamer, but I could see where the setting could really draw out the details in artificial gaming action. The example that LG provided in their literature was a road racing game where details in the upcoming curve in the track were much more defined than without the mode. For live sports, it seemed to provide the correct balance of brightness and image detail without skin tone discoloration or sparkly edges.
Setting Up the HU810P Projector
For access to streaming material, I connected the HU810P to my Wi-Fi network via the projector's webOS 5.0 and logged into my Amazon Prime account directly through the projector (other apps included YouTube and Disney Plus.) I also connected my Roku streaming device to one of the HDMI inputs, to access additional content. Switching sources was easy to find in the projector's menu, which was very familiar to me from my experience owning an LG smart TV.
You may also choose to stream or share video, photos, or music from your iOS device via AirPlay2, without the need to buy an Apple TV. In fact, LG CineBeam projectors like the HU810P are the only projectors with Airplay casting and mirroring that are certified by Apple. According to LG, some projector brands claim they support Airplay, but their projector only supports mirroring, not casting, without any quality test done by Apple (Netflix is not available through either option.)
For comparison, mirroring streams video at 1080p, while casting is 4K. Not sure which is which? Casting allows you to watch movies on the large screen with your iOS phone running other apps. After you cast content, you are free to use the phone for calls or games without disturbing the cast.
Supporting eARC
Speaking of HDMI, the HU810P supports eARC (Enhanced Audio Return Channel), which is the next generation of ARC. eARC delivers up to 32 channels of audio, including 8-channel, 24-bit/192KHz uncompressed data stream at speeds of up to 38Mbps. The projector displays high-resolution and high-information images via the HDMI 2.1 connection and can output 10-bit images with 444RGB specifications.
The HU810P is also Dolby Atmos compatible and supports Miracast and Bluetooth, as well as WiSA for reliable low-latency uncompressed surround-sound.
Having covered most of the technical capabilities of the HU810P, it's important to note that the external look of the projector is elegant, and its dials are well disguised and ergonomically agreeable. Its rectangular matte white plastic case provides a modern aesthetic, which is particularly useful when placing the projector on a table in the middle of a room or mounting it overhead. To fit my 110-inch anamorphic screen, I placed the HU810P approximately 13 feet from the screen, which is about seven feet closer than my back-of-the-room mounted 3LCD projector). Fortunately, the fan noise of the HU810P was minimal, which is important to consider when sitting relatively close to it.
Focus and Zoom Control
I particularly appreciated the focus and zoom levers placed just below the projector's lens, which is overset to the left front of the box. Rather than fingertip "serrated-edge" dials that one might find on other projectors with mechanical zoom or focus controls, the levers on these dials were much more conducive to finer tuning, particularly when focusing the image. Likewise, the pan and tilt dials on the left side of the projector are seated one inside the other, eliminating the need to fish around in the dark to find the one you're looking for. The lens can shift +/-24 percent horizontally or +/-60 percent vertically and zoom x1.6.
I'd be happy to own an LG HU810P 4K UHD CineBeam for my next projector. I'd also recommend it highly to anyone, whether they have a dedicated home theater or not. With a 20,000-hour laser light source and 4K resolution, it should serve you well for many years to come.