Amazon announced near the end of last year that they were creating a wearable device, called Halo, that would be dedicated to health, with no watch face and no text messaging. My interest was piqued, so in November I applied and received early access to the product.
The band works with a companion app, aptly named Halo. The app breaks up your wellbeing into four channels: Activity, Sleep, Tone, and Body.
A Short History of Wearable Tech
The concept of wearables dates back to the 1960s, but they did not hit the mainstream until the late 1970's when HP introduced the wrist calculator. Okay, mainstream might be too strong of a word, for it was not until the last few years we have seen the explosion of 'smart' wrist bands and fitness trackers. According to Pew Research, one in five U.S. adults say they wear them regularly.
Related: Telehealth and Telemedicine Tech Changes in the COVID-19 Era
The concept of having something to guide you, to help you, while you walk this earth is alluring. Yet, many wearables are not there to help with your health and life but believe you need to be told immediately of an incoming email or text message. Interruption is not helpful but disruptive.
Gloria Mark, who studies digital distraction at the University of California, states it takes an average of almost 25 minutes to return to the original task after an interruption. Have you ever been speaking directly to another person, and their wrist vibrates, so they look at it as you continue to talk? Beyond being ill-mannered, I will bet they have no idea what you said. (I like to take the opportunity to drop in the word alien just for fun. For example, "…and that is when aliens abducted me.").
While there may be "apps" on these wearables, it takes more from you than it's giving. Its purpose is not your wellbeing. Amazon's Halo seemed like it would be different. Here's my experience with Halo's four channels
Activity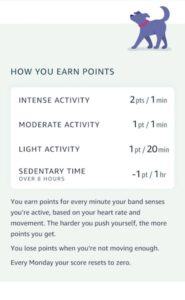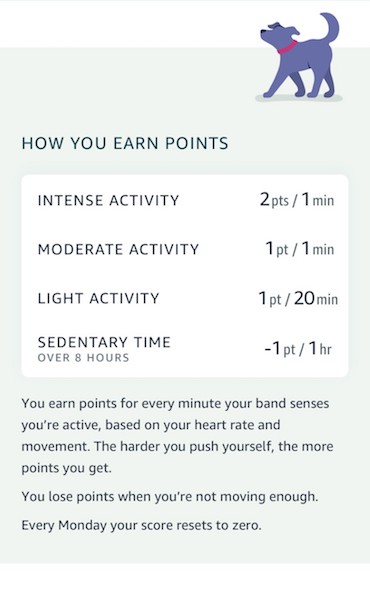 Hands down, my favorite section of Halo is "Activity." You have a weekly goal of 150 points. Halo awards points based on the intensity and duration of your movement. The idea is to move more, move faster, and sit less.
You can view your points on a daily, weekly, or monthly level. The crazy part is, you begin to learn what will enable you to earn more points, and that nudge, while it took a few weeks, works.
For example, a 20 minute plus jog will reward you about 40 points. Preparing dinner for an hour will garner you about three points. Beware, for you will lose points for sedentary time. This section of the band has that video game feel that, over time, has increased my desire to move, giving me the extra nudge that I need (especially during January in Buffalo during a global pandemic).
Sleep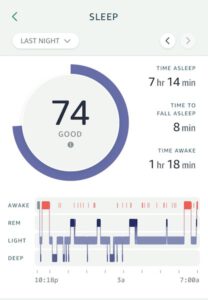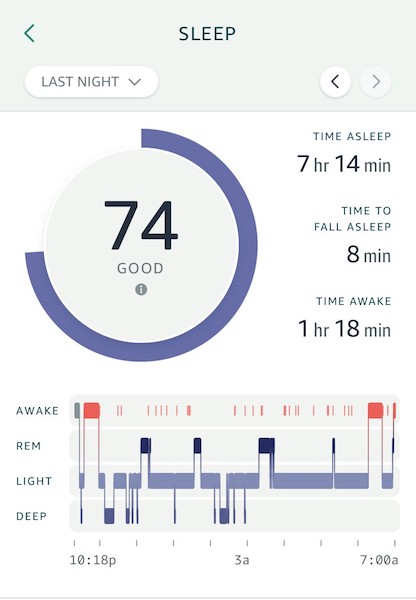 By wearing your band while you sleep, you will learn how long you sleep, how long it takes you to fall asleep, and your sleep breakdown. For example, I have a tough time falling asleep and found that I drift for a few minutes and wake up for a prolonged time. I have always had a tough time falling asleep, and somehow seeing "proof" has helped me connect my score to how I feel throughout the day.
Tone
Tone is my least favorite of the channels. Perhaps because I get the worst grades. I thought I was such a happy person, but Halo Tone tells me different. For this experiment, I kept Tone on for the first six weeks. However, I cannot say the feedback nudged me into better tonality. Perhaps, I am already aware when my tone is subpar.
Body
The scariest of the four featurettes is "Body," as it involves stripping down to your undergarments, standing in front of your phone, and letting it take photos of you to put together your body fat percentage. Amazon says, "Many experts consider body fat percentage a better barometer of overall health than weight alone." Amazon recommends, "taking your scans twice a month – ideally at the same time of day with similar clothing and lighting – to gauge your progress most accurately."
As taking photos of yourself, hardly dressed, is everything you should never do with your phone, Amazon speaks to your privacy. Anytime you are in that part of the app, the ability to erase the data is apparent. The scanned "images are processed in the Amazon cloud by machine and then deleted from the cloud by default unless you turn on automatic backups. No one but you sees your scan images."
Battery Life
With Tone on, I had to charge the band daily, meaning I would forget to put the band on. The battery lasts a few days with Tone turned off.
The App Experience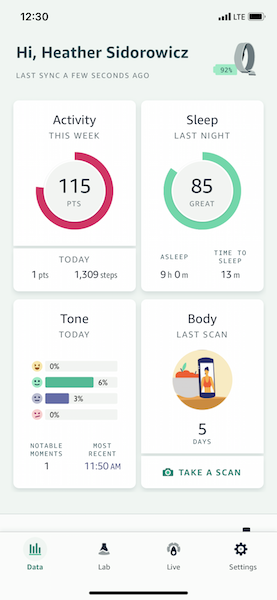 Every time you open the Amazon Halo app, the band will attempt to sync, taking up to 30 seconds. Connection sometimes fails, and you have to push the one button on your Halo twice to get them to connect.
The app runs a bit slower than I would like, and I find myself repeatedly touching the area I am trying to explore. I hope that Amazon will continue to update and make the app smarter and faster. With push notifications, you will get a message when your band is charged and reminders to complete a challenge if you have opted to give yourself a Halo task. I would love to get a warning before I start losing points for non-movement.
With your Halo purchase, you get six months free, and then $3.99 a month after that. Without the membership, you still retain access to the basic sleep time, heart rate, and step tracking. It is unclear the detail as to what that means.
Overall Takeaway
From Fitbit to the Apple Watch, I have tried a few fitness bands over time. The deal-breaker for me was their inability to track activities such as yoga and skiing. I have found the Halo point tracker fair in connection to the movement and find myself encouraged to reach the points goal. I will continue to wear the band in an effort to achieve my health goals.
Note: A few weeks after inviting Halo into my life, we purchased a Nordictrack Treadmill. Stop back next time for a full review.