Lutron Electronics is adding to its already robust Ketra and Ivalo lighting portfolio with several new products that allows integrators to specify, design, and integrate dynamic, high-quality lighting solutions on every project.
Lutron's intelligent lighting solutions now include static white, warm dim, and full spectrum with coordinated luminaires and lamps, which are all digitally addressable and offer 0.1-percent dimming capabilities.
Related: Ketra Unveils All-New LED Lighting System
The company's new offerings significantly reduce the cost of entry and includes solutions for every application in the home.
"For nearly 30 years, integrators have placed their trust in Lutron with widespread adoption of our lighting control and intelligent shading solutions," said Sam Chambers, senior director-residential systems at Lutron. "And now, as Lutron continues to expand the market for intelligent lighting, integrators can once again count on Lutron to help them grow their business."
Lutron's Ketra Lightbar Slim
Adding to Lutron's Ketra lighting portfolio in the new Ketra Lightbar Slim, which is a low-voltage, custom-length luminaire compatible with a Lutron HomeWorks system. The low-profile linear with a 0.650-inch high x 0.650-inch wide cross section is available in lengths starting at 10 inches, configurable in 1-inch increments installation in coves, under cabinets and counters, archways or stairwells, or for details on walls or ceilings.
Lightbar Slim, which will be available to order June 21, 2021 and will ship August 23, 2021, can also be integrated into furniture.
New Ketra Lamp Solutions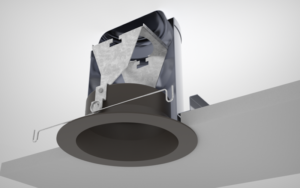 Also added to Lutron's Ketra lighting portfolio is the Ketra S30 lamp with a new round trim designed to work with a new-construction housing. This lower priced, premium Ketra downlight helps integrators expand Ketra to more spaces in a home. It provides 0.1-percent full spectrum lighting capabilities and feature a trim aesthetic that coordinates with Ketra D3 Downlights.
Ketra S30 lamps will be available to order July 16, 2021 and shipping August 6, 2021.
Ketra Ready Program Created
Lutron will now promote a curated group of lighting manufacturers who offer a selection of decorative fixtures that work with Ketra lamps. This Ketra Ready program provides integrators with the ability to offer specifiers and clients decorative choices that will allow for immersive lighting experiences on their projects.
Ango, David Trubridge, Lumetta, Stephen Pikus Design and Vibia are the first manufacturers to participate in this collaboration
Ivalo Enhancements with New Lutron HomeWorks Digital Tech
In addition to the expanded Ketra offering, Lutron has invested in the Ivalo intelligent lighting portfolio to improve the dimming performance down to 0.1 percent and introduced a new HomeWorks Digital wired communication technology that makes Lutron's entire portfolio of Ivalo lighting digitally addressable.
The new HomeWorks Digital technology allows integrators to easily program and rezone intelligent lighting in the Lutron HomeWorks software.
Finiré Prime and Finiré 3-Inch Downlights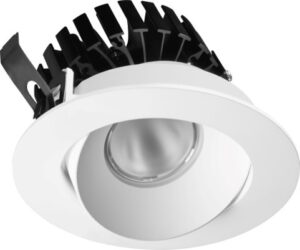 New Finiré Prime and Finiré 3-Inch downlights provide 0.1-percent static white and warm dim capabilities and include new HomeWorks Digital technology and are priced more competitively.
The trim aesthetic of these downlights, which are available to order May 17, 2021 and are shipping July 1, 2021, provides a coordinated look across the Lutron intelligent lighting portfolio.
"Lutron is thrilled to support the integrator community with this expanded line of high-quality intelligent lighting solutions," Chambers said. "We are excited to see the exponential growth these products offer the integration community and look forward to supporting their needs now and in the future."
The Dealer Perspective
For Lutron dealer Todd Walling, principal, lighting design, at Lightworks in San Diego, the Finiré Prime and Finiré 3-Inch downlights are a welcome addition to the Ketra line for areas of the house where a client may not want to spend as much money on Ketra fixtures that are located in less public areas of the home.
"Even in those situations, you still want a product that has the same look and behaves the same as what is installed in the more visible rooms of the home," Walling noted. "With the new Finiré additions, Lutron has adjusted the pricing and design to provide a more entry-level option with the same guaranteed behavior with the lighting control system."
For Walling, however, the most "earth-shaking" addition from Lutron is Ketra Lightbar Slim. "For me as a designer, that was one of the biggest missing pieces," he said. "It is compact enough to use for interior cabinet lighting and smaller recessed coves in the ceiling and perimeter lighting. It just helps us in so many situations."