"This is not our space. This is your space," said Michael Smith, VP of sales at Lutron, during the grand opening his company's newly reimagined Experience Center and training facility in the Decoration and Design Building in New York City on September 27. Nearly three times the size of Lutron's former New York City space, the new Center will be the destination for Lutron's residential tri-state area customers and international visitors.
"This represents a significant investment that we're making in the design, luxury space," Smith noted during his opening remarks to a room full of custom integrators and design professionals. "We doubled down on our investments a couple years ago, and we want to make sure our dealers know that we are committed more than ever to bringing this space to you and the design community. Innovation creates opportunity, and innovation differentiates not only us, but also you and your designs and gives you something for your clients."
Lutron opened its first Experience Center in Plantation, FL, in 2001. The company has since added facilities in Coopersburg, PA, Irvine, CA, New York City, Washington, D.C., Toronto, and London.
The new Experience Center features a broad range of Lutron products showcased within residential vignettes. Products include everything from Lutron's Caséta Wireless to HomeWorks QS systems, a full range of Lutron shading solutions, including the luxurious new Palladiom shades, plus samples of shading fabrics and keypad finishes.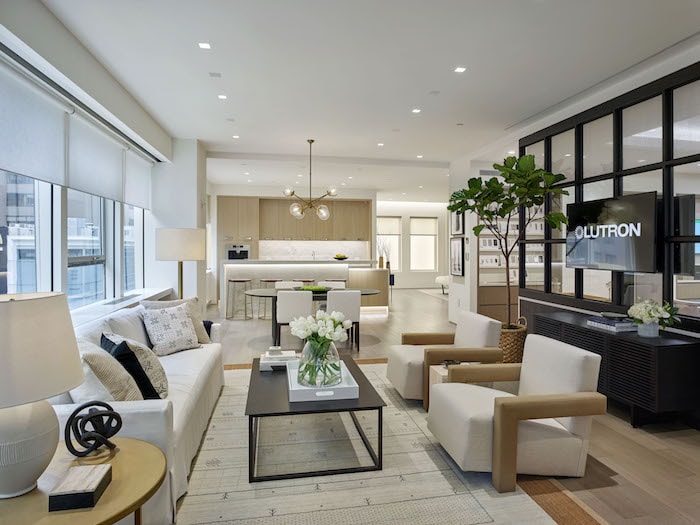 "What's nice is that this space will always be current. It will always have the latest and greatest and newest," Smith explained. "Even if you have your own experience centers, you can bring your own clients here to show the new things that maybe aren't included in your own space. We hope as you go through this, you'll see every shade, every style that we make…over 60 working shades in this space."
The Center also features a variety of Ivalo and Ketra high-performance LED fixtures, which the company predicts will be the next business expansion opportunity for dealers. Dealers wanting to explore LED fixtures as a business expansion opportunity will have plenty of chances to do so in the new space. Lutron customers can witness the performance of LED fixtures, drivers, and control solutions from the company's Ivalo Collection and, as a result of the company's recent acquisition, from Ketra.
"I think that with our acquisition of Ketra, we're at that moment in history again that's going to be the beginning of the next category that Lutron and our dealers are going to create together," Smith said. "That's that intelligent light source combined with outstanding control and delivering and experience that the world has never had the ability to experience before. But it won't be easy. It's going to require all of the training and knowledge of lighting and that entrepreneurial spirit. We're going to challenge you to get into that lighting space and that lighting business. We're going to challenge you to align with the wonderful partners of ALA. We're aligned with lighting experts in the design community."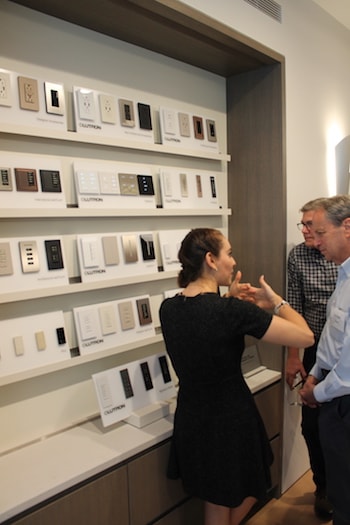 Matt Emmi, owner of OneButton in Brooklyn, attended the grand opening, having been a frequent visitor to the company's previous Center in the same building. He mentioned that his company was a Ketra dealer prior to Lutron's acquisition, having been interested in the ability to dynamically shift LED lights and create circadian lighting control.
"We have that set up in our office and have been living with it for about six months now," he said. "We're incredibly excited that these two companies came together because we were trying to figure out how to cobble the two solutions together ourselves. We think that circadian light and dynamic shifting is one of the most important advancements to come along in our industry."
Emmi is looking to Lutron to help OneButton in this new revenue and business opportunity, without stepping on electricians' toes, who the integrator is "already leaning on" to do the wiring and electrical connectivity to the panel.
"It's a technological and business shift," he said. "We're bringing our design team up to speed to be able to do more of lighting design work. We have three professionally trained architects on our staff, and they're now learning more about lighting control. We'll still look to the designer or architect to do the fixture placement [on the design plan], but when circadian or color temperature comes up, we will replicate the fixture and figure out how to execute that strategy."