MantelMount Helps Safe Harbor Pier 121 Solve an Unusual Logistical Problem
When people hear the word "marina," they generally think of a place to dock your boat. Sure, you can chat with folks in neighboring slips or enjoy a beverage on a friend's vessel before taking your boat out on the water. But still, it's typically an aquatic parking space.
And then there is Safe Harbor Pier 121. Sure, it's a place to secure your boat, but that's just a fraction of what they offer. A recreational boating haven located on Lake Lewisville, about 15 miles north of Dallas, TX, Safe Harbor Pier 121 fosters "an energetic atmosphere where boaters can connect, relax, and unwind."
According to Frederic Ritch, former dockmaster at Safe Harbor Pier 121 (so named because it's located just off Highway 121), this approach dovetails nicely with the local culture and tradition.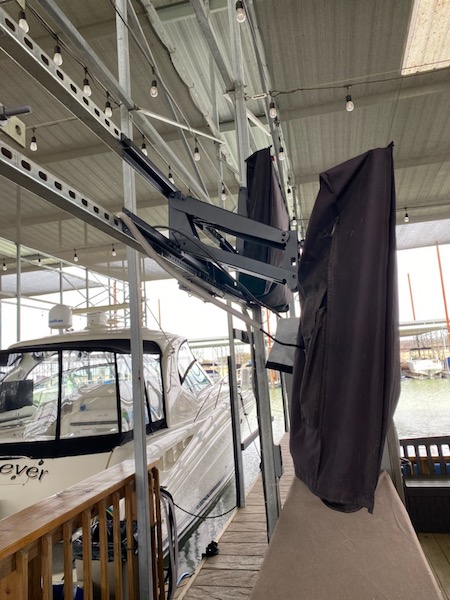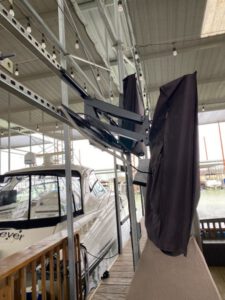 "When you're talking about lakes in Texas, we talk about weekend lake life," he explained. "You have friends come and spend half the day on the dock, go out on the water for a while, then come back, grill out with friends, watch TV, and just socialize.
"Frankly, although our customers love to take out their boats, it's less about the boating and more about the lifestyle."
Interestingly, MantelMount, a manufacturer of automated and manual pulldown mounts, has become part of that lifestyle. And it happened because Ritch saw how a single member solved a unique problem.
While Safe Harbor Pier 121, which was purchased about five years ago by parent company Safe Harbor Marinas, provides a veritable playground for its customers, the marina does not neglect its responsibility to safety. The land on which the marina stands is owned and operated by the Army Corps of Engineers, with Safe Harbor Pier 121 as the tenant. As such, Safe Harbor Pier 121 not only follows its own stringent safety regulations, but it also required to adhere to the guidelines laid out by the Corps.
One of those guidelines, enacted on February 1, 2022, states that no object can be lower than 84 inches off the dock or higher than 48 inches. This rule is in place to ensure a clean line of sight for the Corps, not only for the annual safety inspections, but in the event of any type of emergency (e.g., fire), Corps personnel would be able to quickly scan all 1,000 slips unimpeded.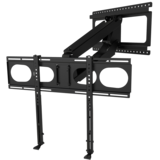 While there are a number of items that need to be modified to accommodate the height guideline, flat-screen televisions have become perhaps the most pervasive. Many boaters have added them to their slips areas as part of the Safe Harbor Pier 121 lifestyle experience. As a result, the marina has about 200 TVs that require alternative placement.
Given the new guideline, there aren't too many options, Ritch noted.
"You can mount the TV so that the bottom is higher than 84 inches, but that's far too high up for comfortable viewing," he said. "Or, you put it on the ground and hope the top of the TV isn't higher than 48 inches. But even if it is, it's still a terrible viewing angle."
Luckily, instead of Ritch having to come up with a solution, a solution came to him. After all the TVs had been taken down, Ritch was walking around the slips and saw that a Member had already solved the issue with a unique TV mount. The mount had vertical movement which allowed the member to move his TV to an eye-level viewing height, but easily push it back up and store it at a height that is in compliance with the new regulation
Curious about the device, Ritch questioned the member, who told him it was from a company called MantelMount. Given that it seemed to be an extremely viable solution, Ritch decided to give MantelMount a call.
"After talking with the folks at MantelMount, we realized that they were an extremely reputable company that manufactured a quality product," he said. "We expect that as we head into the heart of our season, that more members are going to want to install MantelMount units.
"Some Members may not want to use MantelMount; they may have their own solution or even a different mount, and that's fine. But we want to at least be able to offer an option. It's just sound business and good customer service."
Just to be thorough, Ritch took a look at some competitive mounts. However, he discovered that many of them did not provide vertical movement which, for Safe Harbor members, is really the most critical consideration. And the ones that did were far more costly. But seeing the unit in action was the true deciding factor.
"When I saw our member using one, saw how smoothly it moved, and saw how satisfied they were, I just went with it," he said. "It was easy to see that it's a quality product, and we've been able to form a mutually beneficial relationship with the company."
While compliance with the height regulation is the primary reason for remounting members TVs, Ritch is quick to mention the value the MantelMount units add to his members' TV viewing experience.
"Many of the TVs were not really mounted for great viewing," he explained. "With MantelMount, members can now put their TV at the ideal height — eye level — and optimize their TV-watching experience.
"We can now offer a way for members to be in compliance with the regulation while giving them a better way to watch TV," he added. "That's a win-win no matter how you look at it."
Related: What MantelMount Hopes to Gain from Dynamic Mounting Acquisition