McIntosh and Sonus faber are collaborating with the iconic Wally Yachts, a Ferretti Group brand, marking the first high-performance custom installation system to be offered by the brands for the marine market.
McIntosh, Sonus faber, and Wally are known for their aspirational performance, product quality, detailed design, technological advancement, elevated consumer experience and meticulous craftsmanship. The bespoke systems resulting from this collaboration will premiere on Wally Yachts, specifically tuned by McIntosh and Sonus faber's audio experts by ear, starting this year.
Related: McIntosh Launches MHT300 7.2-Channel Home Theater Receiver
"Entering the marine industry has been top of mind for us for quite some time" said Fiore Cappelletto, vice president and general manager of automotive and marine at McIntosh Group. "After gaining experience in the automotive industry, paired with our company's consistent development of quality performance custom installation audio (Ci-Fi), the time felt right to enter the exhilarating market, and we couldn't be more grateful to have found a perfect ally in Wally. We are extremely excited for the future of this collaboration, celebrating the common pillars and shared passion from Wally, McIntosh and Sonus faber, all in the pursuit of High-End experience and the highest performance available in the market."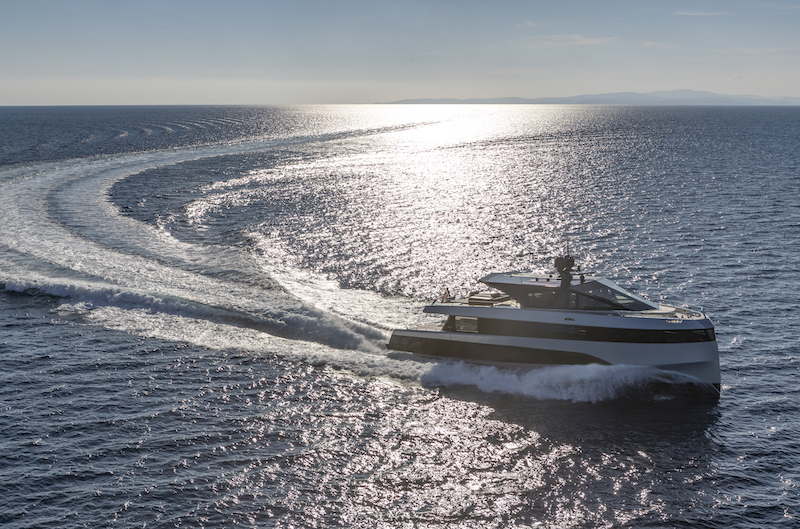 Stefano de Vivo, managing director at Wally Yachts, commented, "We are very excited to unveil our latest collaboration with Sonus faber and McIntosh. Our goal is to provide our owners with the best innovative solutions on board, to ensure maximum comfort and pleasure. I am sure that the incomparable quality standards offered by Wally together with the ultimate experience provided by McIntosh and Sonus faber can fully achieve our ambitious goal. At Wally, we are always very selective about the companies with whom we choose to work, but with these two brands, it was a total no-brainer, thanks to our shared obsession with achieving perfection and the highest possible technical standards. As a result, there is a real, tangible synergy between our companies, and I can't wait to show the results onboard the wallywhy200."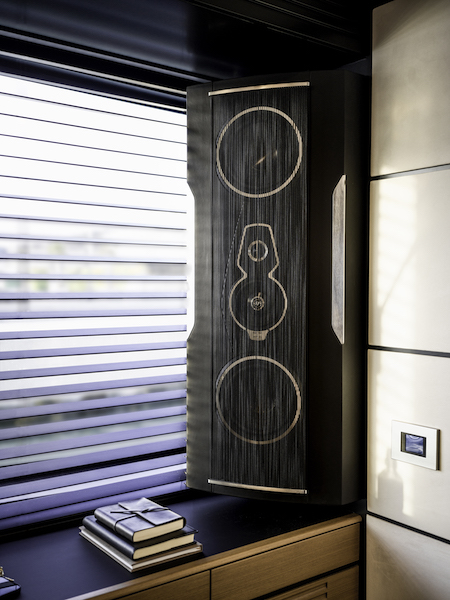 With performance as the top priority throughout the product development process, all brands placed a strong emphasis on developing technical solutions that combine form and function, while further ensuring an elevated aesthetic for the discerning clientele. Each of the yacht systems are customized to fit the acoustics of its installation area.
"We developed a bespoke solution in cooperation with the Wally team, combining the finest audio solutions with interior design that allow to create among the best CI-FI experience ever. The concept is to transfer all the audio knowledge of McIntosh Labs and Sonus faber onboard, giving the customers the unique opportunity to live the excitement of a movie theater on their yacht and be fully immersed in the heart of the action," shared Roberto Gamba, business developer CI at McIntosh Group. "Our real challenge was to create something truly unique, so we integrated the audio system seamlessly into custom furniture, walls, and cabinets, specifically tailored to meet Wally's vision. We look forward to customers experiencing the exceptional sound quality that this collaboration has brought to life"
The systems are powered by High End audio technology trademarked by Sonus faber's D.A.D. Tweeter Damped Apex Dome, Paracross Topology, and McIntosh's Power Guard and TripleView Power Output Meters. The audio brands executed extensive stress tests, product validation processes, custom tuning, and tailored calibrations on each and every system to confirm its delivery of McIntosh's extreme power and Sonus faber's most natural sound within the yacht's environment for unparalleled sonic perfection at sea.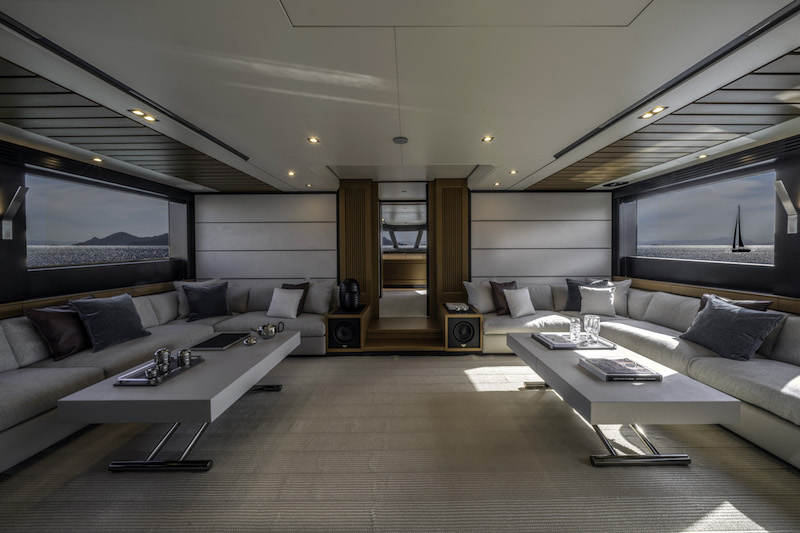 The main deck salon of the wallywhy200 has been enhanced with an impressive audio system featuring 2x Sonus faber Custom Speakers with Black Leather Box, Stainless steel frames. With aluminum dust caps and black paper cones, this custom 3.5-way system incorporates the new Phase Coherent Philosophy to ensure a realistic soundstage and builds upon the acoustic research conducted for the new Homage and Arena collections, meeting Home Theater standard.
This new philosophy creates a 3D soundstage without a physical center channel and with a wide distance between the left and right channel. The system also includes 4x Sonus faber Custom Active Sub-woofers (2x 12'' and 2x 10''), and 4x Sonus faber Palladio PC683 three-way in-ceiling systems, all seamlessly integrated into the yacht's design.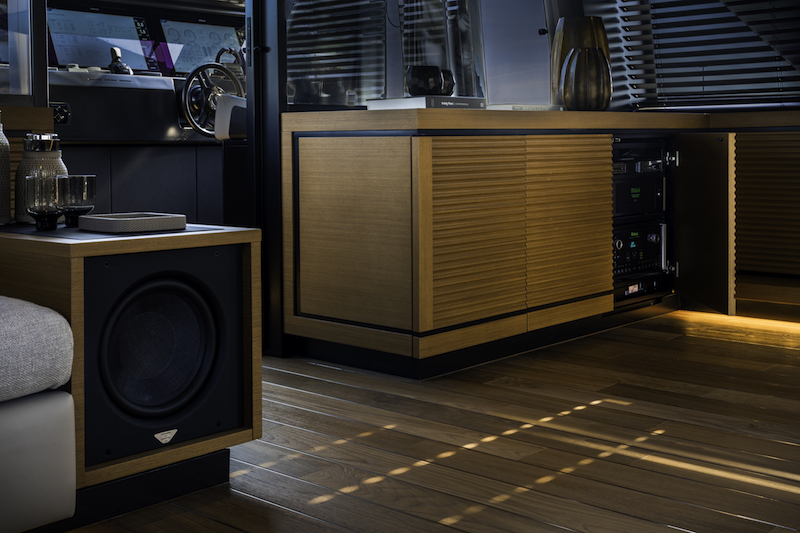 The audio system is powered by two McIntosh amplifiers, including the MC2555 Channel Solid State Amplifier and the MC312 two-channel solid state amplifier. To ensure the highest quality audio signal, the system also features the McIntosh MX170 AV processor, which offers advanced control features for a truly immersive audio experience.
In the master cabin, guests can enjoy 5x Sonus faber Palladio PC662 in-ceiling systems, 1x Sonus faber 12'' Custom Active Sub-woofer, powered by the McIntosh MX123 AV processor and the McIntosh MI347 seven-channel digital amplifier.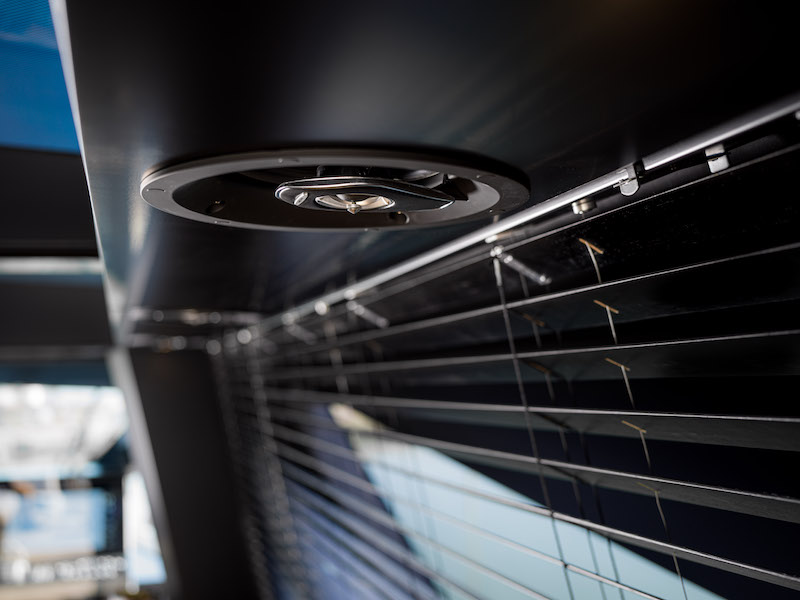 The Upper Deck Salon is equipped with 5x Sonus faber Palladio 2-way in-ceiling PC662, 1x 12'' Sonus faber Custom active subwoofer, 1x McIntosh MX123 AV processor, and 1x McIntosh MI347 seven-channel digital amplifier.
wallywhy200 combines the comfort and space of a larger displacement yacht with the speed and performance of a semi-displacement. It was developed by Wally design team led by Luca Bassani, jointly with the Ferretti Group Engineering Department, working with Laurent Giles NA Ltd for naval architecture and Studio A. Vallicelli & C for interior design.
Thanks to its widebody design, this 200 GT yacht offers far larger volumes compared to traditional motorboats, plus great living spaces and stability.
In keeping with a design philosophy that aims, on the one hand, to combine form and function through distinctive and highly recognizable aesthetic and, on the other, to guarantee a new and immersive yachting experience with the element of water, wallywhy200 features a spectacular 4.7-metre-high glazed bow housing a stunning 37 m2 master suite overlooking the sea, with an uninterrupted 270-degree view of the horizon. This cabin stands out also for its exceptional noise levels thanks to the positioning of the engine room which is located at the opposite end of the boat.
The eye-catching upper deck has a futuristic glass and carbon dome. Also on the upper deck, the extended, structural top with no supporting pillars is a masterpiece of design and engineering for its exceptional stability and strength.
An absolute novelty is the one-piece laminated carbon staircase which, as well as having a load-bearing function, is an extremely light element connecting the three decks and making the bulkheads superfluous in the huge 50m2 open space living area, enhanced by a practical show-cooking kitchen.
Experiencing the sea means also enjoying activities in direct contact with the water. The wallywhy200 is unsurpassed in this respect too: the folding beach club bulwarks, for example, not only allow access to the sea on three sides but also expand the living area to 32 m2, transforming it into a true terrace over the water, with size and features that make all competitors, even larger ones, pale in comparison. In addition, wallywhy200 boasts two garages with a storage capacity never seen before on yachts of this size.