According to the U.S. Department of Energy, the typical American family will spend $2,200 per year on home utility bills and water heating accounts for about 18% of that; or almost $400. So, reducing the energy used to create hot water in a home along with strategies to reduce overall water usage can save a homeowner a significant amount of money.
There are three aspects to optimizing hot water usage in a home:
How the water is heated
How the water gets to the faucets and fixtures where it will be used
How smart home integrations can help reduce the energy used
Heating Water in a Home
There are two primary types of residential water heaters
Tank or Storage Water Heaters
Tankless Water Heaters
Storage water heaters are the most popular type of residential water heater. There are models that heat the water using:
Gas
Electricity
Propane
Fuel Oil
Heat Pump
Solar Energy
A storage water heater heats the water and stores it in a tank so it is ready to use when needed by a family.   While the tanks are insulated, there is still heat lost over time while the water is sitting there waiting to be used. Then, more energy is required to reheat the water to bring it back up to the desired temperature.
According to HomeAdvisor, the average cost of a storage hot water heater is between $762 and $1426; including installation. And, a storage hot water heater will last between 8 and 12 years.
Tankless water heaters heat the water as it is needed using either gas or electricity. Hot water is not stored but is delivered, on demand, to the faucets and fixtures in a home. Because of this, deciding the size of the heater needed for a home is a more complicated process than a tank style heater, which can simply be chosen based on the number of people living in a home.
Tankless water heaters are sized based on the flow rate to the fixtures, that could be in simultaneous use, the temperature rise required based on the temperature of the water as it enters the home, and the desired temperature of the heated water. For example, the temperature of water entering a home varies depending on where you live and the time of the year. In northern parts of the U.S. the water entering a home in the winter can be as low as 40 degrees F and U.S. Department of Energy recommends that homeowners set their hot water heaters to deliver water heated to 120 degrees F. So, in the northern parts of the country a tankless hot water heater would have to be capable of raising the water temperature by 80 degrees. On the other hand, the water temperature as it enters a home in southern states can be 50 degrees F; or more. So, a hot water heater with less capacity can be used in the south.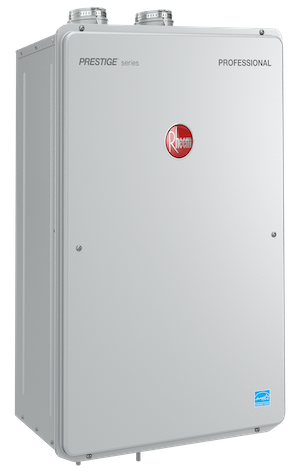 Tankless water heaters are more efficient than their storage water heater counterparts. According to U.S Department of Energy they can be up to 34% more efficient than a storage hot water heater. They also have an expected lifespan of up to 20 years. However, according to HomeAdvisor, the average cost of a tankless water heater is $3000 so the purchase cost needs to be balanced with the energy savings and the expected time a family believes they will stay in their home.
In addition to whole house, tankless, water heaters, there are also smaller units that are installed close to fixtures; such in a cabinet, under a sink. These smaller units remove the waste of running a faucet until the hot water reaches the fixture from the large, central, hot water heater. However, while these units are much less expensive than a central hot water heater, they typically require 240 volts so the cost of retrofitting them into a home can be high because, at a minimum, new wiring needs to be run from the circuit breaker panel to the water fixture location. So while this can be a very efficient way of delivering hot water to a remote location in a home, it is best to include this capability when the home is built instead of retrofitting it later.
There are so many hot water heaters on the market that it is impossible to try and pick favorites. Models from Rheem, A.O. Smith, Ecosmart, Rinnai, GE, Stiebel, Bosch, and others are all highly rated. The choice, especially when choosing a tankless water heater will come down to one that meets your requirements, price, and availability in your area.
Recirculation Pumps
Recirculation pumps are typically installed in large homes to provide instant access to hot water at fixtures that may be a significant distance from a hot water heater. If a kitchen sink is 50 feet from the hot water heater, the homeowner is going to pour over a gallon of water down the drain before the hot water from central storage, or tankless, water heater reaches the kitchen sink. If that happens three times a day, every day of the year, that is a loss of over 1200 gallons of water at that one location in a home. Some estimates are that a family can waste 12,000 gallons of water a year waiting for hot water. Instead of dumping the water down the drain a recirculation pump pushes it back through water lines in the home so it isn't wasted.
In addition to the convenience a recirculation pump offers, according to Statista, a family of four in the U.S. pays over $70 per month for water; and the trend is for costs to continue to rise. So, an energy efficient recirculation pump can save money.
There are two types of recirculation pumps. In a full recirculation system an additional water line is added to return water back to the tank style hot water heater from an end point in a hot water line.
The second type of recirculation pump is called a comfort system. In these systems a one way connection is made between the hot and cold water lines at the far end of the hot water line. Water that has sat in a hot water line and cooled is pumped into the cold water line until hot water reaches the fixtures where it will be used.   This system eliminates the expense of the separate return line but when a cold water faucet is opened the water will be lukewarm. If lukewarm water from the cold water tap isn't acceptable to the person using the water, water will be dumped down the drain and wasted until water of the desired temperature reaches the tap.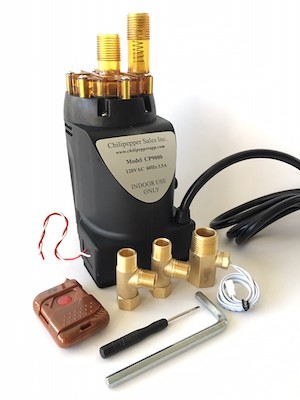 The pumps in these recirculation systems vary in their capabilities to minimize the energy they use. The least energy efficient models simply circulate water 24 hours a day. The most efficient models include temperature sensors that stop the pump when it has pumped enough so the water at the fixtures is hot and ready for use. The pump will only start again to circulate the water as the temperature of the water in the hot water line drops below a threshold. In addition, the best pumps have a built in timer so the pump can be shut off when family members are at work or asleep. Grundfos, a leader in recirculation pumps, has introduced technology where the pump learns the usage patterns of the homeowners to further reduce energy usage.
While the primary goal of recirculation pumps is to reduce the time people wait for hot water while minimizing the energy required for the added convenience, the Chilipepper CP9000 takes a different approach. This recirculation pump is designed to be installed by a homeowner, underneath the sink, where hot water is used; such as in the kitchen or bathrooms. Like other comfort units it pumps water from the hot water line into the cold water line until hot water is available at the tap. Unlike other recirculation pumps it only does this when the homeowner presses a button on an included, small, remote control. This greatly reduces the energy wasted by running the pump throughout the day and the energy loss by hot water cooling in the pipes when nobody is using it.
In addition, the CP9000 includes a contact closure interface so it could be integrated with a smart home processor / hub. While I haven't used this particular product, a Wi-Fi Relay/Switch, such as the Sonoff model on Amazon, could be used to control the CP9000 through voice commands.
With the CP9000 the homeowner still has to wait for the hot water to travel from the hot water heater to the faucet but there is no water wasted. Further, the manufacturer claims that the pump will only use $2 in electricity per year; a minimal cost compared to saving 1,200+ gallons of water.
How a Smart Home Can Help Minimize the Cost of Hot Water
While the number of tankless hot water heaters is growing, storage hot water heaters are still the most common type of water heaters in homes. The first step to making this type of water heater as energy efficient as possible is to simply add an extra layer of insulation to the outside of the tank. Energy blankets are readily available at big box home improvement stores and online retailers. I personally chose the US Energy Nastech model for my own home because of its high insulation value.
No matter what kind of hot water heater is installed in a home, a second, low tech, improvement that can be made is to insulate the hot water pipes; where they are accessible. Foam pipe insulation, such as Tubolit SS by Armacell, comes in 6 foot lengths and is easy to install. If a hot water heater is located in an unheated garage, or the pipes in the home are run through a cool basement, foam insulation can help reduce the loss of heat from the water as it makes its way through the pipes to the fixtures in the home. If the water that reaches a faucet is hotter, then the amount of it needed when mixed with cold water to create the warm water for washing is reduced; saving money. It is even possible that after insulating the pipes that the temperature setting for the hot water heater can be reduced; saving even more money.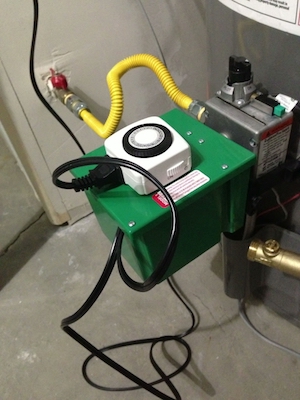 It doesn't make sense to heat water in a tank style hot water heater when nobody is home or when a family is sleeping.   Both gas and electric hot water heaters can be integrated with a smart home system to only operate them when hot water might be needed. For gas operated hot water heaters the Gas Water Heater Timer from American Pacific is easy to install. It comes with a simple timer but this can easily be replaced by a smart outlet to put your gas hot water heater under control of your smart home processor / hub.
Similarly, a high voltage electrical switcher, such as this one from Red Coral Technologies, can be retrofit to an electric hot water heater to provide smart home control. It can be ordered with a variety of different smart light switches built in that provide the smart home integration. Options include Belkin Wemo, TP-Link Kasa, Leviton Z-Wave, Elgato Eve, and more.   These provide a wide range of integration possibilities including Alexa, Google, Assistant, Apple Homekit, SmartThings, and others.
While this device is advertised as DIY, it requires working with 240 volt wiring so many people may be much more comfortable hiring an electrician for installation. A shock from 240 volts can be lethal so safety should be a primary concern.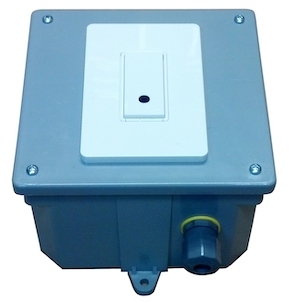 A smart home processor / hub that includes occupancy sensing can turn off the hot water heater when nobody is home and then turn it back on when people return. With an added insulation blanket there will be minimal loss of water temperature and family members won't even notice the change. Further, the hot water heater can be turned off in the evening when the family goes to bed and back on in the morning when people are scheduled to wake up. If the family uses Alexa devices as alarm clocks, the IFTTT Alexa service includes a trigger for when an Alexa alarm clock "goes off". This can be used to turn the hot water heater back on when people get up during work / school days; as wake up times can vary from day to day making a fixed schedule problematic. A backup trigger that turns the water heater on at a fixed time in the morning can take care of weekends and holidays when an alarm clock isn't set.
Hot water recirculation pumps can also be integrated with a smart home processor / hub that includes occupancy sensing to minimize the energy used by the pumps and lost through water circulating through the plumbing system. Powering a recirculation pump through a smart switch, or outlet, allows the pump to be:
Turned off when nobody is home
Turned off late at night when the family is in bed
Summary
Water is expensive, hot water is even more expensive, and prices are going up. Saving both water and the energy needed to heat it makes both economic sense and environmental sense. The changes to a home to minimize the cost of heating water aren't expensive and, in most cases, can be retrofitted by a homeowner.