One of writer Arthur C. Clarke's famed "three laws" claims that, "Any sufficiently advanced technology is indistinguishable from magic." While they often seem like opposite sides of the coin, the concepts of magic and tech definitely have their similarities, something that is apparent when speaking with Penn Jillette. The more vocal member of the magician entertainment duo Penn & Teller, Jillette has hands in both the tech and magic worlds. Best known for the illusions performed in his Las Vegas shows and television programs such as the CW's Penn & Teller: Fool Us, Jillette is also very involved in the tech world, conceptualizing the game Desert Bus and making an appearance at the recent CES event.
Additionally, Jillette is quite experienced in the world of home technology. His former home, known as "The Slammer," was an architectural marvel with a full recording studio and theatre as well as seven bedrooms within over 7,900 square feet. In an interview with USA Today, Jillette himself referred to the compound as, "the house of a 12-year-old with a lot of money." In this exclusive interview, Jillette opens up about how his new abode differs from The Slammer, problems with the current state of voice technology, and his experience in the world of gaming.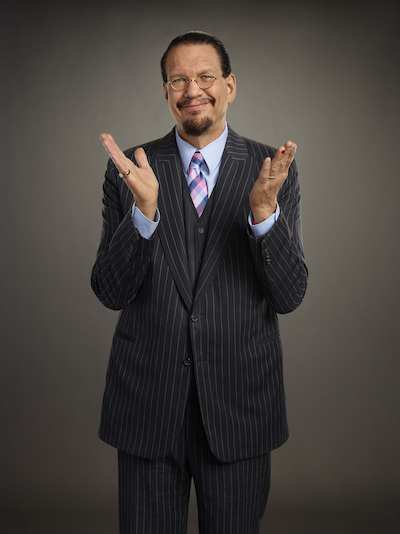 Residential Tech Today: You're no stranger to interesting architecture from living in "The Slammer." What makes your current home unique?
Penn Jillette: You know, I just wanted to move to a place that was more conducive to my wife and children being happy. So we're just in a community where they can walk to their friends' houses and ride bikes, all of which was not true in The Slammer, which was in the geographical center of nowhere.
So we drove a tank through that and then we moved here. The art we have on our walls is eccentric. We have a lot of stuff by Tony Fitzpatrick and David Greenberger and Elliott Freeman. And we have a huge statue, by Davey Alvarez, of a gigantic pink insect Buddha that looks over Vegas. It was done by the Amazing Randi's husband, who I guess still works under the name José Alvarez, although in day-to-day life he's gone back to his real name, which is Davey.
My family are early adopters. As my son said the other day to my wife, "You're living a pretty good life when you don't remember which digital assistant's name you're speaking."
RT Today: I saw that The Slammer also had a 14-seat movie theater.
Penn Jillette: We still have a theater in here that's very nice. But you know, the thing about tech that's so fascinating, if you bought a house that was built today, the tech in that house would be greater than the fanciest mansion five years ago. We forget that progress is so amazing that even lower income people in the United States live better than any king did 300 years ago.
Just tech like refrigeration, gas stoves, all of that. So the stuff that I had built into my Bronco 25 years ago for self-starting and window control and stuff like that, is all standard issue on not just the Tesla, but even a non-rich a**hole car.
RT Today: Speaking of voice assistants, is there one that you prefer, or are they all interchangeable to you?
Penn Jillette: You know, I don't think anyone has really nailed it yet. Voice recognition being at 98 percent, even 99 percent, is not nearly good enough. So we can't really relax. You can tell when a person is doing voice-to-text in their messaging. You can tell. And until you can't tell, it's not really there.
And it will move very, very quickly, as processing power gets better, and so many people are working on it. You know, there's this wonderful moment in tech when all of a sudden, it's not tech anymore. All of a sudden it's just part of your life. And when that moment happens, it's really, really wonderful.
It's pretty hard now to be on the cutting edge. I mean, I had a really good stereo in the 70s. And that stereo would not be nearly as good as anybody's iPhone now. I'm also one of the people, although I have a turntable, and I do have a couple thousand vinyl records, I am not one of those people who actually thinks there's a big difference in vinyl sounding better or smoother. MP3s can certainly sound better, but I'm not quite in the Neil Young camp.
The compression, I think more of the problem is in the engineering and less in the tech. But you know, I had fancy Dolby speakers, and now $100 speakers blow them away. They were $1,000 speakers back in the 70s.
It's just been the cliché that the average watch has more computing power than it took to get Apollo to the moon. That cliché, that trope, every time you think about it, is so profound. I mean, when you think about the computers in the 50s that could not touch, never mind the iPhone, could not touch a phone that has no features on it at all. It's a pretty great thing.
So it's very hard nowadays to be an early adopter, because the difference between early adopter and adopter is now measured in months.
RT Today: What tech trends have you been particularly interested in lately?
Penn Jillette: I'm desperately playing catch up with my children. My son is 12, so he understands things we can't possibly understand. And I said to him, "You know, when I was your age, I listened to music all the time. I mean, that's all I did was listen to music." And my son said, "Dad, that's because they didn't have video games. If they'd had video games, you wouldn't have listened to music, you would have played video games." And that sounds kind of so flippant, it sounds like I'm making fun of my son. Except the reason I'm telling you this is I think he's right. 100 percent right.
When I was 15, I could listen to Blonde on Blonde a thousand times. Now, with a job and things like that going on, I can't listen to anything a thousand times. And my son can play video games for hours and hours and hours, which I can't do.
So I'm forced to be at this kind of distance. But I believe that everything interesting artistically is happening in video games, and that I'm a little left out of the party. As John Sebastian of Loving Spoonful might say, "trying to tell a stranger about rock and roll." I am, by necessity, one level removed from what's really happening artistically.
And by the way, that's what I love. I used to spend time in the 80s saying, "God, I really want a kind of music to come along that I don't understand. I want that feeling my parents had of, 'What the f*** is this?' When the Sex Pistols hit in the late 70s, I understood it immediately. It was no stretch at all. I listened to Velvet Underground forever.
And all the music that came up in the 80s – Blondie and Devo and all of that stuff – is really simple for me. And then, when Eminem came along, easy. Nothing to it. But video games, I can't quite get to. And it's a wonderful feeling… to have something you don't understand. And all of this I'm talking about, which seems like art, is always tech. Tech and art are always the same.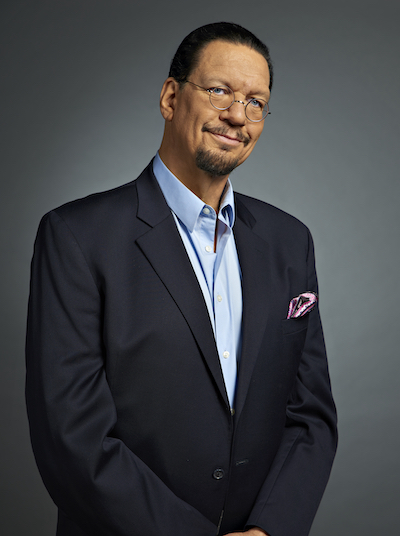 RT Today: Speaking of gaming, tell me a bit about Desert Bus.
Penn Jillette: It's considered to be that Penn & Teller tried to do the most boring, stupid video game ever. But that was not the case. It was a political art piece. Eddie Gorodetsky created the shows Mom and The Big Bang Theory. Eddie, one of the experts on the music throughout the world, won Emmys on Letterman, Saturday Night Live, everything. Funniest writer alive, and he's a good buddy of mine.
Eddie and I were listening to Janet Reno, who was attorney general under Bill Clinton, and she had just lit Waco on fire, the Branch Davidians, and those children were dying. And Bill and Hillary Clinton came out very strongly against video games. And then Janet Reno, the attorney general, who had just lit fire to a place with children in it, she came out and did this speech where she blasted video games, and then made a cry out to video game developers to make games that weren't violent, that prepared people for real life.
And Eddie and I were listening to this speech, and we said, "What the f***?" That's like telling Shakespeare, "Don't have just kings and killing each other and s*** like that. Have just people working at a mead shop. Let's not have any excitement or art in your plays. Let's just have the boring."
And then Eddie just kind of spit out the idea full blown. And I think the first thing he suggested was "toll booth operator." We'll just do a game that's just toll booth operator, where cars just come through and you take 25 cents from them.
And then, after banging it around a little bit, we said, "How about Desert Bus? And how about you have it drive from Phoenix to Las Vegas, an eight-hour drive?" You have a limiter on the bus so it won't let you go over 54 mph. It pulls a little to the right, so if you don't correct it all the time, you'll go into a ditch. And it's absolutely real time, and absolutely nothing happens. Except, five hours in, a bug hits the windshield. And you can stop and you can open the door, and you can close the door, but no one gets on.
And when you do your full eight-hour shift, you get there, and it gives you one point and asks if you want to drive back. So, the point of it was really the strongest "f*** you" possible to the Clinton administration.
RT Today: I know the game has evolved now into a VR experience.
Penn Jillette: Yeah, we did a VR version. As a matter of fact, Randy Pitchford actually bought a bus so that they could make the details in VR absolutely perfect. And I believe on the radio, in the VR version of Desert Bus, you can hear the Janet Reno speech. The only thing playing on the radio is Janet Reno talking about how she hates video games.
RT Today: In the past year, you made appearances at E3 and CES. What have you seen that's really impressed you at those events?
Penn Jillette: Well, you know, I can't skip over the fact, when talking about tech, that tech helped save my life. I was wicked crazy fat; I was 110 pounds heavier than I am now as I sit here, and my blood pressure was like voltage in the U.K., and I was doing badly. And a friend of mine, Ray Cronise, who founded NASA, had been working on ways for people to lose weight. And the first words he said to me were, "Buy Withings," which stands for "Wi-Fi Things."
You wouldn't think that the internet would help with health/weight control, because it just has to do with not eating the American diet, right? How hard is that to do? You just change to a sensible diet.
But a scale that is Wi-Fi connected, that can do body mass and send it instantly to your doctor. Now, of course, 30 years ago, you could weigh yourself and then call your doctor, or you could weigh yourself and then call a friend. You could do that. It was there, it was easy. But you didn't. You just didn't. And the scale doing that makes a difference.
And we're now doing a VR bit in our show. We bring someone up on stage and put a headset on them, and get them into VR and do a trick that moves from reality to VR and back and forth while the audience watches. And that's all [Gearbox Founder and CEO] Randy Pitchford and us. You know, Randy's a professional magician. He's not a dilettante, he's not f***ing around. He's a real magician. So, being able to work with Randy Pitchford on magic stuff where all he uses is gaming stuff is just incredible.
What interests me is this game we did with Randy, it's all tricks you can play that bleed from VR into reality and back again. We've been working with Randy on that forever, because just doing the motion capture and getting all the pictures taken, and then using those VR puppets, is a difficult, long thing.
But it's so, so exciting, and I love looking at the way VR looks now, which is mindblowing and primitive. That combination. Like, when you look at the kinescopes in the early movies, you know, you have that feeling that, "Boy, this is so primitive. It looks so s***ty." And yet at the time, when they put a train on a movie screen, people ran away. They did that in the 19th Century.
RT Today: Outside of VR, in what other ways has tech really influenced your act over the years?
Penn Jillette: You know, that's the thing about magic is, magicians used to be, 100 years ago, on the cutting edge of technology. And magicians aren't any longer, and the reason is very, very simple. The reason is just that technology is so much better publicized, and so much better communicated by everyone, that everybody knows everything.
So the kinds of things you could do with technology now, like having a computer with an earpiece being able to get all this information, all of that stuff, which we could think of to use technology for magic, the problem with that is, everybody else can think of it, too. Everybody knows everything.
And that really means that when you come to a live magic show, what you want to do most is just lie. The stuff that fooled people 500 years ago still fools people. And with very few exceptions.
Our VR bit uses VR as a kind of magic wand, but the real trick that we're doing is that we're using technology that's 100 years old to make the trick happen. So, if you're talking about the Penn & Teller show in Vegas, and you want to say what technological changes have been made, the answer is going to be moving the lights, spotlight, sound technology, and everything else that's in every theater show.