Just a few years ago, virtual reality was expected to become the next big thing in the home technology market, particularly for gaming. Yet, despite the hoopla around Oculus Rift and HTC Vive, we have yet to see a breakthrough game or app and costs remains prohibitive for most people.
One area where the technology is still making incremental headway is through the use of VR-based home theater demos and design modeling, led by a Draper, UT-based company called Modus VR.
In fact, after just one year of use, Modus VR's virtual reality design software is helping northern Utah custom integrator Argenta transform its entire home theater sales process, generating higher sales and greater client satisfaction.
Streamlining Home Theater Design
According to Argenta President Brad Larkin, Modus VR's high-definition, customizable virtual home theater demos streamline the design process, enable clients to visually experience the final results before construction ever begins – and point the way to the future for the custom installation industry.
"When homeowners decide to create a home theater, they often aren't sure what they can fit into the space, how different gear or placement will affect the performance and viewing experience and what the final result will actually look and feel like," Larkin explained. "Using Modus VR's incredible virtual design software, we now eliminate uncertainty and show our clients that we are dedicated to installing the best possible home theater for their space and budget."
[Check Out: The Next Evolution of Connected TV Devices]
With Modus VR, Argenta can develop a virtual representation of any client's room in as little as 20 minutes, and that time includes the time to add components, finishes, and furniture to offer the client a realistic virtual reality demo!
Building Room in VR
The process begins with the integrator learning about the homeowner's lifestyle, interests, and needs, and then they work together to determine the best location or room for a home theater.
Once the size of the room is known, an Argenta consultant utilizes Modus VR's easy-to-use computer interface to build the room in a virtual environment. They can provide clients with anything from a rough room sketch to a high-definition, fully-outfitted home theater with specific projectors, screens, speakers and seating.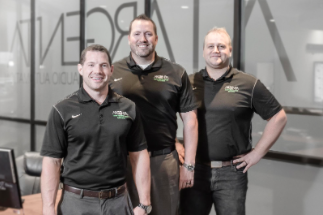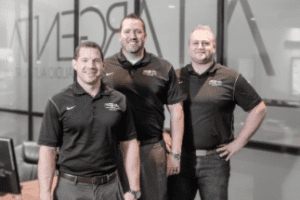 "Within five seconds, even our most skeptical clients are oohing and aahing at the experience of virtually 'sitting in' their home theater," Larkin explained. "We invite clients to our showroom, where they can sit on a comfortable couch and put on our VR headset. A salesperson in another room also wears a headset, and they visibly guide the client through the virtual home theater, explaining each feature and decision through the attached headphones. Clients are in awe when they see the true dimensions of their space and how different-sized components, like a projection screen, fit into the room."
Larkin believes the Modus VR software and virtual environment is the future of home theater design and that clients don't really grasp the power of the VR demo until they are in their own virtual room, seeing what the screen looks like from different seats and how different placement affects sound. He also notes that as an integrator, any tool that eliminates repetition and improves client relations and trust is a huge benefit.
"Simply put, Modus VR is helping us make sales," he added. "It sets us apart from competitors, helps us decide and deliver exactly what each client wants, and allows us to make changes for zero cost. The time savings are a huge change from the traditional design process, where many homeowners flip-flop on their chosen speakers, displays, and even furniture, because they can't tell what it will truly look and feel like."
One of the most unique aspects of the Modus VR virtual reality demo is realistic sound modeling, which helps integrators and homeowners decide what types of speakers to use, where to position them in the room, and how seating arrangements can be optimized.
"The sound wave modeling provides an unprecedented level of design sophistication," Larkin said. "Most clients are not experts in audio or video technology, and this virtual tour allows us to explain complicated concepts with simple visual graphics. Occasionally, clients will request setups that simply don't fit in their rooms, and Modus VR lets us show them the real physical size of things, rather than just asking them to trust us."
The software itself helps to build trust, too, as it shows clients that Argenta is using all the latest tools and technologies to provide superior customer service and deliver the best results possible. In one instance, Modus VR helped the integrator show a client that a golf simulator was too big for a room they wanted to put it in.
"I estimate that about 60 percent of our clients now use a VR demo," Larkin said, "and I would 100 percent recommend it to any company installing home theaters. If you are designing home theaters on a serious level, there's no other tool like this, and buyers will soon expect a virtual tour before they invest tens or hundreds of thousands of dollars."
By providing real-life previews of all the options available, Argenta is delivering the best possible service to its clients and setting the company up for great success as more homeowners come to expect highly personalized consultations.