New York City Apartment Dweller Fights Sun Glare with New Motorized Window Treatments
It was a co-op apartment upgrade that sounded great on paper. Our 58-year-old building in New York City was finally getting a window overhaul: full-pane windows to replace legacy double-hung units that sometimes wouldn't open and other times wouldn't close. But as the installation date approached, we were so focused on the upheaval of the window frame removal that we didn't anticipate the shade situation.
As neighbors started to report their experiences, it quickly became apparent that the existing 19-year-old living room window treatments – three separate ones to cover two standard windows and a wide, south-facing picture window – wouldn't fit the dimensions of the new windows. That meant the adjacent west window would have to get a new shade, too, to match the others. The last time I bought shades, two decades ago, the store saleswoman advised three separate manual window coverings, each with its own pull, for the 100-inch wide south-facing view, because, she said, a single dowel wouldn't likely support the weight of an 8-foot wide window covering.
Having to lower three shades every night was tedious, and we rarely did it. So, it was a priority that we have convenient control with the new shades so we would actually use them. The late-day sun is blinding and privacy is important at night. I'd written about motorized window treatments enough to know how cool they are.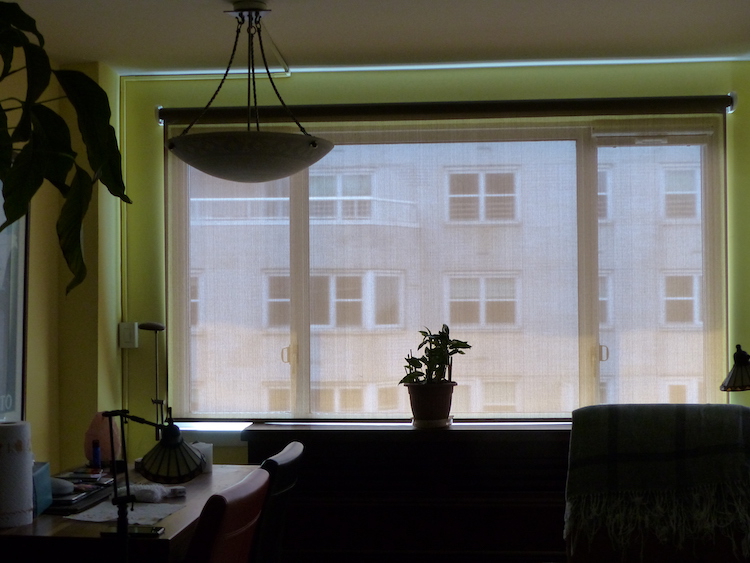 My research began about the same time that Screen Innovations, a projection screen TV maker, was talking up its new window treatment business. I was a perfect opportunity, I thought: a company that makes 145-inch-wide projection screens making a shade that supports a 102-inch wide window shade.
That led me to Screen Innovations dealer Barry Reiner, owner of InnerSpace Electronics in Mt. Kisco, NY. I knew I wanted motorized shades but wasn't sure of the criteria that go into picking the right set. Reiner led me through the process, starting with fabric selection. He sent installer Peter Weis to take measurements and to determine whether the shades should be mounted inside the casing or outside — and whether we wanted the minimalist look of the Nano Roll or the Nano Box "cassette" to cover the roller. It also had to mount far enough out that it would clear the window screens. We chose the Nano Roll, subtly framed by 2.5-inch-tall end caps, for its "urban look."
For fabric selection, InnerSpace showed us Screen Innovations' Nano dealer kit, which comes with swatches from fabric experts Phifer and Mermet. Picking a fabric seemed overwhelming at first when we eyed the box of 80-something samples, flipping through shades of taupe, charcoal, white, beige and more.
First, we had to choose the openness factor of the fabric weave to match what we were trying to accomplish. Openness is represented as a percentage from 0 to 10 percent based on tightness of the weave. Reiner advised us that 10 percent would allow us to see detail such as branches from the terraces across the street but not provide a lot of privacy; 1 percent would give lots of privacy but minimal transparency. We weighed glare vs. view and chose 3 percent openness, understanding we wouldn't block out all light and could still get outlines of the skyline.
Next, we chose color, having 18 options to choose from. Light colors, Reiner said, help reduce overall heat gain, which can help lower energy costs, but lighter colors' high reflectivity can limit outward views. The latter was a deal-breaker since AC seasons in New York are generally June through September, while views are year-round. The darker the color, the more solar heat is absorbed – and the better for glare reduction – so we leaned darker, choosing a charcoal/apricot color with 3 percent openness that worked well with the yellow walls and wood/leather tones in the room.
Reiner told us something else we didn't know about fabrics. Some may have to be stitched together to meet a weight requirement for the roller tube. Heavier ones have to be stitched together, which can be done creatively in a way that doesn't draw eyes to the seam, he said. Thankfully, ours were relatively standard length and came in under weight.
Width, one of our main concerns, is very important in motorized shades, Reiner told us, because the wider the tubes, the more they can flex from the weight of the shade. Flex manifests as an inflection in the fabric, he said. "A very wide shade and heavy material can cause a minor bow in the tube, which could show up as a 'V' or wrinkle because the shade is flexing from the center," he said. Screen Innovations has a software tool that warns integrators, based on shade size and fabric type, if there's a chance of inflection: our fabric made the cut.
On installation day, installers Mike DeSalvo and B.J. Wood mounted, installed, and programmed the shades in well under two hours. To be able to control the shades via app, DeSalvo needed to connect it to the Wi-Fi router, located in another room, for set up. That required a hub from Somfy, the name of the company that supplies the shades' motor. Somfy wasn't a new name to me: The company has supplied millions of motors over the past 40 years for well-known brands' blinds, drapes, awnings, solar screens, and more.
We wanted all of the control options: smartphone app, Alexa and the Somfy-branded RF remote control that comes with Screen Innovations shades. The hub was required both for the Somfy MyLink app we use to control the shades via iPhone and for Alexa control. It lives in the entertainment unit about 15 feet from the shades.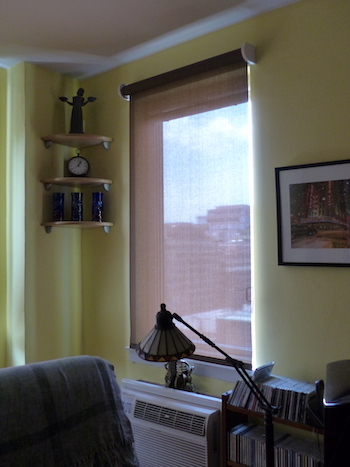 DeSalvo set up both MyLink and Alexa control and set up app instructions via the MyLink app that required a four-digit PIN. I'm not sure we'd ever need to do so, but DeSalvo told us we'd be able to control the Wi-Fi-controlled shades "anytime, anywhere." That could be handy for people wanting to control sunlight at a vacation home; in our case, it might just turn out to be an opportunity for a fun April Fool's gag.
I knew we were in good hands with a Somfy motor but didn't expect to have to use its myLink app as an intermediary. That creates an extra step when we use Alexa to control the shades: "Alexa, tell MyLink to raise the west shade." It would be more natural to ask Alexa directly to raise a shade. It's not a big deal, but our syntax has to be precise. We can ask for all shades to be raised or lowered or individual ones. One day out of the blue, Alexa decided she didn't like that syntax anymore and started asking if we wanted to "move everything up." Two days later, she was ok with "raise" again.
Then there are the sporadic Alexa issues we've encountered for years: when she asks us something even though we haven't said her name, for instance. Alexa crossed a line the time she said, "Ok," after the raise shade command, and then asked us if we wanted to rate the MyLink app. It was like an unwelcome robocall – no market research when we're sitting down to dinner, please.
The shades typically start raising or lowering after we issue a command but before Alexa confirms it. So, there's no reason for her to say, "Ok," if the shades are already in motion. We can create our own commands, and we will. Somfy says to keep it short and sweet: "For best results, keep connected product names to two to four American English words."
The Somfy myLink app on our smartphone came in handy when we wanted to change how far the shade came down. Because we never used our old shades, it didn't occur to us during measuring that we didn't want the shades to come down all the way to the window sill across across the center part of the south window opening.
There's a slight overhang with the radiator cover, and the first time it lowered all the way, we had to direct the shade behind the cover so it wouldn't bunch up. It was easy to fix with the Somfy app; we created a stop point about two inches higher than the sill. We imagine we'll use that app to create a number of customized settings as we experiment with the benefits of controllable shades.
We can use the myLink app to control the shades, but that's a couple more motions than we'd bother with to raise a shade – having to pick up the phone, unlock Face ID, go to the Somfy app, and find the right button. But the app was useful for creating a timed event. The blinding sun begins at about 4:30 p.m. in summer, so we programmed the west shade to drop every day at that time. We'll have to change the time every so often as the sun angle changes, but it's nice to have it automatically drop every day for now. If we had a control system, InnerSpace would have created an automated scene based on the sun's position.
It took a little getting used to at first when the west shade dropped on its own, like magic, because the shades are amazingly silent. We only know they're coming down every day at 4:30 because the light changes.
The shades arrived pre-charged so we don't know yet how many operations we'll get from a full charge or how long it will take to charge from empty to a full tank. The official line for battery life is 500 cycles per charge on the SI website. We watched DeSalvo and Wood "top off" the motors' batteries by way of low-voltage magnetic induction charging, using the supplied cord that attaches at one end to the motor's magnetic connector at the top of the shade and into an AC outlet on the other. That's something we could do overnight when the time comes. The word from SI is that the battery only needs to be recharged, never replaced.
After several weeks of testing we were very pleased with the update to our natural light control situation. Controlling by the Somfy RF remotes – one for each window opening – is easiest of the control options because it brings instant gratification. But we don't always have a remote, or the right one, at the tips of our fingers. The smartphone app is good for creating and making changes to scenes. Alexa is the control means we use most often because it's hands-free, and we control the shades every day now, something we hadn't been doing for years because of our own laziness.
The verdict after nearly a month of motorized shade control is a big thumbs up. Most things we would want to change can easily be done by app. We did find that at a certain sun position, and not every day, a splinter of glare finds its way through our 3 percent openness shades.
But it's short-lived and we would choose that minor tradeoff if we did it over again to have a sense of the skyline. We'll explore more control options with the app and Alexa as we go along. It's just the beginning of what we expect to be a long and happy relationship.