Jasco has been in business since 1975 and is an industry leader in smart home lighting products. They aren't as well known to consumers as many other smart home brands, however, because their products have primarily been sold under other company's names through licensing arrangements.
For instance, Jasco had been selling their lighting products under the GE brand. But, with the sale of GE's lighting business to Savant, Jasco has been stepping up the sale of their products under their own name.
Jasco has just released a new Enbrighten line of Wi-Fi smart home products. These products are designed to offer many of the capabilities of other smart lighting products without the need for a hub. This includes direct compatibility with Amazon Alexa and Google Assistant for voice control.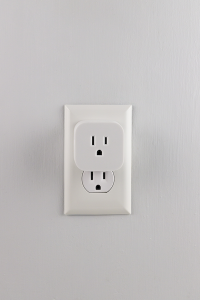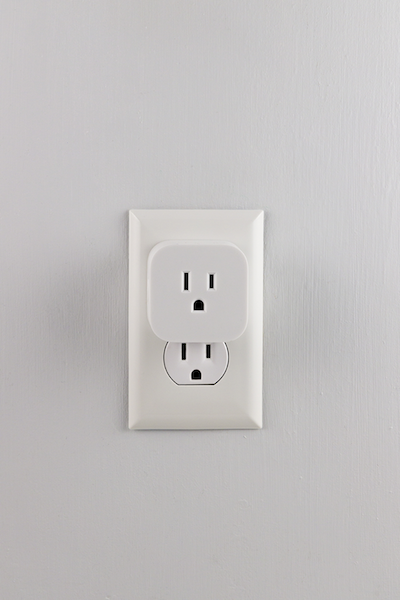 I had the opportunity to test the new Enbrighten Dual Outdoor Wi-Fi Smart Switch and the Mini Plug-In Wi-Fi Smart Switch. The dual outdoor smart switch is completely sealed and weatherproof. It includes two, three-prong, outlets with individual weatherproof covers. It is important to note that though there are two outlets they can't be individually controlled; either both are on or both are off. In addition, to control over Wi-Fi there is a switch to manually operate the outlets and a light to indicate if the outlets are on or off. The switch is rated for 15 amps of total load across both outlets.
The Jasco Mini Plug-In Wi-Fi Smart Switch includes a single three-prong outlet, a button to manually control the outlet, and an indicator light. The Mini Plug-In is also rated for a 15-amp load. A welcome feature is that the smart switch is small enough to plug into the top outlet of a typical dual outlet without blocking access to the lower outlet.
Included with each switch is an instruction sheet in both English and Spanish. As is typical with most smart home devices, the instructions are very brief, outlining just four steps to setup your device
Download the app – A QR code is provided to simplify the process of obtaining the free app from either the Apple App Store or Google Play Store.
Install the smart device – Plug the smart switch into an outlet. It is recommended that the Enbrighten Dual Outdoor Wi-Fi Smart Switch be plugged into a GFCI outlet if it will be used outdoors.
Set up account – Using the Enbrighten app you will need to setup an account with your email address and a password. Jasco will validate your email address by emailing you a code that must be entered into the app. You then will be asked to provide permission for the app to access Bluetooth, provide notifications, and access your location. Finally, you are provided with on-screen instructions on how to add your Enbrighten devices to the app and create schedules to automate control.
Voice Control – The instructions explain that the device is compatible with Amazon Alexa and Google Assistant. It also explains where in the app to setup the link between Jasco and these voice assistant services.
There are additional QR codes included in the instructions that provide links to more detailed instructions and setup videos (though these were not yet available when I was evaluating the products) and an online product registration form.
Hands On with the Enbrighten Smart Wi-Fi Switches
Adding a smart switch to the Enbrighten app was both easy and trouble free. Pressing the "+" button in the upper right corner of the main page of the app walks you through the process.
The app will ask you to confirm that the device you want to add to the app is powered on and that the device's LED is rapidly flashing; indicating that the device is in pairing mode.
After you confirm that the LED is flashing, you are taken to a screen that will show your device if the app has connected to it over Bluetooth. After confirming that this is the device you want to connect to the app, you simply hit next.
You will then be presented with your Wi-Fi network (Enbrighten devices can only connect to a 2.4GHz network) and you will need to enter your Wi-Fi network password.
The app will then configure your smart switch to connect to your network and the device will show up on the main page of the app. You can either choose to view your devices in a list format or in a grid on the main page.
Once you've completed linking your switch to the app, you will find that turning it on/off through the app is very fast. There is really no discernable delay between pushing the button in the app to control and switch and its operation.
The next thing you will want to do is to set up your home, including its location and the rooms where your Enbrighten lighting products will be located. This is accomplished by pressing the "Support" button on the menu bar at the bottom of the screen and then selecting "Home Management" from the displayed menu.
After you define the location of your home, it will display the current weather conditions on the main page of the app, including outdoor temperature, humidity, and barometric pressure. At first, this would appear to be of minor value. However, the importance of defining the location of your home is that weather conditions can be used to drive smart home automations.
Smart Home Automation Capabilities of the Enbrighten Smart Wi-Fi Switches
Jasco Enbrighten Lighting products do not require a smart home hub, yet they have included the ability to define quite sophisticated automation capabilities into the app. Pressing the "Automation" button on the menu bar at the bottom of the screen takes you to a screen where you can create automations. An automation is then created by pressing the "+" button in the upper right corner of the screen. You are then provided with three choices for what criteria will trigger your automation:
Weather – Temperature, Humidity, Weather (Sunny, Cloudy, Rainy, Snowy, Hazy), Sunset/Sunrise, and Wind Speed
Location – Leaving or Arriving Home
Device Status – Whether your smart switch has turned on, or off
For example, if you had an outdoor water garden filled with fish, during the winter you have to keep a hole in the ice to release gasses that would otherwise be trapped by the ice and are toxic to the fish. An electric pond heater is placed in the water and provides enough heat to keep a small area of the pond from freezing. However, if you simply left a pond heater plugged in all winter it would waste a significant amount of energy. So, an automation that turns on the pond heater only when the outside temperature drops below 32 degrees Fahrenheit would quickly pay for the investment in an Enbrighten outdoor outlet.
For more sophisticated control, automation triggers can be limited to an "effective period." For example, they can be allowed to run all day, limited to daytime (between sunrise and sunset), night (between sunset and sunrise), or between user defined times. In addition, automations can be limited to repeat only on specific days of the week.
For example, you might want to turn on additional outside light during bad weather (snow or rain) but only have this happen at night.
Setting Up Devices into Groups
Devices can also be collected into groups. For example, all the switches in a home could be combined into a group named "all devices" and then an automation could be created to turn off the "all devices" group when the app senses – using location services – that you have left home. One limitation to groups is that only like devices can be included in a group. So, for example, you can't put switches and dimmers into the same group.
Scheduling Options for Individual Devices
In addition to automations, there are two scheduling options for individual devices. First a countdown timer can be created that will toggle the current state of the device after a specific period of time (up to 23 hours and 59 minutes). Second, a schedule can be created to turn a device on at a specific time and then off at a later time. For example, a device can be turned on at 10 a.m. and then off at 11 a.m. The schedule can be set to run only once or repeat on selected days each week.
One thing that is important to remember about schedules is that they can only be based on specific times of the day. If you want to schedule a device to operate based on sunrise or sunset, then you need to create an automation.
Other Settings and Tools
There are a number of noteworthy settings available either under the Support section of the app or by editing the settings of one of the Enbrighten Switches. The first of these is the ability to enable a notification if the switch goes offline. For either of the switches I tested, notifications will take place after the switch has been offline for 30 minutes. For battery-operated Enbrighten products, the offline notification won't take place for eight hours.
An offline notification lets a homeowner know that there is something wrong that needs to be resolved rather than discovering the issue when an automation, or scheduled event, doesn't perform as expected. For example, if you have an automation set to light pathway lights when you arrive home at night, you don't want to trip over something in the dark when it doesn't work because the switch has been offline all day.
Also under the settings for a device is the ability to check for and download updated firmware. Keeping a device's firmware up to date is important in that new versions may fix issues that could affect the devices' performance or patch security issues to keep the devices safe from hackers.
A useful tool under the Support section of the app is the Network Diagnosis tool. It runs a series of tests on your home's network to help make sure that there aren't issues that could affect the operation of the switches.
Areas for Improvement for Enbrighten Switches
While these Enbrighten switches work very well and the Enbrighten app provides a great deal of functionality, there are a few ways I believe the product could be improved.
The app pulls weather data off the internet for use in automations. This is typically fine for temperature, humidity, and barometric pressure readings. However, there are many cases where it can rain on one side of the street but not on the other side. If someone used an Enbrighten switch with a relay (such as https://www.amazon.com/gp/product/B017743I7S/) to trigger a motorized skylight to close in the event of rain the system might not properly detect rain. Jasco should provide the ability to select the closest weather station to a home from pwsweather.com or Weather Underground to be the source of weather data to provide hyper local weather for automations.
At the time of this writing there isn't an option to connect these switches to a smart home hub. Jasco has done a good job of designing them to not require a hub. However, if a homeowner decides to enhance the smart functionality of their home, a hub will become a necessity. For example, if a homeowner wants to integrate a smart alarm system and thermostat into their home, without a hub, there won't be a way create automations to protect a family in the event of a fire. If a smart alarm system detects a fire you would want the alarm system to trigger the lights inside the home to turn on to help a family safely exit the home, the exterior lights to flash to help first responders locate the home as quickly as possible, and the thermostat to turn off a forced air HVAC system so it doesn't spread smoke throughout the house. Jasco is looking into the integration of their Enbrighten product line with hubs, and I'm hopeful that they will take that step in the near future.
Groups should allow multiple types of devices but then default to only supporting commands that are common between all the devices in the group. For example, if a group contained both switches and dimmers the group would only accept on/off commands. This would simplify creating automations to, for example, turn off all the lights in a home when it isn't occupied or turn on pathway lights when you arrive home at night.
A minor pet peeve is that the Enbrighten app only operates in portrait mode. When using the app on a tablet, this can be painful if your tablet is enclosed in a keyboard case. Jasco should make the extra effort to allow people to use the app on a tablet in landscape mode.
Conclusions About the Enbrighten Dual Outdoor WiFi Smart Switch and the Mini Plug-In Wi-Fi Smart Switch
The Enbrighten Dual Outdoor Wi-Fi Smart Switch and the Mini Plug-In WiFi Smart Switch are good products for someone who wants to get started creating a smart home. They are well designed, easy to use, and Jasco has done a very good job building features into the Enbrighten app that will get a homeowner started on the path to a smart home without needing to invest in a hub or deal with the complexity of learning to work with one. However, if down the road a homeowner wants to grow the capabilities of their smart home, by integrating other smart products into it, they are placing a bet that Jasco will make the effort to integrate their Enbrighten lighting products with the SmartThings hub, Hubitat Elevation Hub, and other popular smart home hubs. I expect that Jasco will take that step, but as this is a brand-new product line, integration with smart home hubs doesn't exist today.