This week's Apple virtual event provided news on one new device that I've been waiting for that isn't a phone, laptop, or tablet. Although the announcement about HomePod mini was leaked shortly before the Tuesday event, it was otherwise a pretty unexpected surprise, given Apple's more prominent focus on new iPhones.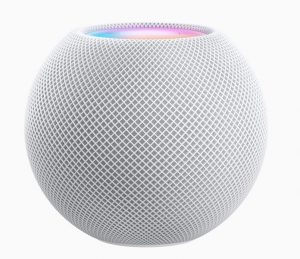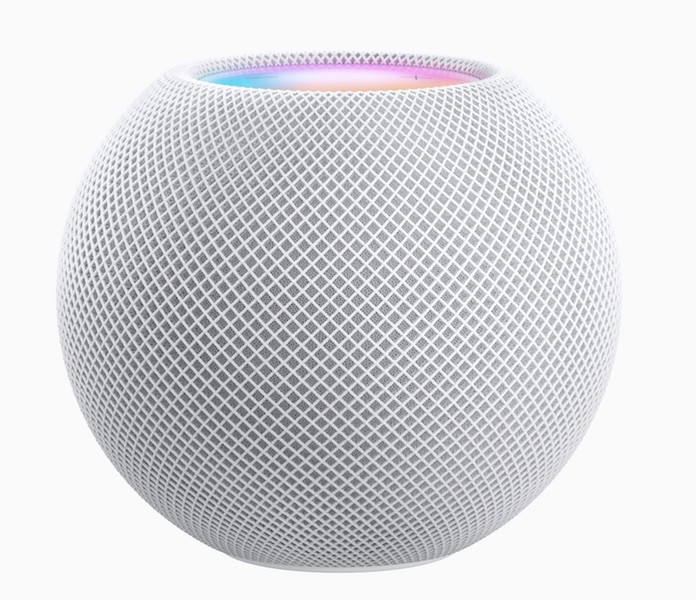 To some extent, the HomePod mini is an obvious addition for Apple. The original HomePod does sound good, but it is a bit long in the tooth and is also a bit larger than the current competition from both Amazon and Google as well as the many third-party smart speakers. Most importantly, HomePod Gen.1 lists at $299, albeit with discounts of as much as $100 off.
While there are some audiophile and higher end smart speakers that costs as much or more than HomePod, pricing for first-party smart speakers now centers at $100 at the high end with the sweet spot said to be at $49. If you've read our recent reports, you already know that is the price for Amazon's Echo Dot and Google's Nest Mini are at that price.
HomePod mini will retail for $99 when it goes on preorder on November 6, with shipping set for the week of November 16. OK, so it's not that "mini," but it is, after all, an Apple product.
To be clear, there is nothing "mini" about the product concept as stated by Tim Cook: "Amazing sound, a world-class assistant, smart home, and privacy and security." Without actually experiencing the product in person at this point, it is all but impossible to see if it makes good on the promise, but it certainly appears to contain the right ingredients.
Inside the spherical, but flat topped, 3.5-inch tall HomePod mini there is a full-range driver flanked by passive radiators on two sides that faces downward into an acoustic waveguide that is said to deliver enveloping sound throughout the room. Beyond the physical side of sound reproduction, the new HomePod mini uses what most would call DSP, but which Apple has dubbed "Computational Audio" that is powered by Apple's S5 chip. The goal is to deliver what was billed as "breakthrough audio performance."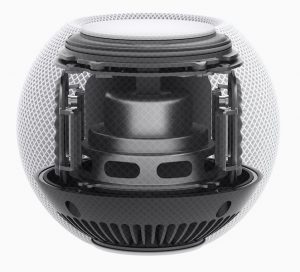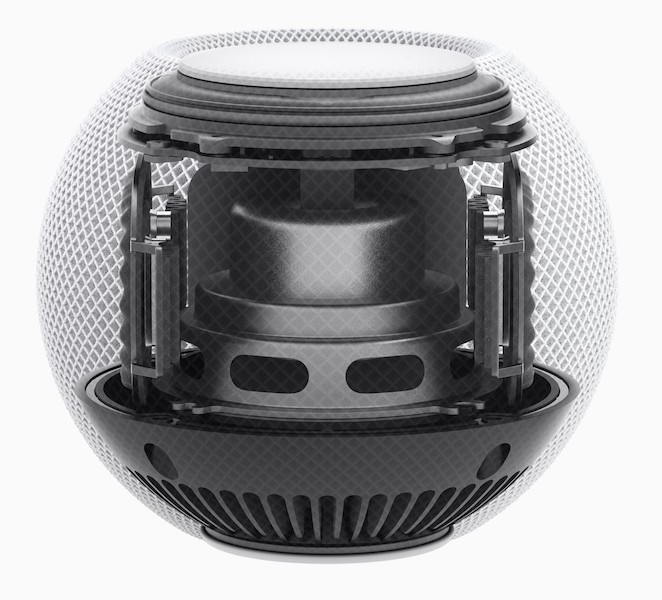 Of course, as with any smart speaker, the actual sound reproduction is only part of the concept. It is the "smarts" in smart speaker that increasingly differentiates one from the other. As you might expect, here is where Apple calls upon its core strengths.
Siri's capabilities have been expanded to include "search by lyric" and dramatically increased integration with both iPhone and CarPlay. As an example, use a HomePod mini to ask Siri when a local retailer closes, and you'll not only get the answer, but the routing will appear on the display in a CarPlay-equipped car. Working in the other direction, there is seamless handoff between an iPhone and HomePod mini. As an example, if you are listening to music on your iPhone and take it indoors, the content will automatically be transferred from one device to the other.
Since certain aspects of smart speakers have become somewhat common across the various brands and their respective operating systems, here Apple is keeping up with the combination. Voice recognition will allow each family member to "talk" directly to their stored messages and content without being able to reach into another's data. An intercom feature will allow one HomePod to broadcast to all the units in the home for things such as "dinner's ready" call outs. Even better, the call-out will reach to all Apple devices in the home, including iPhones, iPad, Apple Watch, and even CarPlay. IoT/Smart Home device integration and discovery has been simplified.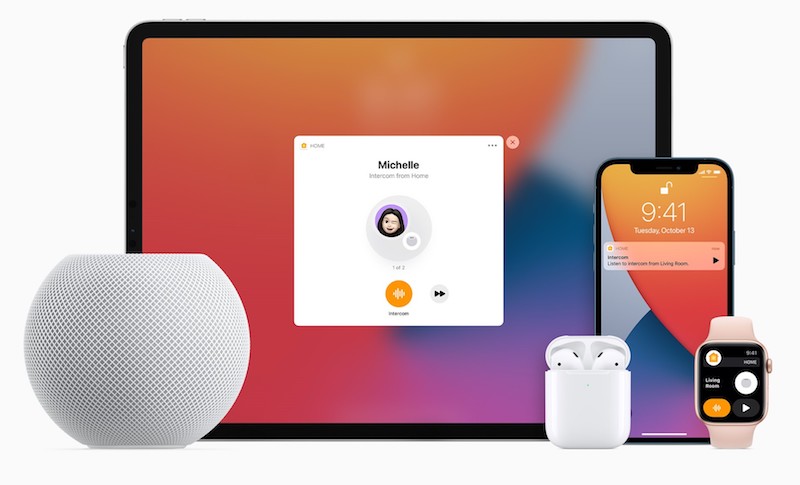 There's more to the new Apple HomePod mini, and I'll go into deeper detail once I get my hands on one in a few weeks.
All of this is what constitutes (for most of us) "the unexpected thing" from the Apple product announcements. It should come as no surprise that the unveiling of a new range of 5G-capable iPhone 12 models was the main attraction – "the expected thing." I'll leave the details on those new products to others, but there was at least one "unexpected thing" buried in the wave of iPhone feature and product and product announcements.
Totally unexpected was that the new iPhone 12 Pro and Pro Max models will be able to shoot, capture, edit, and playback content in Dolby Vision in 4K at 60fps with 10-bit video. Even in the broadcast and professional worlds, Dolby Vision has been used to date only on pre-recorded content; you just can't (right now) "shoot and go live to air" with Dolby Vision. Indeed, that is why the HLG format has become popular for live HDR broadcasts.
Whether you are a residential technology professional who wants to create your own promotional and demonstration material that shows the benefits of Dolby Vision, or the owner of a display with Dolby Vision who wants to show off your creations in a way that no other device currently allows, this is an amazing advance.
To close, it must be mentioned that there was one product announcement that did not occur, but that I was hoping to hear: news of a new Apple TV. Like you I'm sure, I have spots waiting in my home entertainment ecosystem for a new Apple TV to replace the current Gen 5 and Gen 4 models around the house and office. To be fair, a new Apple TV wasn't really "expected." Rather, to many, it was "hoped for." Many are being lured by both the lower pricing and the advanced features of recently introduced products from Roku, Fire TV, Chromecast, TiVo, AirTV Nvidia Shield, and others. In the face of that, when will Apple step up its game as it has across the other categories where it competes, and in many minds excels?
It's only October. Plenty of time for one more Apple product introduction event this year for MacBook, as well as Apple TV. One can hope! For now, with what may be the most unique holiday shopping season ever underway, there are now even more products to consider. The one thing we can almost certainly count on is that there will be more before the year is done.