Harman's Mark Levinson has introduced a new preamplifier and amplifier that match two now-shipping source players in a substantial expansion of the 5000 Series range. The new №5302 amplifier and №5206 pre-amplifier and recently introduced №5105 turntable and №5101 streaming player come as Harman launches a bold new brand initiative that emphasizes the intimate detail achievable in listening to music with Mark Levinson.
"The passion behind the Mark Levinson brand has always been a pure love of music," explains Jim Garrett, senior director, product strategy and planning, Harman Luxury Audio. "The exceptional audio quality delivered by our systems allows listeners to discover subtle nuances and intimate details they've never heard before on songs that they truly love."
The Mark Levinson №5302 Amplifier
The brand-new Mark Levinson №5302 bridgeable dual-monaural amplifier sports the stark cleanness of the signature Mark Levinson look. It was designed to deliver sound that has become synonymous with Mark Levinson: a deep, expansive soundstage, accurate image placement, extended low bass response, and excellent pitch definition. The audio circuitry of the №5302 yields 135W/channel output in stereo mode and 275W in bridged monaural mode. Gain in stereo mode is 25.8dB and 31.8dB in bridged monaural mode.
Input connectors on the №5302 are a pair of balanced line-level XLRs and a pair of unbalanced RCAs. Output connectors are two pairs of high current multi-way binding posts and control is enabled via Ethernet and RS 232. The №5302 amplifier is priced at $9,000.
The Mark Levinson №5206 Preamplifier
The Mark Levinson №5206 dual-monaural preamplifier ($9,000) features fully discrete, direct-coupled, dual-monaural line-level preamp circuitry, for which the Harman design team has been awarded two patents. A single-gain stage mated to a digitally controlled resistor network for volume adjustment maintains maximum signal integrity and widest possible bandwidth.
Each of its four stereo line-level inputs – two balanced XLR and two single-ended, using custom Mark Levinson RCA connectors – has its own individual high-reliability signal switching relays. Like the 500 Series components, the MainDrive headphone output employs a preamp output stage specifically designed with the current and power capacity to drive headphones directly, without a separate headphone amp.
A brand-new phono stage features a hybrid gain topology, mating key discrete components from the 500 Series Pure Phono stage with premium low-noise integrated circuits. Also, like the Mark Levinson 500 series from which the new №5206 draws inspiration, a hybrid active/passive RIAA equalizer employs precision resistors and polypropylene capacitors for improved accuracy and sonic clarity. Listeners can select MM/MC gain and optional infrasonic filter from the setup menu, while capacitive and resistive loading settings are easily accessed from the rear panel. Variable line-level RCA outputs allow system expansion and flexibility.
"Mark Levinson is so much more than high-fidelity. Listeners can appreciate the entirety of a recording in ways never before possible," Garrett added. "You can hear music here like you have never heard before. Our new branding program elevates the fact that Mark Levinson adds a new dynamic to any listening experience and also the fact that appreciation of great music can be a social exercise as opposed to just a personal journey!"
The Mark Levinson №5105 Turntable
Now shipping, the precision-engineered Mark Levinson №5105 premium turntable is built upon a nearly two-inch thick, solid aluminum plinth that was machined from a single billet. A one-inch thick, bead-blasted, black-anodized solid aluminum front panel contours into the tinted glass display.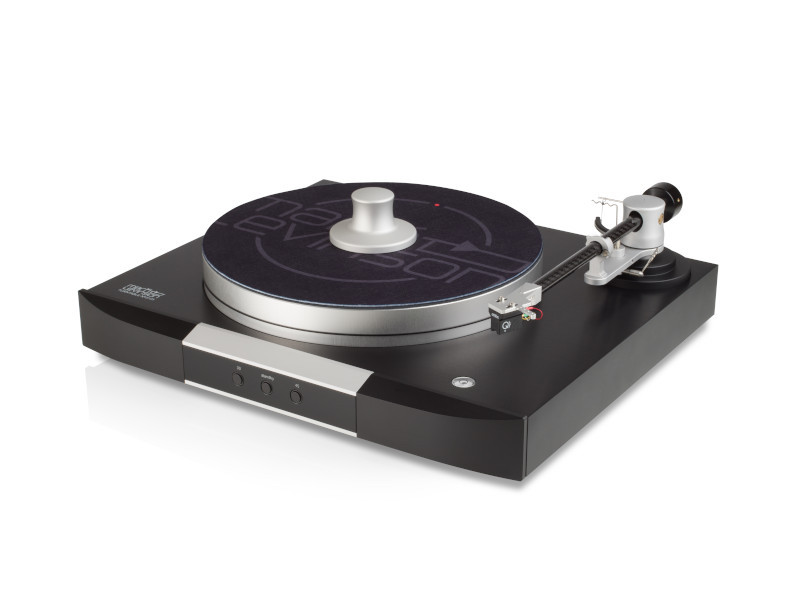 The iconic Mark Levinson hourglass knob design features as a record weight – bead-blasted machined aluminum with a gently curved profile mass-loaded with solid brass. The tonearm tube is 10-inch high-gloss back carbon fiber fused to a solid aluminum headshell with an integrated finger lift.
A 14lb solid aluminum platter is suspended on a ground, hardened steel axle and rotates on ultra-precise bearings. The oil-free bearing bottom, made of a mix of composite materials with integrated lubrication and maintenance-free sintered brass bushing, was designed to ensure reliable operation for years to come.
The 12V synchronous motor's control signal is digitally generated to eliminate temperature drift and ensure speed stability and low wow/flutter. The integrated, wide-range power supply is designed for global use with 90-260 VAC. The new №5105 Turntable is priced at $6,500 without phono cartridge and $7,500 with a cartridge. 
The Mark Levinson №
5101 Streaming Player
Featuring digital audio capability via the Mark Levinson Precision Link II DAC, the new Mark Levinson №5101 Streaming Player also boasts latest generation ESS PRO Sabre 32-bit D/A converter with jitter elimination circuitry. Applying proprietary Mark Levinson PurePath circuitry, the №5101 features a fully discrete, direct-coupled, dual-monaural current to voltage converter for exceptional reproduction of the analog signal.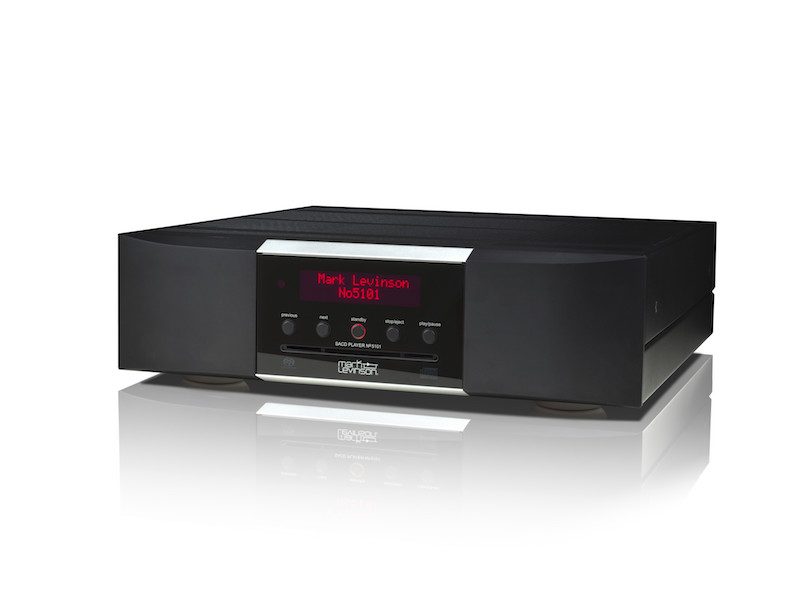 Sporting the bold geometry of signature Mark Levinson design and crafted from robust materials, the new №5101 features a one-inch thick, bead-blasted, black-anodized, solid aluminum front panel, a sleek glass display, debossed top cover vents, back-printed logo and machined aluminum buttons. The new №5101 preamplifier is priced at $5,500 and available now.