The new NAD Electronics Masters Series M28 is a seven-channel high performance amplifier that can serve as the audio engine in a multi-channel system for music or home theater. Of note, the reference amplifier is the first multi-channel amplifier to utilize Purifi's Eigentak (self-clocking) amplifier technology. The M28 ($4,999 U.S. MSRP) is available now to order and will begin shipping in August, 2020.
First embraced in the NAD M33 Masters Series BluOS Streaming DAC Amplifier, the Masters M28 uses the Eigentakt amplifier, manufactured by NAD under license from Purifi, a Danish technology company.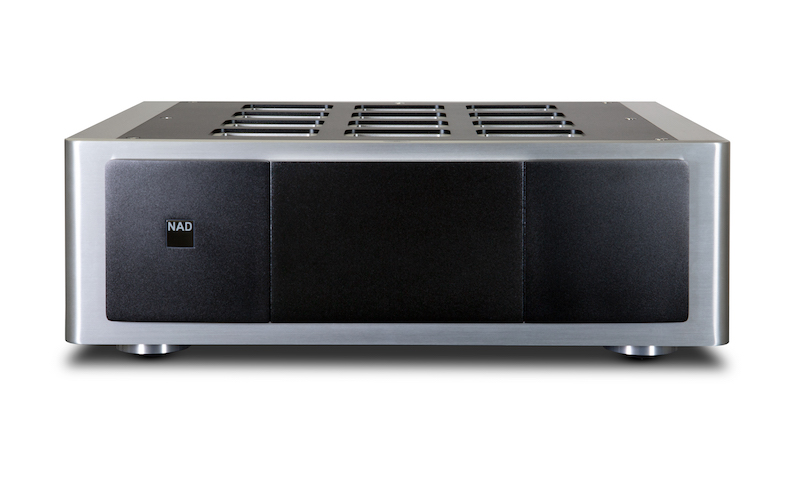 Purifi has taken a fresh look at every aspect of amplifier performance and found many seemingly small non-linearities that, when corrected, can make a dramatic difference in the overall sound. Advanced technology, improved PCB layouts, and advanced mathematical modeling helped reduce earlier limitations of audio amplifiers. The measured result, designers say, is less noise and lower distortion, but the audible result is something more. The detail and transparency of the sound provides new levels of refinement at any volume level.
In common with previous generations of NAD HybridDigital technology, but unlike most Class D amplifier designs, the M28 is not only able to easily handle long cable runs but is impervious to the loudspeaker load it is presented with, maintaining the same wide and even bandwidth response irrespective of the speaker's impedance and at the same time providing high current capability.
On tap is 200W into 8 Ohms of continuous power for all channels driven at the same time and 560W of dynamic power into 4 Ohms.
Eigentakt technology is more analog-like in behavour in the unlikely event the amplifier is driven into clipping. Whereas many Class D designs can become unstable, Eigentakt behaves in a way like the benign way of clipping with instant recovery of well executed traditional Class A/B amplifiers.
"NAD has always been known for great sounding amplifiers that punch way above their weight, and the M28 does this at a reference level and then some" states Cas Oostvogel, NAD's Product Manager. "Using the Purifi Eigentakt technology, the M28 delivers massive amounts of power with sound quality that has to be experienced to fully appreciate. Even better, NAD engineers have managed to deliver all this performance at a cost less than traditional technology."
For ease of installation in a variety of systems, the M28 accepts both single-ended RCA and balanced XLR inputs, the latter being the same efficient audio interface as used by professional studios to provide the highest level of signal integrity with the lowest noise floor for the best possible performance. High-quality binding posts are meant to provide rock-solid speaker connections.
The M28's styling is designed to match the NAD Masters Series M17 V2i preamp/processor, in a seven-channel home theater system.