For the past two or three years I have presented a course at CEDIA Expo around the topic of ATSC 3.0. For Expo 2021 this past September, the title was "ATSC 3.0: It's for Real. REALLY!" In the few months since then, and particularly after CES 2022 earlier this month, I can confidently report that it actually is for REAL!
ATSC 3.0, presented to the public with CTA's less technical name, NEXTGEN TV, is an over-the-air (OTA) standard for sending and receiving TV signals capable of 4K and HDR picture resolutions, as well as advanced Dolby audio and other features. ATSC 3.0 is the first major overhaul to the non-profit Advanced Television Systems Committee's standard since the group first introduced ATSC 1.0 back in 1996.
The most notable NEXTGEN TV news is that it now available in 46 market areas across the U.S. with an ever-growing list of stations and with more markets and stations to follow throughout the year. With Washington DC and Los Angeles added toward the end of last year, things are moving quickly. More top markets will be on the air soon – pandemic-related hiccups permitting.
Of course, stations on the air without products available to receive them is like the tree falling in the proverbial forest that no one hears. On that front, there were some significant announcements made at CES last week that will expand the options available to you to receive NEXTGEN TV.
Hisense announced that it will offer sets with ATSC 3.0 tuners, joining those already in the market from LG, Samsung, and Sony. New U9H, U8H, and U7 models will be in stores this fall with prices starting at $799.99.
Perhaps even more importantly, another announcement at CES will certainly lead to more brands and models equipped for NEXTGEN TV. You may not be familiar with MediaTek, but they are a major developer and supplier of the parts that many manufacturers use in the design of their TV products. Individually, their new demodulator chip receives the ATSC 3.0 signals off air and converts the RF stream to data that is used to provide the signals with the set's processing. Equally important, that new part will be included in a comprehensive smart TV "System on chip" (SoC) that powers the set's features. This promises to speed the development of new NEXTGEN sets and reduce their cost and development risks.
Of course, as good as NEXTGEN TV is, and for all the quality improvements and unique features it delivers, if your TV is reasonably recent it is understandable that you might not be ready to replace it quite yet. That's where set-top boxes come into the picture. HD HomeRun already has an STB with two of the four tuners being ATSC 3.0 capable. It is an interesting product that I can now try out because there are finally stations with NEXTGEN TV where I live in Los Angeles. However, the HD HomeRun product connects to the TV only via a broadband connection, and some may prefer a hard-wired HDMI connection.
Answering that requirement will be a new product from Nuvyyo, a Canadian company that sells its well-regarded line of OTA DVR products under the Tablo name. The new Tablo ATSC 3.0 QUAD HDMI will, as the name states, have four tuners, all of which work with current ASTC 1.0 signals as well as the new system. Also, as the need relates, the connection to the set is via HDMI only, unlike the current Tablo products that connect via broadband, as well as for one model via HDMI.
Tablo has earned its chops as an OTA DVR, and the new model is no exception. With the connection of an optional 1TB to 8TB external USB drive, between 1,000 and 4,000 hours of content may be stored. The new Tablo also supports Dolby AC-4 Surround Sound Audio, 4K HDR when those broadcasts become available, and many of the other NEXTGEN TV features. The interface will be the same as previous Tablo products, and a one-day guide is included for free. A 14-day program listings and other features are available for an extra subscription cost.
Pricing for the new Tablo will be $299.99, with delivery anticipated for this spring. Reservations are now being taken on the Tablo website with a $29.99 pre-order deposit.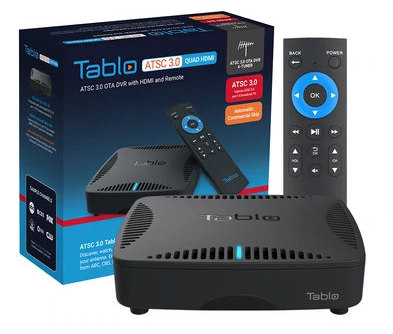 One of the targeted use cases for ATSC 3.0 in mobile (in-car) reception, an area where the current ATSC 1.0 does not fare well due to its modulation scheme. NEXTGEN TV, however, allows for great reception from moving vehicles, something I can attest to having seen demos of it at past NAB shows. Pushing forward the development and eventual introduction for that capability, Sony is developing a chip that will facilitate the delivery of video at highway speeds, but to also enable seamless hand-off between mobile and stationary devices.
Sony has been testing their "CLOVER" chip at the Mowtown3.0 Test Track for a variety of applications, but there was no announcement as to when we might see the chip and its technology in production vehicles. Who knows, with a new prototype electric vehicle as one of the few actual products on display at CES, perhaps one day we might see ATSC 3.0 not only in Sony video products, but in a Sony-branded car.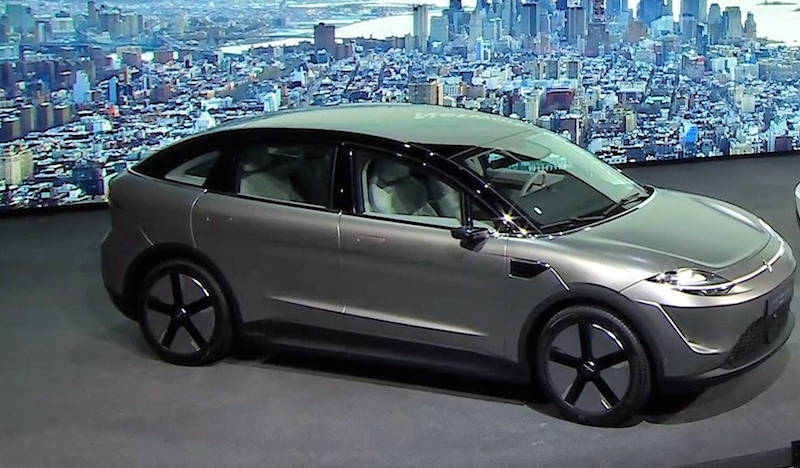 Yes, the development, testing, FCC approval, and broadcaster implementation of NEXTGEN TV has taken quite a few years. However, with the increasing number of station and marketplace rollouts and a growing range of TVs and other receiving devices, after CES 2022 I can finally say that "ATSC 3.0 is REALLY here!" I will be testing a variety of NEXTGEN TV products in the coming weeks and will have a report on the new system in actual use over the next few months.