Since 1999, The Premier Group has been servicing homeowners in Indianapolis, IN, and surrounding areas with technology solutions and installation services for categories including audio, video, lighting, electrical, and more. Over the past 20 years, however, the integration business has changed dramatically. Where audio/video solutions used to dominate Premier's business, today categories such as networking, security, and automation are growing at an exceptional rate. Unlike a simple AV system, Premier found it increasingly difficult to explain to customers the vast possibilities of the smart home.
Having been at the forefront of home automation technology and one of Control4's first authorized dealers, Premier understood the importance of demonstrating to homeowners how nearly all of their technology at home can work together seamlessly and be managed and controlled through a single system. Over the years, when they had opportunities to bring hot leads to existing customers' homes during the quoting process, Premier closed project bids at a significantly higher rate. For that reason, the burgeoning custom installation business decided to open a showroom to further showcase the many possibilities of a truly intelligent home.
For years, Premier's first showroom was located in a strip mall alongside one of Indianapolis' busiest roads, Meridian Street. Although it was a prime location from a visibility standpoint, it just didn't catch the right kind of foot traffic and customer base Premier desired. In 2010 they were informed that the plaza was undergoing major construction. Knowing this would reduce foot traffic even more, Premier decided it was time to rethink their business model and find a new location.
"You know the old saying, 'Timing is everything?' Well, it applies to Premier's story as well," said Jamie Sanger, director of business development for Premier. "As we started to look at changing locations, we found out the brand-new Indiana Design Center was coming to Indianapolis's wealthy and highly desirable neighborhood of Carmel."
Located 12 miles straight north of the heart of Indianapolis, the 88,000-square-foot design center with multiple levels of mixed showrooms and offices promised to offer designers a one-stop-shop to bring their clients into a space that allows them to touch, feel, experience, and ultimately purchase every single design element related to the interior and exterior of the home, including flooring, stone solutions, drapery, cabinetry, and more.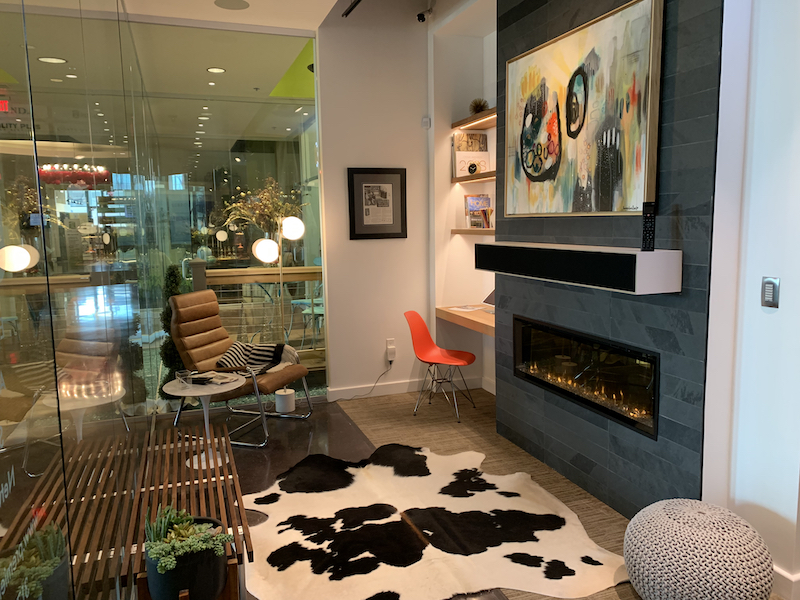 "Needless to say, it was the perfect location for a stunning technology showroom, so we were quick to secure the space," Sanger said.
Fast forward to 2017, Control4 called on Premier with an offer for them to become one of the first dealers to participate in a new sales and marketing initiative: the Control4 Certified Showroom Program. Designed to benefit Control4's top-performing dealers, participants of the program work with Control4 to build out beautiful showrooms demonstrating a fully automated home experience while reaping the benefits of qualified leads – exactly what Premier had in mind but just didn't have the right tools to do all on their own.
"We have been a Control4 dealer since the inception of the company, and when they came to us to discuss the Control4 Certified Showroom Program, we jumped on it," said Jason Barth, Premier's founder. "After 18-plus years in business, the program presented an easy opportunity to get our clients excited – something we had been trying to figure out on our own. The program inspired us and with us already itching to revamp our showroom, it couldn't have come at a better time."
In 2018, Premier completed renovations and opened the doors to their gorgeous new Control4 Certified Showroom inside the Indiana Design Center. Looking through the glass walls into the Premier showroom is like looking into a beautiful modern home; it's an elegant marriage of interior design elements complemented with the latest technologies and devices, all running effortlessly by a Control4 system.
"Our current showroom in the Indiana Design Center is all about the demo," Sanger said. "When we have a client in front of us, rather than starting with individual categories like audio/video or lighting, we incorporate it all into pre-programmed scenes that trigger independent technologies in the home to operate simultaneously. We start the experience at the front of the showroom by pressing the doorbell on the Control4 Door Station. When the doorbell rings, the music inside automatically pauses, then the touch screen lights up and immediately displays the camera from the door station as well as exterior lighting.
"Next, we engage our evening/movie scene that closes the shades as the lights and fireplace turn on, and an automated art display above the fireplace lifts to reveal a flat screen TV, which also turns on. The combination of these two memorable demonstrations alone immediately triggers the 'Aha!' moment, where customers faces light up as they start to not only get it – they want it."
Premier's main follow-up message to consumers after they receive demos and a walk through of the showroom is to explain that they are going to have all of the various devices in their home anyway, why not leverage the smart technology to work for you?
"The Control4 system is the glue that binds it all together," Barth said. "By demonstrating what the system can do, we frame a more engaging and educated conversation with the customer, and that leads to the ability to upsell, because right away they start asking for more."
The showroom offers the same benefits to Premier's partners as it does to homeowners. And being located in the Design Center allows Premier easy access to invite interior designers, architects, and builders into their space to educate them on the benefits of the smart home and to demonstrate what their clients will experience.
"Showing them that their clients can essentially test drive the technology before they buy it is always well received," Sanger added.
Being affiliated with the Indiana Design Center also provides Premier with many opportunities to piggyback on regular events happening in the building, allowing for greater exposure and occasions to educate influencers and key potential customers that are unfamiliar with smart technology.
Currently, The Premier Group employs 23 full-time staff, and does roughly $4-million in business annually while completing several hundred projects per year. In the past, their business consisted primarily of large, high-end, custom projects that required extreme attention to detail and repeat touch points over an extended period of time, which meant each job was long, complex, and required multiple hands on deck.
Since becoming a Control4 Certified Showroom Dealer, however, they have leveraged the demo vignettes to help build out package-based sales for a broader clientele.
"We have tweaked our demos to the point that they are so tight and relevant, customers immediately ask how much a particular demo costs," Sanger said. "We have built out different package levels, from silver to gold right up to fully custom and we quote off of a set of worksheets with go-to smart lighting, locks, shades, surveillance, and AV. Based on the size of the home and technology asks, the worksheets help our sales people quickly drill down to the right package and device quantities – all realized through the demo experience."
"One thing is for sure; we do not struggle with foot traffic any longer. Moving to the Indiana Design Center and building a Control4 Certified Showroom has given us both access and opportunity to build relationships with local designers, architects, and builders who bring us qualified leads," said Jason. "We have become the trusted go-to residential technology partner for the Indianapolis metro area, and we are seeing a lot of repeat business resulting from our relationships."
Since becoming a Control4 Certified Showroom Dealer, Barth and the Premier team are expecting a minimum of 15-percent growth year-over-year, and they believe that the majority of growth is going to come from continuing to tweak and grow their packaged sales, where half their revenue comes from that segment of the business.
"We became a Control4 Certified Showroom Dealer because of the credibility statement it provides," Barth added. "We can say, 'Here's what we're capable of.' We're meeting a standard of presentation and solution, and if you're claiming to be a leader in the industry, you have to lead by example and prove it. Control4 has become a recognizable consumer brand. Customers, including homeowners, builders, and designers ask for it by name, and they laud the Control4 accreditation. It's one more notch to set us apart and have us stand above the rest when it comes down to the quoting process."
For dealers thinking about building a showroom, Barth says, "Just do it!" He also advises dealers not to cut corners. "Don't go in under-funded, he said. "If you want it to be relatable to your customers, you have to make sure you are buying the furnishings and touches that your customers want or already have in their home environment. You want them to feel like they are walking through a home that they want and experiencing technology that works for them, so make it realistic and engaging, with experiential demonstrations every time, and I promise you too will get those aha! and 'I have to have it' moments."