Whether you are a professional integrator or just a smart home enthusiast, here are the top products that should be on your radar this fall.
Anthem Electronics' ARC Genesis Anthem Room Correction Software
The third generation of Anthem Electronics' ARC Genesis Anthem Room Correction (ARC) software is available for free from anthemarc.com. This proprietary digital signal processing technology works with compatible 2-channel and home theater audio products and offers advanced measurement functions, acoustic correction algorithms, user-configurable target curve customization, a streamlined user interface, and support for both Mac and Windows.
Avalon G4 4/3/2-Channel Amplifier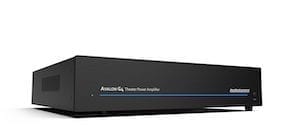 The new Avalon G4 4/3/2-channel amplifier from AudioControl is designed for everything from immersive surround sound applications to multi-zone audio, 2-channel, or 2.1-channel entertainment systems. The 2U rack space amp features a Class H design that achieves 230 watts/8-ohms or 300 watts/4-ohms into four channels all channels driven. The Avalon G4 also features AudioControl's LightDrive anti-clipping protection circuit, which protects loudspeakers from clipping and distortion even in extreme conditions such as a highly dynamic action movie soundtrack.
Bryston
Bryston has introduced native support for the Qobuz streaming music service as an available firmware update for its BDP Music Players. Qobuz, a certified high-resolution (24-bit/up to 192 kHz) streaming service, enables users to stream uncompressed content from a library of more than 40-million tracks representing every imaginable style including jazz and classical music. Qobuz offers exclusive editorial content along with deep metadata, complete digital booklets, interactive articles, reviews, and playlists all available to Bryston BDP users.
Blackwire Designs
BlackWire Designs, a distributor in the custom installation market, is offering a new module for the integration of Rachio Smart Sprinkler Controllers into URC's Total Control 2.0 whole-house automation system. The company supports Rachio in Control4 as well. Rachio Smart Sprinkler Controllers make it easier to create custom schedules that automatically adjust for changing local weather. They work with current sprinkler systems, up to 16 zones, and provide users with complete control over their sprinklers via their smartphone or tablet using the Rachio Remote app.
iFi Wireless Music System
iFi's new wireless music system, the Aurora, brings together a collection of proprietary technologies to deliver a tabletop, all-in-one system clad in bamboo and elevated by a distinctive aluminum frame. The Aurora connects to a home Wi-Fi network, enabling users to stream music via their favorite apps, or play audio files stored on networked devices such as computers and NAS drives. Bluetooth is also included, so that users may stream directly from any smart device. The Aurora is hi-res audio enabled, supporting data up to 32-bit/192kHz.
Control4 Pakedge WA-2200 Wave 2 Access Point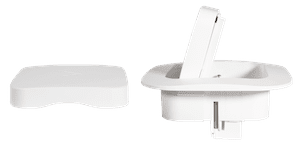 Control4 has begun shipping its new Pakedge WA-2200 Wave 2 Access Point with BakPak Lite. Engineered for improved performance and reliable wireless connectivity in homes with a growing number of connected devices, the WA-2200 enables Control4 dealers to provide centralized management and configuration with simplified deployment. The all-new, high-performance chipset delivers faster speeds, lower latency, and seamless roaming across the wireless network, according to the company.
Denon X-Series AV Receivers
Two new 7.2-channel Denon X-Series AV receivers are now available from Sound United. The AVR-X2600H (95W per channel; $799) and AVR-X1600H (80W per channel; $599) support the latest surround sound formats, including Dolby Atmos Height Virtualization Technology, which adds virtualized height and surround effects on traditional stereo or surround content as well as Dolby Atmos content while using fewer speakers. Dolby Atmos Height Virtualization is used to create the sensation of sound that extends above and beyond the listener, using only loudspeakers originating at listener-level.
Savant's Pro Remote
Savant's Pro Remote now includes IP-based Apple TV integration with Siri voice recognition built in. Savant users can now choose from the security of user-activated voice functionality by commanding Siri to find a movie, an artist, or streaming service. The Pro Remote offers a blend of hard buttons, touchscreen interface, and voice control. This new functionality also includes Apple HomeKit integration with hundreds of smart home devices.