Looking back on it, the decision to hold the BrandSource/ProSource Summit this past week in Las Vegas could easily be viewed as an unfortunately timed mistake. Hindsight – following mass cancellations across the country and a national emergency just days after the event ended – is 20/20, but even as I was flying to Vegas this past Sunday for the Summit, I knew that traveling during the Coronavirus (COVID-19) outbreak was a risk to my health and my family when I got back. Before I'd even landed, the large Indianapolis-based company that employs my wife had already mandated a work-from-home policy and a non-essential travel ban. Hearing that news, I was annoyed to be stuck in Vegas before I'd even bumped elbows with the first fellow attendee who'd crossed my path.
Certainly, no one forced me to attend ProSource; there's a thing called free-will, after all. But, the decision to hold the event created unnecessary social and financial pressure on members of the industry to attend with little more than emailed assurances that the event would be handshake-free and that hand sanitizer would be widely available. Learning after the fact that one ProSource exhibitor's employee had contracted the virus and was quarantined at home in Seattle after having attended two Florida CEDIA Tech Summits in the weeks prior, drove home the "health-risk" point in a big way.
It now seems a little trivial to report on new business opportunities, 2019 sales results, and marketing initiatives presented earlier this week. The one major exception was the news that premium healthcare provider Cigna had been added to the group's developing national benefits program for its members. That certainly appears to be the most pertinent development, considering the potential impact of the virus epidemic on business owners and employees hit with extra medical bills in the coming months.
That being said, I and many others made the decision to take the trip, so I feel obligated to share some of what I learned while at the ProSource Summit, March 8-11, at The Venetian in Las Vegas.
The business education offerings were solid, with an excellent keynote address, called Better & Faster with Jeremy Gutsche. If it wasn't for all of this virus stuff, that presentation alone would have been worth the trip (look him up online). After that, a series of educational sessions kept attendees busy. I was able to personally attend three sessions. One was led by ProSource's exclusive lighting design instructor David Warfel, who always make that particular subject entertaining. He began by revisiting much of his session from last year, acknowledging how much he realized he didn't yet understand about the custom integrator's role in the lighting business, and how he's adapting his approach.
The session on optimizing company websites for Google searches was also beneficial, particularly for the way it integrated the involvement of actual ProSource professional support staff who can help members with web design and Google Marketing with an actual Google employee who provided a walkthrough of the most important website optimization tools. My third and final session was with the popular Bryan Gray, who presented a session called "Win the Brain to Win the Opportunity." He did a great job explaining a sales technique that offers home technology as the opposite of "pain" or "threats" in a client's life, helping families live a more comfortable life and helping provide an emotional lift.
Following an earlier announcement that automated shades provider Hunter Douglas had joined the group, the big vendor news at the ProSource Summit was that Savant has become the latest vendor partner to join the group, bringing its climate, dynamic lighting, IP-based entertainment systems from source-to-speaker, and energy automation solutions to ProSource dealers.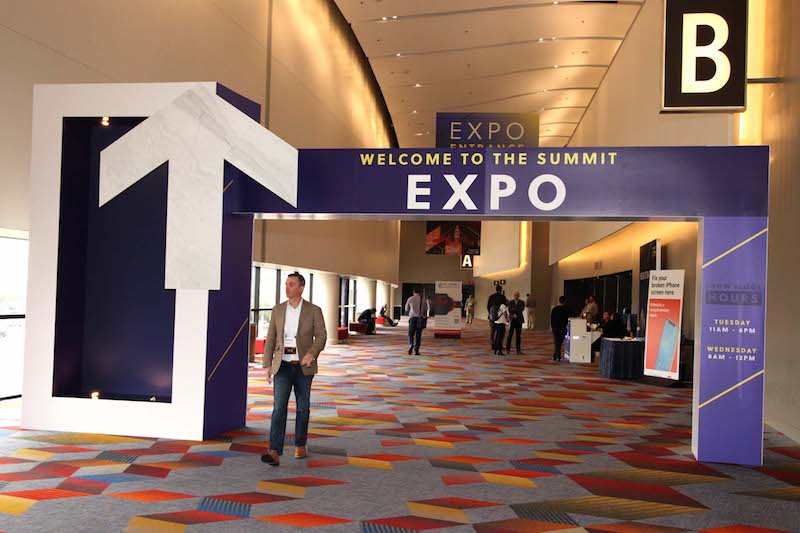 "Savant was chosen to not only support those dealers who are active with the brand but also to bring a more complete lighting control option to the membership as we build this exciting new category in the group," commented Dave Workman, CEO and president of ProSource. "The partnership also empowers our members to embrace the Savant climate and energy solutions creating new opportunities for their businesses."
Also of note was that InMotion Entertainment Group has joined as a new PRO member. As the largest airport-based electronics retailer in the U.S. – with more than 120 locations throughout the country – InMotion offers lifestyle products and electronics to enhance the traveler's journey.
Brian Smith, vice president of purchasing and product management at InMotion noted in the announcement, "We are excited to be a part of ProSource. We look forward to working with the group to find ways to strengthen our partnerships with the incredible brands and products we offer today in airports, as well as explore new opportunities with those who don't currently reach the traveler."
During a 45-minute overview to ProSource on Sunday night, Workman (pictured above) emphasized the group's on-going lighting fixture sales training initiative, as well. The plan, he said, is to host four regional training events within a custom-designed 16×24-foot mobile lighting showroom, assisting ProSource dealers in becoming better lighting fixture (and shades) retailers, rather than actual lighting designers. The regional events will be combined with a series of short online training programs through the ProSource University Learning Management System (LMS) platform. The in-person tour (at least for now) is scheduled to begin at the end of August 2020 and will arrive on the east coast, west coast, and two cities in between, hosting relatively small groups of people (only those who can fit inside the mobile showroom.)
ProSource University will also become the group's repository for all training materials, including online technical modules and vendor partner product training, as well as exclusive access to non-CEDIA members to the CEDIA course library. Training packages on the platform can be individualized by each dealer member company to become unique to each company's training culture. The platform was originally developed by a ProSource member but "he took it as far as he could," according to Workman, and he needed someone to "fund the business, so we effectively pre-funded its development." It is being offered exclusively to ProSource members for the next five years before a contract agreement allows its designer to offer it elsewhere. A beta test of the platform is in place with several dealers already, with full rollout set for all members this summer. It will be combined with in-person classes at various Summit events, but the online training aspect seems especially well-timed, given the uncertainty of the world threatened by the Coronavirus.
Since I brought it back up, here's what Workman had to say on the impact of the worldwide epidemic (in fairness, before the full "storm" of tech conference postponements and cancellations, sports season cancellations or delays, school shutdowns, and office closings and travel restrictions, had fully hit, but, oddly, after shelves and shelves of toilet paper had already gone missing.)
"The biggest issue, I think, is that there will be disruptions, here and there, with the supply chain," he noted. "It's impossible to say that there won't be. I don't think it's like Russian grocery stores where's there's one loaf of bread and bottle of water on the other aisle, but I do think that we have to be realistic and say that there is going to be some supply chain disruption across the board. I'm not going to single out vendors, I would say that it's not catastrophic and it's not what we would like. It's somewhere in between. Everybody has to kind of keep their feet on the ground about what it is and isn't. It's not nothing, and it's not the end of the world. And, it's different by vendor."
Looking back, that might be an understatement.