DMF announced its new integrator-focused DID Series lighting a few months ago, and I was itching to try them out in my own home to see if they'd live up to the hype. Thanks to DMF's Lani Godfrey, I soon had 15 shiny new modules ready to install in our kitchen ceiling.
Unboxing DMF
The DMF product feels solid and extremely well built. I decided to upgrade an existing Edison socket BR30 CREE bulb light can installation, so I ordered DMF's Edison bulb screw in adapters, 6-inch trim rings, and DID2 fixed downlight modules. Even the trim rings felt solid versus most of the cheap plastic products I've seen.
Related: 9 Experts on Selling Human-Centric Lighting
DMF's packaging is minimalistic and easy to open, underscoring the installer focus embedded in the product design.
Installation of DMF Downlights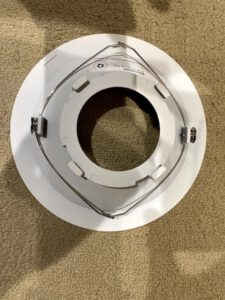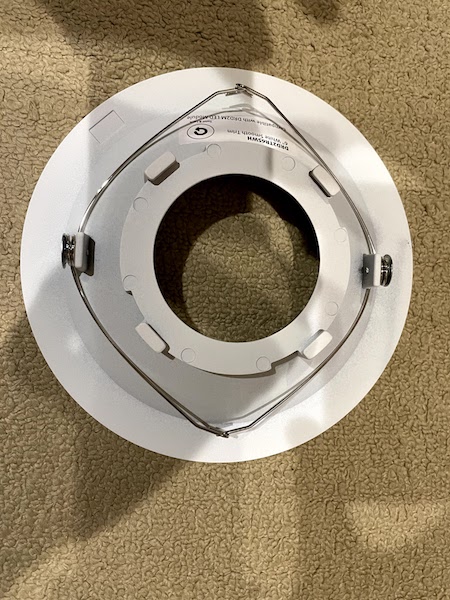 I started pulling down the existing friction-fit bulbs and housings in my kitchen. DMF's trim rings utilize spring clips, which promise a snug fit with no tools required. I attempted to install the first module and definitely had some issues getting it to fit flush immediately.
The clips needed to fit inside the existing housing knockouts so that two clips held the module/ring assembly in place while the other two provided the necessary tension and friction to keep them flush in the ceiling.
The trim assemblies for my can housings may or may not have been correct because I found them to be challenging, initially. After the first few, I developed a rhythm and got better, but these trim rings could've gone easier with a different design (the can housings I pulled out went in very easily compared to the DMF).
After an hour or so of wrangling and making my neck sore, I finally got all 15 lights installed and stood back to admire my work. The new DMF lights look aesthetically pleasing and marked a huge upgrade over the previous lights. They're all white and blend nicely with the ceiling.
DID2 Downlights Configuration
I walked over to the wall and hit the "All On" scene through my Lutron lighting control system. The DID2 lights came on with a smooth ramp and their full brightness bathed the room in a nice warm light that far surpassed the CREE LED bulbs we'd just replaced.
It's moments like these I realize how much we take lighting for granted and happily muddle through with lousy quality because it's easy to habituate. I started playing around with the dimming to get a sense of how well the DMF lights would do at low levels.
I brought the kitchen down to five percent and was impressed by how warm the light rendered at such a low setting. It's apparent that DMF has invested quite a bit of R&D into tuning the lighting automatically for optimal biophilia.
Many lighting manufacturers offer up infinite possibilities for tuning and calibration, which has kept many integrators on the sidelines when it comes to offering lighting fixtures as part of their product mix. DMF's approach takes out the guesswork and delivers amazing light quality out of the box.
I noticed a few of the modules flickered after being left on for a few hours. I contacted DMF technical support and they promptly sent me replacements which worked like a champ after swapping them out.
Final Verdict
DMF has created a very approachable product for the technology integrator to get into the lighting fixture game. By partnering with DMF or design resources like lighting designer David Warfel, from Light Can Help You, CI pros can begin diversifying their revenue and capture more of the home tech spend.
DMF's fixtures aren't cheap at $200-$400 a pop, but comparing them to regular light bulbs is like comparing a Ferrari to a go-kart. Given the proven health benefits, energy savings, and ability to dim down to such low levels without any flicker, DMF fixtures are a no-brainer.
We've signed up as a dealer at my technology integration business, Livewire, and will be offering DMF lighting to our customers throughout 2021.