It is generally agreed that the great American author and humorist Samuel Clemens, more properly known as Mark Twain once said, "Reports of my death are greatly exaggerated." The comment was in response to a newspaper obituary which was obviously in error. With all the attention in the popular business and trade press these days about "cord cutters" and "cord nevers," much attention has been paid to reports of declines in traditional cable- and satellite-delivered program content, as well as the notion that viewing of over-the-air (OTA) terrestrial TV broadcasting is also declining. While research does show that the former delivery systems are losing subscribers, let me paraphrase Clemons to say that "reports of the death of OTA are greatly exaggerated."
Yes, streaming is the "big thing," and two facts come to mind. First of all, 94 of the top 100 rated TV shows last year were from the broadcast networks. Fine, you may say, as those programs are also widely delivered by cable, satellite, and streaming services. That's true, but consider these statistics: 1) Over 15% of US homes with broadband use an antenna for TV reception, and 2) In the face of subscriber declines for some traditional services, the number of homes using only an antenna for off-air reception has been growing and is now over 20%.
This leads us to our news today. If a market category is not growing, one rarely sees new product introduction. We bring you two announcements today that clearly show the strength of OTA with market leaders TiVo and Sling's AirTV line bringing out new off-air DVR products. Even more notable, consumer market powerhouse Amazon announced their first OTA DVR last week. These products, joining those already in the market from Tablo, Channel Master, HD Dust, and AirTV, make the case that OTA is, indeed, a viable category.
Tivo Innovates the World of OTA
Let's go to the latest new products first. TiVo, long a leader in DVR products, has just introduced their new TiVo Bolt OTA. Replacing the now discontinued Roamio OTA, it combines the reception of free OTA with access to a wide range of streaming services. Sporting what many believe is the easiest-to-use program guide, it has four tuners and 1TB of storage, which provides up to 150 hours of program storage. All the widely acclaimed TiVo features are present, including the Vox voice remote, SkipMode® to easily skip commercial breaks, 4K UHD capability (for applicable streaming services), remote viewing to mobile devices via the TiVo app, and multi-room, whole-house distribution.
As has always been the case for TiVo's products, the unit and the program service are priced separately. TiVo Bolt OTA will retail at $249.99. The Guide service fee is $6.99 monthly, $69.99 annually, or $249.99 for an "All-in" subscription, the equivalent of their previous "Lifetime Subscription".
Taking a Look at the AirTV Player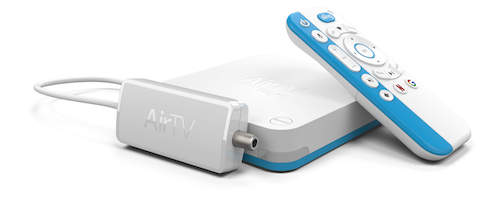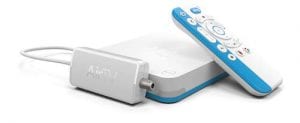 Another product just announced is a new "dual-tuner" for the AirTV Player. When used with an external storage drive (not included) and, of course, the AirTV Player, you can record two OTA channels at the same time or watch one and record another. The AirTV Player does a great job of integrating a variety of streaming services and the OTA channels in a unified guide. And, like the new TiVo OTA, it has an HDMI output for direct connection to a display.
Pricing is $119 in a bundle comprising of the Player and Tuner. For those who already have an AirTV Player, the dual-tuner adapter is $29.99 on a standalone basis. As a reminder, for those who want a two-tuner OTA DVR, the AirTV utilizes recording with external storage and connection to displays via an app.
Amazon Arrives on the Scene
The notion of an OTA DVR where the live or recorded content is viewed through an app is at the core of the major new product in this space, the Fire TV Recast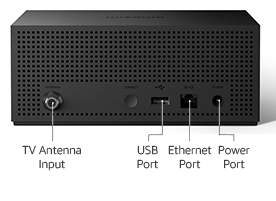 from Amazon. This new entry is part of an expanded line of Alexa-compatible products introduced on September 20th and is carefully designed to mesh with Amazon's voice control ecosystem.
To some extent, it shares the basic concept of AirTV and Tablo, as it does not have any streaming service capability and it delivers content to the user through a phone app rather than a direct-to-set HDMI connection. However, as one might expect from Amazon, there are some significant differentiations from what we've seen to date. It doesn't take a psychic to guess that the unit is controllable via voice for a variety of viewing and playback functions. "Alexa, show my recordings". "Alexa tune to [your favorite network here]." "Alexa, tune to Channel 4." You get the idea.
More than that, the primary viewer is likely to be using the Fire TV app through iOS and Android-powered devices. More interesting, in addition to being able to play back through Amazon's Fire TV tablets, a forthcoming app will allow viewing on both the original Echo Show as well as the new model with a 10" HD display. The combination of Fire TV Recast along with the ability to view selected streaming services such as Hulu and NBC News could make a "kitchen tv" obsolete.
As for viewing on streaming devices, it is worth noting that the Fire TV app is available only on Fire TV products. One might guess that competitive rivalries make it unlikely that we'll see it on AppleTV or Android TV-based products such as the AirTV Player, Nvidia Shield, and TVs with Android TV on board, but there is always hope. Perhaps Roku, given their status as the competitively neutral "Swiss Army Knife" of streamers might get an app, but Amazon would not comment on our question about that.
Available now for preorder with delivery set for November 14th, the 2-tuner model with 500GB of storage that holds 75 hours of HD programming lists for $229.99 and a 4-tuner version with 1TB of storage that holds up to 150 hours of programming lists for $279.99. Additional storage will be added via external drives at a later date, and there is no monthly charge or subscription fee for the listing service.
How Does This New Challenger Stack Up?
One might think that competition from Amazon, undoubtedly the "600-pound gorilla" in any product category's room, would worry the incumbents. Curiously, that is not at all the case based on a quick survey of the field.
The new entrant was actually welcomed as broadening the market and giving the OTA DVR category wider consumer visibility. "I think it is great that they decided to jump in. Competition is good," said Joe Bingochea, President of Channel Master. He also pointed to the need for antennas and other accessories that Channel Master sells. Grant Hall, CEO of Tablo OTA DVR cretors Nuvyyo, had a similar comment: "While we're excited by all the attention Amazon brings to the cord cutting market, we are also confident that consumers will continue to choose Tablo's flexible, platform-agnostic OTA DVR solutions.
Which One is Right For You?
While all these devices share similar capabilities, it boils down to what is best for any individual consumer. Is there a need for internal storage, or, with 1TB drives now selling below $50, is the total product cost in the right range? Is there the need for a direct HDMI connection, or is it preferable to have programs delivered through an app, anywhere in the home, or perhaps even outside the home? Two tuners or four? Is the app available on all the popular streaming devices, including AppleTV, or is a limited app availability acceptable? Do you want a device that combines access to streaming services with the OTA channels, or is OTA-only enough? If the former, how important is access to 4K streaming content? Will the intended user need a physical remote or is app control only sufficient? (The AirTV Player, TiVo Bolt OTA, Nvidia Shield with the Tablo Tuner, and Channel Master's Stream+ include a physical remote while Fire TV Recast, AirTV, and Tablo do not.) Does the cost of a program guide/subscription fee influence the device selection?
There is NO right or wrong answer to these questions. The right answer is different for each end user's needs.
One Last Look at OTAs
At the end of the day, with competition in a product space, the wider variety of product options does, indeed, rise all boats in the OTA DVR waters. More importantly, as Sling TV said in response to our request for a comment, "Amazon's Recast announcement speaks to the importance of ensuring customers can watch local channels for free with an over-the-air antenna." This is all overwhelming proof that "reports of over-the-air TV's demise are greatly exaggerated!"
Feature image courtesy of Tivo