Smoke alarms have become a vital tool for saving lives of people when their home experiences a fire. According to the National Fire Protection Association (NFPA), "Almost three out of five home fire deaths were caused by fires in properties with no smoke alarms (41 percent) or smoke alarms that failed to operate (16 percent)." In addition, according to House Grail, "If every home in the United States had a working smoke alarm, deaths would drop by 36 percent."
With this in mind, there is even more value when smoke alarms are integrated with the other systems in a smart home. For example, exterior lights can be flashed to help first responders quickly find the home. A forced air heating/air conditioning/ventilation system also can be turned off, so it doesn't spread smoke throughout the home. Additionally, smart door locks can be unlocked to allow first responders to quickly enter the home. This will also allow the homeowners and their family members to more quickly exit the home.
Other examples of how a connected smoke alarm could be effective? Motorized curtains and drapes can be opened to allow family members to more easily exit the home through windows should they find other avenues of escape blocked. This can also allow first responders to see into the home to find locations where people may need help. Also, pathway lights can be turned on to help the homeowners and family members find their way to safety, interior alarms can be triggered in addition to the alarms sounded by smoke alarms themselves, and notifications can be sent to first responders, neighbors, and nearby relatives.
Similarly, there are actions that can be taken in a smart home when a carbon monoxide (CO) alarm is triggered: Alerts can be sent to homeowners, family members, and neighbors; interior alarms can be triggered in addition to the alarms sounded by CO sensors themselves; and smart gas appliances that are integrated with the smart home and are potentially the source of the CO can be shut off.
Because CO cannot be filtered from the air, the only choice to eliminating a buildup of CO in a home is to improve ventilation. This can be accomplished by opening motorized windows to allow CO to escape and fresh air to enter the home. Turning on a whole house attic fan to vent CO to the outside and force fresh air into the home through open windows can further help eliminate an accumulation of CO in a home.
Other integration solutions might involve sending notifications to emergency services when an alarm is triggered. And, for people that are hearing impaired, strobe lights and bed-shakers can be triggered to make them aware of the emergency.
Pets are also very sensitive to CO poisoning. Even if no family members are at home when a CO alarm is triggered, after receiving a CO alarm notification, homeowners can initiate actions to save the lives of their pets that are trapped in the house.
Limited Life
Something that most people don't realize, is that smoke and CO alarms only last for 10 years. The sensors used in these devices degrade over time; after 10 years an alarm needs to be replaced.
Again, according to the NFPA, one in five Americans have at least one smoke alarm in their home that is over 10 years old. Given that, it makes sense that if you have to replace the smoke alarms in your home, that you replace your outdated smoke alarms with smart ones.
Integrating Smoke/CO Alarms into a Smart Home
The traditional way of integrating smoke/CO alarms into a smart home is through the installation of a traditional alarm system with the smart home processor/hub. Alarm systems from companies, including Elk Products, Honeywell, GE, and others, have application programing interfaces (APIs) that allow events from the alarm panel to trigger actions in the smart home processor/hub.
Today, smoke alarm manufacturers have released models that support smart home protocols, including Z-Wave, Zigbee, and Wi-Fi. This allows them to be directly integrated with a smart home processor/hub. After researching different smart smoke/CO alarms, I decided to focus this article on the First Alert Model ZCOMBO – Z-Wave Combination Smoke and Carbon Monoxide (CO) alarm.
I chose the First Alert ZCOMBO for a couple of reasons. First, Z-Wave products integrate with a wide range of smart home hubs. However, while many of today's security systems support the integration of Z-Wave devices, these integrations are, for the most part, only for smart home automations. Most security systems don't support Z-Wave devices as sensors. An exception to this is that the Ring security system does support the First Alert ZCOMBO as a sensor.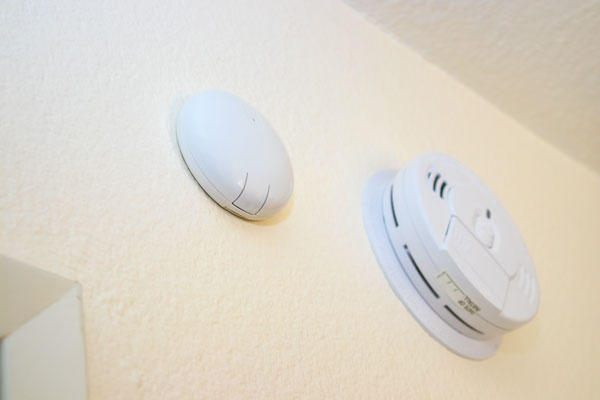 Second, the First Alert ZCOMBO is priced well below many other smart smoke/CO alarms on the market. At the time that I'm writing this they were available on Amazon for just under $40. On the other hand, the Google Nest Protect Smoke and CO alarm is priced at $119.
For this article I chose to integrate the First Alert ZCOMBO with a Hubitat Elevation Hub and then used the Crestron-Hubitat driver software I wrote to tie the First Alert alarm with the logic that runs my home on a Crestron processor. The Hubitat is ideal as a gateway for this project because all automation logic on the Hubitat executes in the hub, not in the cloud. So, the Hubitat and Crestron system are both resilient to internet outages.
In addition, it is important to remember that even if the Hubitat or Crestron processor totally failed, the siren built into the First Alert ZCOMBO would still sound an alarm, notifying the homeowners, and the members of their family, of the emergency. What would be missing would only be the automations that I outlined above.
Hands on with the First Alert Z-Wave Combination Smoke and CO Alarm
First Alert supplied me with samples of their ZCOMBO smoke/CO alarm for this article.
For anyone that has used a smoke alarm before, a welcome change offered by the ZCOMBO is that it is powered by AA Alkaline batteries instead of a 9-volt battery. Few products, besides smoke alarms, use 9-volt batteries. On the other hand, AA batteries are widely used. This makes it much more convenient for homeowners to have replacement batteries on hand when a ZCOMBO starts chirping a low battery warning at 2am.
I found that the included instructions are typical of a smoke alarm. They are full of fine print and warnings. However, they do contain all the information needed for installation, inclusion in a Z-Wave network, operation, and where to locate units in a home.
Inclusion to a Z-Wave network is very simple. Simply install the batteries while holding down the test button and the ZCOMBO enters inclusion mode for 30 seconds. If you repeat this process after the ZCOMBO is included in a Z-Wave network it will be removed from the network.
Once I linked the ZCOMBO with my Hubitat, the ZCOMBO exposed the following events:
Smoke (Clear, Tested, Detected)
Carbon Monoxide (Clear, Tested, Detected)
Unfortunately, there are no actions available to silence the alarm or trigger the alarm.
Silencing the alarm would have been a great addition. It would have provided a way for people with tall ceilings to silence the ZCOMBO without having to drag out a ladder when, for example, smoke from a cooking mishap in the kitchen sets off the alarm.
One disadvantage I found of the ZCOMBO, compared to many other smoke alarms, is that there isn't a wireless interconnect that allows all the smoke alarms to sound their alarms when one unit detects smoke or CO. For example, in a larger home with widely separated bedrooms, the sound from a smoke alarm in one bedroom may not be heard by everyone in the home. If there was an alarm trigger then logic on the smart home processor / hub could overcome this limitation and trigger all the ZCOMBO units to sound their alarms when one unit detects smoke or CO.
The lack of a wireless interconnect and triggers to sound the alarm can be overcome by adding wireless sirens around your home and triggering those to sound whenever one of the ZCOMBOs in the home detects smoke or CO. The shutoff of the wireless sirens could be automated by the detection of the ZCOMBO unit sending a cleared event.
In addition, because the ZCOMBO provides an output of the battery level, I was able to include functionality that will send me a smart phone notification whenever the battery level is below 10%. This should help me eliminate the 2am low battery chirp that is so common with smoke alarms
So, other than the lack of triggers, I found the ZCOMBO smoke / CO alarm worked very well. It was easy to add to add to my Z-Wave hub and I was able to add support for it to my Crestron-Hubitat integration driver (The driver can be downloaded from my GitHub here).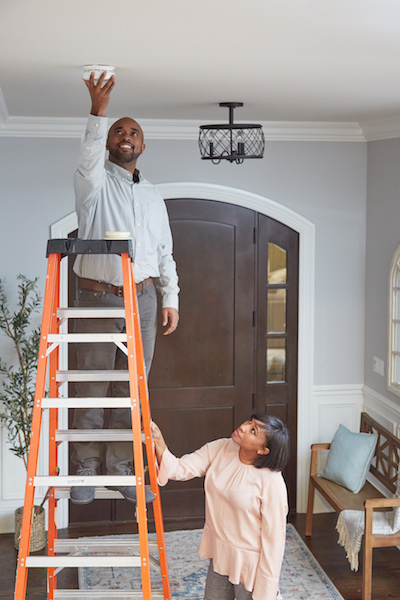 Making Existing Smoke / CO Alarms Smart
If your home already has reasonably new smoke and CO alarms installed (almost all homes built in the last 25 years will have installed, interconnected, 110V smoke detectors, by code, then the expense of replacing them with new, smart, alarms can be hard to justify. In this case an alternative approach is to make your existing alarms smart with an Ecolink Firefighter Z-Wave Plus Wireless Smoke/CO Audio Sensor.
I wasn't able to test the Ecolink Firefighter, but it is a Z-Wave Plus device that connects with a Z-Wave compatible hub and senses the unique sound produced by smoke and CO alarms. A single unit is designed to convert all the smoke, or smoke / CO, alarms in an average sized house into smart alarms. The homeowner can leverage the Ecolink Firefighter to create the same smart home automations described above for about the cost of a single smart smoke / CO alarm.
The Ecolink Firefighter:
Detects Temporal 3 patterns of UL smoke alarms
Detects Temporal 4 patterns of CO alarms
Has an expected battery life of up to 5 years
Is very small and unobtrusive at only 3-1/8″ diameter x 1.0″ tall
Summary
Smart Smoke / CO alarms can significantly enhance the safety of a smart home. The added cost, compared to traditional dumb smoke / CO alarms, is insignificant compared to the potential loss of a family member in a fire.