BenQ sent me their latest wireless presentation solution to try out. The InstaShow promises a true plug-and-play, software-free presentation solution mostly oriented at laptop computers with either HDMI and USB or USB-C connections.
In our Bring Your Own Device (BYOD) world, wireless presentation solutions like the InstaShow have become necessary as competing formats like AirPlay, Chromecast, and others seem to confuse more than clarify especially when it comes to hosting visitors in conference rooms and huddle spaces. The promise of connecting a dongle, hitting a button, and "bam" it works, makes solutions like InstaShow appealing to frustrated IT managers sick of fielding angry phone calls from meetings gone wrong.
Unboxing
The InstaShow is packaged in a straightforward fashion with an easily understood Quick Start Guide outlining the many possible set up configurations.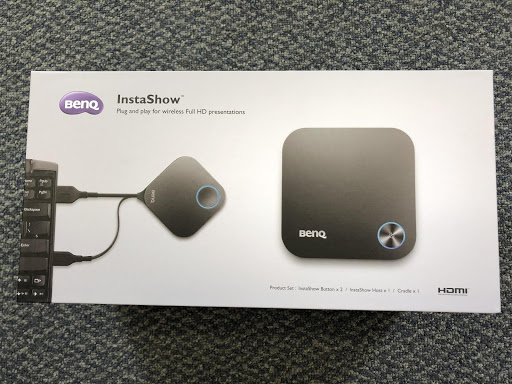 Setup & Installation
I followed along with the Quick Start guide and connected the InstaShow to a flat-panel monitor and chose to power the base unit using the monitor's USB plug. The Quick Start guide is very specific about which type of USB power standards are acceptable for the InstaShow. Specifically, the base station needs at least 1.5 amps of power. I couldn't tell which type of power my TV had, so I plugged it in and hoped for the best (the plug-and-pray method).
The base station booted up and showed a red light. I moved on to the display adapter and plugged it into a Mac Mini. I tested the HDMI version, which requires both HDMI and USB connections. While this is a lot of cord clutter, it appears to need the USB for powering the dongle, while the USB-C version can handle AV and power through a single connection. I asked BenQ about needing both HDMI and USB whereas products like Barco's ClickShare only use USB (to be fair, the InstaShow sports a USB-C version with a one-corded dongle). BenQ replied back quickly, stating the dual-cord scenario enables non-computer AV devices like document cameras, Blu-ray players, etc. to connect as well as offers more security in environments where malware fears ban plugging anything into a USB port. I didn't consider this and now view their approach a competitive advantage, versus the liability I'd originally assumed.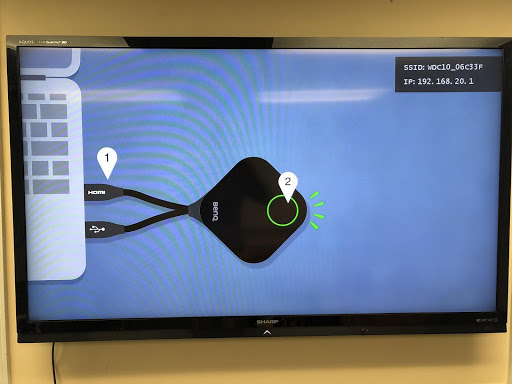 The Quick Start guide assured me that all I needed to do was connect the base station, power it up, and connect the dongle. My dongle initially showed a flashing red light corresponding with the base station's solid red. I looked at the guide again. No troubleshooting steps or guidance. The guide definitely made me feel dumb. There weren't any hints of what to try if I was having trouble.
I Googled the issue and found a more in-depth guide online that gave me a couple of other steps to try. My gut told me that I hadn't paid close enough attention to BenQ's warnings about power requirements and decided to connect the base station to the included USB power adapter. That did the trick. My friction had been caused by my oversight and wouldn't have been an issue if I'd followed directions the first time. Even so, I can't imagine I'm the first person to ever underpower the base station. BenQ might want to consider dummy proofing the base station a bit more by detecting low voltage and generating an error code pointing the user in the right direction.
Once the low-voltage issue was solved, a blue light illuminated on the base unit and the dongle turned green. I pressed the dongle button and my Mac desktop appeared on the TV display. Once powered up properly, the InstaShow does exactly what it's supposed to and even supports audio and desktop extension. As I write this, I've extended my desktop as a second display via the InstaShow, and it's very handy to not have to show everything on my screen to the wider audience in the room.
Final Verdict
No conference room is complete without some kind of wireless presentation solution, and the BenQ InstaShow does a great job of delivering on its promise of true software-free wireless plug-and-play connectivity. This is especially true if you have non-computer AV devices or work in a secure facility where USB connectivity is banned.