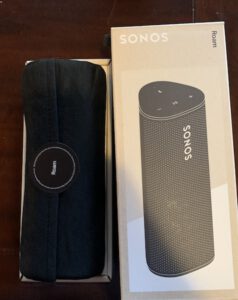 Every time I connect my new Sonos Roam portable speaker to my iPhone, I find myself humming that catchy B52s tune from my college days ("Roam, if you want to. Roam around the world…") My kids really wish I'd stop. I have yet to cue up the actual tune because, much to the chagrin of my wife, I've been playing Taylor Swift's Folklore and Evermore albums in circular succession for the past three months.
The launch of a new Sonos speaker is always a big deal, so as usual I was excited to take the latest, Sonos Roam, for a spin.
When auditioning a new piece of audio gear, it's a good idea to find a song or album that is so familiar that you really know how it's "supposed to" sound. That's what's up with T-Swift. When I Grouped the new Sonos Roam, a $169 mini version of the $399 Sonos Move portable speaker that already graced my desk, I immediately aligned the two units into a perfectly balanced stereo pair on my office desk, creating a phantom center that floated somewhere right behind my computer monitor.
Ever since (Ever… more?), I have been impressed with the matching sound signatures of the two speakers despite Roam's clearly more diminutive size. Sure, it takes a little bit more volume from the smaller unit to balance out the pair, but the blend is spectacular – rich, resonant, and crisp – once I've reached that sweet spot.
Sonos Roam Requires S2 App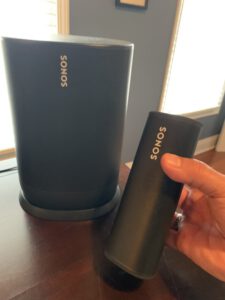 For those new to Sonos, setting up of a Roam speaker first requires installation of the S2 version of the Sonos app. After that, the process isn't very complicated as long as you don't assume too much about the compatibility of the included USB-C charging cable with whatever USB power adaptor or Qi wireless charger that you happen have to on hand (my white iPhone charging block wouldn't work, for instance.)
Eventually I found a 10W (5V/2.1A) power adaptor and got the Roam speaker charged up. Having grown used to the convenient charging ring that comes with the Move speaker, I may eventually fork over the $49 for a Roam Wireless Charger so that I can unmoor it from the power strip where it's currently charging, so the Roam has its own specific magnetic home base.
Fortunately, a fully charged battery boasts 10 hours of continuous playback on a single charge, so charging is not a huge deal that often. Also, when not in use, Roam falls asleep to save power for up to 10 days, which adds to the battery's life.
A Smaller Portable Option

It's not that Roam is Sonos' first portable speaker option, of course. The aforementioned Move is "portable," too, but at more than six pounds and almost 10 inches tall, it's got a bit of girth. Roam, in contrast, is only about six and a half inches tall (or wide, if you choose to lay it on its side for listening) and weighs less than a pound.
Also, Roam is truly waterproof. I haven't tried the submerge test, but Sonos claims that you can play Roam underwater and see ripples form from the sound waves. I'll take their word for it that it can be submerged in up to 1m of water for 30 minutes; sounds like cruel and unusual punishment for the little guy. I have, however, used it as a shower speaker from time to time, and have no fear that a little overspray or dripping hands will negatively impact the Roam, thanks to its IP67 dust and water rating.
Roam is Bluetooth and Wi-Fi Compatible
Like it's processor, Roam is both Bluetooth and Wi-Fi-compatible, but unlike Move, Roam has a feature called Sound Swap that sends sound between your Sonos speakers like magic. The feature enables Roam to be grouped with other speakers currently playing, or to swap what its playing to the nearest Sonos speaker. Roam is also designed to seamlessly sync with any Sonos multi-room system.
Roam features built-in voice control with Amazon Alexa and Google Assistant, which are hardwired to a microphone array to display when a voice assistant is listening.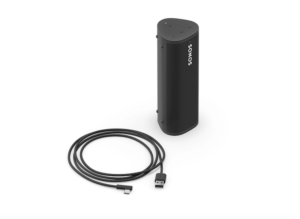 The speaker supports more than 100 streaming services, with Sonos Radio pre-loaded with thousands of live broadcast radio stations and original content curated by Sonos. I'm personally not a big Sonos Radio listener, so was pleased to see how well the Spotify integration works on Roam. Once my two Sonos speakers were grouped together, I could start a song in Spotify and simply choose the preconfigured group. At times, the two speakers become "unmoored," and I have to jump to the Sonos app to reconnect them. Mostly, it works great, though.
Although the top panel on the speaker features tactile buttons make it "easy" to play, pause, skip, and adjust volume, I have found them hard to see and difficult to use indoors. Outdoors, in the bright sunlight, they are much easier to see and are convenient for portable usage.
TruePlay Makes Sonos Sound Great
TruePlay is of my favorite features of any Sonos speaker. In the past, this was a great way to calibrate a Sonos speaker to a speaker spot in a room. Roam takes this a step further by introducing what the company calls Automatic Trueplay. Automatic Trueplay uses Sonos' spatial awareness tuning technology to automatically adjust the sound for the speaker's orientation, location, and content playing on Wi-Fi and Bluetooth. It basically makes the speaker sound the best it can sound for any give location. Place Roam in a shelf near the back wall, for instance, and Sonos will compensate the audio output for this typically challenging location.
If you're a little more of the tweaky type, adjustable EQ settings on the S2 app allows you to fine tune bass, treble, and loudness on Roam.
What's Inside the Speaker
And that amazing performance that I mentioned at the start of this review is made possible by two class-H amplifiers that tuned to the drivers and speaker's unique acoustic architecture. One custom racetrack mid-woofer ensures faithful playback of mid-range frequencies and maximizes low-end output, and one tweeter offers crisp high frequencies. Finally, a high-efficiency motor increases power and range.
I never thought I could be this happy with a little "Bluetooth speaker," but Sonos Roam is a quite a powerhouse. Its combination of elegant Sonos aesthetic with the reliable performance and adaptability makes it a great addition to a Sonos system or an excellent entry point for a first-time Sonos customer.