Roku's first entry in the audio category, the Roku Smart Soundbar, is a 32-inch-wide, two-channel speaker featuring Dolby Audio and four full-range 2.5-inch speakers, each powered by a separate amplifier.
From a connectivity standpoint the Roku Smart Soundbar measures up to typical system requirements by offering 802.11ac Wi-Fi connectivity, Bluetooth for use as a "streaming speaker," and easy connection to the host TV via ARC or optical. Thanks to CEC, the soundbar's remote control and power a TV on or off. It is clearly a well thought out and designed product that, on paper, appears to favorably match up to other similarly priced brands and models.
So. what's the big deal? What sets the Roku Smart Soundbar apart from the competition? Given the brand, it's easy to guess. Although JBL has beaten them to the "Smart Soundbar" punch with their new JBL Link Bar, this is the first voice-activated soundbar with the enormous reservoir of apps offered by Roku. Yes, the JBL Link Bar certainly has multiple HDMI inputs and JBL's unique tweeter plus "racetrack array" speaker configuration, but it depends on Android TV and Chromecast for streaming management. As good as Android TV can be, Roku's OS and user interface is regarded by many as being superior.
Indeed, perhaps the real competition for Roku may well be simply using one of Roku's own streaming devices and an external audio system. But, for more technologically challenged folks, this streaming-plus-audio combination makes perfect sense.
Along with the obvious access to the many thousands of apps in the Roku ecosystem, there is Roku Search and Roku Voice for on-screen or voice search and device command. While the JBL Link Bar has Chromecast built in, the Roku Smart Soundbar allows mirroring from Android devices, as does all current Roku TVs and external streamers. More importantly, the Roku bar responds to commands issued through both Alexa and Google Assistant devices.
Also, part of the audio feature set is Automatic Volume Leveling for uniform level across different content types and sources, a night mode that lowers the volume for loud scenes and raises it for quiet scenes, and a Speech Clarity mode that tailors voice frequency reproduction for improved dialogue intelligibility.
Aside from the convenience and audio aspects of the Roku product on the video side is the ability to stream out content in 4K with HDR up to 60fps.
While Roku touts the audio quality of the Soundbar, as with virtually every soundbar, bass performance is limited to some extent by the size and nature of the product and its drivers. Indeed, as the old speaker builder's quote says: "There is no replacement for displacement!" In other words, no amount of DSP magic can fully compensate for small drivers and a small enclosure. That is the rationale for the option of external wireless subwoofers to accompany soundbars.
Roku clearly agrees with that. Available simultaneously with the launch of the Soundbar will be the Roku Wireless Subwoofer. Thanks to a 10-inch driver in a sealed cabinet design, powered by a digital amplifier capable of 250W peak.125W RMS power. This extends the frequency range of the system down to 40Hz, and it connects to the Soundbar via 802.11ac dual-band WiFi. As an aside, the Subwoofer has a dual identity. Although it is being released in conjunction with the Soundbar, it will also work with, and extend the total system response of Roku's first audio-centric product, the Roku Wireless Speakers, introduced late last year.
Wrapping it all together, given all the participants in the soundbar market you might wonder why Roku, already a successful company, would venture into this very competitive space. Viewed as a line extension and a way to expand their universe of users, it clearly makes sense. The fact that it will be easy to install and use obviously doesn't hurt.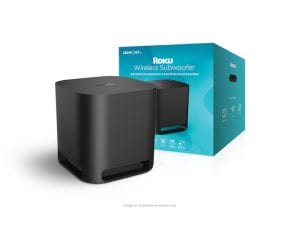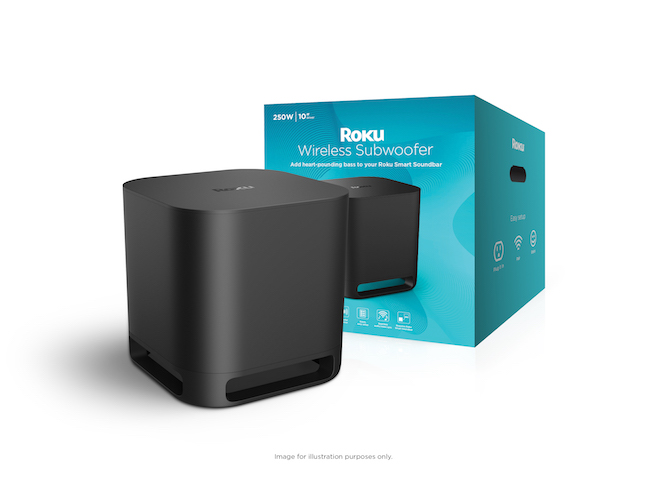 The price is right, as well. Both the Roku Smart Soundbar and the Roku Wireless Subwoofer have an MSRP of $179 each. Even when put together, that appears to be a solid value. They are available for preorder starting today at roku.com and through Best Buy, with delivery set for October.
Just to be clear, as the products are not yet available, we haven't listened to them yet. We have, however, done extensive testing with the Roku Wireless Speakers. As is the case for the Soundbar, they are also an interesting spin on simplifying "audio for video." If the soundbar performs as well as the Speakers do for their intended purpose, the new product should definitely sound good. Just how good are the Roku Wireless Speakers? Check out a review here.