Rosewater Energy Group has created three new 208-volt, 3-phase input energy management hubs — 3P30, 3P45 and 3P75 — that are now available to integrators for use in larger luxury residential projects with extensive sophisticated electronics investments that include (yet not limited to) networks, control systems, lighting, shades, and AV systems.
The new 3-Phase Hubs are a complete solution to clean energy, power conditioning, surge protection, solar integration, battery storage and backup with remote monitoring and redundant industrial-grade systems.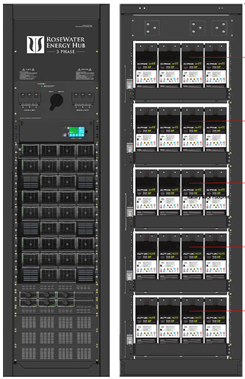 The RoseWater Energy 3-Phase Hubs feature hot swappable 2.5kVA/2.0 kW inverter modules and optional 2.4 kW rectifier modules that are the building blocks of the company's Hubs. They include the Cordex smart unified controller with an integrated Ethernet/SNMP that monitors and manages both inverter and rectifier modules through a web-based interface and a local LCD touch screen.
RoseWater's 3-Phase Hubs are designed to be installed in a climate-controlled environment with ambient temperatures between -20°C to 40°C.
The 3-Phase Hubs include a 48Vdc to 120Vac inverter as well as an AC-to-DC converter, allowing the Hub to continuously deliver fully conditioned power. When power is unavailable, the DC battery is converted to AC with zero transfer time. An intelligent DC bus decides when to draw power and how much power to draw. During brownout conditions, output power is supplemented by battery power.
Related: RoseWater Energy Launches Hub40, Expands Production
The bespoke 208 V, 3-Phase Hubs are available with 10 kVA per leg (3P30), 15 kVA per leg (3P45), and 25 kVA (3P75) per leg. Actual power requirements are determined when RoseWater works with the integrator and client to create the company's trademarked "Power Plan" specific to their project. The 2-piece Hub consists of an electronics cabinet with inverters and the Cordex display along with the battery cabinet for energy storage needs.
The new Hubs will integrate with solar panels using the SBX 10 Solar Box interface as well as the recently announced new accessories: a harmonic distortion filters to isolate panel noise and eliminate cross channel feedback, and invertor dust covers to protect against dirt and debris.
"The new Hubs work seamlessly with larger projects with 208V, 3-phase incoming power," said Joe Piccirilli, CEO and managing partner of RoseWater Energy. "We offer continuous power output at 10, 15 or 25 KVA per leg practically providing 'island-mode' for these projects."