Todd Girdis, CEO of home theater seating manufacturer RowOne, wants to help custom integrators capitalize on sales opportunities in home entertainment furniture segment of the industry, especially for those concerned about a softening economy affecting business later in the year.
"Get a jump on your profitability now, don't wait until the second half of the year," Girdis said, basing his comments on the latest 2023 economic forecasting.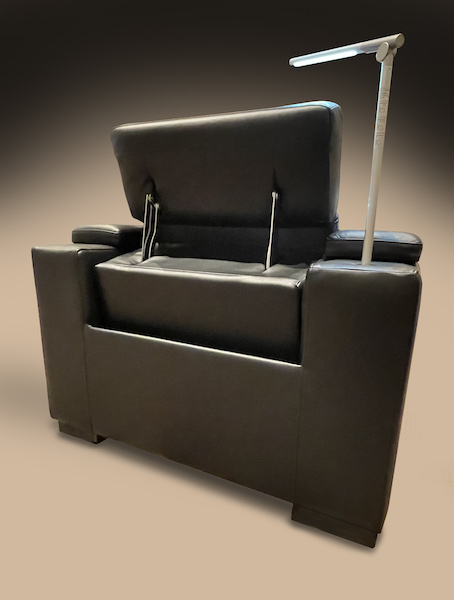 The launch of RowOne's Calveri Italian-inspired "anti-home theater" recliner, a bi-monthly newsletter aimed at helping dealers enhance their profitability, and more sales reps all fuel the effort, according to Girdis.
With its contemporary Italian design, low-profile, innovative technology, and fabric options, the Calveri is designed to help dealers win over family rooms, great rooms, bonus rooms, and media rooms. It is also the first style from RowOne to offer a swivel-base option (SKU) that Girdis claims (in conjunction with the low seatback) will appeal to 2-channel audio enthusiasts.
The Calveri incorporates two inventions and other innovative conveniences. First is the PowerUpPort (patent pending) low voltage port. Its first application is a wireless dimmable LED reading lamp that can be adjusted in a variety of ways. When not in use it can be tucked away in the storage drawer. Second, is a Pull-N-Store drawer (patent pending) integrated into the front face of the chair arm stores magazines, tablets, remotes, and the new LED reading lamp.
Also new to RowOne is a sliding armrest pad design that conceals the cupholder, overcoming a barrier to placement in everyday living spaces. Additionally, a home button simultaneously returns the power headrest and footrest to their original positions. The Calveri incorporates OKIN recline mechanisms and motors.
Available fabrics include black leather/vinyl match, and new for RowOne are patterned polyester microfiber fabric options in light brown and dark grey. Later this year RowOne will offer both a new color option and second application for the PowerUpPort.
By early summer RowOne will introduce two versions of a corner wedge SKU. This will allow homeowners to extend their row of Calveri seating in a second (or more) direction, common to family and great room layouts.
The Calveri ships from the company's Tacoma, WA, warehouse, reaching any dealer in the Continental U.S. within nine business days or less via LTL transportation, or the consumer's residence within 20 business days or less via RowOne Last Mile furniture carrier delivery.
Timed for CEDIA Expo 2023, RowOne will unveil a new home theater recliner.
Beginning this month, RowOne launches its bi-monthly newsletter focused on helping authorized retailers capitalize on the growing segment and increase their profitability. Content will include how to market and sell home entertainment seating; updates on forecasts; industry events calendar where the company will be sponsoring and exhibiting; and sneak peeks into future products.
RowOne will also continue to support the CI/CE industry at large through exhibition at CEDIA Tech Summits, CEDIA Expo and regional and national buying group events and line shows such as the AiN Group, AVB BrandSource, and the Nationwide Marketing Group.
RowOne has appointed the following rep firms throughout the U.S.: Lucas Sales Group (TOLA); Access Reps (Northeast); CET & Associates (Rockies, So. Cal); Nova Marketing (Upper Midwest), and Sami Reps (Michigan).