Russound has developed the next generation of its acclaimed Bluetooth source kit. Scheduled to ship in Q4, the BSK-2 is a complete source kit featuring Russound's BTC-2X Remote Transceiver and the BTC-2 Audio Hub, in a unique two-piece design offering a complete solution for audio wiring and power connections with the Bluetooth transceiver able to be located up to 300 feet from the connected audio devices.
"Even the most complex custom installations call for a dependable Bluetooth solution that is both technically advanced and easy to implement," said Charlie Porritt, CEO, Russound. "The BSK-2 is as easy to install as it is to use."


The BSK-2 adds Bluetooth audio to any audio system, with a range of up to 300 feet. The kit is used to add multiple Bluetooth inputs to a Russound MCA-66 or MCA-88 controller by way of the BTC-2X transceiver, which adds a single source of Bluetooth audio to Russound controllers that feature built-in audio and power connections.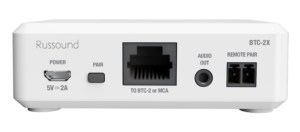 The BTC-2X remote receiver may be placed anywhere in the home. Connection via Cat-5 wiring is made between the transceiver and the source box near the home audio system or standalone amplifier, within 300 feet/91 meters. In addition, the BTC-2X can be used as a standalone Bluetooth audio source when the additional 300-foot range is not necessary. The BTC-2X also offers a unique contact closure option to initiate pairing mode, simplifying usage in hospitality or MDU installations.
The BSK-2 includes analog and digital inputs, both automatic and manual pairing modes, and, when used with Russound's MCA-66 or MCA-88 controllers, full album art and related metadata. Up to eight Bluetooth receivers may be used with the Russound controllers.
Related: Russound's MBX Streaming Solutions Now Include Apple AirPlay 2